This part presents the details on how to load files, select output format, adjust advanced settings, edit video, start conversion and how to do a full disc copy or directly copy from Blu-ray/DVD discs.
Step 1: Load / Import Files Step 2: Set Output Format Step 3: Start Convesion
Full Disc Copy & Directly Copy
Edit and Personalize (Optional)
Merge/Split/Snapshot (Optional)
Step 1: Load / Import Files
Insert the Blu-ray disc to the Blu-ray Disc drive or DVD to the DVD-ROM and click the

button to have movies uploaded to the Blu-ray Ripper. You can also import ISO files, IFO files or Blu-ray/DVD folder for conversion.
Note: A DVD or a Blu-ray may contain many titles more than the main movie, such as the trailers or commercials. By default, EaseFab LosslessCopy choose the longest title which is usually contains the main movie. And this helps ripping without converting unnecessary titles.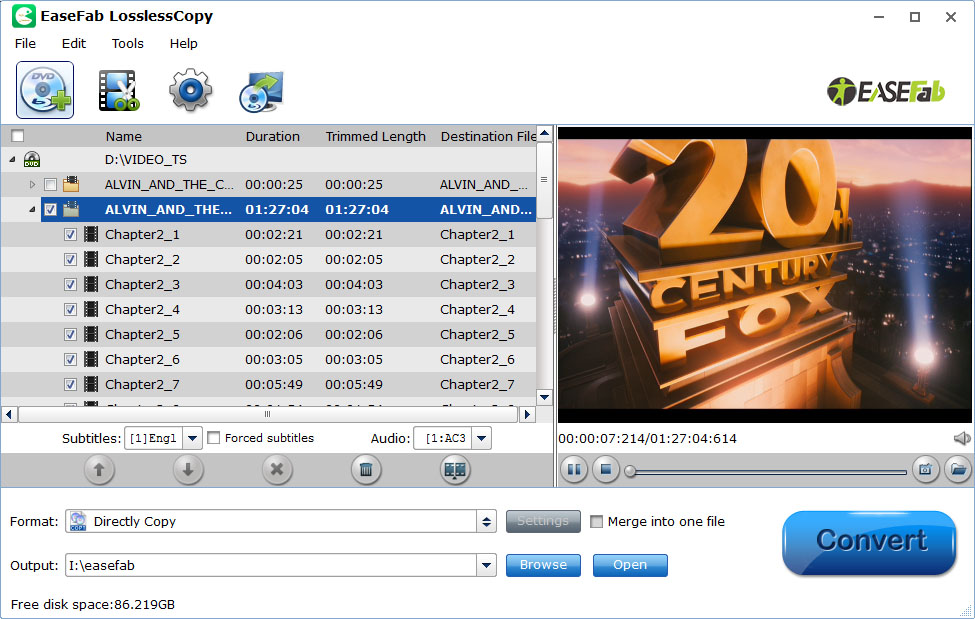 Step 2: Set Output Format
Click Format (located below where your Blu-ray's or DVD's files are displayed) and select the format you want from the drop-down list. Just below Profile is Output, here you can browse your computer for a better destination folder for LosslessCopy to save your converted movies. As you see, all regular video and audio formats like MP4, MOV, MKV, WMV, AVI, FLV, MP3, WMA, WAV, M4A, etc. and multi-track video like MKV, MP4, MOV & AVI are provided.

Option 1: Multi-Track Video Output
This is the unique feature of EaseFab LosslessCopy. There are four multi-track output formats available for you to choose from – Lossless/encoded Multi-track MKV, Multi-track MP4, Multi-track MOV and Multi-track Interlaced DV PAL Video (*.avi).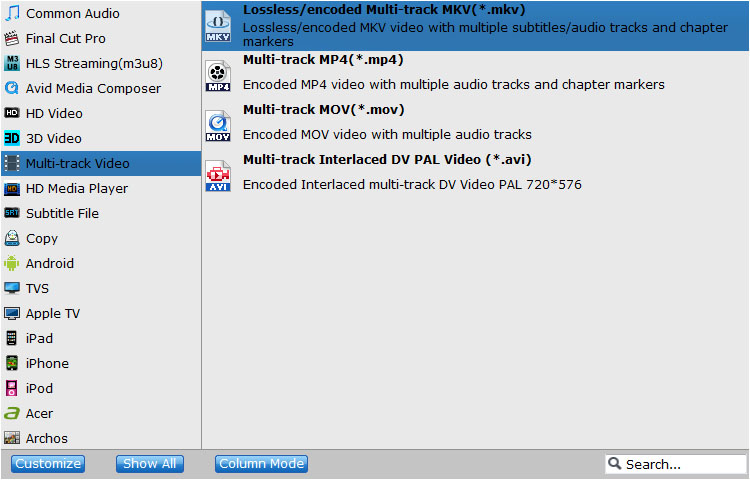 Lossless/encoded Multi-track MKV
EaseFab LosslessCopy transfers video from Blu-ray/DVD to MKV container in two ways, lossless output and encoded output. Both the two ways enable users to preserve wanted audio tracks and subtitles streams in the source movie.
Actually, all audio & subtitles tracks in a source file are checked to be saved in the MKV container by default, if there are some tracks you don't like, you can click Settings button and go to Multi-task Settings window to uncheck and remove them under Audio tab and Subtitle tab.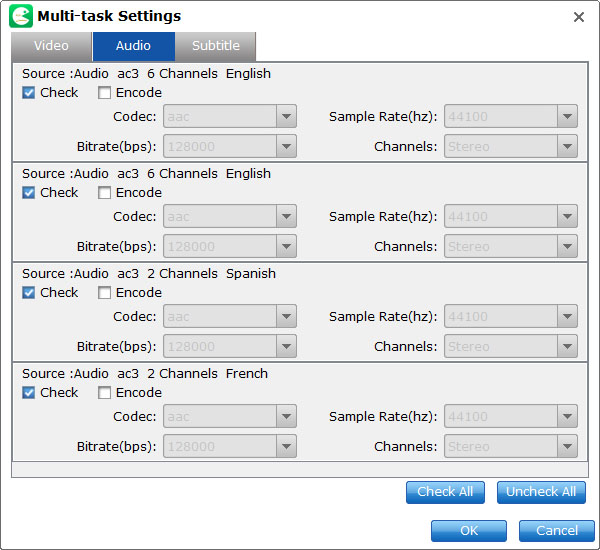 Multi-track MP4/MOV and Multi-track Interlaced DV PAL Video (*.avi)
Unlike multi-track MKV, the three formats only support encoded output. Users can choose their wanted audio tracks to be kept in the output file, but subtitles streams are banned to choose from.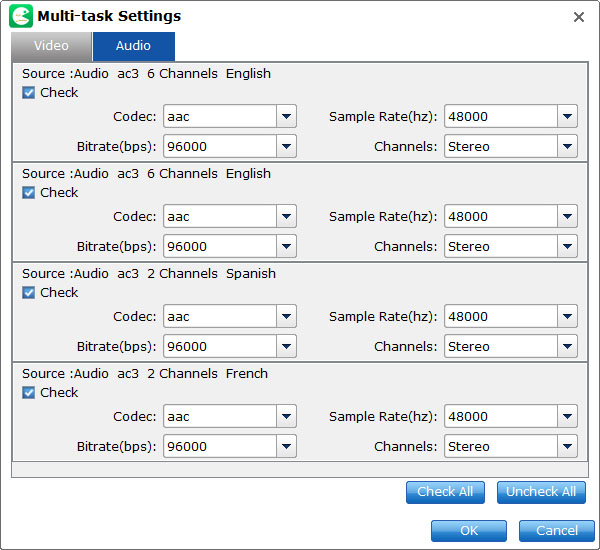 Option 2: Regular Video Format Ouput
As you see, all regular video and audio formats like MP4, MOV, MKV, WMV, AVI, FLV, MP3, WMA, WAV, M4A, etc. are provided.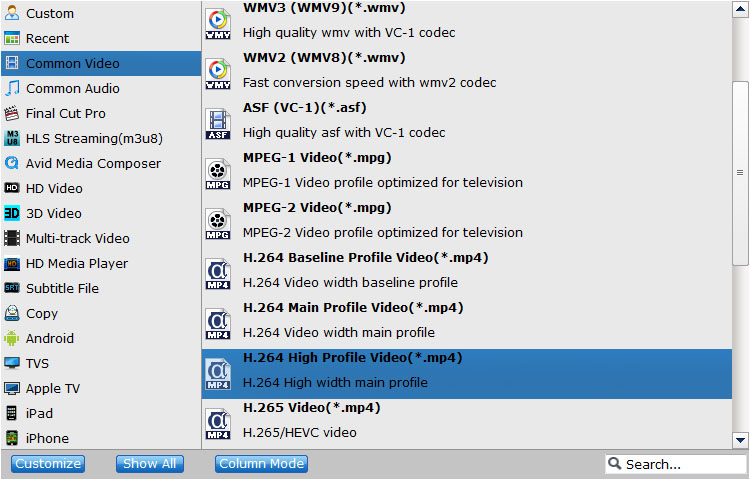 If you want to convert your Blu-ray/FDVD movies for play on portable devices, including iPhone, iPad, iPod, HTC, Samsung Galaxy, Nokia, Sony, PSP, Xbox 360 and more, you can simply browse to find the icon of your device and select it as the output format to get videos with optimized settings. All Idevices output files can be synced to iTunes automatically.
Tips: By clicking the Settings button beside Profile, you can adjust the output video/audio resolution, frame rate, bit rate, etc. to customize the output files to get the best quality you want.
Step 3: Start Conversion
Clicking the Convert button on main interface, you can go to Conversion window to start conversion.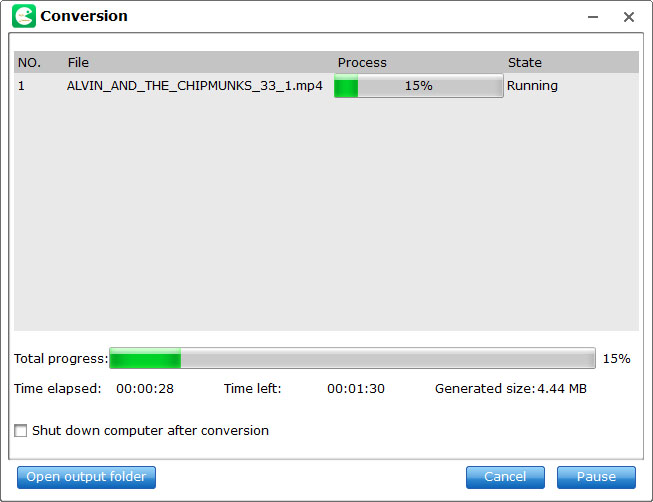 Full Disc Copy and Directly Copy
Besides ripping, the EaseFab LosslessCopy also offers enough freedom for all movie lovers like you to back up your favorite Blu-ray or DVD movies in a personalized way. Two different copy modes: Copy the entire disc and Directly Copy (Copy the main movie) are provided to let you copy the exact movie part you want. Just the selected your wanted one.

Copy the entire disc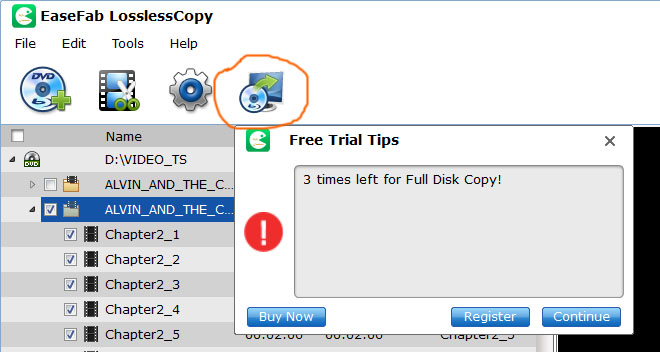 Directly Copy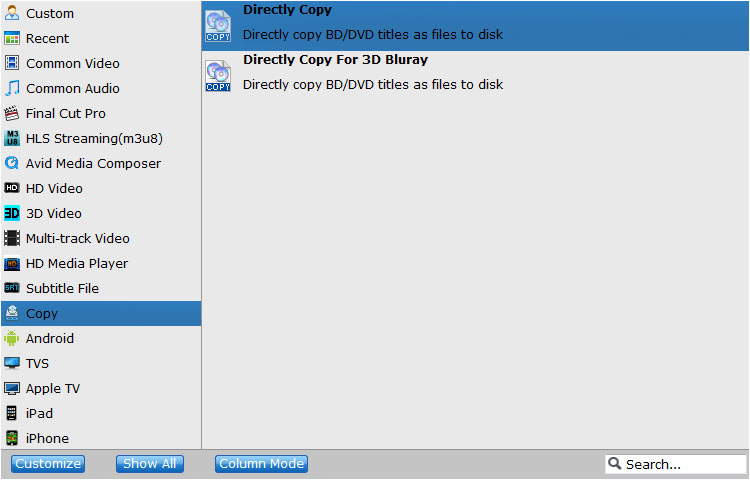 Edit and Personalize Video Files
EaseFab LosslessCopy is not only a Blu-ray and DVD Converter program, but also a simple and easy video editor. By default the Edit icon is grayed out. To activate the Edit menu, you have to select an item first. When a movie title or chapter is selected, you can click the Edit

icon on the tool bar of main interface to edit selected file.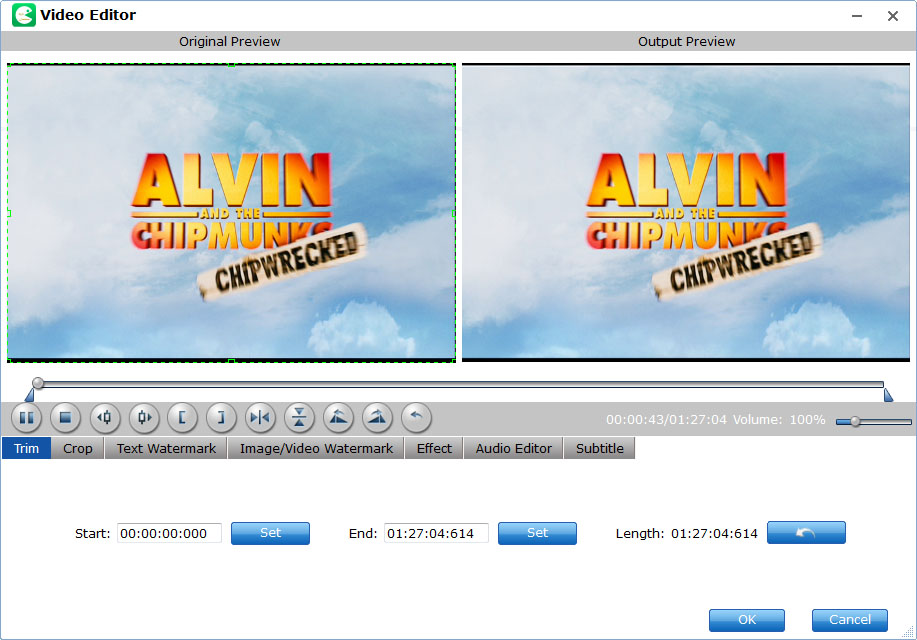 On the Editor Window, you can play and preview the original video and output effects. Also you can flip video, trim, add effect, reset, and adjust volume. In Video Editor, there are seven edit tabs: Trim, Crop, Text Watermark, Image/Video Watermark, Effect, Audio Editor and Subtitle.

Trim: You can trim off unwanted parts from start and end. You can either drag pointers on the process bar or set exact time point in Start and End boxes to set.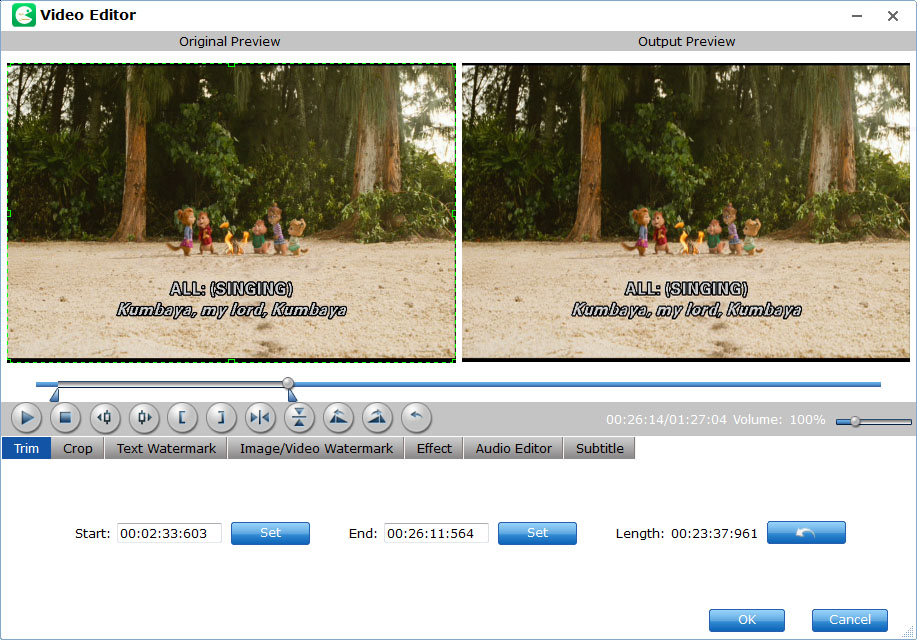 Crop: You can drag the edges on play window to specify or adjust parameters. You can also click the human button to switch to advanced mode. And then you can set display aspect ratio as well as output ratio and output mode.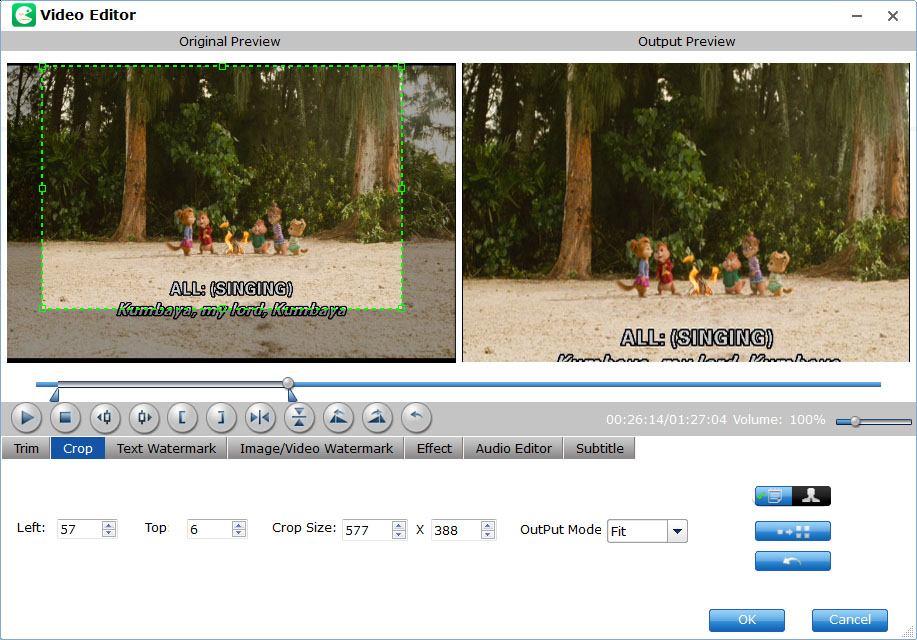 Text Watermark: Check Enable, you can add text watermark to selected video clip. You can either set parameters or drag the text on preview screen to set its location.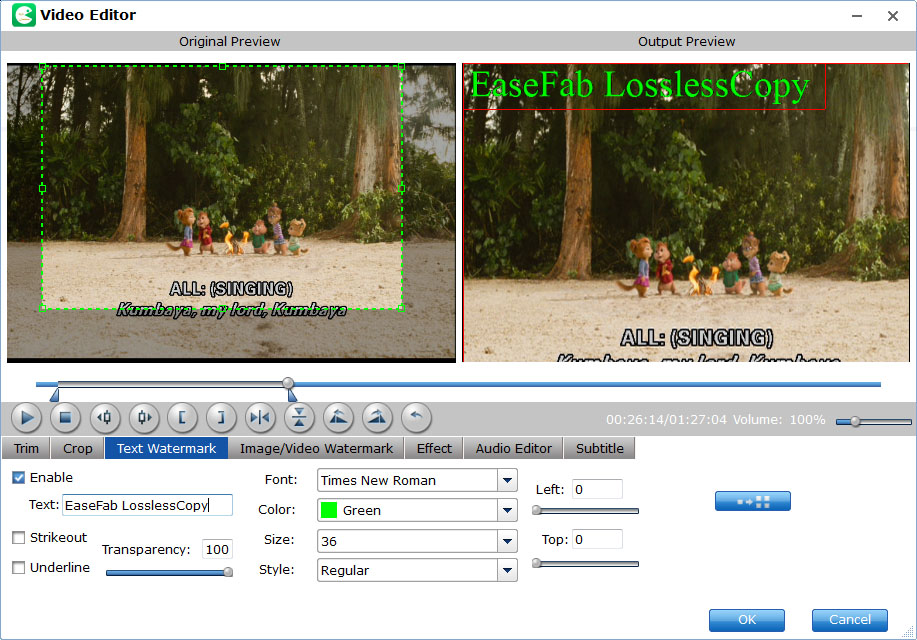 Image/Video Watermark: Check Enable, you can add images or videos as watermark onto selected video file. The location can also be set by dragging on the preview screen.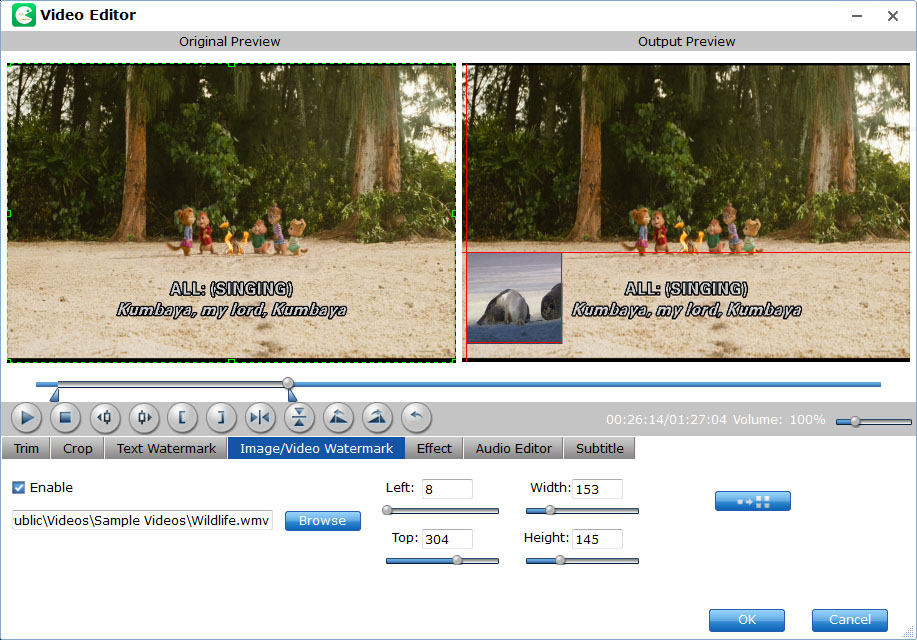 Effect: Under Effect tab, you can add special effects like Simple Gauss Blur, Flip Color, Invert, Aged Film to your source video. In Color Control section, you can correct color by by adjusting brightness, contrast, and saturation. Deinterlacing is checked by default to keep good image quality.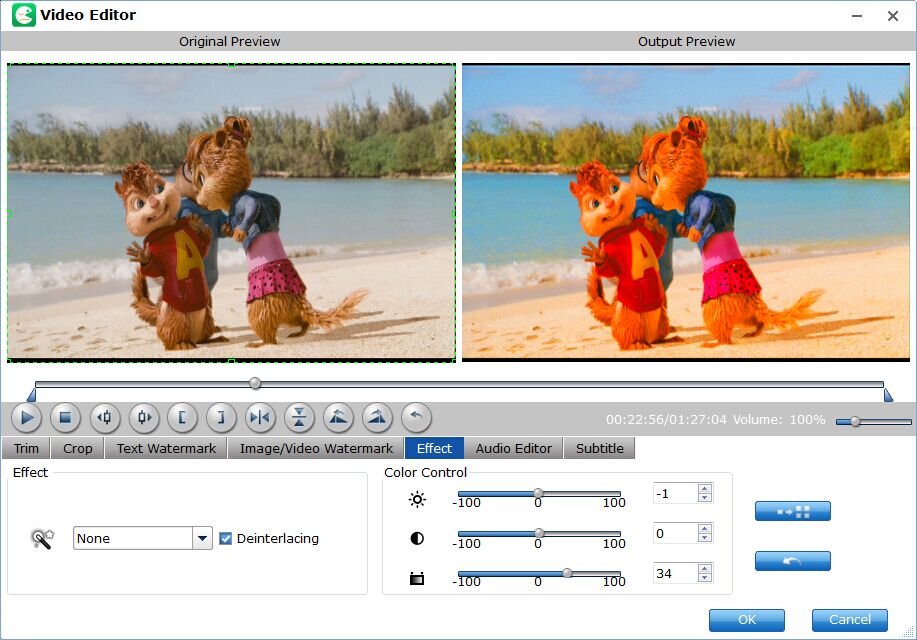 Audio Editor: You can either replace/remove original audio, or set audio fade in/out effects.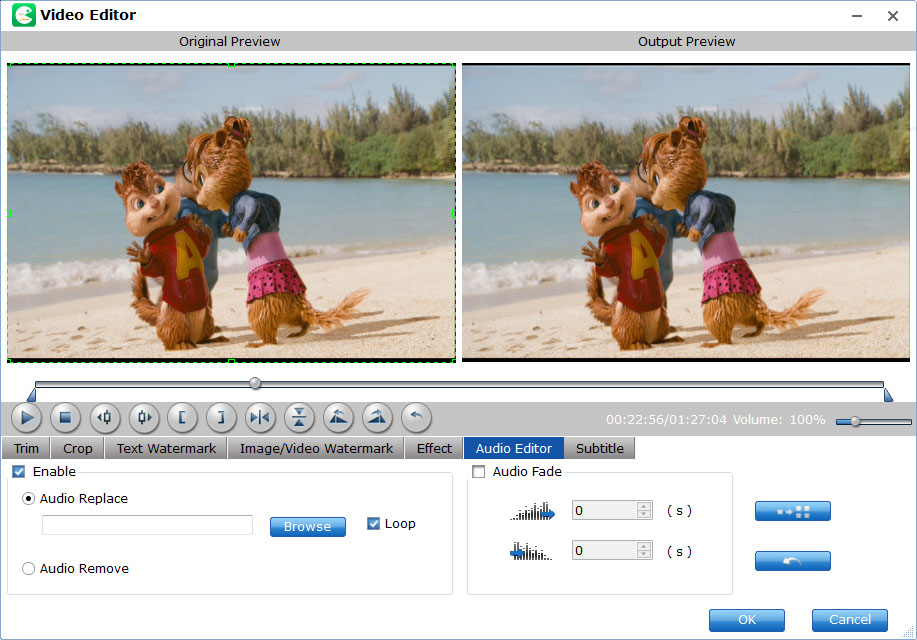 Subtitle: In this tab, you can add *.srt or *.ass/*.ssa subtitle-files to the video as hard subtitles.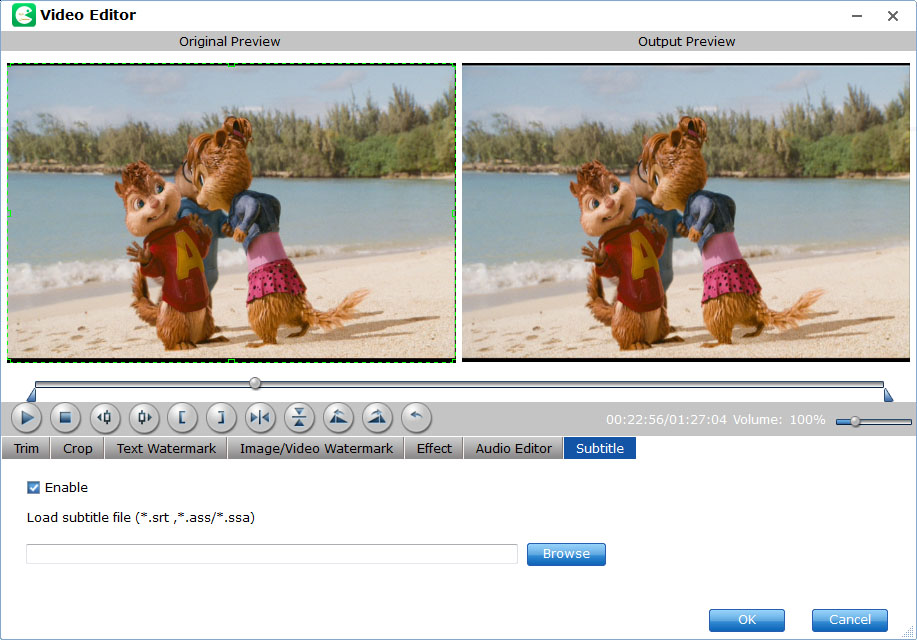 Merge, Split and select subtitles & audio track (Optional)

Merge selected movie titles into one: By ticking the Merge into one file option behind Settings button, you can merge the ticked files in list into one single file.


Split selected file into several small pieces: By clicking the Split

button on file list, or from Edit menu, you can launch the Video Split window. Ticking Enable to enable it, and then you can split the file by file count, time length, or file size.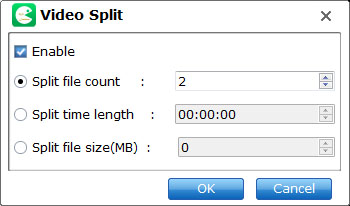 Select desired subtitles stream and audio track: Check the movie titles you want to rip. Click the drop-down list of Subtitles, then all the subtitles info in the Blu-ray will be shown clearly, so you can select your needed language as your subtitles freely.

What's more, EaseFab LosslessCopy also offers an option called Forced subtitles, which enables you to see subtitles only when actors are speaking a different language. For instance, if you specify English (your mother tongue) as your subtitles, and meanwhile tick off "Forced subtitles" option, then when actors are speaking English, no subtitles will show up, but when they are talking with each other in French, the English subtitles will appear accompanying with the French.
To select your desired audio track, just click the pull down menu of "Audio", and then the popup drop-down list will give you the detailed information of all audio tracks, including audio codec and language.