Converting Sony XDCAM footage to QuickTime MOV on Mac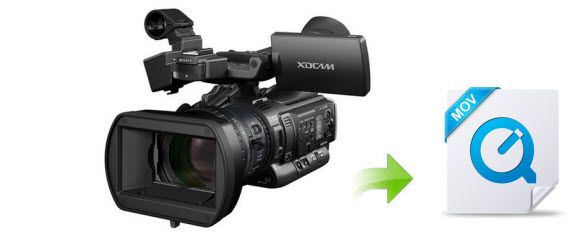 Sony XDCAM is a series of professional camcorders including the XDCAM SD, XDCAM HD, XDCAM EX and XDCAM HD422. They are capable of shooting in either standard definition or high definition. After recording some 1080p or 720p footages by your Sony XDCAM camcorder, you may want to play the XDCAM footage with QuickTime on your Mac. However, many users have been jumping over hurdle after hurdle trying to get XDCAM footage to play with QuickTime. Althoug Sony provides a plugin called XDCAM Browser for you to preview the XDCAM EX .mp4 files or export as a mxf file, the limit is that it can't transfer to a .mov file and this rewapped .mxf file may not be viewing.
To play Sony XDCAM footage using QuickTime as your media player on your Mac, you may have to convert the Sony XDCAM to a Mac-compatible MOV format. To do that, you can use EaseFab Video Converter for Mac, which can help you transfer Sony XDCAM MP4/MXF files to QuickTime MOV files while keeping the original quality. Besides, the program also exports prefessional encoders like ProRes, Apple Intermediate Codec, DNxHD, MPEG-2 and many more, which ensures maximum editing quality and efficiency when working with Final Cut Pro, iMovie, Avid, and Adobe Premiere Pro, etc. non-linear editing systems. Now download it and follow the simple tutorial below to learn how to transcode Sony XDCAM footage to QuickTime MOV on Mac OS X (Yosemite and Mavericks included).
Download the Sony XDCAM Video Converter:
Converting Sony XDCAM media to QuickTime MOV on Mac
Step 1: Import Sony XDCAM files
Install and launch the Sony XDCAM Converter for Mac. Click the Add Video button to import Sony XDCAM separate .mxf or .mp4 files.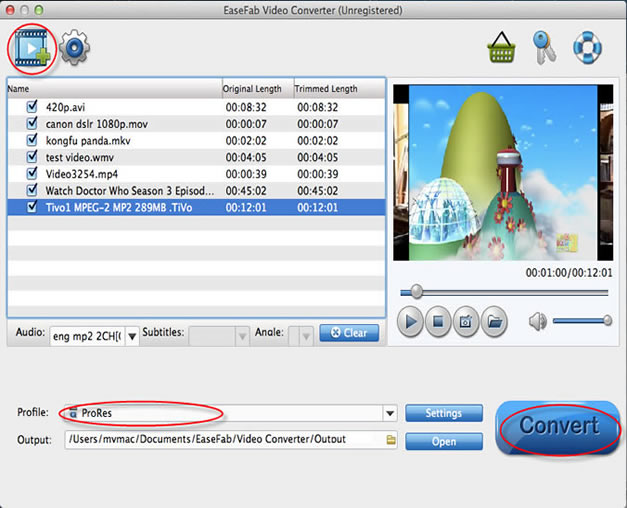 Step 2: Select MOV as the output format
Click the "Profile" drop down list to select MOV (QuickTime playable format) from Common Video category as the output format. Then click "Output" drop down list to select a proper destination folder for output files if you want to change the current default output folder. Note that you can customize the settings for the output.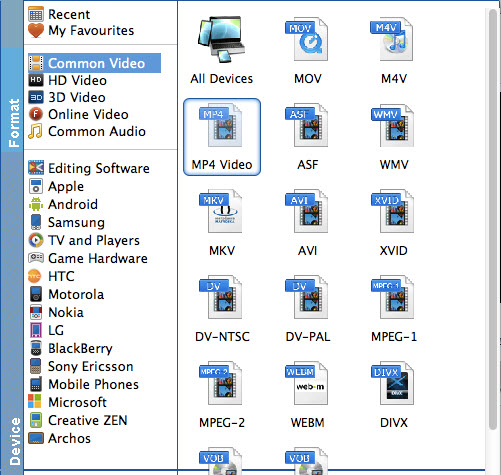 Tip: If you want to convert Sony XDCAM footage for editing, there are optimized presets for Final Cut Pro, iMovie, Avid, Premiere and many more editors. You can find them under "Editing Software" category.
Step 3: Start transcoding Sony XDCAM to QuickTime MOV
When everything is OK, you can click the Convert button to start converting Sony XDCAM MP4 or MXF to QuickTime MOV on Mac OS X.
Once the conversion completes, you can play your Sony XDCAM footage in QuickTime or edit them on your Mac without problems.
Learn more about Sony XDCAM
Sony XDCAM is a series of products for digital recording using random access solid-state memory media and it has four different product lines - the XDCAM SD, XDCAM HD, XDCAM EX and XDCAM HD422 - differ in types of encoder used, frame size, container type and in recording media. The XDCAM format uses multiple video compression methods and media container formats. Video is recorded with DV, MPEG-2 Part 2 or MPEG-4 compression schemes. DV is used for standard definition video, MPEG-2 is used both for standard and high definition video, while MPEG-4 is used for proxy video. Equipment that uses Professional Disc as well as XDCAM 4:2:2 on SxS cards as recording media employs MXF container to store digital audio/digital video streams.