Products Powered with NVIDIA© CUDATM, 6X faster.
EaseFab products take advantage of the latest NVIDIA® CUDA™ technology of shifting video "central processing" load from your computer CPU to "co-processing" mode on NVIDIA's CPU and GPU instead.
CUDA, as NVIDIA's parallel computing architecture, enables dramatic increases in computing performance by harnessing the power of its own GPU and therefore, reserves more spaces and resources of your computer CPU that can be used for other applications and tasks.
EaseFab cooperates with this new acceleration technology flawlessly by auto detecting the CUDA-enabled GPU and accelerating the video conversion with 6X faster speed. The video conversions that leverage CUDA technology will be indicated by a vivid glowing CUDA logo and only take minutes rather than hours to accomplish.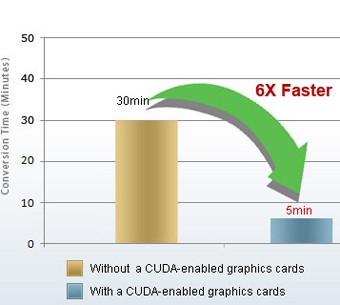 Optimization for Multi-core Processors - Faster Performance with NVIDIA® CUDA™
With NVIDIA® CUDATM technology, the video conversion is processing on NVIDIA's GPU instead of your computer's CPU, so more CPU resources is available for other applications. Now for your faster and better video conversion experience, EaseFab products are optimized with NVIDIA® CUDATM technology. It means 6X faster HD and SD video conversion, higher quality, and smoother playback for all videos.
CUDA technology saves you time, and enable GPU encoding/decoding acceleration to improve the performance, once CUDA-enable graphics card is detected. Now, you can instantly see which conversion formats leverage CUDA technology.
The right chart shows the performance while converting videos with and without CUDA by EaseFab products.

EaseFab Optimized Products
| | |
| --- | --- |
| Video Converter Ultimate | The ultimate tool to convert video/audio, rip and backup DVD and Blu-ray movies in one place. |
| Video Converter | Easily convert all video files from one format to another in state-of-the-art quality. |
| DVD Ripper | Rip DVD movies to MP4, AVI, WMV, MOV, MP3, WMA and more for play anywhere you like.. |
| Blu-ray Ripper | Rip, convert and backup AACS/BD+ protected Blu-ray and CSS-encrypted DVDs to any video/audio formats and all portable devices |
| LosslessCopy | An efficient, safe, fast and ease-to-use tool to backup, rip and copy Blu-ray/DVD movies to MKV/MP4/MOV with multiple audio tracks & subtitles. |
Supported Formats:
Input Video Formats:
Standard Video:
MP4, AVI(XviD), ASF, WMV (Windows Media Video), MPG, MPEG1, MPEG2, FLV (Flash Video), 3GP, 3GPP, MOV(QuickTime), MKV, TS (MPEG-2), M4V(without DRM), VOB, TP, TRP, NSV, RM, RMVB, 3G2, NUT, DV etc.

HD Video:
MP4, AVI(XviD), ASF, WMV (Windows Media Video), MPG, MPEG1, MPEG2, FLV (Flash Video), 3GP, 3GPP, MOV(QuickTime), MKV, TS (MPEG-2), M4V(without DRM), VOB, TP, TRP, NSV, RM, RMVB, 3G2, NUT, DV etc.
Output Video Formats:
All video formats with H.264 codec
Supported Graphics Card:
GeForce 400 Series:
GeForce GTX 480/GTX 470/GTX 465/GTX 460
GeForce GTX 480M
GeForce 300 Series:
GeForce GT 340/GT 330/GT 320/315/310
GeForce GTS 360M/GTS 350M/GT 335M/GT 330M/GT 325M/310M/305M
GeForce 200 Series:
GeForce GTX 295/GTX 285/GTX 285 for Mac/GTX 280/GTX 275/GTX 260/GTS 250/GT 240/GT 220/210
GeForce GTX 285M/GTX 280M/GTX 260M/GTS 260M/GTS 250M/GT 240M/GT 230M
GeForce 100 Series:
GeForce GTS 150/GT 130/GT 120/G100
GeForce GTS 160M/GTS 150M/GT 130M/G210M/G110M/G105M/G102M
GeForce 9 Series:
GeForce 9800 GX2/9800 GTX+/9800 GTX/9800 GT/9600 GSO/9600 GT/9500 GT/9400GT
GeForce 9800M GTX/9800M GT/9800M GTS/9800M GS/9700M GTS/9700M
GT/9650M GS/9600M GT/9600M
GS/9500M GS/9500M G/9400M G/9300M GS/9300M G/9200M GS/9100M G
GeForce 9400/9300 mGPU
GeForce 8 Series:
GeForce 8800 Ultra/8800 GTX/8800 GTS/8800 GT/8800 GS/8600 GTS/8600 GT/8500 GT/8400 GS
GeForce 8800M GTS/8700M GT/8600M GT/8600M GS/8400M GT/8400M GS
GeForce 8300/8200/8100 mGPU
GeForce Desktop Series:
Quadro FX 5800/FX 5600/FX 4800/FX 4800 for Mac/FX 4700 X2/FX 4600/FX 3800/FX 3700/FX 1800/FX 1700/FX 580/FX 570/FX 470/FX 380/FX 370
Quadro CX/6000/5000/4000/NVS 450/NVS 420/NVS 295/NVS 290/Plex 7000/Plex 2100 D4/Plex 2200 D2/Plex 2100 S4/Plex 1000 Model IV
GeForce Mobile Series:
Quadro FX 3800M/FX 3700M/FX 3600M/FX 2800M/FX 2700M/FX 1800M/FX 1700M/FX 1600M/FX 880M/FX 770M/FX 570M/FX 380M/FX 370M/FX 360M
Quadro 5000M/NVS 5100M/NVS 3100M/NVS 2100M/NVS 320M/NVS 160M/NVS 150M/NVS 140M/NVS 135M/NVS 130M