Summary: There are many reasons to use a Blu-ray ripper or DVD ripper to pull physical media onto your hard drive. If you've got shelves full of DVDs and Blu-rays waiting to be ripped, here are the top 3 best tools you need to digitize both your Blu-ray and DVD collection.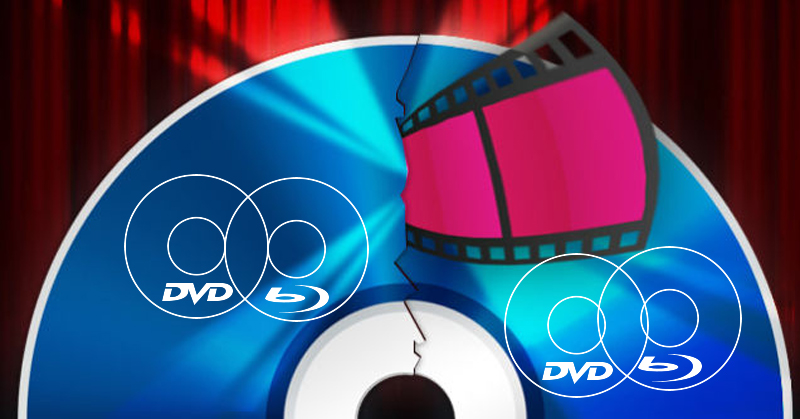 There are many occassions that you need to rip your Blu-ray and DVD discs: You want to take your movies with your on road, or just want to clean up those physical discs but keep your films and TV shows on your HTPC, or just want to protect your discs from scratching and get rid of messing around with physical discs. Thankfully, there are many programs out there that allow you to make copies of your Blu-ray and DVDs and let you rip them to watch them the way you want to view them. Here I will show you three different and excellent tools to rip both Blu-ray and DVD discs.
Top 3 Programs for Ripping Both Blu-ray and DVD Discs:
1. LosslessCopy
LosslessCopy is a lightweight tool by EaseFab studio, and it tops our list of the best Blu-ray rippers. It's avaiable for both Windows and Mac users. You can download a free trial version of this software, but you'll have to pay an annual subscription fee to use it for ripping Blu-ray or DVD discs longer than three minutes.
Having to pay for Blu-ray ripping software isn't all bad though. It means you don't have to contend with in-app ads and upsells, and you get advanced features you wouldn't find in free Blu-ray rippers. Plus, LosslessCopy's price tag is very low comparied the other Blu-ray/DVD rippings tool on the market, and we definitely think it's worth it.
Although LosslessCopy is lightweight, it doesn't hold back on performance. It can read all kinds of Blu-ray and DVD sources: protected and unprotected Blu-ray Disc, BDMV folder, BD ISO, physical DVD, VIDEO_TS folder, DVD ISO and IFO file. As a professional and powerful all-in-one Blu-ray/DVD disc handling tool, LosslessCopy integrates DVD/Blu-ray ripping, conversion, and backup in one place. Using it is as simple as loading the disk, selecting the output folder, and pressing the big, blue 'Convert' button. The straightforward navigation makes it suitable for beginners and advanced users.
There really isn't much more to it, LosslessCopy is one of the best Blu-ray ripping programs on Mac for this reason. It has the ability of backing up Blu-ray/DVD collection to multi-track MKV which can store multiple video/audio tracks with all meta-information and chapters. And it can also rip BD/DVD movies to MP4 and MOV with multiple audio streams. This is an unique feature that most Mac Blu-ray ripper softwares that don't provide.
Besides the multi-track outputs, LosslessCopy also has the avility to convert Blu-rays into virtually any popular video and audio format such as H.265, H.264, MP4, MOV, MKV and AVI. If you don't know what settings to use, not to worry, as there are more than 200 pre-configured device profiles to choose from. Additional tools include split, trim, slip, merge, adding audio and subtitles, and snapshot, among others.
What's more, LosslessCopy provides two methods to help your backup your Blu-ray discs. Using the "Full Disc Copy" feature, you can copy Blu-ray/DVD's original file structure to BDMV/Video_TS folder with all subs tracks, audio streams and chapter information included. Besides, you can also save 100% intact M2TS main movie from your Blu-ray Disc without any quality loss to get perfect backup from BD 50 to BD 50 or BD 25 to BD 25.
With LosslessCopy, you will instantly experience the latest and most advanced technologies, including but not limited to Passthrough, HEVC, 4K, etc., and it will always keep updating to support the newest releases and devices. LosslessCopy comes with tutorials, FAQs and a knowledgebase on its official website. And EaseFab provides timely and excellent customer support service, including lifetime free upgrade of product and technical support.
You can try out LosslessCopy for free, but you can only convert 3 minutes worth of a Blu-ray movie at a time. The use the full version on one PC or Mac for one year, you'll pay 27.57 which is much cheaper than other tools.
Pros:
+ Very fast rips
+ Loads of profiles besides lossless MKV output
+ Easy-to-use application
+ No annoying ads
+ Contains an editor
+ Excellent customer service
Cons:
- Although the interface is easy to understant, it need to be improved.
2. MakeMKV
MakeMKV is a software app which shreds the copy protection on a disk, provides you with each file it finds, and when you have made your selection, it makes a nice beautiful MKV file, with perfect picture and sound quality. You can then play it with your favourite media player. The software is available for Windows, Mac OSX and Linux.
DVDs are very fast (normally no more than 15 minutes) and Blu-Rays range from 30 minutes to a couple of hours, depending on the length of the movie, and the extras you want. In fact, one Blu-Ray disk I owned took close to 2 hours! Whether that is the fault of the software, or of the disk itself, I don't know. But it sure irritates the hell out of me. So don't start doing this, if you are planning to switch your computer off soon.
One other thing. This may be a downside to some of you, while for others, it may actually be good. When you make a MKV file, you are making a high quality, high-definition digital file. As a result, the size of the file will be enormous. Don't be surprised if a DVD rip comes in at 15GB and a Blu-Ray rip at 30GB. .
PROS:
+ Reads Blu-ray discs protected with latest versions of AACS and BD+
+ Preserves all video and audio tracks, including HD audio
+ Preserves all meta-information (track language, audio type)
+ Fast conversion - converts as fast as your drive can read data.
+ No additional software is required for conversion or decryption.
+ unctionality to open DVD discs is free and will always stay free.
CONS:
- Program is time-limited - it will stop functioning after 30 days. If all you ever want to do is rip DVDs, then it seems that it will let you do this for free, forever. I have never, in the 6 months I have been using it, been asked for payment for ripping DVDs. However, if you want to rip Blu-Rays, then there is a limited period where you can do it for free. For me, it was a couple of months which is not too shabby. Then it told me to pay up. Eventually I did (reluctantly). It costs about $50, which is why I hesitated for so long before buying (blame my Scottish genes).
- HD-DVD support is limited - some discs may fail to open and not all audio and subtitle tracks will be preserved.
- It can only output files in MKV format, which is not compatible for most media player and can not meet all users' needs.
3. Handbrake
Handbrake is a free program that available both for Mac and Windows users to rip DVD and convert videos. And Blu-ray ripping feature was added in the update release of HandBrake 0.9.5 on Jan 3, 2011. However, that doesn't mean you can use HandBrake as a full Blu-ray Disc ripper, because it doesn't handle commercial copy-protected Blu-ray Discs. In the release highlights you can find that "BluRay disc structure support. (No decryption support)".
Overall, if you have an tool to Decrypt Blu-ray protection, Handbrake is the first choice to rip both Blu-ray and DVD discs because it's toally free!!!
PROS:
+ The app is fast, can make the most of multi-core processors to speed up the process.
+ It is completely open source and completely free.
+ It's simple, easy to use, easy to install, and offers a wealth of tweaking options to get the best possible file as a result.
+ It is designed with preset profiles for Apple iPhone, iPad, iPod, Apple TV, Android and WP8.
+ It provides numerous video and audio parameter settings for users to alter file size and video quality.
+ It supports to output MP4, MKV, H.264, MPEG and MP3 formats
CONS:
- It only converts Blu-ray without copy protection.
- It can not rip DVD with encrypted-protection methods including CSS.
- The output files formats are very limited, which can't meet all people's needs.
- It is complicated to set an output device preset and it is hard to understand some options.
- Batch video conversion, only available on HandBrake 0.9.5 or later, has a complicated process
Conclusion:
While these are the best DVD rippers and Blu-ray rippers available, there are plenty of options to rip a DVD or Blu-ray to your computer. Which option you choose depends on whether you're ripping Blu-rays or DVDs, what file formats you prefer, your ideal quality, and more.
1. If your Blu-ray can be played in your Blu-ray player and your DVD and Blu-ray is not under encrypted-protection, then HandBrake is a good choice for you to rip Blu-ray and DVD.
2. If you just want to rip Blu-ray and DVD to MKV format, then you can choose MakeMKV or LosslessCopy to help you rip Blu-ray and DVD.
3. If you want a powerful yet simple Blu-ray/DVD ripping tool, which can remove all Blu-ray and DVD copy protection and rip all kinds of Blu-ray and DVD to all mainstream devices supported video formats, then LosslessCopy will be your best choice.