MP4 is the most used format for web and mobile videos.And also MP4 is most supported by most devices like iPhone, iPad, Android, portable players, TVs and online websites. However, MP4/MPEG-4/H.264/H.265 MP4 is not coded in many DVD players and some of its successors like HD DVD players, Blu-ray disc players and 3D DVD players. Therefore you can't play MP4 files on DVD Player successfully. To view MP4 videos on DVD Player, you will need to convert MP4 to DVD Player supported format first or choose to burn MP4 to a DVD disc for playback ono your DVD Player. Here are the two different solutions for you.

Formats by DVD players and Why MP4 videos Won't Play?
Format supported by all DVD Players - MPEG-2 format
A standard DVD movie has two folders in the directory - AUDIO_TS and VIDEO_TS, with the latter containing .IFO files to store playback info about chapters, subs, audio tracks, etc., BUF files as backups of the IFO files, and .VOB files to store the actual video and audio data.
The VOB files contained in DVD video are encoded in H.262/MPEG-2 at a resolution of 720x576 (at 25 frames per second) and 720x480 for NTSC (30 frames per second) by and large. In this respect, DVD player from Sony, Samsung, Panasonic, LG, and more actually has no problem playing the MPEG-2 format discs, since almost all DVD players have an MPEG-2 DVD decoder.
Possible Reasons why we can't play MP4 videos on DVD player:
1. Majority of DVD players only accept MPEG-2 in a standard VOB format, and very few of them are compatible with MPEG-4 videos.
2. All standard DVD accept videos that conform to a certain resolution and BVOP settings. For instance, a majority of DVD players limit import to a resolution of 720 by 756 or 720 by 480. While, if you got some MP4 files with greater than this, your DVD players will not have the capacity to play it.
3. Newer models of DVD players can be able to play AVI files on one and only one condition, the AVI file has to be further encoded with another codec such as Xvid, Divx, WMV and MPEG-1 just to name a few. And MP4 wouldn't be supported.
Broadly speaking, the major reason is caused by an unsupported video codec so that your DVD player can't play the MP4 file. MP4 is a container format which is able to contain audio and video using different codecs. Therefore, transcoding MP4 file is the most effective yet easiest solution recommended by us.
Troubleshooting: Convert MP4 to MPEG-2 for Playing on DVD player
EaseFab Video Converter makes an easy work of converting MP4 to DVD Player highly compatible MPEG-2 format with fast encoding speed and zero quality loss. Besides, with this converter, you can convert various common videos in virtually any format, incl. MP4, MOV, AVI, WMV, HEVC, H.264, VP9 and more with 420+ optimized profiles, adjust video parameters like resolution, frame rate, bit rate etc., trim video length, crop video frame size and more.
How to convert MP4 to MPEG-2 for DVD Player
Step 1. Add MP4 files to the program
Here you can directly drag & drop the MP4 files to the converter, or click "Add Video" button to load your video files.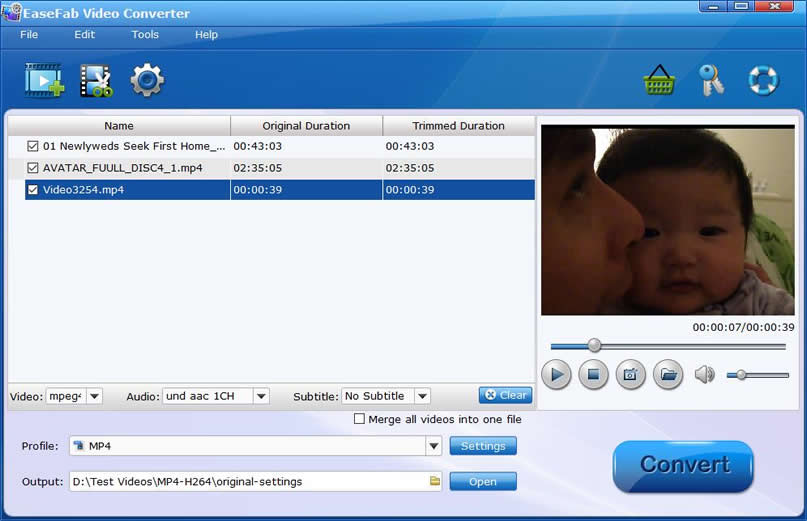 Step 2. Select the output format
From the drop-down list of "Profile" you're recommended to select "MPEG-2" from "Common Video" category as the output format. You can also choose "DIVX" as the output format. When you have selected the output format, you should select a destination folder for the output file by clicking "Output Folder", you can also let it be the default one.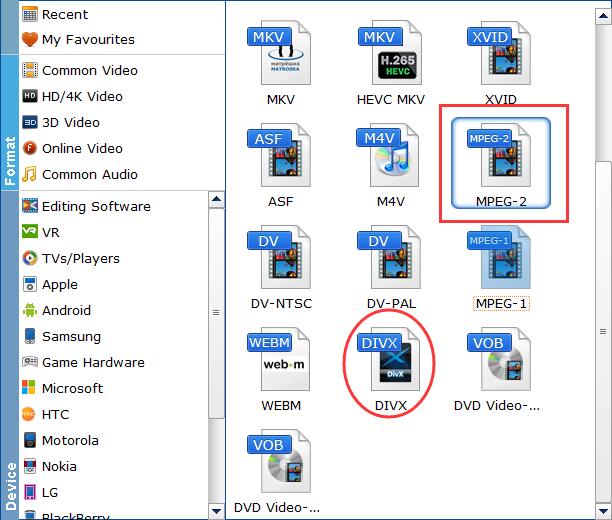 Tips: You can also click "Settings" to customize output video parameters such as video size, video bitrate, audio channels and so on depending on your needs. Here you're recommended to adjust the resolution from default "Original" to 720*480 or 720*756.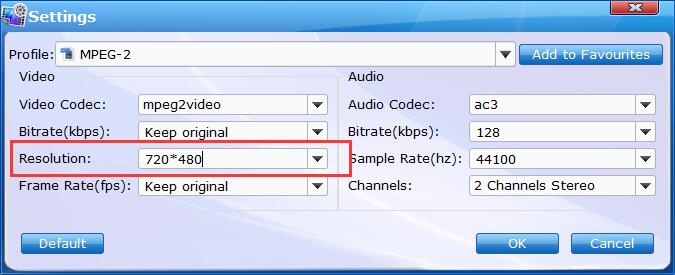 Step 3. Start MP4 to VOB conversion
After every step presented above has been performed, press the Convert button and wait until the MP4 to VOB process has been completed. Now you will be able to access your MP4 video in the output folder. Thus you can enjoy your favorite MP4 movies by simply playing them on your DVD player.
Final Words:
The MP4 format is readily acceptable on most video programs you use on your computer and it is even possible to play the video on a DVD player. The only requirement is that the MP4 be on either a video CD or DVD. If the MP4 is not on either a video CD or DVD, even if you have successfully burn MP4 to DVD without converting, you will still encounter issues in playing MP4 on DVD player: Regular standalone DVD players can only read movie DVD's (those are in MPEG-2, and if you view them in Windows Explorer, you see a folder structure with VIDEO_TS, and files like .VOB .IFO and .BUP). Newer DVD players that are DivX-certified can (in addition to the above) read data DVD's with an AVI file encoded in the DivX codec. Most of the time, you will fail to play MP4 on DVD player unless the DVD players have the "Nero Digital" label on them.