Sometimes you may find yourself a situation that requires formatting hard drive. In most cases, formatting is much quicker and more convenient to simply erase everything in one go than it is to delete files one by one on your hard drive. Formatting a hard drive usually leads to losing most of the data that was stored on it. But what if you make a mistake and accidentally format the wrong drive? Is it possible to recover files or data from a formatted hard drive? The short answer is yes.
In reality, so long as you don't start using the drive and writing files to it, the data can still be there. Restoring the files from formatted hard drive sn't easy though unless you use dedicated recovery software or don't mind entering command line code. Here is a simpel and effective solution to help you recover data from formatted hard drive.
Part 1. Why Is it Possible to Recover Data from Formatted Hard Drive?
One frequently asked question is "Can a formatted hard disk be recovered". The short answer is yes - it is possible to recover data from a formatted hard drive using specialized data recovery tools.
Generally, after formatting, you deleted files are not completely gone from the drive, it's just that you can't see them. They don't get permanently erased until new data is written, as this then replaces the data that has been marked by the system as no longer required.
Therefore, it is essential that you don't use a hard disk or other storage medium after you've accidentally reformatted it. By doing so, you will most likely write over the data you thought was lost, making it irretrievable.
There are several factors that significantly influence the outcome of any attempt to recover a formatted hard drive, including:
Selected recovery method: Not all formatted hard drive data recovery methods are equally effective, which is why you should always start with the one that's most likely to give you good results.
Time since formatting: The sooner you start the formatted flash drive recovery process, the better. Delaying the recovery more than necessary can cause important files to become overwritten.
Amount of new data: The more data you write to a formatted hard drive, the higher the chance that an important file that has been lost during formatting will become overwritten, which would make it impossible to recover.
★ Important
Stop using the hard drive immediately after it's been accidentally formatted because once the data is overwritten, you will lose the chance to recover any previous files. The quicker you perform the formatted hard drive recovery, the higher the chance you have of retrieving your data successfully.
Part 2. How to Recover Formatted Hard Drive using EaseFab Data Recovery
EaseFab Data Recovery is a professional and easy-to-use data recovery software. With it, you can easily recover all data and files from a formatted computer hard drive, external hard drive, SD card, USB flash drives, memory stick and other PC-compatible storage devices. Here are some reasons why recommend this tool:
● Recover data from formatted hard drive in three simple steps.
● Recover data from deleted, hidden, lost or RAW partition.
● Support freely scanning and previewing the recoverable files.
● Provides two scan modes: quick scan and deep scan.
● 100% secure and works well on Windows 11/10 and lower version.
Now download and install EaseFab Data Recovery on your computer and follow the steps below to restore files from formatted hard drive.
Note: To guarantee a high data recovery chance, install EaseFab data recovery software on another disk instead of the formatted disk.
Steps on How to Recover Files from Formatted Hard Drive
Step 1. Launch EaseFab Data Recovery. Select the formatted hard drive and then click "Next" to enter a window that contains different recovery modes. Select "Recovery for Disk Formatted" and click "Start" to begin scanning.

Step 2.This formatted hard drive recovery software will start scanning for all the lost data and files. After scanning, you can browse your files according to "File Type", "File Path" or "Deleted" methods to locate the deleted or lost files on your hard drive. You can also quickly locate a specific type of file by using the "Filter" feature as well as the Search option.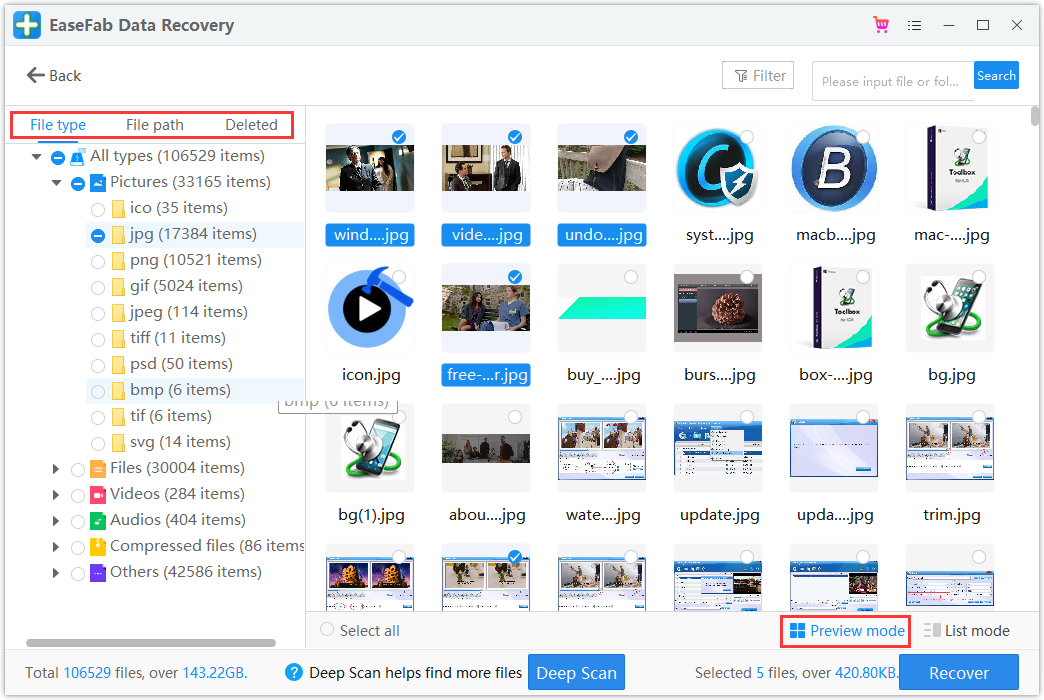 Step 3. Choose the files you want to recover from your formatted hard drive and click "Recover". Choose a new location to store the files and click "OK" to save all recovered files.
Part 3. Tips to Securely Format Hard Drives in Windows
Formatting your drive without data loss is tricky, but not impossible. You might need to format your drive if you cannot even access the data on it because of an incorrect file system.
Here are two wasy to get started, but please ensure you create a backup of your data before procedding.
Quick Format Hard Disk in Windows Explorer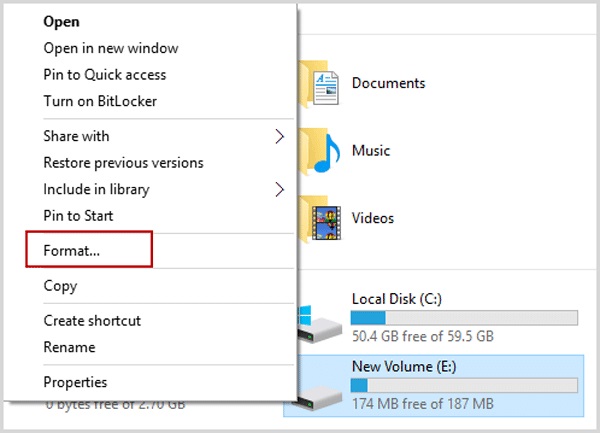 1. Click on "My Computer", select the drive you wish to format. "Right-click" on it and choose "Format" from the drop-down list of options.
2. Once the "format" dialogue box opens, you can choose the capacity size, though it is recommended to keep it at the default size. You can also set up a file system for the drive to be formatted. Click on "Start".
3. As you click "start" a warning window will appear before you. If you are sure you wish to format the disc, you can click on "ok" and go ahead with the formatting.
Format Hard Disk Drive in Windows Disk Management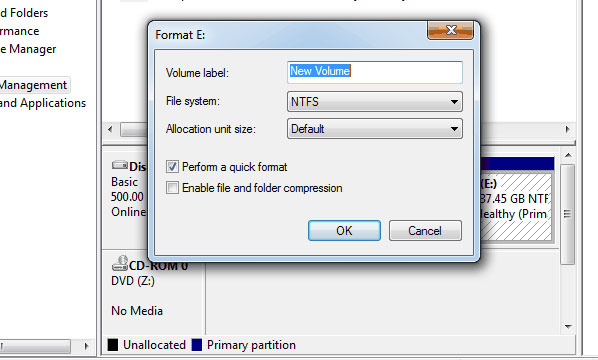 1. Following are the two ways using which you can open Disk Management:
a) Run "diskmgmt.msc" by clicking on the windows start icon.
b) Go on "My Computer". Right-click and choose "Manage" from the drop-down menu. Then choose Disk Management under "Storage".
2. Now right-click on the target partition and select "format" from the drop-down list.
3. Specify the volume label, file system, and allocation unit size in the format wizard. Click "Ok".
4. Press "Ok" to confirm.
Part 4. FAQs about Recover Files from Formatted Hard Drive
Can a formatted hard disk be recovered?
Quite often, yes. Users who have erased their data using quick format can recover their data unless it is already overwritten. Immediately suspend using the drive, find a suitable recovery option and run it. However, SSDs and HDDs which have been fully formatted cannot be recovered in most cases.
Does quick format erase data?
In some sense, yes. It erases metadata related to the file system, making this storage available for overwriting. However, if you have not overwritten the data, it can be recovered.
How to recover data from a formatted hard drive with backup?
➊ Click the Search box and type file history. Click "Restore your files from File history" from the search results.
➋ Then, the File History window will open. All the backed-up files and folders will show up. You can preview the files to find the right version to restore.
➌ Select the files you want to restore, and then click the green arrow to restore the files.
➍ There might be a naming conflict when you restore files. You need to choose "Replace the File in the Destination Folder", "Skip This File", or "Compare Info for Both Files" according to your needs.
How to recover formatted hard drive using CMD?
You can use Windows File Recovery to recover data from formatted hard drive with command lines:
Step 1. Open Microsoft Store, search and install Window File Recovery.
Step 2. Launch Windows File Recovery, use the syntax indicated below to start the process of recovering deleted files.
The basic command line is: winfr source-drive: destination-drive: [/switches].
For example: winfr C: D: /n \Users\Documents\test.docx
Step 3. You can then follow the on-screen instructions to recover data from formatted hard drive.
Conclusion
Sometimes, formatting is the quickest and most effective solution to all kinds of file system issues. The process will, however, leave your hard drive completely empty. Data recovery from formatted hard drives is a little trickier than recovering them from any other disk. Once you have determined that you can recover your data, the rest of the process is straightforward. If you have a backup of your data, you can restore your files from the backup. If you don't have a backup, you can try the best hard drive data recovery software - EaseFab Data Recovery to recover your files.