Home
>
Resources
>
Import iPhone Video to Sony Vegas Pro
Posted by Matthew Watt - Sep 08, 2021 | Contact Author

[Solved] Sony Vegas Pro Won't Work With iPhone HEVC/VFR Footage
"Im Want to edit my video from my iphone screen recording from iphone itself , usually i only record and transfer to my desktop and put a video into my vegas pro 16 Original steam edition , but i think this issue after i updated my IOS Iphone i recording gameplay still use same methods but I put into my Vegas pro 16 my vegas always Not Responding ... My video isn't corrupted at and still work when i play the video."
Before sharing and uploading the recorded iPhone videos with others, many people are fond of editing them to perfection. You can import the iPhone .mov video files to Sony Vegas Pro for some time with success. The the weird thing is, after an iOS upgrade, Sony Vegas Pro will reject to process the iPhone video files. You can add the iPhone videos to the timeline of Sony Vegas Pro, but then crash/freeze Vegas entirely when you try to edit with them. So what's the matter? Read on to find the details.

Why iPhone .MOV Video Files Not Working in Sony Vegas Pro?
As the release of iOS 11, iPhone 8 and later take videos in HEVC(High Efficiency Video Format) format by default. Files in the HEVC/H.265 format is about half size of H.264 files of similar quality. However, encoding files in HEVC requires a bit more processing power, so this change is only coming to the iPhone 7, iPhone 7 Plus, iPhone 8, iPhone 8 Plus, iPhone X, and the latest iPhone and iPad models.
The captured HEVC videos by iPhones are actually compressed with variable frame rate (known as VFR) by default. VFR reduces file sizes at the cost of adding extra processing needs in playback. Essentially, while it saves hard drive space, it's an extra drain on your system. Therefore, you can start to experience "juddering" or "lagging" when playing back the footage, especially if work with variable frame rate video in NLE software and Sony Vegas Pro is no exceptation.
So, if you if you happen to be one of those who encounter an VFR issue when editing iPhone (HEVC) videos in Sony Vegas Pro (older or new 15/16/17), don't waste your time on searching and trying complex troubleshooting methods in vain, transcoding iPhone VFR video to Sony Vegas Pro edit-friendly codec/video with CFR/constant frame rate is the jack-of-all-trades.
The Easiest Solution Fix iPhone Video Not Working Issue in Sony Vegas Pro

-- Convert iPhone VFR Video to Sony Vegas Supported Codec/Format with CFR
HEVC is a non-performant format that is difficult to edit with and requires much computing power to process. Nevertheless, working with HEVC files in Sony Vegas Pro. Let's not to say the 4K HEVC videos shot with variable frame rate. As is figured out in the last part, the perfect workaround for Sony Vegas Pro's iPhone VFR video limitations and performance bug is to do transcoding - converting the iPhone video from variable frame rate to constant frame rate with third-party software. Among the broad range of video transcoders, easy but pro-grade EaseFab Video Converter is highly recommended.
With it, you can easily convert iPhone HEVC to Sony Vegas Pro edit-friendly format like MP4 H.264, MPEG-4, MPEG-2, etc. Apart from changing file format, VideoProc can also convert your VFR videos to constant frame rate. This converter works fast while keeping high quality. Free download and install EaseFab Video Converter and you'll be able to convert iPhone video to Sony Vegas Pro accepted format with constant framerate in 3 simple steps.
EaseFab Video Converter - The One-click Solution to Fix Sony Vegas Not Importing Full Video Clip Error.
◉ Firstly, with 400+ input codecs built in, EaseFab Video Converter works perfectly with video taken by iPhone, iPad, Android, camcorder, camera, and recording projects at any resolution, frame rate and bit rate.
◉ Secondly, the clear and interactive UI allows users, especially those green hands, to set constant frame rate value and finish the conversion in only clicks.
◉ At last, if the running computer has hardware acceleration engine powered by Intel, AMD or Nvidia, the software will detect and make use of it by itself to boost video transcoding speed.
Tutorial: How to convert iPhone VFR video to Sony Vegas Pro compatible CFR video
Step 1. Detect and input your source iPhone VFR video into EaseFab Video Converter. You can click "Add Video" button to add or by "drag and drop" method.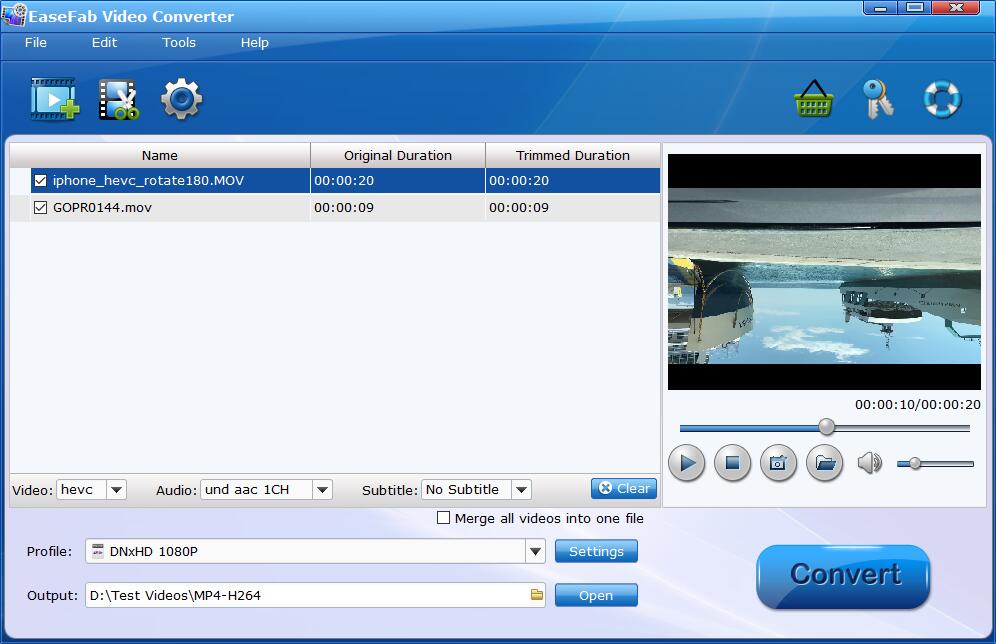 Step 2. Click the Profile bar at the bottom, move mosue cursor to Common Video category to choose a format preset that Sony Vegas Pro can support, for example, MP4 (H264, AAC), AVI and MPEG2. And MP4 encoded H264 is recommended. Optionally, you can click the Settings icon to adjust frame rate, resolution, bit rate, and more.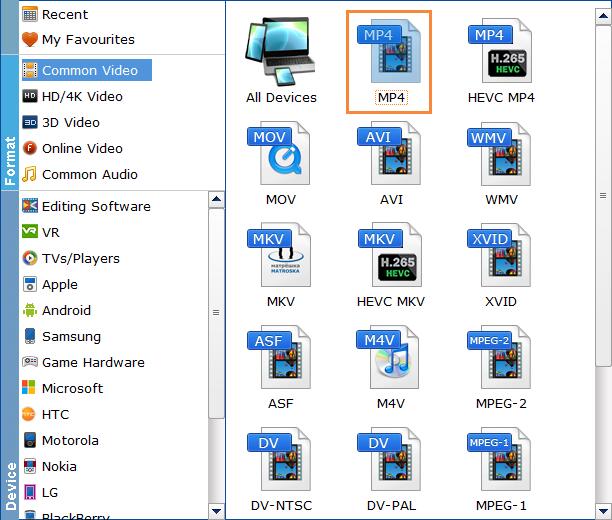 Step 3. Optionally, you can click the "Settings" button to adjust frame rate, resolution, bit rate, and more. Navigate to Frame Rate (FPS) option under Video Options and pick a proper value according to the content. 24 fps and 30pfs are top choices for common videos.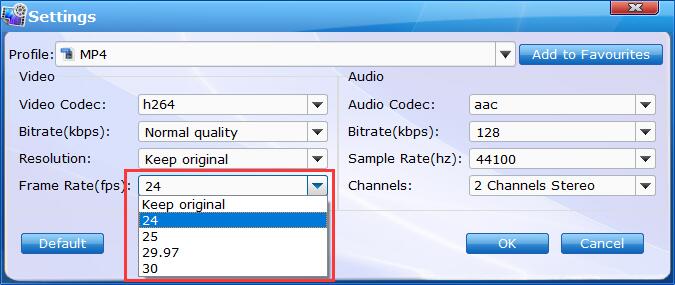 Step 4. Cut or crop video if necessary using EaseFab's Editing function. When everything is ready, click "Convert" button to get the conversion started.
Once the conversion completes, you can then import the encoded iPhone mov video files to Sony Vegas Pro for playing and editing without any trouble.
Final Words:
FFmpeg and HandBrake are top video transcoders in the video converting circle. Compared to EaseFab Video Converter, FFmpeg is far more complex for newbies due to the commands, and HandBrake, on one hand, has less output formats (only .mp4 and .mkv) for Sony Vegas, on the other hand, produces fake CFR video sometimes with A/V out of sync matter is in Sony Vegas.
Final words for all of the video nerds: if you are bound to do post-production with your recordings in Sony Vegas Pro, taking movie with a fixed frame rate is a wiser choice.
Other Useful How-to Guides & Tips
You can easily import video you've taken with iPhone into Windows Movie Maker for further editing. Read on to learn the details.
Having trouble with iPhone (VFR) Videos with Premiere Pro? Simply this tutorial to find the reason and the solution to fix.
Facing problems when importing iPhone shooted footage into DaVinci Resolve 10/11/12 for further editing? Fortunately, there is an easy way to fix the issue.
This article explains what variable frame rate (VFR) is and how to convert video from VFR to constant frame rate so that you can smoothly edit or playback the recorded VFR footage.
Copyright © 2022 EaseFab Software Corporation. All Rights Reserved.