Home
>
Resources
>
Import TS Files to Adobe Premiere Pro
Posted by Matthew Watt - Sep 09, 2021 | Contact Author

Converting TS Files for Editing in Adobe Premiere Pro
"I'm importing some transport stream files (.ts) into premiere pro cs 5.5. All files were captured from the same device which captures from a satelliete. Some files import fine, while others may either not import at all or import with only half of the audio. Is there anything I might be missing in regards to these types of clips?"
Normally, we can get TS files from HD camcorders such as Sony, Panasonic and cannon. But TS video cannot be played on many media players and portable devices because of incompatibility. When you tried to load the TS files int Adobe Premiere Pro (PP CC Included) for some editing, you will encounter problems mentioned above. Is there any possible ways to resolve the problem? After searching, I've found two possible solutions:
Solution 1: Rename the file extension from .ts to .mpg
As some guys suggest, .TS files are technically just MPEG2 files at a very specific resolution. We can try to rename the file extension from .ts to .mp4 or .mpg to allow Premiere Pro to see the footage.
I've tried the way. It in fact let me import the TS files to Adobe Premiere, but there is no audio track. I've reset some settings, no luck.
Solution 2: Transcode TS file to Premiere supported MOV H264, MP4, ProRes
- 100% Working Solution to Fix Adobe Premiere and TS File Incompatible Issue
EaseFab Video Converter makes an easy work of converting TS videos to Premiere supported MOV H264, MP4, Apple ProRes, AVI, AVCHD, etc. formats so as to fix TS file incompatibility issue. As for the video quality, don't worry too much. With the constantly updated conversion algorithm and the advanced High Quality Engine, it guarantees you the output Premiere compatible MOV video with up to 98% quality reserved, wrinkles or freckles in image still clear enough to count.
Codec correction (or conversion) is just the tip of the iceberg that it can handle. In terms of the compute-intensive 4K files, it's also a decent performer, letting you downscale 4K to 1080p, lower 60FPS to 30FPS, adjust bit rate, etc. to better suit your computer hardware configurations and to ensure a smooth video importing and latter editing.
Tutorial: How to Decode TS to Premiere Supported Codec/Format?
The below guide takes Video Converter for Windows screenshots for example.
Step 1. Download and launch EaseFab Video Converter on Windows PC or Mac. Click Add Video to import your TS video. Dragging and droppping works too. (Note: batch conversion is supported, so you can several mov videos to the program to convert at a time.)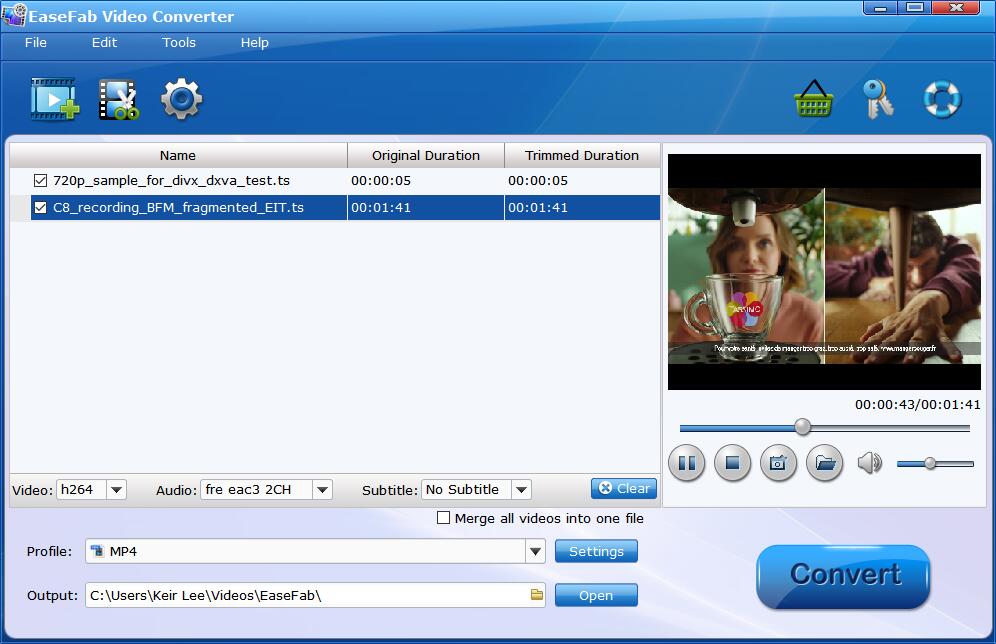 Step 2. Click the Profile bar at the bottom. Choose a format preset that Premiere Pro can support. And MOV (encoded by H264) from Editing Software category is recommended since the output MOV H.264 files can preserve image quality with the smallest file size. You can also choose MPEG-2 or WMV as the output file.
If you want to preserve the highest image quality, you can also select Final Cut Pro (Apple ProRes 422 encoded MOV file) as the output. The Apple ProRes files can make your editing process simpler and less resource-intensive but it typically need ten times as much storage.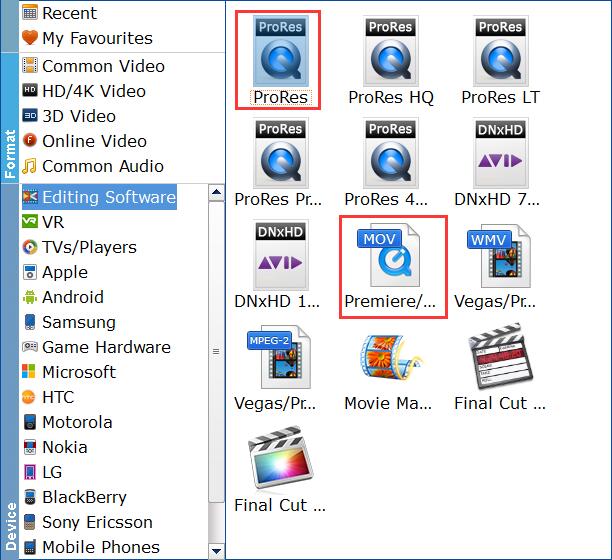 Editor's Note: H.264 is really optimized to be a delivery codec while ProRes is optimized to be an editing codec. That said, if you just need to do a simple edit and your computer has the power to edit H.264 you can get away with it no problem, but if you plan to do a heavy edit with lots of transitions and effects and color grading you will be best served by ProRes.
Step 3. Hit Convert and it will begin fast video decoding, conversion and processing your TS video at one go.
After the conversion is complete, get the resulted files via clicking the Open button and then you can import the result files to Adobe Premiere Pro CC 2020 or lower version without any trouble.
Other Useful How-to Guides & Tips
The best 5 free TS to MP4 converters like VLC, FFmpeg, Online converter, Handbrake, etc. are listed in this article. We will also show you how to convert TS file to MP4 without any quality loss.
Here are 3 useful methods to encode/re-encode video files from H.265 to H.264 while maintaining the original quality.
Copyright © 2023 EaseFab Software Corporation. All Rights Reserved.