Home
>
Resources
> DVD Tips >
Upload DVD to Dropbox
Posted by Matthew Watt - Sep 11, 2021 | Contact Author

How to Digitize DVDs for Uploading to Dropbox
Dropbox is a favorite in the cloud storage world because it's reliable, easy to use, and a breeze to set up. Your files live in the cloud and you can get to them at any time from Dropbox's website, desktop applications for Mac, Windows and Linux (Ubuntu, Debian, Fedora or compile your own), or the iOS, Android, BlackBerry and Kindle Fire mobile apps. If you are looking for a way to upload DVD to Dropbox to extend your viewing options to your phone, tablet, Roku box, game console, and more, you're definitely being the right place. In this article, we will show you how to put your DVD library in Dropbox easily and quickly.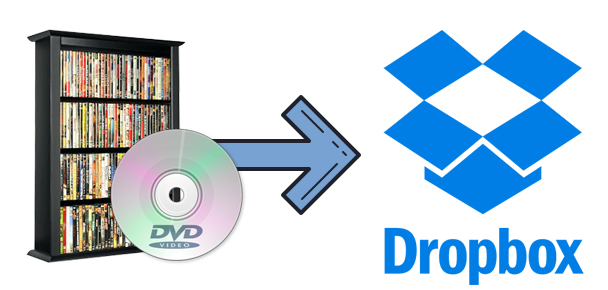 Actually, Dropbox doesn't support DVD format. To get the movies off of DVD dics and onto Dropbox, you'll need to rip DVD to a Dropbox-friendly format. That said, you'll need a DVD-ripping utility that can remove the Content Scrambling System (CSS) or similar built-in protections that prevent straight-up copying.
Best Ripper to Convert DVDs to Dropbox Digital Files with Fast Speed, High Quality, and Small Size
Most of you are likely familiar with the excellent Handbrake for ripping standard Def DVDs. However if you try to use HandBrake to rip read-only DVDs, you will probably end in failure. Only with the help of libdvdcss, HandBrake can rip some read-only discs. But the annoying thing is that libdvdcss doesn't always work, and various problems may occur when you use Handbrake to rip a commercial DVD.
If you're interested in backing up and ripping your DVD collection to Dropbox and don't want to be held back by slow processing and poor output quality, EaseFab DVD Ripper is highly recommended. This software is available to cope with both home-made and all store-bought DVD discs without hassle. With it, you can fast rip DVDs to digital formats supported by Dropbox, Google Drive, iCloud and other Cloud storage devices.
✔ Digitize DVD to MP4 (H.264/HEVC), MOV, AVI, MKV etc. for saving on Dropbox, hard drive, or playing on PC, HDTV, phone, tablet, etc.
✔ Minimize DVD file size (up to 80% smaller) with high quality to reduce the bandwidth consumption and save DVD to cloud uploading time.
✔ Blazing fast speed to accomplish DVD ripping. It won't take you too much time to digitize a heap of DVDs.
✔ Any types of DVDs are supported, no matter the old DVD discs, new releases, kids, workout DVDs, Disney 99 titles, or slightly damged ones.
Part 1. How to rip DVD to Dropbox friendly videos
To begin with, you need to download and install EaseFab DVD Ripper Windows or Mac version on your computer. After this, you can move to the following steps to digitize your old or new DVDs for Dropbox. The guide below takes the Windows version for example.
Step 1. Load DVD movies
Insert the DVD disc into your computer's DVD drive and run DVD Ripper. You can click the "Load DVD" button to load the DVD files to the program. DVD ISO/IFO, VIDEO_TS folder are supported also.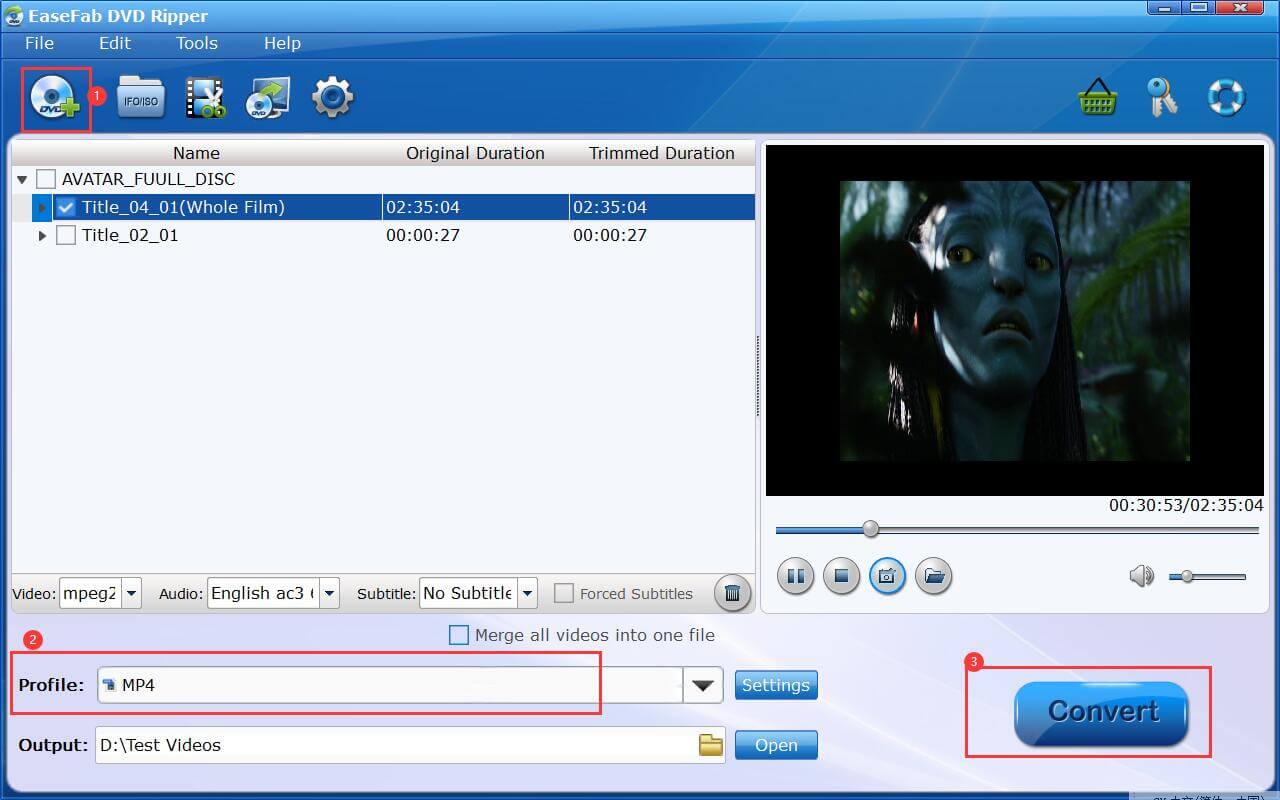 Step 2. Choose a proper output format for Dropbox.
The selection of output format depends on your specific need:
1. If you only need to store DVD digitally and put the movie library to the Dropbox, you don't need to consider about the format matter. Generally, almost all the mainstream video and audio formats are supported by the Dropbox. If you are still unsure of the media format, check the table below.
Supported Video Formats: .mp4, .mov, .mkv, .mpeg, .mpg, .mts, .avi, .dv, .3gp, .asf, m2ts, .webm, .vob, .wmv.
Supported Audio Formats: .aac, .aif, .aiff, .flac, .m4a, .mp3, .wav
2. If the quantity of DVD movies to be saved is large, try to choose the output format with comparatively low quality (for small output size), and oppositely, choose the high quality.
3. If you desire to play the converted DVDs on Apple TV, iPad, iPhone Samsung table, PS4, Xbox One and any of other portable device, you can choose directly from the device profile listed on corresponding device category.
4. For general uses, MP4 in Common Video is recommended, as it is widely supported by many devices and media players. If you want to get a good balance between file size and output quality, flexible options are offered to further reduce the size of the ripped video. Click Settings button below the profile and enter into the parameter settings page. A slew of other variables such the video/audio codecs, pixel dimensions, frame rate, bit rate, audio sampel rate, etc. will help convert a DVD at 7.5GB to a smaller MP4 file to make more room for your Dropbox.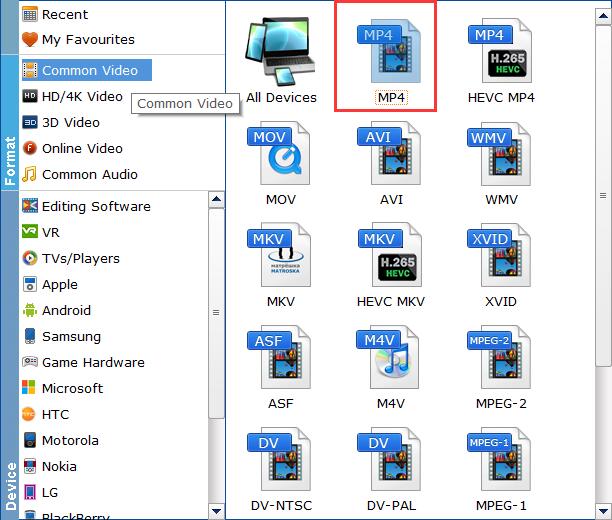 Recommended video size settings:
① You're not suggested to adjust the frame rate and aspect ratio, if not necessary.
② Lower the bitrate to a lower level for smaller files. Adjusting the original Normal quality to bitrates of around 1800-2000 is acceptable and can make your ripped MP4 movie around 1-1.6GB in size, 80% smaller than the original DVD movie, and to the naked eyes, it's highly unlikely to distinguish the difference between the original movie and the re-encoded video.
③ Lower the resolution. Typical DVD videos are 720×480 (NTSC) and 720×540 (PAL). Adjust the resolution to 640×480 won't make any quality difference.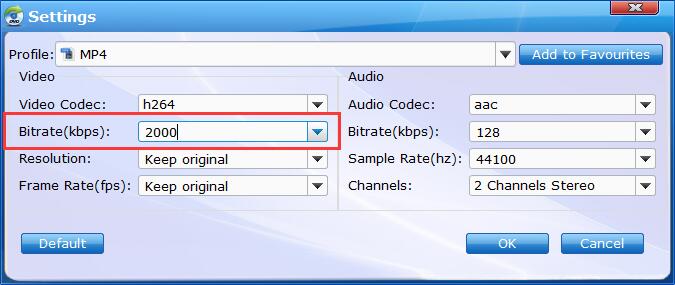 Step 3. Start DVD ripping.
Optionally, you can click Folder icon at the right of the Output bar to choose any location on your computer disk as the destination to save the output files.
After everything is OK, you can hit the big Convert button to start ripping the movie to the digital file accepted by your Dropbox.
Part 2. How to uploaded converted DVD to Dropbox
Once being converted to digital files, your DVD rips can be transferred to the Dropbox, and streamed later for different uses.The steps of uploading DVD movies to Dropbox is pretty simple. Just follow the on-screen wizard to save dvd digital copies to Dropbox.
Step 1: Navigate to Dropbox site and log in your account.
Step 2: Click the "Upload files" button. Then you can find a window pop up, click "Choose Files".
Step 3: Choose the converted DVD files and click "Open" to upload to the Dropbox.
Other Useful How-to Guides & Tips
This tutorial shows you an easy way to rip DVD with inner/extra/forced subtitles to AVI, MP4, WMV, MOV, MKV, etc. on PC/Mac.
Want to rip DVD with VLC media player? The article will guide you to convert DVD to videos using VLC in just a few steps.
This article tells you step-by-step guide to extract audio information from DVD with VLC Media Player. Also, you can learn how to extract just a part of the audio track from DVD discs.
TThis article will show you an easy way to store and upload movies from physical DVD discs to OneDrive by ripping DVDs to Digtial video formats like MP4, MOV or MKV.
Copyright © 2023 EaseFab Software Corporation. All Rights Reserved.