Home
>
Resources
>
Play MKV files on PS4 Pro
Posted by George Shelley - Sep 09, 2021 | Contact Author

How to Enable PS4 Pro to Play MKV files Smoothly?

The PS4 Pro initially designed to offer heightened gaming experiences, whether via your existing HDTV or a new 4K TV. Like the previous PS4, you will be able to play videos, photos and music stored on USB storage devices and media servers with the Media Player app provided by the game console. Although MKV is included in the supported file formats of PS4 Pro Media Player app, many people are still having problems when playing MKV files on PS4 Pro like these:
"I'm trying to stream mkv's from my computer to my ps4, I've tried it with other files and it works fine but I get the message "there was a problem playing this item" on the ps4 when I select to play an MKV. They do show up in the library etc."
"Are there any plans to support 10-bit H.265 video and MKV container in the Playstation app when PS4 Pro releases? I would love to use Plex on my PS4 Pro to Direct Play/Direct Stream all of my 4k media instead of using the Plex app on my Samsung TV..."
Why PS4 Pro won't play MKV files?
Video and music files can be streamed from USB storage devices and media servers using the Media Player app on PS4 (Pro), but only certain MKV files that meet the following standard can be played on PS4 Pro. And according to PlayStation support website, only certain MKV files that meet the following standard can be played on PS4 Pro.
MKV
Video: H.264/MPEG-4 AVC High Profile Level 4.2
Audio: MP3, AAC LC, AC-3 (Dolby Digital)
While MKV is a container video format which may contain various video or audio codec. If the MKV file are encoded with above listed incompatible video codec, you are definitely fail to open them with PS4 Pro Media Player app, if the MKV file are encoded with unsupported audio codec, you will only receive video but no audio when viewing on PS4 Pro. To fix the video/audio incompatible issue, you may have to perform a format transcoding process. Along with some help from an easy-to-use yet professional video encoding tool like EaseFab Video Converter (available for Windows and Mac users), you can get the job done effortlessly.
The program is powerful enough to handle all the MKV files listed above, you can not use the program to convert MKV to PS4 Pro supported H.264 or MPEG-4 AVC High Profile Level 4.2 video codec and MP3, AAC LC and AC3 audio codec. Apart from MKV, you can also use the program to convert other unsupported file formats such as MP4, AVI, WMV, FLV, MOV, FLV, VOB, etc into PS4 Pro supported file formats. Now just download the right program according to computer OS and follow the step-by-step guide to encode MKV to PS4 Pro.
Converting MKV Files to PS4 Pro for Playing via USB or Media Server
Step 1. Add MKV files
Run the Video Converter and drag & drop your MKV files to the program, or click "Add Video" button to locate the MKV files you want to add. (Note: batch conversion is supported, so you can load more than one file to save time.)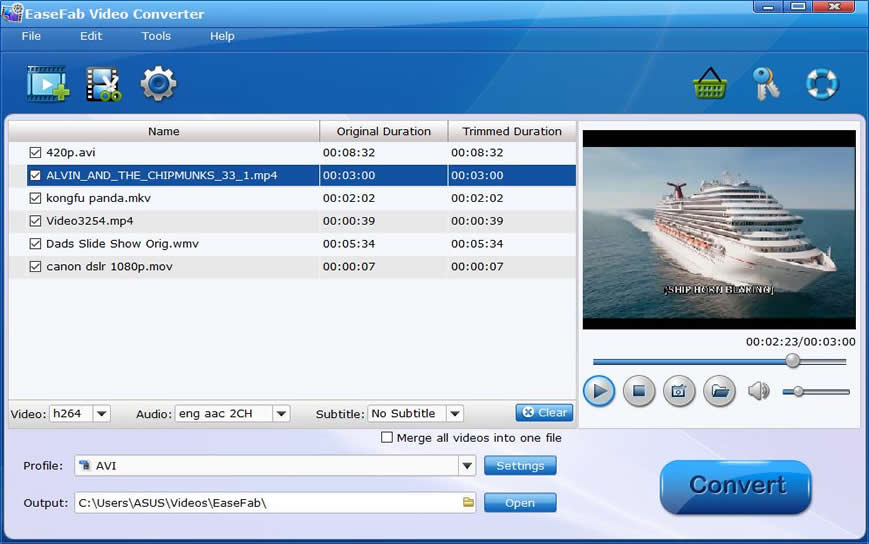 Step 2. Choose the output format
Now you should choose MP4, MKV, AVI (for MP4, MKV, MOV is usually encoded with H.264) as the output video format then press the "Settings" button to choose H.264 as the codec.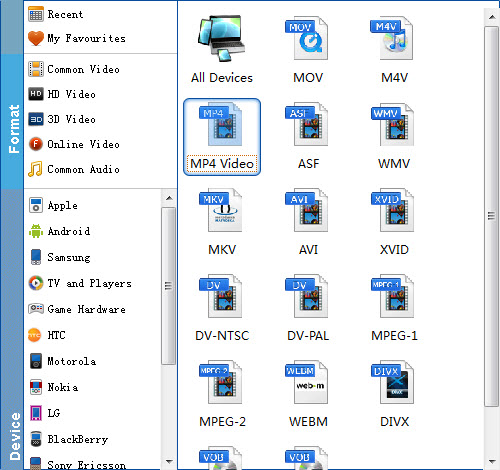 Step 3. Start convesion
Go back to the main interface, click right-bottom "Convert" button to begin the conversion from MKV to PS4 Pro supported file formats conversion process.
Step 4: Stream converted video to PS4 Pro via USB or Media Server.
When the conversion is completed, click "Open" button to pop out the folder with converted files, thenyou can easily transfer and play converted files on PS4 Pro via an external USB drive or stream files to PS4 Pro via Plex Media Server.
Tips:To play video on PS4 Pro via USB cable, make sure to place your media file in Folders or your PS4 Pro won't be able to use them. Audio files must be located in a folder called "Music" on the drive for the PS4 Pro to detect them correctly. Video files can be in any folder, but they need to be in a folder and not on the root of the drive. You could put them in a folder named "Videos", or create separate folders for different types of videos.
Other Useful How-to Guides & Tips
This article mainly explains you how to sucessfully stream and play MKV files with Dolby Digital and DTS audio with Roku 4, Roku 3 or Roku 2.
MKV not playing error on Panasonic TV comes up from time to time? Read on the find the possible reasons and how to fix it easily.
Failed to stream MKV files via Chromecast to play on your TV from your smartphone, computer or NAS drive? Here you will find the possible reasons and solutions to fix Chromecast MKV playback issues.
Can Philips TV play MKV files? How to Play MKV files with DTS audio track? This article explains how you can Philips TV read/detect MKV files without any problem.
Copyright © 2023 EaseFab Software Corporation. All Rights Reserved.