WebM "File Import Failure" in Premiere Pro can be solved by converting WebM to MPEG-2 or ProRes.
"I'm having difficulty importing a 4K WEBM video into Premiere CC 2018. I have installed the Fnordware Plugin which allows the import but there's considerable lag and frame drops when scrubbing around the video in Source and even worse with clips in the timeline. Any suggestions as to what is."
"I have a bunch of .webm files that I would like to edit using Adobe Premiere CC, but cannot open them. Is this possible? and if not can we please have a patch to allow this ubiquitous format to be used?"

WebM is an open web media project headed up by Google, aimed at developing "a high-quality, open video format for the web that's freely available to everyone." The format has been around for quite several years. Currently, part of all of the top web browsers and media players have native support for WebM. If not, you can also use third-party software or plugin to playback WebM files. However, it's still a painful experience when you tried to use WebM files in Premiere Pro (CC 2020 included).
Why WebM files cannot be imported into Premiere Pro (as a normal video file)?
Till now, WebM has not been added to the official supported format list of Adobe Premiere Pro. In fact, the WebM container is based a profile of Matroska. It initially supported VP8 video and Vorbis audio streams. In 2013, it was updated to accommodate VP9 video and Opus audio. You should know that codec format decides whether you can load a video or audio file successfully or not, while WebM is just a container format So even though you are importing a WebM video, the encoded file (VP9 video codec) wrapped in the WebM box is not supported, which leads to file import failure.
Download and Install the WebM Plugin for Adobe Premiere
The good news is that Fnord Software has announced a free plugin for Adobe Premiere Pro CC that adds support for Google's WebM video format that contains both VP9/Opus and VP8/Vorbis codecs. The plugin also added WebM support to other parts of Adobe Creative Cloud including Adobe Media Encoder and more. However, the plugin is only suitable for Premiere Pro CC (2018) 12.0 - CC (2020) 14.0 on Windows computers. Moreover, Adobe's privacy policy is not applicable to the use of this app, extension or integration.
Therefore, if you're using Premiere Pro CC on Mac or older version of Premiere Pro, or the installed WebM plugin doesn't work/have problems, transcoding WebM file is the most effective yet easiest solution recommended by us.
100% Working Solution to Fix "Can't Import WebM to Premiere" Error:
- Convert WebM to Premiere supported MOV H264, MP4, ProRes...
The Major cause for "can't Import or edit WeBM video rile smoothly" is incompatible Codec or format, which can be easily solved by transcoding WebM to other Premiere Pro friendly formats with third-party software like EaseFab Video Converter (available for both Windows and Mac users). The program is an all-in-one video processing tool, with video converter and editor embedded in. You can do some simple cutting, trimming and merging before converting WebM files. And MPEG-2 and ProRes is the most recommended format for editing videos in Premiere Pro on both Windows and Mac.
EaseFab Video Converter - The One-click Way to Convert Videos for Adobe Premiere and more.
• Accepts nearly all types of videos, regardless of video formats, codecs and resolutions.
• Transode or pass-through media files to that supported by Adobe Premiere Pro.
• Easy editing experience: cut, crop, merge, add effects/watermark, add subtitles...
• Completes video conversion and processing in three steps.
Tutorial: How to Decode WebM to Premiere Supported Codec/Format?
PS: The following conversion process takes EaseFab Video Converter Windows version for an example. The way for transcoding WebM for Premiere Pro CC2020/2019/2018 on Mac (macOS Catalina) is almost the same.
Step 1. Download and launch EaseFab Video Converter on Windows PC or Mac. Click Add Video button to import your WebM video. Dragging and droppping works too. (Note: batch conversion is supported, so you can several videos to the program to convert at a time.)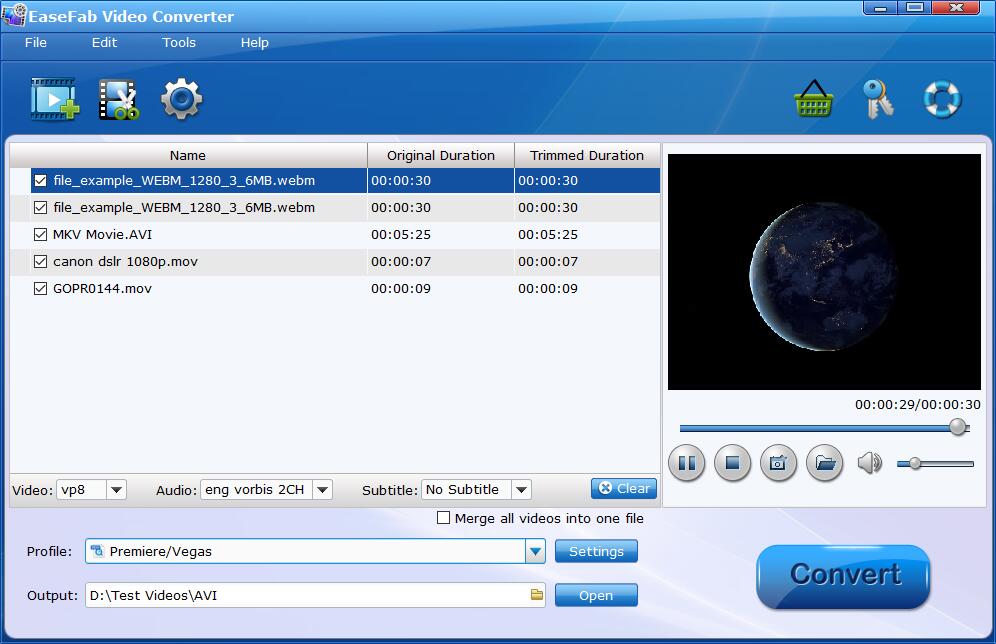 Step 2. Click Profile pull down list, move mouse cursor to Editing Software and then select MOV (encoded by H.264 codec) or Final Cut Pro X (encoded by ProRes codec) for Adobe Premiere Pro. MPEG-2, WMV are good choices as well.
Note: The H.264 MOV can preserve image quality with the smallest file size. The ProRes can preserve the best image quality and provide better performance when editing in Premiere but ProRes files typically need ten times as much storage of H.264-based files.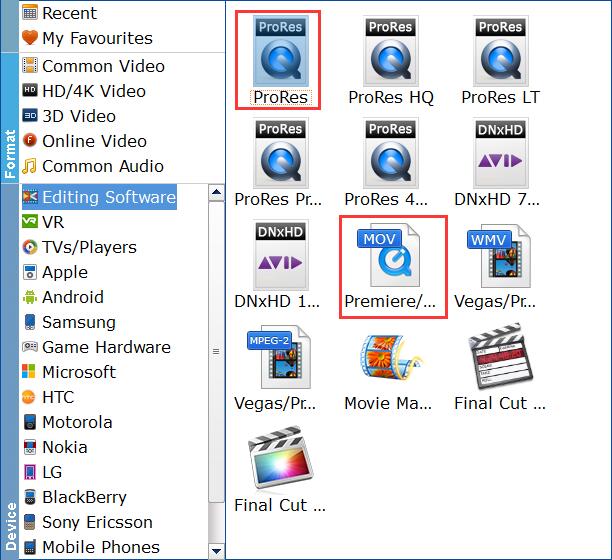 Step 3. Finally, click Convert button to start transcoding WebM to H.264 or ProRes codec for Premiere.
When the conversion task is finished, click Open button to get the exported files and then import the output file into Adobe Premiere Pro CC 2020/2019/2018 to do further editing.
Conclusion:
The major cause that Adobe Premiere Pro CC doesn't work with WebM videos is that the file format is not supported. Therefore, transocding WebM file using EaseFab Video Converter is the the most effective yet easiest solution recommended by us. Besides converting videos, EaseFab Video Converter is also able to perform some video editing tasks, including cutting, trimming, merging, adding special effects, and more. The operation is really beginner-friendly.