Streaming WebM video is easier but playing WebM files offline will be troublesome unless you convert WebM to MP4 or other format. This article shares 5 proven WebM to MP4 converters including free and online tools to help you get the job done easily and quickly.
Although WebM is widely supported by all the modern browsers like Safari, Firefox, Chrome, Opera, etc., you still receive error messages like "Format of this file is not supported" or "Invalid file format" when you throw the web video to PC, iPhone, Android, HDTV, QuickTime or Windows media Player. To solve the format incompatibility issue, one of the easiest solution is to convert WebM to MP4, an universally adopted format which offers seamless compatibility with most devices/media players and requires very little disk space.
There are a lot of software tools out there that allow us to convert WebM to MP4. Here we are going to share the 5 most reliable WebM to MP4 converters for you, including freeware and online tools. If you're looking for a way to view WebM files on Windows 10/11, play WebM on the iPhone, iPad or Android, or edit WebM video in your non-linear editing software, just get one of these programs to convert Webm video to MP4 H.264 to eliminate any playback or editing incompatibilities.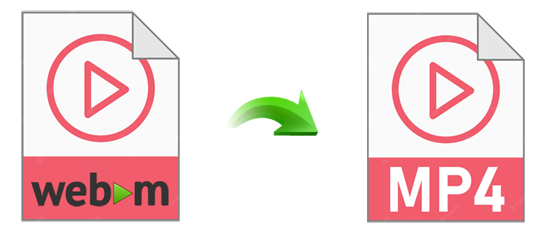 Part 1: WebM vs MP4: Something You Gotta Known
WebM is a media file format containing VP8/9 video up to full HD 1080P/4320P and Vorbis/Opus audio. It is widely used for HTML5/Chromecast video and natively supported by Mozilla Firefox, Google Chrome, Opera, and Safari on macOS Big Sur and lower. WebM is especially designed for the web, which a more compressed format that takes up less space for the same video than an MP4 file.
For an MP4 video, it generally consists of video data encoded in HEVC, H.264, or, MPEG4 alongside audio data in AAC or so. Audio, video, subtitles and still images can be contained in a single MP4 file. Moreover, some advanced content like 3D graphics, menus and user interactivity can also be held.
When it comes to the compatibility of usage, MP4 (H.264/AAC) is obviously much more universal and friendly to devices, either desktop or mobile. Besides, MP4 is also used in online streaming just like WebM. MP4 (H.264/AAC) video can be played on any frequently-used devices, e.g iPhone, iPad, Apple TV, Android, Xbox and PSP, as well as browsers like Chrome, Firefox, Edge, Opera, and Safari.
Many video sites gradually start to support upload MP4 HEVC video, just like YouTube. HEVC compression is more efficient than H.264, but less compatible with playback devices.
In contrast, WebM seems less compatible with our common devices and tools. For example, Mac's Safari doesn't support native WebM (VP8/VP9) playback until the release of macOS Big Sur 11.3 beta 2. And till today, iPhone and iPad still lack the support for WebM.
The mere file extension change from WebM to MP4 cannot solve the WebM video playback problem at all, since the codec or other data information isn't converted at all. Therefore, you'll need a third-party video converter or online converter tool to encode WebM to MP4 file with specific codec as per your needs.
Part 2: Top 5 Ways to Change WebM to MP4 [Free & Online Incl.]
Way 1. Convert WebM to MP4 with EaseFab Video Converter [Recommended]
Experts always recommend using a desktop version of converter software because it is the most reliable and leads to lossless output. One of the best WebM to MP4 converters is well-known as EaseFab Video Converter. It's available for Windows 1, 10, 8.1, 8, 7, etc. And it has a Mac version compatible with macOS Ventura, Monterey, and lower. As a full-featured solution for WebM to MP4 conversion, its features include but are not limited to:
● Transcode WebM to MP4 (HEVC/H264/MPEG-4) as well as MKV, AVI, WMV, MOV, M4V, WebM, YouTube, MP3, etc., no input size limit!
● Convert WebM to optimized preset for almost all devices like iPhone, iPad, Android, etc.
● Advanced Intel QSV, Nvidia CUDA, AMD GPU HW acceleration tech improves conversion 5X faster than any contender!
● Edit videos by trimming, merging, cropping, adding subtitle, etc. Easy to use for both professionals and beginners.
● Support batch conversion and merge multiple WebM files into one MP4 file.
[Tutorial] How to convert WebM to MP4 without losing quality
To begin with, you need to download and install EaseFab Video Converter on your computer. Here we take the Windows version to show you how to encode/re-encode WebM to MP4 in a simple steps. The process on Mac is the same.
Step 1. Open the program and load the source WebM file: click Add Video button, and hen browse and open target items. If you need to transcode multiple WebM files, simply choose all of them for batch conversion. It will save you much time and energy.
Step 2. Click Profile icon and move mouse cursor to Common Video category, then select MP4 as the output format. This will ensure the best possible compatibility with your computer, mobile, or gaming system. You can also tailor the WebM video to specific device like Android, iPhone, etc. This rids you of the need to tinker with a ton of obscure settings.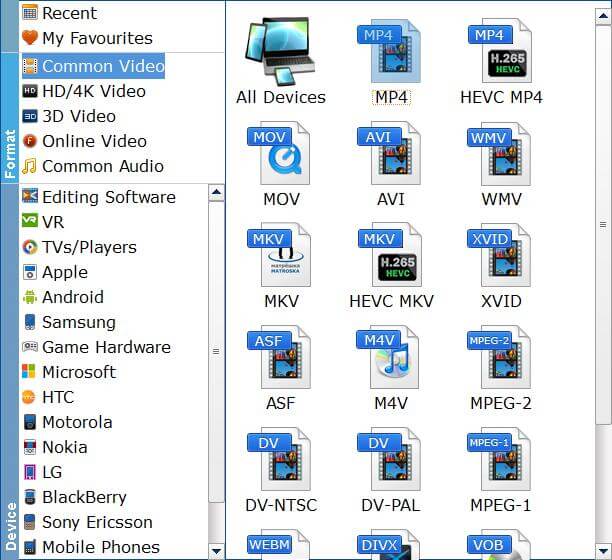 Of course, you can customize your output video before converting. Here are some tips for you:
● Tweak video/audio parameters: Click Settings button, here you can compress 4K WebM to 1080p/720p, change frame rate, bitrate etc.
● Merge WebM Files: Tick off Merge all videos into one file if you want to join multiple WebM files into a MP4 file.
● Edit WebM Files: Click Edit button to trim/cut video, add watermark/effects, crop video, adjust audio volume, etc.
Step 3. Click the small Folder icon to set the destination folder. After that, you can click Convert button to start WebM to MP4 encoding process.
Way 2. Free Transcode WebM to MP4 with VLC
You may be familar with VLC as a free and popular multimedia player that supports video playback of many formats. More than that, VLC can also be used as a video converter to changing video format, including WebM to MP4. Though it may be not as powerful as professional video converters, it fully meets the common video format conversion needs on Windows and Mac if you don't want to install any extra software on your computer.
Step-by-step guide to convert WebM files to MP4 via VLC
Step 1: Open up VLC on your computer (take Windows 10 PC as an example), and click "Media" on the toolbar and select "Convert / Save" to enter a new Open Media window.
Step 2: Click "Add" button to browse and import your target WebM video. It supports to import several videos at once. Then click "Convert / Save" button.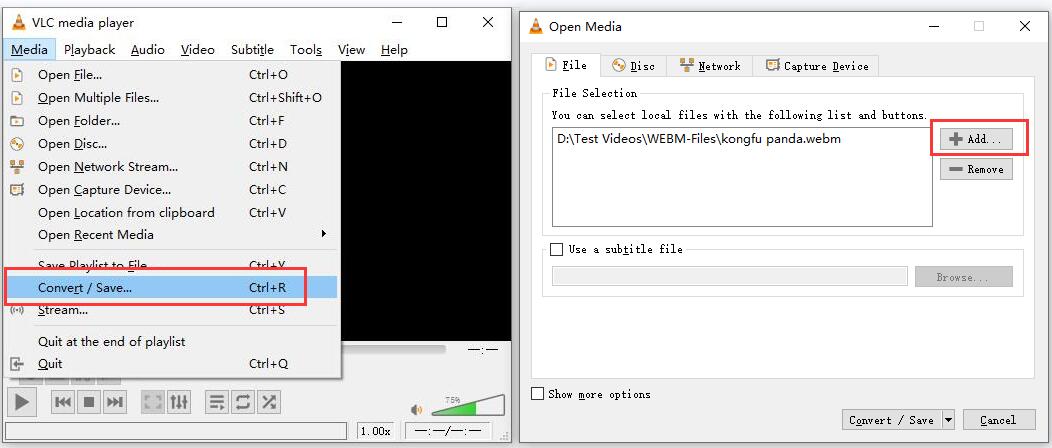 Step 3: Choose "Video - H.264 + MP3 (MP4)" as the output format. If you'd like to convert WebM to other formats or devices, you can click the drop-down list to select your desired one. You're able to cutomize video details like video / audio codec, subtitles through "Edit selected profile" button besides the drop-down list.

Step 4: Click "Browse" to specify the destination path for the output video.
Step 5: When you're done, click "Start" button to comvert WebM to MP4.
Way 3. Convert WebM to MP4 Free with Handbrake
Handbrake is a free and open-source video transcoder that allows you to convert videos to MKV or MP4, embedded in H.264, HEVC, MPEG-2, MPEG-4, Theora, VP8 and VP9. Also, HandBrake empowers users to use third-party libraries such as x265, FFmpeg, and libvpx to convert videos. If you want to adjust video parameters like resolution, frame rate, bit rate, aspect ratio or simply edit videos, HandBrake can do it all. However, it's criticized for making files bigger after WebM to MP4 conversion, getting subtitle messed, and running really slow even on a new fast core CPU with large RAM. Anyway, as a free and open-source video converter, HandBrake is still a nice option for WebM to MP4 conversion.
Tutorial on how to transcode WebM to MP4 via HandBrake
Step 1: Download HandBrake from it's official site, and launch it.
Step 2: Click "Open Source" or simply drag and drop to import your target WebM files.
Step 3: Choose "MP4" as the output format below the Summary column.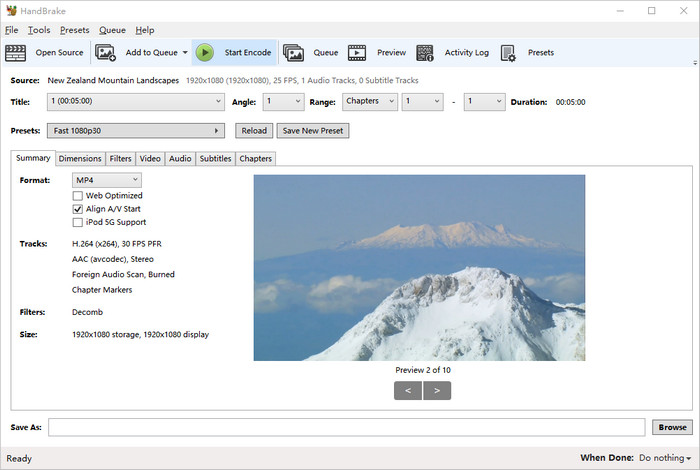 Step 4: Tweak the video setting if necessary. You're able to adjust video dimensions, resolution, frame rate, codec, quality, audio, subtitles, deinterlace, denoise, sharpen video and crop, rotate, flip video etc.
Step 5: Click Browse button to choose a destination folder for the output video.
Step 6: Tap Start Encode and wait. The WebM to MP4 conversion will be activated and finished soon.
Way 4. Free Decode WebM to MP4 with FFmpeg
FFmpeg is a free and open-source software project that based on command lines. It offers a complete, cross-platform solution to record, convert and stream audio and video, including WebM to MP4. But for novices, FFmpeg can be very hard to use. Kowning the basic command lines could help a lot. To convert WebM to MP4, the basic command line is "ffmpeg -i input.webm output.mp4". Here is the detailed explation of this command line:
● ffmpeg: a necessary part to tell the OS who is using the command line.
● -i: the abbreviation of input, means the following file is the original file to be converted.
● input.webm: the file that is to be converted. You can input two files at once through "ffmpeg -i input1.webm input2.webm".
● output.mp4: The output file is in MP4 container.
How to Convert WebM to MP4 with FFmpeg?
Step 1. Go to the official FFmpeg website to download the file. Once you get a zip folder, unpack it, which has 3 files, including a file named bin where FFmpeg is saved.
Step 2. Find Control Panel > System > Advanced. Then click Environment Variables at the bottom > Edit and paste the file path where FFmpeg is saved.
Step 3. Start to convert WebM to MP4 video with the command lines.
● If you have a WebM file and want it converted into an MP4 file, without having to do any additional stream encoding without, here is the conversion suggestions: ffmpeg -i input.webm -c:av copy output.mp4
● But if you need to select your codecs needed, you can use the –c flag. Here is the command line: ffmpeg -i input.webm -c:v libx264 -c:a libfdk_aac output.mp4. This will make an MP4 container with an H.264 video stream and an aac audio stream.
● To change a single stream without re-encoding, you can use FFmpeg for the situation: ffmpeg -i input.webm -c:v copy -c:a libfdk_aac output.mp4. This command copies the video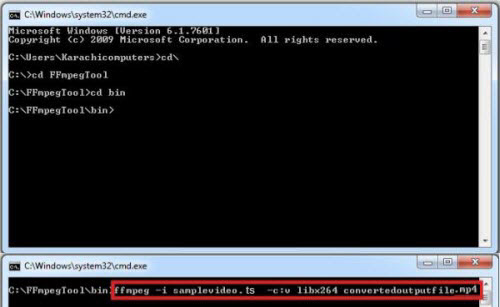 Way 5. Use Online Tools to Convert WebM to MP4 Free
For those who don't want to install any extra software or plugins on the computer, online video converter is another popular choice for WebM to MP4 conversion. In this way, you don't have to download any other programs or plugins. You can rely on your browser entirely to convert WebM to MP4 on any operating systems. But it's worthy noting that online video converter usually has strict file size limit for the free account. Anyway, it's still a nice choice to convert the not too big WebM video files to MP4 format.
Below are the top four online WebM to MP4 converters that users use most.
1. CloudConvert
2. FreeConvert
3. ConvertFiles
4. Converter App
The WebM to MP4 conversion process is almost the same. Below we will take CloudConvert for example to show you the detailed steps. Note that CloudConvert cannot convert the video more than 1GB for free accounts. You need to buy a package to convert larger files.
Steps on how to convert WebM to MP4 online with CloudConvert
Step 1: Navigate to CloudConvert WebM to MP4 official site.
Step 2: Click Select File to import your WebM file to CloudConvert. It allows you to load videos from computer, by URL, from Dropbox, Google Drive and OneDrive.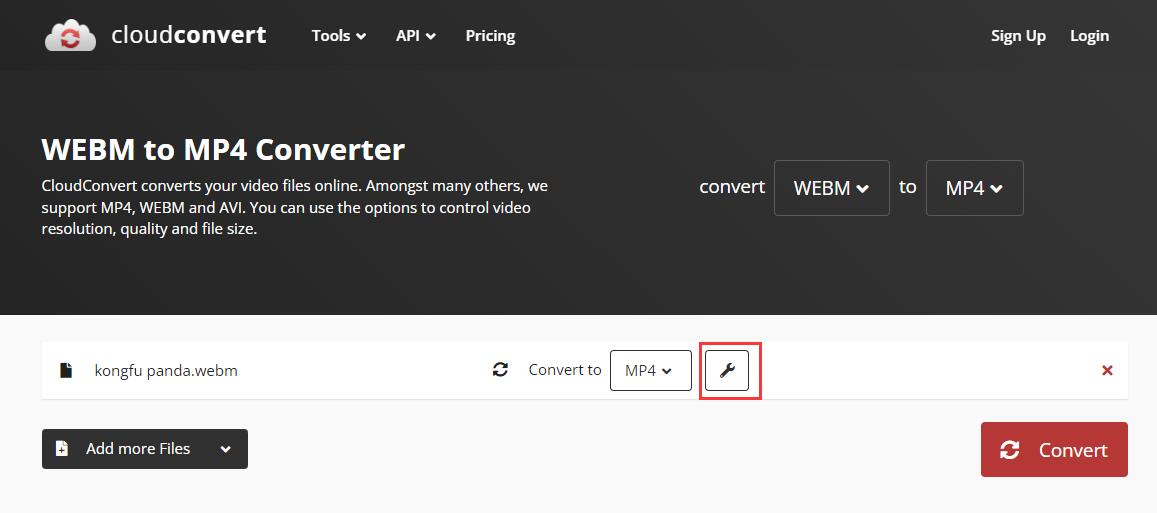 Step 3: Click Settings option to customize video parameters if necessary. You're able to adjust video resolution, frame rate, bitrate, codec, audio, subtitle as you need.
Step 4: Click Convert button to start converting and wait.
Final Words:
Online tools make it easy to convert a video file. But after all, they rely on uploading data to the network for conversion, which lead to a risk of data leakage. You need to know that there is a big difference between converting WebM to MP4 on desktop and online. Online video converter depends more on network and doesn't accept oversized videos. Comparing with EaseFab Video Converter, it's far backward from for converting 4K UHD, high frame rate HD WebM files. So for a stable WebM to MP4 converting experience with no other limit, downloading video converter desktop software is a much better way.