SD card is a flash memory card that is used to add additional storage to a device. They are primarily used in mobile and portable devices such as digital cameras, handheld computers, and smartphones. SD cards enable a user to swap cards on the go to deliver as much storage as required to complete a project or photoshoot. But no matter how many precautions you take the accidental removal of data from an SD Card is inescapable. Sometimes a very minor mistake can cause the disappearance of your whole data which at times can be bothersome. Now the question is can you recover the deleted files from SD Card? Yes, it is possible. If you can physically access the SD Card, you can recover data that has been accidentally removed from the SD Card.
In reality, these files are not permanently lost when they are logically erased from the card. Until their storage space is overwritten with new data, they can be recovered. Here, you will learn how to recover files from an SD Card within only 3 steps with the help of EaseFab Data Recovey software.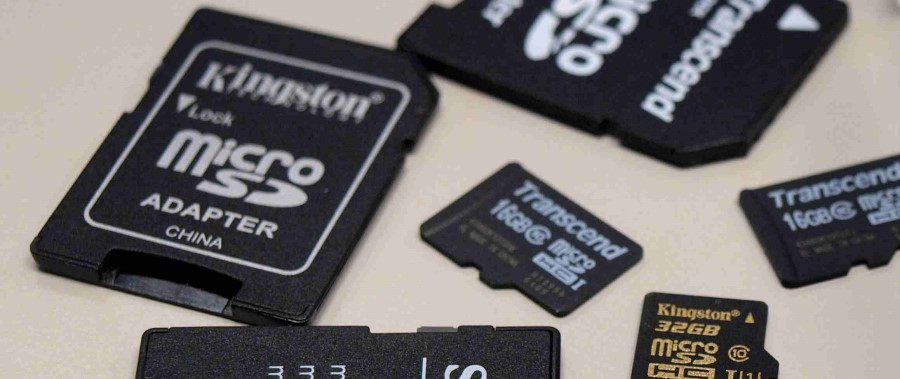 SD Card Recovery Preparation - What to Do When You've Lost SD Card Files
When you found that you have accidenetlly deleted some photos or images or other important files from an SD card, you need to stop using the SD card immediately. Though you cannot access the files logically through your device or computer, the files are still physically present on the card. Using the card before performing a data recovery on it will greatly reduce the chances that you can successfully undelete the missing files.
How to Recover Deleted Files From SD Card Using EaseFab Data Recovery
First of all, download and install EaseFab Data Recovery on your Windows computer. It's compatible with Windows 11. Windows 10 and lower version and compatible with both 64-bit and 32-bit computer operating system.
EaseFab Data Recovery is a professional yet efficient data recovery tool that can easily restore deleted or lost files from an SD card, micro SD card, memory stick or any other type of external storage that can be connected to your Windows machine. The reliable SD card data recovery program has many highlights:
● It recovers deleted, formatted, corrupted or lost data.
● It also restores pictures, images, photos, videos from Micro Secure Digital card. (More than 1000 types of file types)
● It has a wizard-style interface and allows you to easily recover files from an external hard drive or an SD memory card.
● It supports all popular brands including SanDisk, Kingston, PNY, Lexar, Transcend, PQI and more.
3 Simple Steps to Recover Deleted Data From an SD Card
Step 1. Select the SD Card to Scan
● Attach the SD card to your computer: This can be done either with a card reader or by directly connecting the device that contains the card to your machine.
● Launch EaseFab Data Recovery, and then find and select the SD card under "External Drivers". Click "Next" to enter a window that contains different recovery modes. Here you're recommended to select "Quick Recovery" mode, after that, click "Start" to begin the scanning process.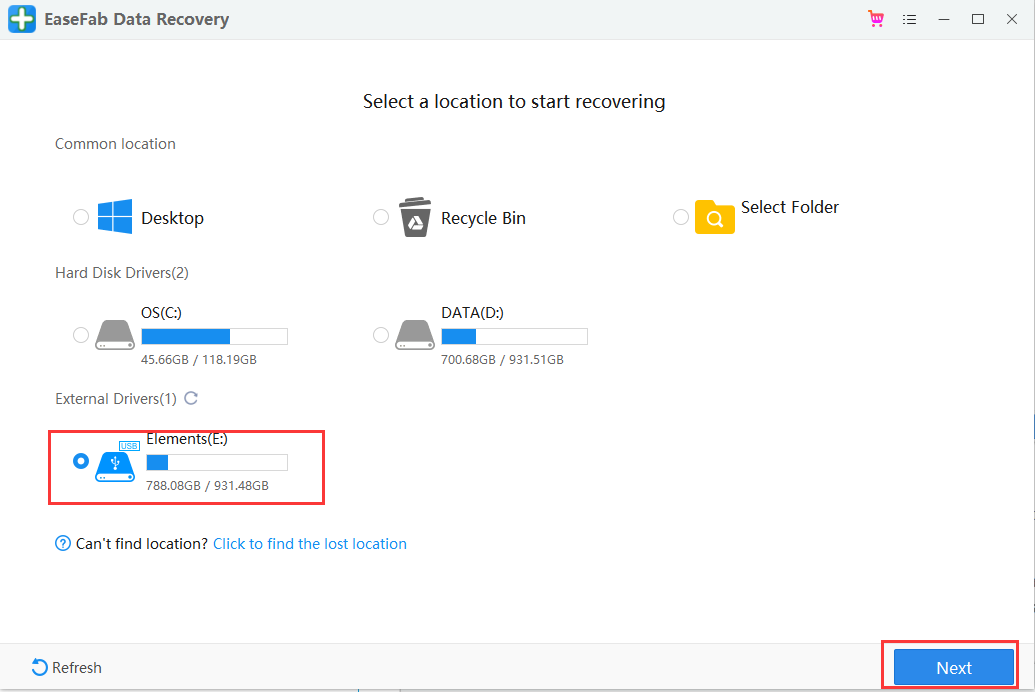 Step 2. Check for scan results
● Wait for the scanning process to complete.
● When the scanning completes, you can browse your files according to "File Type", "File Path" or "Deleted" methods to locate the deleted or lost files on the SD card. You can also quickly locate a specific type of file by using the "Filter" feature as well as the "Search" option.
● Double click the file to preview and check if they are the wanted files.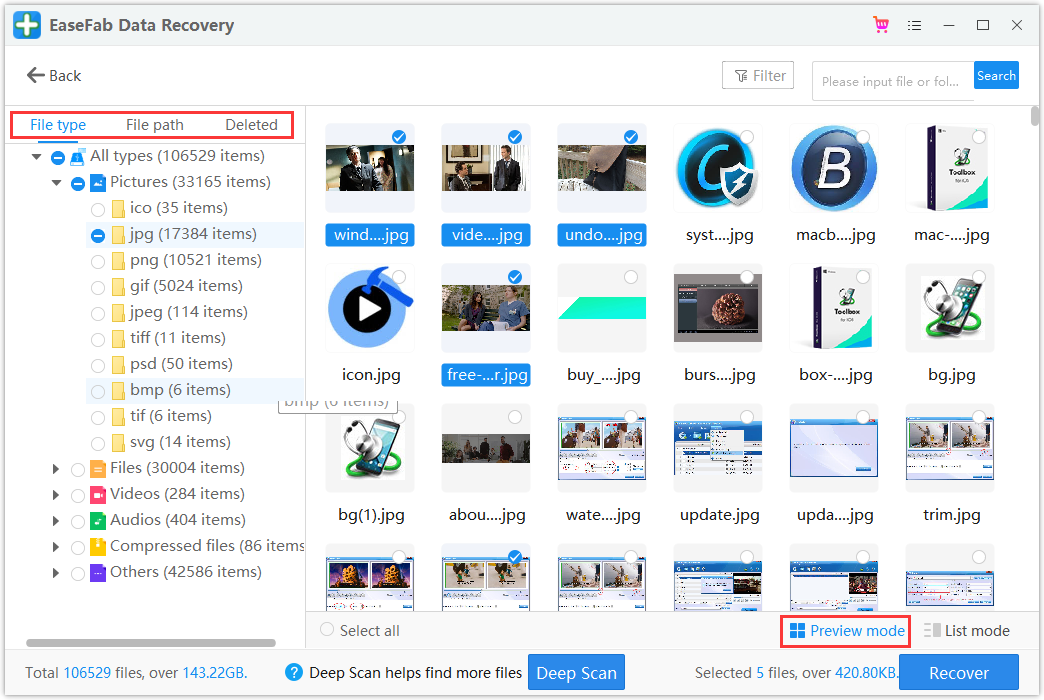 Step 3. Recover SD card data
● Choose desired files and click "Recover".
● Choose a different location to save the recovered files instead of the original SD card.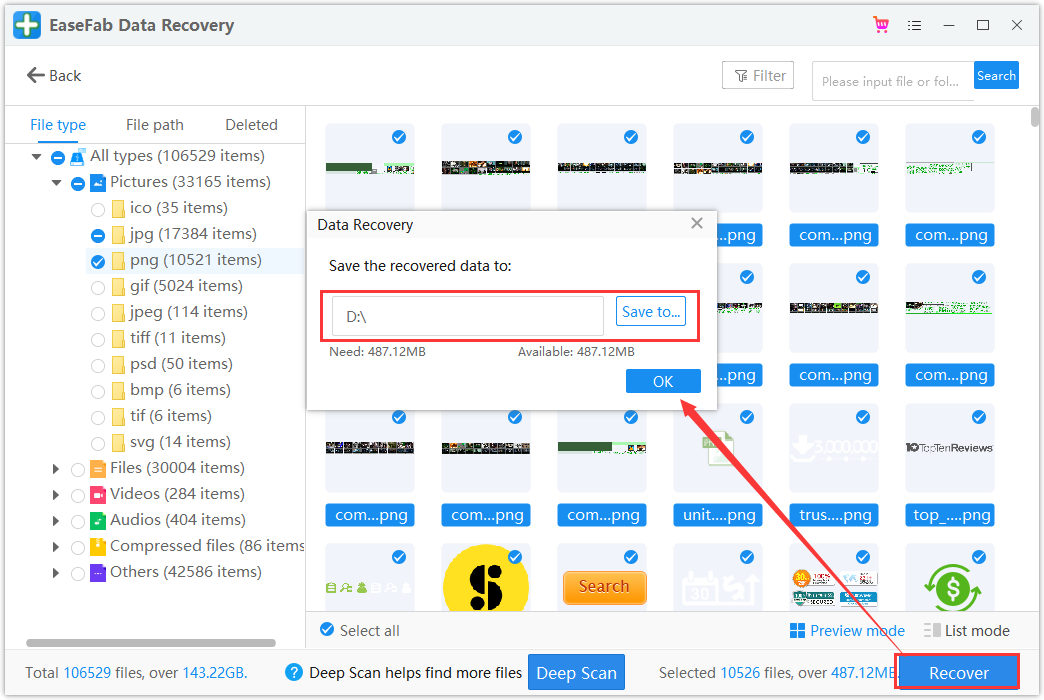 After you have recovered lost data from your SD card, you should remember the following things to protect your SD card:
● Back up your SD card data in advance
● Never remove a memory card while turning on/off your camera or other devices
● Don't remove your memory card while saving and viewing a photograph
● Never take or view new pictures on battery low mode
● Never change your SD card when the camera is on.
FAQs about the SD Card Data Recovery
Where do deleted SD card files go?
Files deleted from your SD card do not take up temporary residence in your Recycle or Trash Bin. They are essentially permanently deleted from a logical perspective. However, until they are overwritten, they can be recovered.
Can we recover data from a corrupted SD card?
Yes, you can recover from a corrupted card using these steps and EaseFab Data Recovery without formatting the device.
➊ Connect the card to your computer.
➋ Start EaseFab Data Recovery and choose the SD card to scan.
➌ Preview the files that can be restored and choose those you want.
➍ Perform the recovery and save your data to a new location.
How do I fix an unreadable SD card?
Here are some things you can do to try to fix an unreadable SD card.
● Try the card in a different device or card reader.
● Check the card for physical damage to the connectors.
● Assign the card a drive name.
● Clean the card to ensure it is free of dust that may affect connectivity.
How Can I Recover Photos from a Formatted SD Card?
To recover photos from a formatted SD card use this procedure:
● Attach the SD card to your computer.
● Start EaseFab Data Recpveru and select the SD card from the disk list.
● Click Search for lost data to scan the card for deleted photos.
● Preview the found images and choose the ones you want to retrieve.
● Click Recover to restore the pictures.
Can you recover erased SD card?
If the contents of your SD card have been deleted through user error, formatting, or logical damage, there is a good chance that your data can be restored if you act fast enough. The first thing you should do is stop using the card, as continued use puts your data at risk of being overwritten.
To recover the deleted data from your SD card, you can do so using data recovery tools like EaseFab Data Recovery. Software of this type specialize in searching for and recovering deleted data.