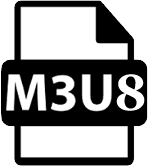 What Is an M3U8 File?
A .M3U8 file is an 'extensible playlist' file format. It is basically a playlist containing UTF-8 encoded text that points at video files. One M3U8 file may give you references to online files for an internet radio station. Another might be created on your computer to build a playlist for your own personal music or a series of videos. An M3U8 file can use absolute paths, relative paths, and URLs to refer to specific media files and/or entire folders of media files. Other text information in an M3U8 file may be comments that describe the contents.. Files with the .m3u8 extension are a unicode version of the M3U file format.
How to Open an M3U8 File
M3U8 files can be edited and read by most text editors, including Notepad in Windows. However, as you can see below, opening this M3U8 file in Notepad only lets you read the file references. You can't actually play any of these music files like this because text editors are not the same as media player or media management software programs.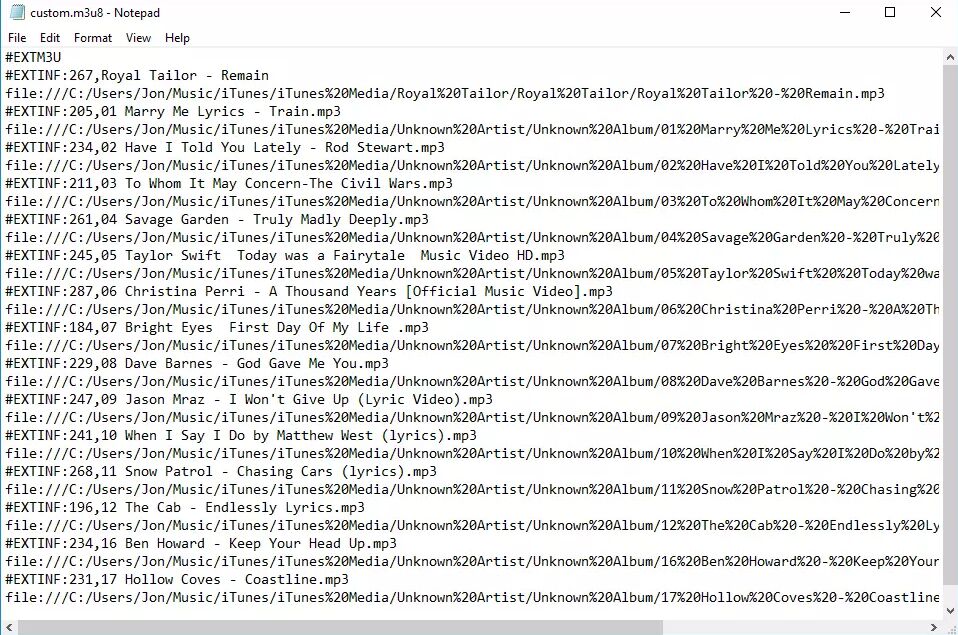 VLC, Apple's iTunes, QuickTime, Safari, Windows Media Player, and Songbird are just a few examples of programs that can open and use M3U8 files. Another way to open M3U8 files on Linux is with XMMS.
Here's an example of the same M3U8 file from above but open in VLC, which will gather all the music files referenced in the text file and load them into the media player for playback.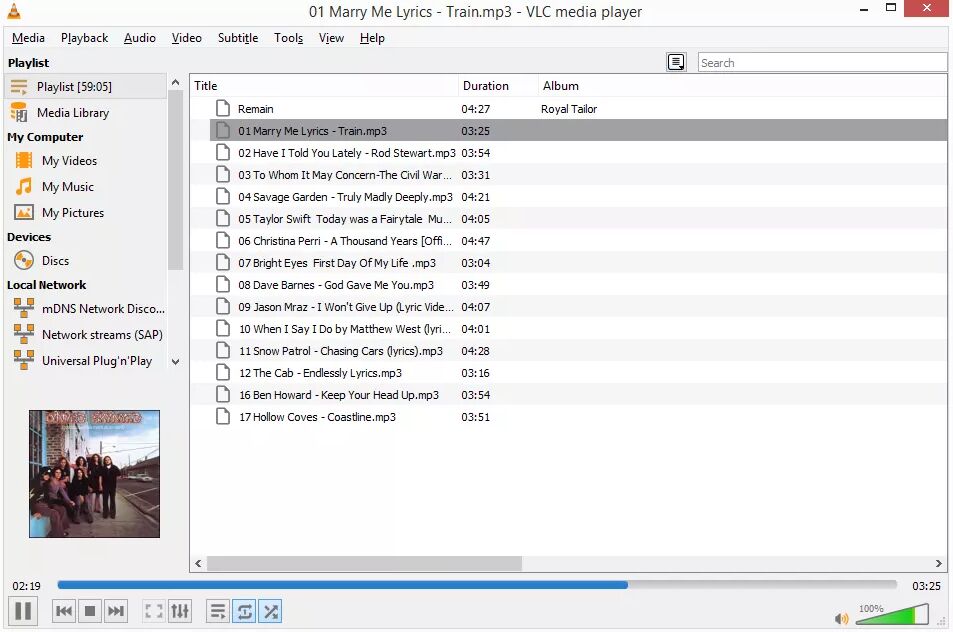 One quick way you can open an M3U8 file online is through HSLPlayer.net. However, this website will not work if you have an M3U8 file stored on your computer or some other device. You can only use HSLPlayer.net if you have a URL to the .M3U8 file and the files it references are also online.
Some of these programs also let you create an M3U8 file. For example, if you load a bunch of files into VLC, you can use the Media > Save Playlist to File... option to create an M3U8 file.
M3U8 vs M3U
M3U8 file extension is nothing but a UTF-8 Encoded Audio Playlist file. Such files are utilized by both audio and video players to locate where media files are actually located.
M3U file extension is an Audio Playlist file that includes various character encoding, including the UTF-8 character encoding too.
Hence, the .M3U8 file extension is utilized only to depict that the UTF-8 character encoding is being used in the file.
How to Convert an M3U8 File
The only problem with doing this is that sometimes an M3U8 file points to media files that are in several different locations at once. This may include various folders on one or more internal hard drives, flash drives, and/or external drives.
If this is the case, we don't recommend manually searching through all of them to find your files. Instead, just use the easy-to-use yet powerful program EaseFab Video Converter. You can use it directly import M3U8 file to the program and then the program will start loading/downloading the M3U8 file from where all the media files are located. Once the downloading completes, you can find a profile and start converting.
As a powerful M3U8 file downloader and converter, it can help you download M4U8 file and then transcode M3U8 file to any popular video formats or device without loss in visual quality. The conversion is super fast basically due to the industry-leading hardware and software accelerations utilized synchronously. You can also edit enhance & personalize and merge your video files.
Simple Steps to Convert M3U8 to MP4, MOV, WMV, AVI, MKV...
Step 1. Download and load the M3U8 file
Install and launch EaseFab Video Converter. Drag and drop the M3U8 file to the program. A M3U8 file loading window will pop up, it will then automatically grab the copied URL of your M3U8 file and starts downloading it.
Note: The loading/downloading time depends on the video length and the broadband speed.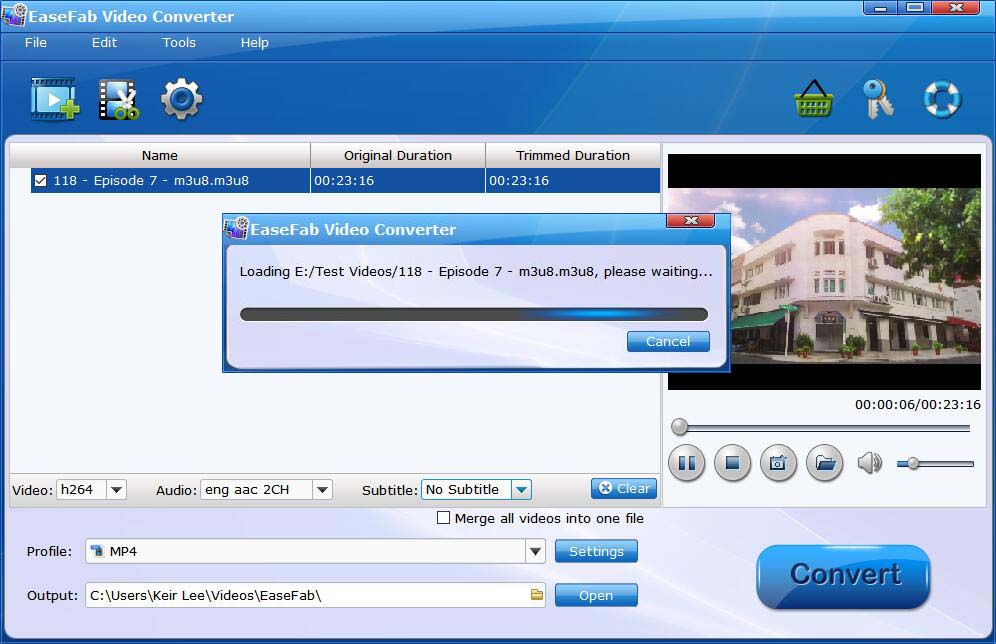 Step 2. Select the output file
After loading, click Profile and select MP4, HEVC MP4 other other video formats from Common Video category as the output format. If you want to convert M3U8 to MP4 for iPhone, iPad, Samsung Galaxy, Google Nexus, etc., you can browse to find any video preset as the output format.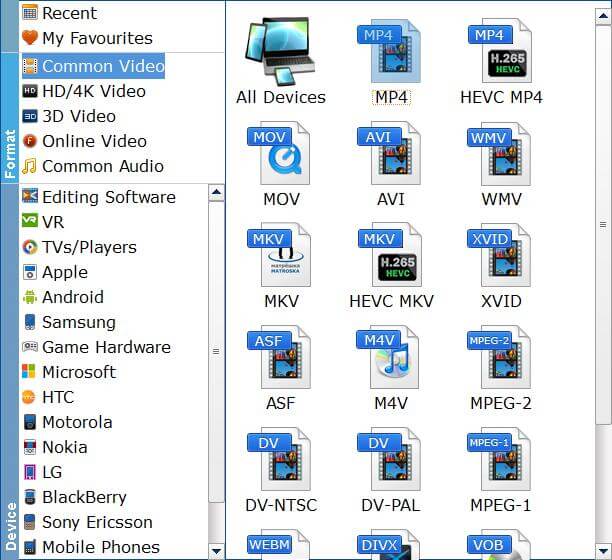 For advanced functions
1. Click the Edit button to open the Video Editor window to achieve editing M3U8 file like trim, crop, image, watermark, effect, subtitles and rotate and etc in the corresponding editing pane.
2. Click the Settings button to open the Settings window to adjust the output video codec, resolution, bitrates, frame rate, aspect ratio, audio codec, channel, volume and etc in the advanced tab.
Step 3. Begin conversion
When you click the Convert button, the process of converting M3U8 files will begin in earnest and it will be very fast.