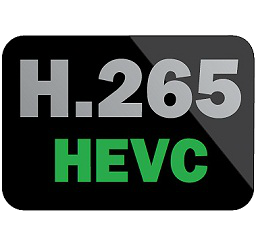 What is HEVC / H.265?
H.265, (also known as HEVC, short for High Efficiency Video Coding) is a video compression standard whose predecessor is H.264/MPEG-4 AVC. H.265 HEVC ensures to deliver video quality identical to H.264 AVC at only half the bit rate. It can alternatively be used to provide substantially improved video quality at the same bit rate. It can support 8K UHD and resolutions up to 8192×4320. This year, Apple applied next-generation H.265 technology to its new iPhone 6 and larger iPhone 6 Plus for FaceTime over cellular.
H.265 vs H.264: Comparison between H.265 (HEVC) and H.264 (AVC)
In general, H.265 has several big advantages over H.264, including better compression, delicate image and bandwidth saving. For more detailed differences, please read H.265 vs H.264 comparison table.
H.265/HEVC
H.264/AVC
Names
MPEG-H, HEVC, Part 2
MPEG 4 Part 10, AVC
Approved date
2013
2003
Progression
Successor to H.264/AVC
Successor to MPEG-2 Part
Key improvement
* 40-50% bit rate reduction compared with H.264 at the same visual quality
* It is likely to implement Ultra HD, 2K, 4K for Broadcast and Online (OTT)
* 40-50% bit rate reduction compared with MPEG-2 Part
* Available to deliver HD sources for Broadcast and Online
Support up to 8K
Yes
No. Support up to 4K.
Support up to 300 fps
Yes
No. support up to 59.94 fps only.
What can decode H.265 / HEVC files?
Any computer can decode H.265 using software (in theory, at least). All that's mandatory is software capable of handling H.265 and a file or stream encoded in it. The freeware VideoLAN player is currently your best bet, but support will be native to PCs with the release of Windows 10.
How can I encode my own HEVC video?
Encoding with HEVC is, as explained, much more demanding than other video codecs. You'll likely find that your videos take many times longer than before, and real-time encoding is virtually unheard of with home PCs. With that said, switching from an older standard to H.265/HEVC can substantially reduce the file size of your video library. It can also make streaming between devices easier.
There are several converters available for free including Handbrake, Internet Friendly Media Encoder, MediaCoder and DivX Converter. For $21.57, EaseFab Video Converter is the easiest to use, so it may appeal to users who prefer a streamlined solution. All of these can take various input formats and transcode them to HEVC.