Summary: Ripping a Blu-ray to MP4 means you can digitize Blu-rays and make movies more easier to access and playback. This article will show you why and how to convert Blu-ray to MP4 on Windows (11/10/8/7)/macOS (Ventura and lower).
Nowadays video entertainment has gradually shifted from disc to digital. And there are very few ways to watch your Blu-ray collection on your computer without shelling out cash for the privilege, even if you already own a Blu-Ray drive and bought your movies. Therefore, it's time to digitize your Blu-ray collection, and converting Blu-ray to MP4 is the ideal way.
Ripping Blu-rays to MP4 will bring you many benefits. This way, you don't need to swap discs, you can play our movies in any app you want and you can even stream them to our other devices. Moreover, you can prevent your cherished movie library from physical damage.
Well, how to convert your Blu-ray collection to MP4 files? Here we'll introduce the best Blu-ray to MP4 converter software that can convert your store-bought Blu-rays to high-quality MP4 digital copies for using on NAS, Plex, TV, hard drive, mobiles, and other devices.
Part 1. Top 3 Ways to Convert Blu-ray to MP4 on Windows 10/11 and Mac
There are numbers of paid and free programs on the market that claim to convert Blu-ray disc to MP4. We cannot list all of them. Here we just single out the top proven 3 methods due to user-friendly UI, simple operation, popularity and solid ability of Blu-ray to MP4 conversion.
Way 1. Convert Blu-ray to MP4 with EaseFab Blu-ray Ripper [Easiest and Best]
If you're interested in backing up or digtizing your Blu-ray collection and don't want to held back by copy protection restrictions and slow processing, EaseFab Blu-ray Ripper will be your best pick. It's available for Windows 11, 10, 8.1, 8, 7, etc. And it has a Mac version compatible with macOS Ventura and lower. With it, you can rip a full Blu-ray to MP4 (H.264/HEVC) in 10-15 minutes with best balance in quality & size. Below are the specific features that add a ton of value:
● Support any Blu-ray: Convert homemade disc, burned Blu-ray or store-bought 2D/3D/UHD 4K Blu-ray with almost any copyright protection like AACS encryption, BD+, MKVB, etc. Decrypt DVDs with CSS, RCE, Sony ArccOS, UOPs, Disney X-project DRM and so on.
● From 50GB Blu-ray to 1.5GB ~ 3GB MP4: Adjust resolution, bitrate, codec, etc to produce optimal file size and quality balance. Specifically, the ripped MP4 file is 1.5GB ~ 3GB instead of huge 50GB for a full Blu-ray movie. Plus, there're 500+ ready profiles for AVI, WMV, MOV, iPhone, iPad, Android.
● Ultra-fast encoding speed: GPU Hardware Acceleration powered by Intel QSV and NVIDIA (CUDA) NVENC and multiple core tech are fully utilized, meant to convert a full Blu-ray disc to MP4 within 10 ~ 15 minutes.
● 1:1 Ratio Copy: Backup Blu-ray Full Title or Main Title to computer with original Blu-ray structure or a single M2TS file without any quality loss.
● More Features: Flexibily select the subtitle/audio tracks, add subtitles, crop, trim, and edit the movie before ripping Blu-ray to MP4 video.
[Tutorial] How Can I Convert Blu-rays to MP4 with Quality, Size, and Speed Well Balanced?
To begin with, you need to download and install EaseFab Blu-ray Ripper Windows or Mac version on your computer. The guide below takes the Windows version for an example. Mac version has the same process. Please not that a Blu-ray drive is necessary for ripping Blu-ray discs.
Step 1. Load Blu-ray movies
Insert the Blu-ray disc to the BD drive and then click the Load Disc button to have Blu-ray movies uploaded to EaseFab Blu-ray Ripper. A few seconds later, the full title list of Blu-ray with the auto-checked main title are presented. Besides Blu-ray disc, BDMV Folder, ISO image and VIDEO_TS folder can also be taken as source for decoding.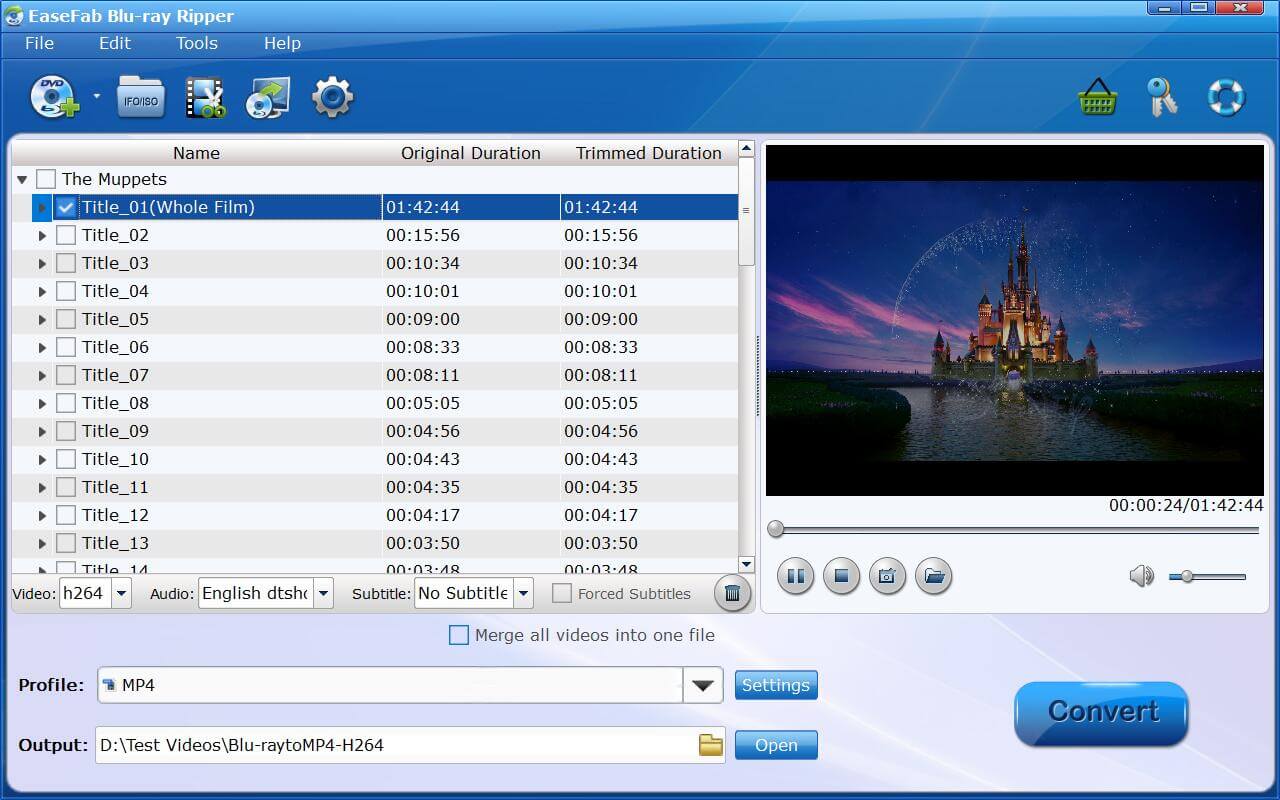 Step 2. Select MP4 as Output
Click Profile bar and select the format you want from the drop-down list. Move your mose cursor to Common Video category and select MP4 (codec: h264+aac) as the output format. If you need to convert a Blu-ray for iPhone, Android device, YouTube, web services, you can also find a profile from the corresponding device category.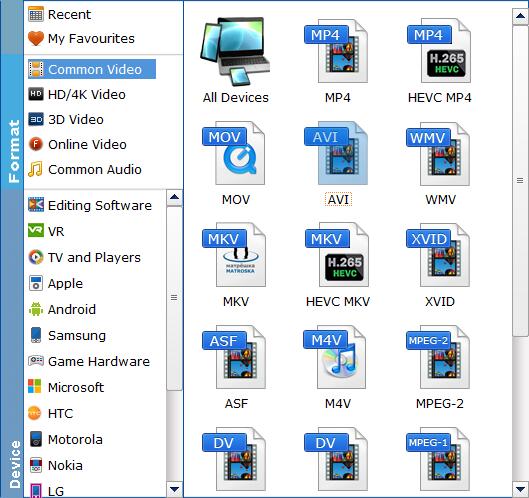 Step 3. Convert Blu-ray from 30~50 GBs to MP4 in less than 3GBs
To get a good balance between image quality and file size, you need to click Settings button customize the parameter settings. Flexible options are offered to further reduce the size of the ripped MP4 video. A slew of other variables such the video/audio codecs, pixel dimensions, frame rate, bit rate, audio sampel rate, etc. will help convert a Blu-ray at 40GB to a MP4 file smaller than 3GB.
Recommended Video Quality-Size Settings for Blu-ray to MP4 Conversion:
1. You're not suggested to adjust the frame rate, if not necessary.
2. Lower the bitrate to a lower level. For example, adjusting the bitrate from orginal "medium quality" to bitrate of 1800~2000 is acceptable without noticeable pixellation.
3. Lower the resolution of video. Typical Blu-ray videos are 1920×1080 (Full HD). Adjust the resolution to lower 1280×720 or higher won't make any quality difference.
Please note: Adjusting these variables have some effect on the re-encoded video quality. Remember the file size and video quality is based more on bitrate than resolution which means video/audio bitrate higher results in big file size, and lower visible quality loss.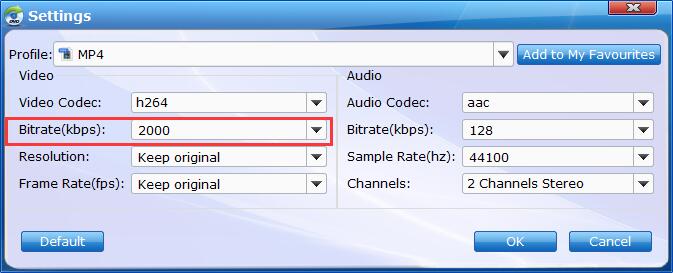 Step 4. Start the Blu-ray to MP4 conversion.
Just below Profile is Output, here you can click the small Folder icon to browse your computer for a better destination folder to save the result Blu-ray rips.
After everything is ready, you can click the big blue Convert button to start converting. The Blu-ray to MP4 rip will go from about 150fps to 350fps based on the computer you have (higher configuration, faster speed).
Way 2. Convert Blu-ray to MP4 Free MakeMKV + Handbrake
When it comes to ripping Blu-rays, MakeMKV is always the top choice. It's able to rip DVDs and Blu-rays protected with AACS and BD+ encryption without any additional software. However, As its name indicates, MakeMKV can only export MKV file without re-encoding and it doesn't support MP4 format as output. That's why you need to reply on Handbrake and use it to convert the giant MKV file to MP4.
Note: Handbrake can't handle Blu-ray encryption on its own. It converts neither encrypted physical Blu-ray Disc nor decrypted commercial Blu-ray movies in BDMV file structure. Therefore, you cannot use Handbrake to rip most Blu-rays to MP4 directly. But if you have some unprotected Blu-ray discs or BDMV folder, you can use it to get the job done easily.
You can use MakeMKV and Handbrake to rip some store-bought Blu-ray to MP4 for free. If you want to have a try, just follow our guide.
Note: To begin with, you need to have MakeMKV and Handbrake installed on your Windows and Mac computer.
Step 1. Insert the traget Blu-ray disc in the optical Blu-ray drive. Open MakeMKV and then click the optical drive on its interface to let MakeMKV read your Blu-ray.
When MakeMKV launches, it will scan your computer for optical drives, then present you with information about your drive and the name of the disc inside it. (If you get an error, you may need to right-click its shortcut and run it as an administrator.) If everything looks right, click the big Blu-ray button to open the disc for ripping.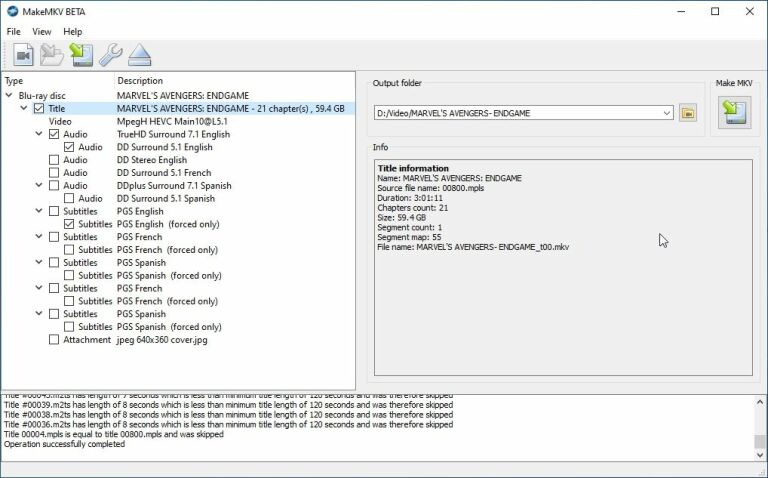 Step 2. When you see a tree structure with your titles, video tracks, audios, and subtitles, just choose which titles or tracks you want to convert.
Step 3. Click Set output folder button to specify where you want to save the digital copy.
Step 4. Click the Make MKV button to begin converting Blu-ray to MKV digital file.
Step 5. Open Handbrake, Click Open Source or simply drag and drop to import your target MKV files from the ripping Blu-rays with MakeMKV.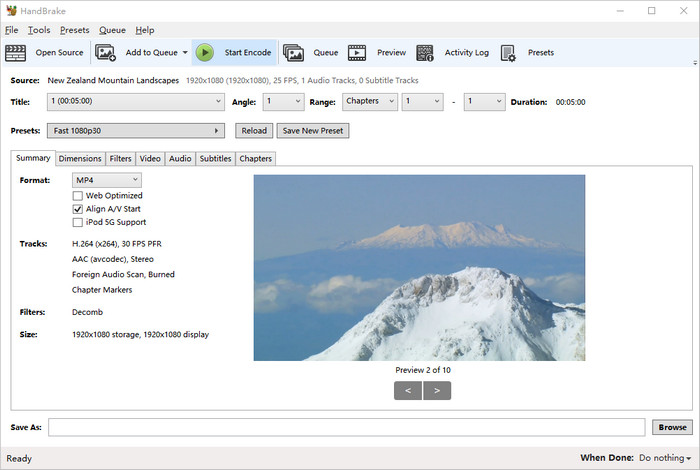 Step 6. Choose MP4 as the output format below the Summary column.
Step 7. Tweak the video setting if necessary. You're able to adjust video dimensions, resolution, frame rate, codec, quality, audio, subtitles, deinterlace, denoise, sharpen video and crop, rotate, flip video etc.
Step 9. Click Browse button to choose a destination folder for the output video.
Step 10. Tap Start Encode and wait. The MKV to MP4 conversion will be activated and finished soon.
Way 3. Convert Blu-ray to MP4 with Leawo Blu-ray Ripper
Leawo Blu-ray Ripper is also a great choice for ripping Blu-ray to MP4. In addition to MP4, it can also rip commercial Blu-rays to any other popular video formats like MKV, FLV, MOV, etc. Besides the 180+ supported digital formats, users can also rip Blu-rays to hot smartphones directly, including iPhones, Galaxy S series phones and many more. For the cost-effectiveness to consideration, EaseFab is better than Leawo.
If you want to convert Blu-ray to MP4 using Leawo, you can follow the steps below.
Step 1. Open Leawo Blu-ray Ripper, open "Blu-ray Ripper" module, and then click the "Add UHD/Blu-ray/DVD" button to browse source Blu-ray movies that you want to convert to MP4.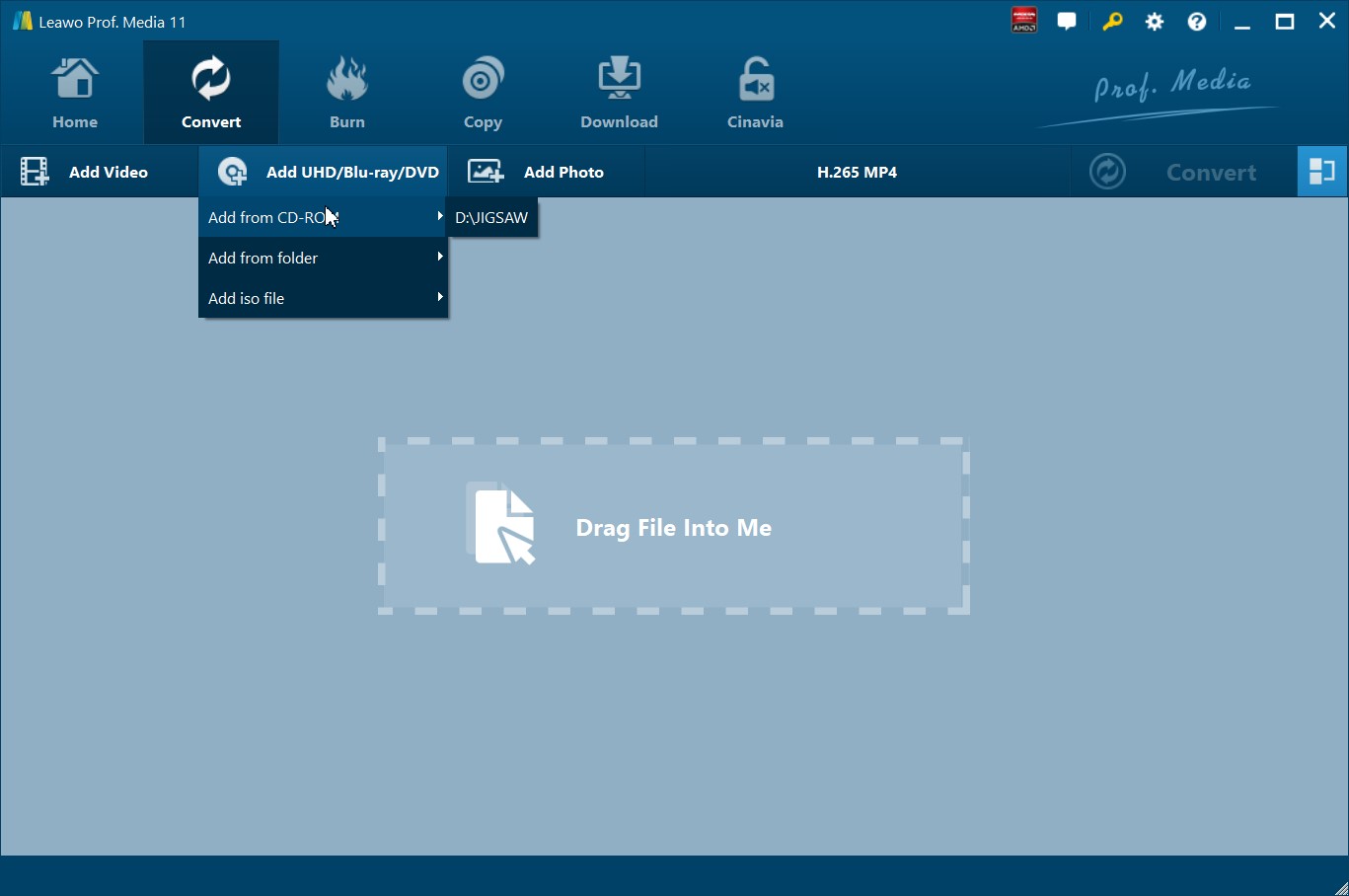 Step 2. Right before the big green "Convert" button, you could see a drop-down box. Click it and then select "Change" option to select "Format > Common Video > MP4 Video" or "Format > HD Video > HD MP4 Video" as output format on the popup "Profile" panel. Return to the main interface after setting output profile.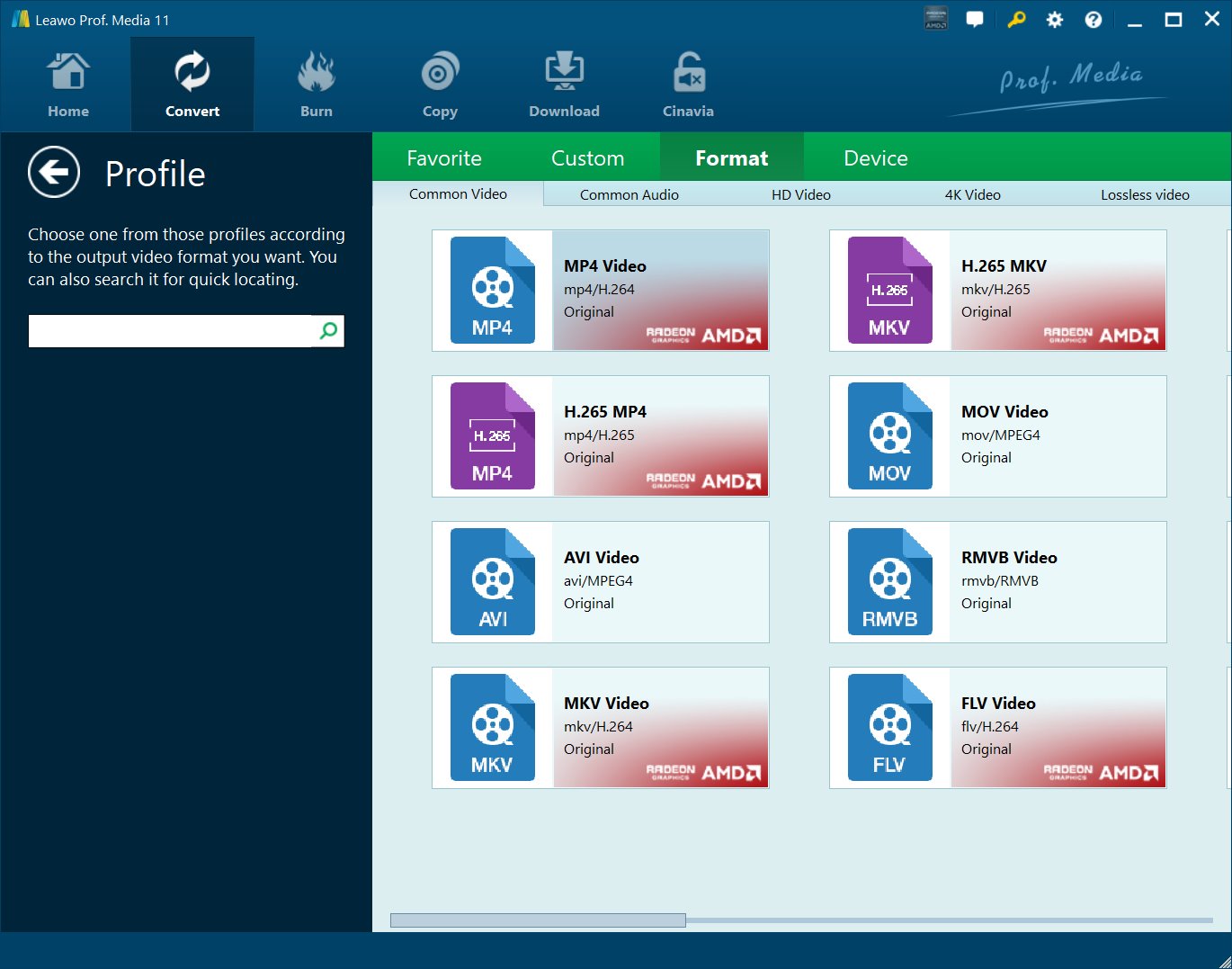 Step 3. Click the big green "Convert" button and then set an output directory on the popup sidebar. Click the below "Convert" button to start converting Blu-ray to MP4 videos.
Part 2. Common Blu-ray to MP4 Converting Errors You May Meet
When converting a Blu-ray, maybe you're worried that:
※ It takes tool long
Blu-ray video to MP4 ripping speed lies on both the performance of Blu-ray ripper and computer configuration. The faster processor the computer has, the faster the encoding will be. It's widely considered as fast to convert a Blu-ray movie to MP4 within 25 minutes, with an average speed of 25FPS+. A speed slower than that will require more patience. It's unacceptable when it takes hours to finish a Blu-ray copy. In fact, you can rip a Blu-ray in 10-15 minutes with a faster DVD ripper.
※ The output is not as good as the original Blu-ray
The Blu-ray rip to MP4 process will re-encode the videos and lose quality for that reason. But different codecs like MPEG4, H.264, and HEVC have different qualities (generally, HEVC > H.264 > MPEG4). To keep the the visually same quality (including Dolby digital sound), Blu-ray to MP4 x265 is the best choice. Besides, copy protections like AACS encryption, BD+, MKB technology, etc. can result in bad quality if the software fails to remove them. That means you need to install a third-party Blu-ray decrypter to handle encrypted Blu-rays.
※ The ripped MP4 is huge in size
A compelete Blu-ray is anywhere from 25-50GB and the rip size depends on how nice you want the quality. Simply put, Blu-ray = low compression and mp4 = high compression. Therefore, you can compress down to whatever size you want. The smaller size, the lower quality. Generally, for full length movies (1.5 - 2hrs) to h.264 codec, 1.2-1.8 gigs a movie will give good quality.
Summary: It's kinda a paradox to get the fast speed, optimal quality, and small size for the Blu-ray to MP4 encoded with h.264/mpeg-4 codec. However, a battle-tested Blu-ray converter like EaseFab Blu-ray Ripper can get the best possible results in a balanced way.
Part 3. FAQs about Blu-ray to MP4 conversion
1. Can VLC convert Blu-ray to MP4?
In fact, VLC doesn't come with the ability to play encrypted Blu-ray discs, let alone rip them. You need to jump through some hoops to add the ability to play encrypted Blu-ray discs, and even then, you'll find that the ripping process is pretty slow and that VLC can't handle some Blu-ray menus.
But if you've made sure the Blu-ray disc you want to rip can be played in VLC without problem (See How to play a Blu-ray with VLC), you can try to convert Blu-ray to MP4 using VLC.
2. Is converting Blu-ray to MP4 legal?
It's not legal to crack a Blu-ray in United States. But it's widely considered that it's OK to make an "archival" copy of any Blu-ray content that you've legally purchased/acquired the rights to.
3. How to convert Blu-ray to MP4 on Mac?
There isn't any native way to digitize Blu-ray or DVD on Mac. To convert Blu-ray to MP4 on Mac, you need to resort to third-party software like EaseFab Blu-ray Ripper for Mac, LosslessCopy for Mac, MakeMKV + Handbrake for Mac or any other macos-based Blu-ray ripping apps.
4. How do I convert a protected Blu-ray to MP4?
You need to get a Blu-ray ripping program that supports copy protections. These are protected Blu-ray rippers that supports AACS encryption, BD+, MKVB, etc. Download the program, insert your Blu-ray, and it should be able to read and analyze the correct title of a protected Blu-ray. (Please note, before you convert a protected Blu-ray, make sure you legally own it.)
5. Why we choose MP4 format for converting Blu-ray to?
There are 3 main reasons fro converting Blu-rays to MP4 format:
● MP4 is widely supported.
MP4 is compatible with almost all devices, including computers and HD/4K TVs, phones, tablets, and game consoles from Apple, Samsung, Google, Microsoft, Sony, etc. It's accepted by media players, editors (e.g. iTunes, iDVD, iMovie) and web services (e.g. YouTube, Facebook, Vimeo). After converting Blu-ray file to MP4, you can watch MP4 copies on the train, airplane, bus, etc without taking along physical discs.
● MP4 well balances size and quality.
MP4 features a high compression rate and great output quality. Therefore, it delivers a smaller file size than other formats when setting as the same quality. Sometimes an MKV file at least doubles the size of an MP4.
● MP4 is easy to store but hard to be corrupted.
Due to its easier storage & management, MP4 is the best format to backup Blu-ray to. You can save it on computer hard drive, USB, flash drive, iPhone, Android, etc. You can categorize MP4 videos by genre, year, etc. as per your needs. It's easy to locate any file by searching. Unlike fragile Blu-ray disc, MP4 video file is difficult to be damaged during regular use. If corrupted, we have multiple ways to repair MP4 file.
For the above reasons, it is advisable to change the movie format from Blu-ray to MP4 with professional Blu-ray rippers. Click here and follow our detailed guide to convert Blu-ray to MP4 here >>