It is well known that Blu-ray disc is difficult to manage and vulnerable. Therefore, many of us choose to rip Blu-rays to MKV, MP4, MOV or other digital formats for easier playback, sharing, backup or management. When it comes to selecting the best quality format for ripping Blu-ray, MKV is always the top choice since it can encompass audio, video, pictures, and subtitle tracks in one single file while keeping the original quality of a Blu-ray.
In this article, we will share you with 2 best softwares to help you convert Blu-ray to MKV without quality loss. Also we will show you how to rip Blu-ray to MKV or any other digital formats like MP4, MOV, etc. with a good quality-size balance.

Part 1. How to Rip Blu-ray to Lossless MKV with MakeMKV
MakeMKV is the first choice of many users when it comes to extracting MKV from a Blu-ray without quality loss. This tool is specially designed to convert Blu-ray and DVD disc to MKV format. It will preserver all video and audio tracks, chapters information, and all meta information. It works fast because it doesn't transcode video, just extract. Of course the disadvantage is that it will export a super large MKV file.
Now let's download MakeMKV and learn how to convert DVD to MKV with MakeMKV.
Step 1. Launch MakeMKV, insert your Blu-ray disc in your BD drive, then click the big button that looks like an optical drive. MakeMKV will read the Blu-ray disc, then display its contents.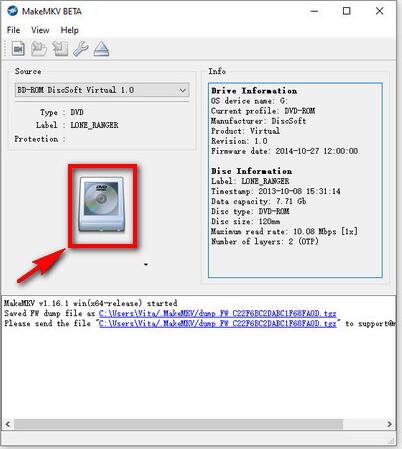 Step 2. When the scanning process finishes, it will list all chapters in the disc in the left side panel. MakeMKV selects all titles by default. But if you only want to rip the movie, it is most likely to be the title at the largest size. Select desired titles based upon your needs. If your movie is with multiple audio tracks and subtitles, double click on the movie title to extend more items. Then, you should see that there are multiple audio and subtitle tracks listed. You decide whether to rip them all or save specific tracks.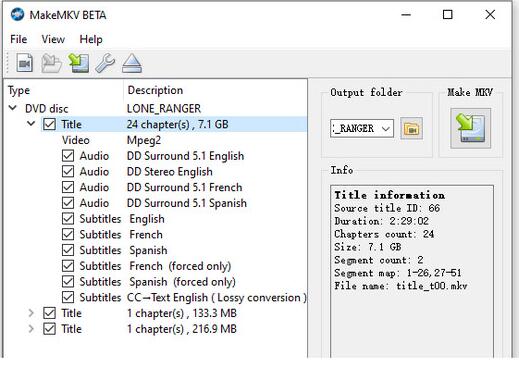 Step 3. When you are good to go, click the yellow folder icon on the right side to designate a place to save the exported file. Make sure that the destination you choose have enough free space because the movie file will be quite large. Then click Make MKV to initiate the Blu-ray to MKV ripping process.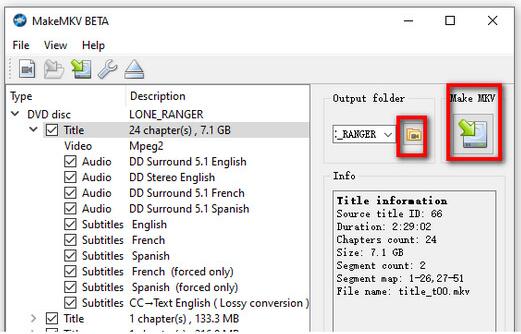 Step 4. It will take about 20~30 minutes to finish the process on the basis of the Blu-ray disc type, the tracks you select, and the movie you rip. When the whole process ends, you can see a dialog telling copy complete, xx titles saved.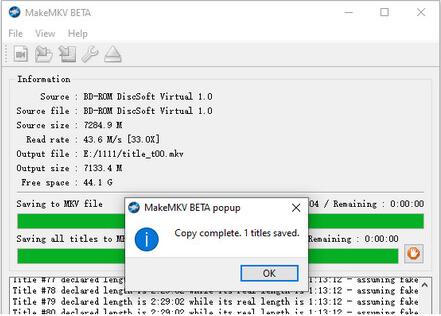 Part 2. How to Convert Blu-ray to Lossless MKV with EaseFab LosslessCopy
EaseFab LosslessCopy is another top choice to achieve this goal. With it, you can easily remux and rip Blu-ray to a lossless MKV file within 5 minutes. The MKV file can store all original subtitle and audio tracks (incl. HD audio) and preserve the chapter structure of the source movie, so you may select your wanted chapters to play with your media players at will. Besides preserving all the original audio and subtitle tracks, you're also allowed to convert Blu-ray/DVD to encoded MKV file with desired audio and subtitle tracks by its customizable settings.
What's more, you are able to create MP4, MOV and AVI files with multiple audio tracks to meet the requirements for more media players, mobile devices, etc. Below are the simple steps on how to rip Blu-ray to a lossless MKV file using LosslessCopy.
Step 1: Load the source Blu-ray movie
Insert the Blu-ray disc to the BD drive. Then launch EaseFab LosslessCopy, and then and click the Load Blu-ray button to have movies uploaded to EaseFab LosslessCopy. Here you can also import BD/DVD folders, DVD discs, ISO files and IFO files to convert.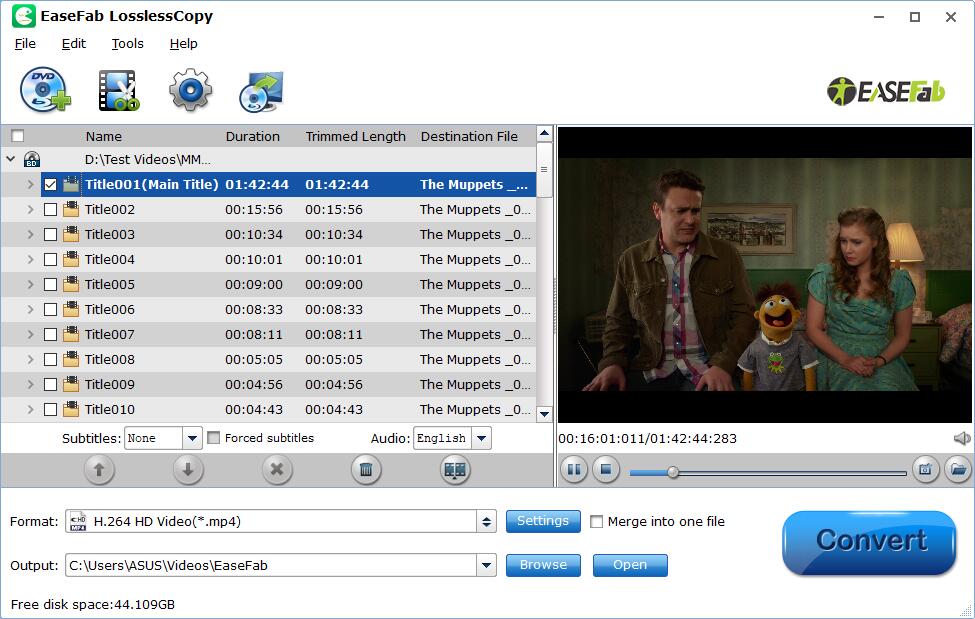 Step 2: Rip Blu-ray to lossless MKV
EaseFab LosslessCopy transfers video from Blu-ray to MKV container in two ways, lossless output and encoded output. Both the two ways enable users to preserve wanted audio tracks and subtitles streams in the source movie. For losssless Blu-ray to MKV rip, you don't need to adjust anything
After everything is ready, just click Convert button to start ripping Blu-ray to lossless MKV file.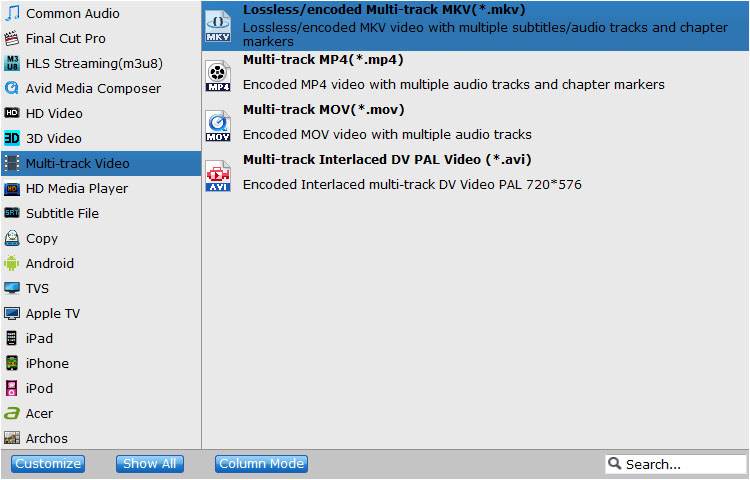 Tips: If there are some tracks you don't like, you can click Settings button and go to Multi-task Settings window to uncheck and remove them under Audio tab and Subtitle tab.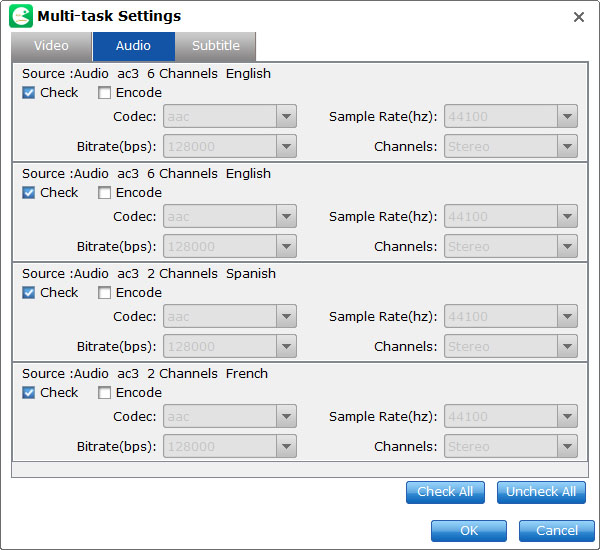 Part 3. How to Convert Blu-ray to MKV, MP4, MOV with Good Quality-Size Tradeoff
As its name shows, MakeMKV just extracts the video and audio from Blu-ray to MKV, that explains why it is fast and why the output file is very large. What if you want to get a good quality-size balance in digitizing and ripping Blu-ray discs? Don't worry about that, you can still adopt LosslessCopy for help. Besides MKV, LosslessCopy can also convert Blu-ray to H.264, H.265, MP4, AVI, WMV, MOV, FLV, iPhone, iPad, Android and more. You can easily adjust resolution, bitrate, codec, etc to produce optimal file size with excellent quality. Moreover, you can flexibily select the subtitle/audio tracks, add subtitles, crop, trim, and edit the the result video.
[Tutorial] How Can I Convert Blu-rays to MKV, MP4 with Quality, Size, and Speed Well Balanced?
Step 1. Add the source Blu-ray disc.
Insert the Blu-ray disc to the BD drive and then click the Load Disc button to have Blu-ray movies uploaded to EaseFab LosslessCopy.
Step 2. Select MKV, MP4, or other formats as output.
Click "Format" bar and select the format you want from the drop-down list. You can easily find HEVC, H.264, MKV, MP4, WMV, MOV, etc. in "Common Video" and "HD Video" category. Here we select "MKV HD Video (*.mkv)" (in "HD Video" category) as the output file for an example.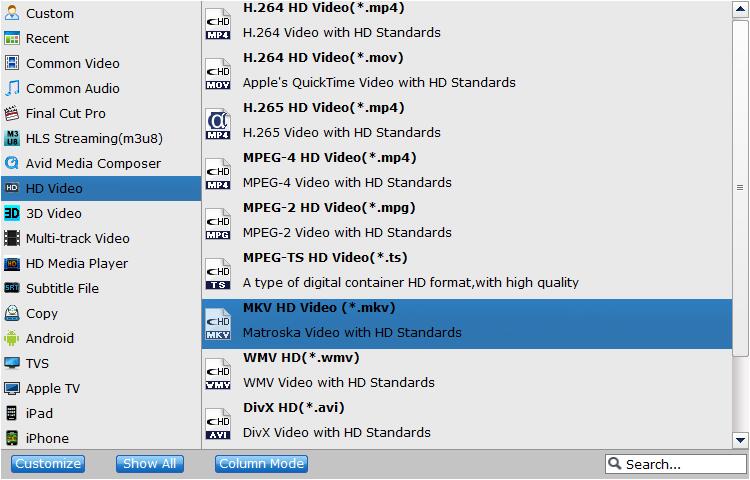 Step 3. Convert Blu-ray from 30~50 GBs to MKV with 2~4GBs while maintaing high quality
To get a good balance between image quality and file size, you need to click Settings button customize the parameter settings. Flexible options are offered to further reduce the size of the ripped MKV video. A slew of other variables such the video/audio codecs, pixel dimensions, frame rate, bit rate, audio sampel rate, etc. will help convert a Blu-ray at 40GB to a MKV file smaller than 4GB.
Recommended Blu-ray to MKV Video Quality-Size Settings:
1. You're not suggested to adjust the frame rate, if not necessary.
2. Lower the bitrate to a lower level. For example, adjusting the bitrate from orginal medium quality to bitrate of 2000~3000 is acceptable without noticeable pixellation.
3. Lower the resolution of video. Typical Blu-ray videos are 1920×1080 (Full HD). Adjust the resolution to lower 1280×720 or higher won't make any quality difference.
Please note: Adjusting these variables have some effect on the re-encoded video quality. Remember the file size and video quality is based more on bitrate than resolution which means video/audio bitrate higher results in big file size, and lower visible quality loss.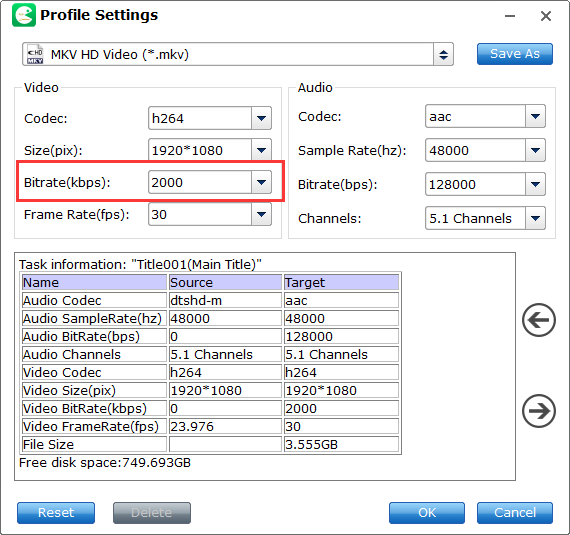 Step 4. Start the Blu-ray to MKV conversion.
Just below Format is Output, here you can click Browse button to browse your computer for a better destination folder for LosslessCopy to save the result Blu-ray rips.
After everything is ready, you can click the big blue Convert button to start converting. The Blu-ray to MKV rip will go from about 150fps to 350fps based on the computer you have (higher configuration, faster speed).
Part 4. Comparison of the top 2 Blu-ray to MKV Rippers: MakeMKV vs LosslessCopy
Below is comparison chart between MakeMKV and LosslessCopy. For more details, you can refer to this article "LosslessCopy vs MakeMKV: What are the Differences and Similarities" to learn more.
Supported Functions

LosslessCopy

MakeMKV

Supported Input Formats

Blu-ray Discs,Blu-ray Folder,Blu-ray ISO Image File
Yes
Yes
DVDs, DVD Folder, DVD IFO File, DVD ISO Image
Yes
Yes

Supported Output Formats

Lossless MKV: with multi-audio tracks/chapter markers
Yes
Yes
Lossless MP4/MOV: with multi-audio track
Yes
No
M3U8
Yes
No
3D MP4/MKV/MOV/AVI
Yes
No
H.265,H.264,DivX,XviD, MPEG-4
Yes
No
MP4, WebM, AVI,WMV,
Yes
No
M4V, F4V, MOV, FLV
Yes
No
3GP,VOB, TS, DV,
Yes
No
MP3, AAC, FLAC,OGG
Yes
No
WAV, M4A, DTS, AMR,
Yes
No
Optimization Profiles for Specific Devices
Yes
No

Other Functions

Merge & Split Video
Yes
No
Trim & Crop Video
Yes
No
Adjust Video frame rate
Yes
No
Adjust Video codec, bitrate
Yes
No
Adjust Aspect Ratio
Yes
No
Adjust Audio codec, channel
Yes
No
Add SRT subtitle
Yes
No
Extract SRT Subtitle
Yes
No
GPU Acceleration (NVIDIA CUDA, NVENC, and Intel HD Graphics.)
Yes
No