"I'm trying to use MakeMKV to rip a Disney movie DVD, but it's failed. Then I checked out the free MakeMKV alternative, Handbrake, it can't decrypt protected DVD. Are there any alternative programs like MakeMKV out there?"
"I'm looking for best alternative to MakeMKV to rip Blu-rays to not only MKV, but also to other popular video formats like MP4, MOV, etc. so that I can watch my favorite movies on my iPad Pro. Any suggestions?"
MakeMKV is a little rough around the edges, but this app is the gold standard when it comes to ripping Blu-rays and DVDs. It's able to handle encrypted discs, the overall quality is excellent, and it's completely free to use. Yet, nothing is perfect. MakeMKV has some limitations and always pops up errors when coping with strongly-protected discs, thus leading many guys to search for the best MakeMKV alternatives.

Top 5 MakeMKV Alternatives for Blu-ray & DVD Ripping at a Glance
MakeMKV Limitations for People Looking for An Alternative to MakeMKV:
If you are looking for the best Blu-ray ripper that preserving the original quality of files, MakeMKV is just what you need. It handles audio and video files without any complex configurations. You launch the program, analyze the disk, choose what track you want to copy, and indicate where an output file should be saved.
A lot of users look for MakeMKV alternative owing to several limitations and drawbacks associated with the software. We have listed some of the major ones below.
1. The output is only in MKV format.
2. It lacks the ability to preview video so that I can't see what the various titles are and decide which to rip and which to ignore.
3. MKV files are large or huge (A generated MKV file from Blu-ray can be as large as 41GB or so) and thus not suitable for playback on portable devices like, iPhone, Android mobiles, etc.
4. No option to for file editing.
5. It takes a long time to copy DVDs. While ripping DVD with MakeMKV, you may encounter errors like DVD failed to open, backup option greyed out for DVD, A/V out of sync, crashes, missing beginning, etc. This is because MakeMKV doesn't support some copy protections.
6. DVD audio cannot be ripped using the software.
Besides the aforementioned, MakeMKV has other flaws. If you've fed up with MakeMKV, you can try the following MakeMKV alternatives out, and see what you think.
Top 5 MakeMKV Alternatives for Blu-ray/DVD Ripping in 2021
EaseFab LosslessCopy can work as an alternative to MakeMKV, available for Windows 11, 10, 8.1, 8, 7, and so on. And its Mac version is compatible with OS X 10.6 and later, covering macOS Big Sur and Monterey.
As a MakeMKV substitute for Blu-ray and DVD ripping, EaseFab LosslessCopy is better than MakeMKV in many aspects, such as:
● It can rip any 2D/3D and UHD 4K Blu-rays protected by AACS encryption, BD+ and the latest MKB technology. Moreover, it can cope with both homemade and store-bought DVDs protected by DVD CSS, region code, RCE, Sony ArccOS, UOPs, Disney X-project DRM and more independently. 99-title DVDs and workout DVDs are fully supported.
● It automatically ticks the right title and delivers high-quality output in order. You can also select desired title and chapter to rip. No crashes.
● It provides 350+ different output formats. MakeMKV allows users to rip DVD/Blu-ray to lossless MKV only, but this tool is able to convert Blu-ray/DVD to MP4, AVI, WMV, FLV, MPEG, MP3, AAC, M4A and more video audio formats besides the lossless MKV.
● It comes with hundreds of preloaded profiles. EaseFab LosslessCopy is designed to help directly rip Blu-ray/DVD to iPhone 12/11, iPad Pro/Air 2/mini 3/4, Apple TV, Android Samsung, Google Nexus, Sony, Xbox etc.
● 3 Blu-ray/DVD copy modes manage to backup Blu-ray/DVD with 100% quality reserved. Besides the lossless Blu-ray/DVD to MKV backup, you can also copy main movie from BD/DVD discs to a single M2TS/MPEG file and leave out extras. Moreover, you can 1:1 backup physical discs with original disc structure.
● Easily adjust resolution, bit rate, codec, etc to produce optimal file size while maintaining good quality. Flexibily select the subtitle/audio tracks, add subtitles, crop, trim, and edit the result video.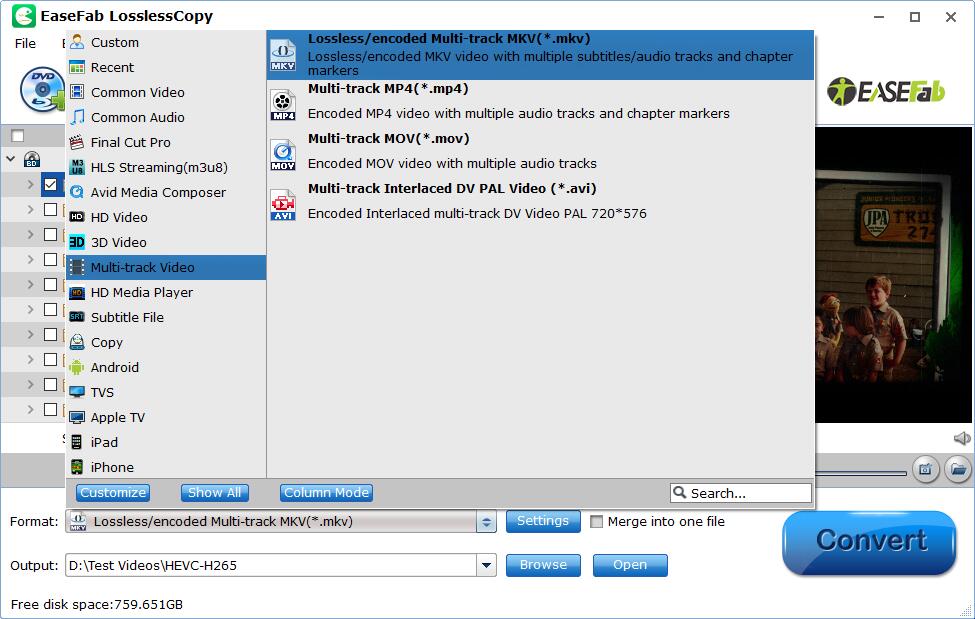 DVDFab Blu-ray Ripper is another top alternative to MakeMKV. Just like EaseFab LossslessCopy, it is able to remove Blu-ray/DVD protection, and rip regular and encrypted Blu-ray/DVD discs/ISO files/DVD folders to popular media file formats and prevailing devices. But according to the DVDFab reviews on TopTenREVIEWS, it is not a fast DVD ripper. It needs about 1h to finish a full rip of a movie, while other competitors only cost about half that time when ripping the same movie. Moreover, this program comes with lots of complicated options and the price is expensive (Upscaling feature requires separate purchase).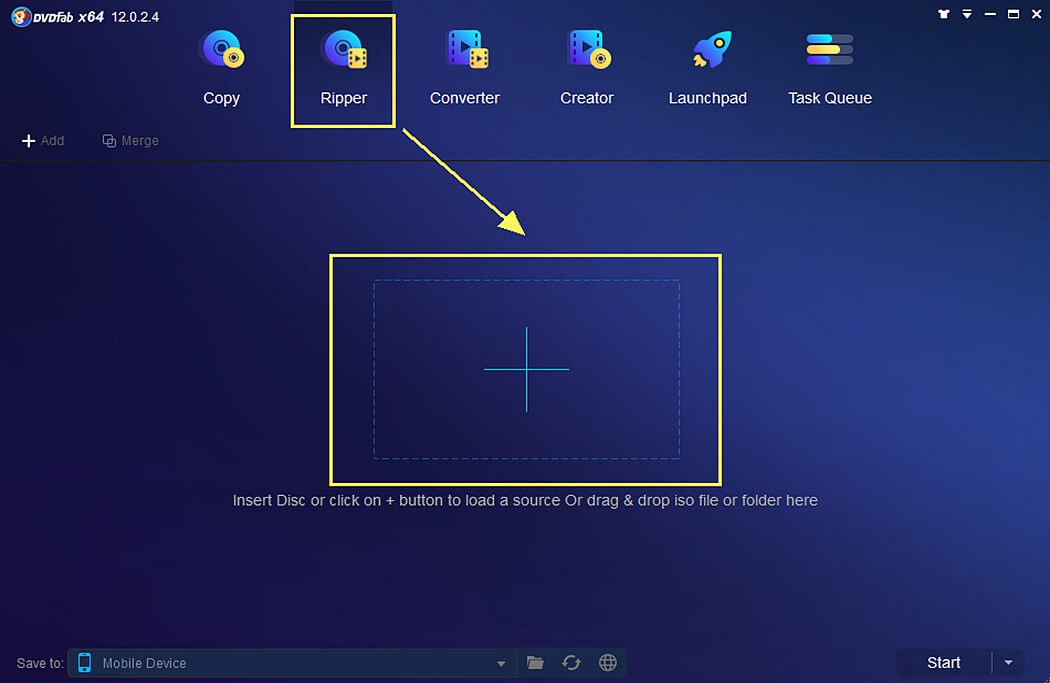 3. Handbrake (Windows, Mac, Ubuntu, etc)
Handbrake is a fantastic free Blu-ray ripping app that also works with DVDs. It provides a bunch of output options, quick settings for specific formats and devices, and it's completely free.
The catch with Handbrake is that it can't handle encryption. That means it doesn't work with most commercial Blu-ray discs. You can still use it to compress or change the format of movies or shows you've ripped with another app, but Handbrake itself can only rip unencrypted Blu-rays. For copy-protected DVDs, you have download install libdvdcss for HandBrake to bypass copy protections. Libdvdcss has been removed since HandBrake 0.9.2, which requires you to download libdvdcss by yourself for ripping copy protected DVDs using Handbrake on Windows and Mac.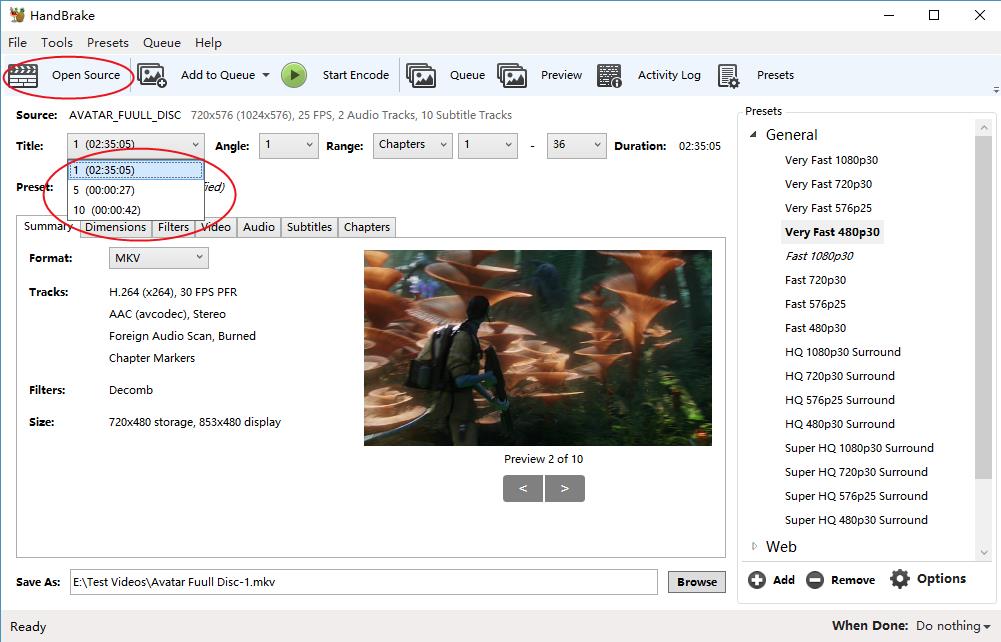 4. VLC (Windows & Mac, Ubuntu, etc))
VLC is a great media player that also has the ability to rip DVDs and Blu-Rays. It's open source software that's totally free, so there's no barrier to entry. Even if it doesn't end up being your Blu-ray ripper of choice, it's still a highly competent video player that can handle most video and audio formats.
The biggest issue with VLC is that, as open source software, it doesn't come with the ability to play encrypted Blu-ray discs, let alone rip them. You need to jump through some hoops to add the ability to play encrypted Blu-ray discs, and even then you'll find that the ripping process is pretty slow, and that VLC can't handle some Blu-ray menus.
If you're willing to put in the work to get this free app up and running, it doubles as a great way to use VLC to play Blu-rays.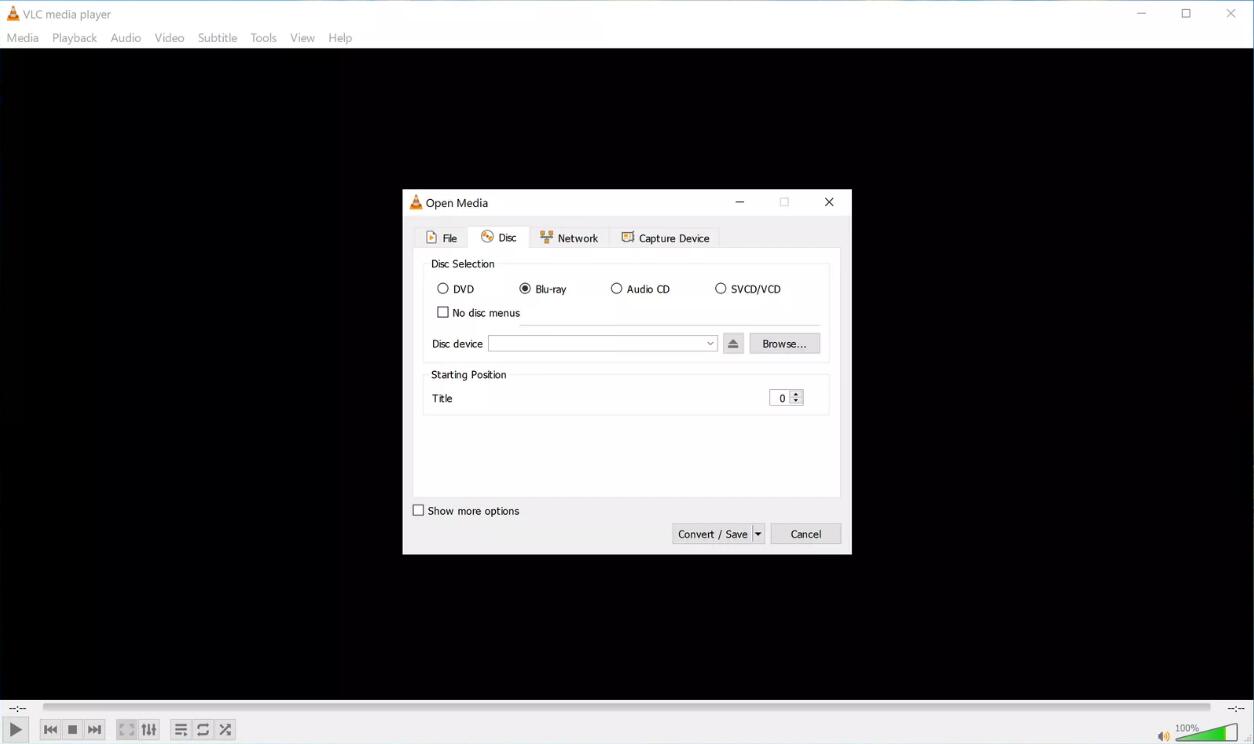 5. CloneBD (Windows & Mac)
CloneBD is a simple Blu-ray ripping app that's easy to use, yet offers a bunch of output options. The catch is that it can't handle encrypted Blu-ray discs, so it's only useful if you're trying to rip unprotected Blu-rays. This MakeMKV alternative is a bit on the pricey side for lacking decryption functionality, but it's a decent option if you're looking to clone unprotected discs.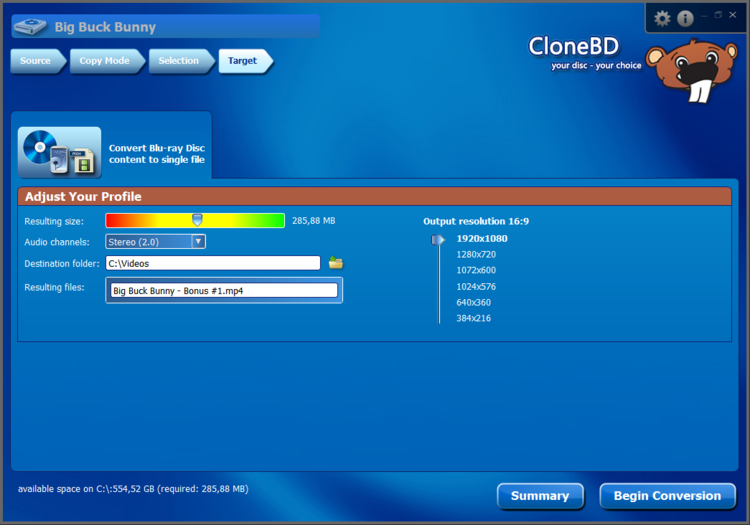 Comparison Chart of The 5 Best MakeMKV Alternatives
Software

LosslessCopy

DVDFab

Handbrake

VLC

CloneBD

Price

$35.95 (Lifetime)

$124.99 (Lifetime)

Free

Free

€69

Input File Formats

2D/3D/UHD 4K Blu-ray Disc

√

√

Only unencrypted

Only unencrypted

Only unencrypted

DVD Disc

√

√

Can rip some encrypted DVD didscs with libdvdcss installed

Can rip some encrypted DVD didscs

–

BDMV Folder/ISO Image/Video_TS Folder

√

√

√

–

Remove Copy Protection

√

√

–

–

–

Remove Region Code

√

√

–

–

–

Output File Formats

Lossless MKV with All or Multiple subtitle and audio tracks

√

–

–

–

–

AVI/WMV/MP4/MOV/FLV/VOB/3GP/WebM/H.264

√

√

√

√

HD AVI/HD WMV/HD MP4/HD MPEG-2/HD MOV

√

√

√

√

ISO File

–

√

–

–

√

H.265 MP4/MKV

√

√

√

–

√

3D SBS Video

√

√

–

–

–

3D TAB/Anaglyph Video

√

–

–

Copy Features

1:1 Full Disc Copy

√

√

–

–

√

Main Movie Copy

√

√

–

C

√

Subtitle Functions

Select Desired Internal Subtitle Language

√

–

√

–

√

Enable Force Subtitle Option

√

–

√

–

–

Add External SRT/ASS/SSA Subtitle

√

–

√

–

–

Extract SRT Subtitle

√

–

–

–

–

Audio Functions

Keep 5.1 Dolby Digtial Audio

√

–

√

–

–

Keep 7.1 Dolby Digtial Plus or DTS Audio

√

–

–

–

–

Preview Video

√

√

–

–

√

Video Editing Features (trim/crop/merge/split/crop/watermark/effect)

√

–

–

–

–

Adjust resolution, bit rate, frame rate,sample rate, channels

√

–

–

√

–

Supported OS

Windows

√

√

√

√

√

Mac

√

√

√

–
The Final Verdict:
There are many other programs out there that can be used as an alternative to MakeMKV. We've evaluated the best five feature-packed Blu-ray and DVD ripping program based on functionalities and features that each software owns. Of course, which utility you employ to rip and convert your Blu-ray/ DVD movies is best determined by your actual needs, the platform of your machine and basically your budget. With these factors in mind, you should get the suitable ripper as well as converter in hand.
Overall, EaseFab LosslessCopy is an excellent Blu-ray/DVD ripping & copying tool, and it tops our list of the best MakeMKV alternatives. With LosslessCopy, you will instantly experience the latest and most advanced technologies, including but not limited to Passthrough, HEVC, 4K, etc., and it will always keep updating to support the newest releases and devices. LosslessCopy comes with tutorials, FAQs and a knowledgebase on its official website. And EaseFab provides timely and excellent customer support service, including lifetime free upgrade of product and technical support.
You can download a free trial version of this software, but you'll have to pay an annual subscription fee to use it for ripping Blu-ray or DVD discs longer than three minutes. Having to pay for Blu-ray/DVD ripping software isn't all bad though. It means you don't have to contend with in-app ads and upsells, and you get advanced features you wouldn't find in free Blu-ray rippers. Plus, LosslessCopy's price tag is fairly low, and we definitely think it's worth it.