"I can't import any mxf file into Premiere CS6. While importing, always got the error message. I tried everything and had to intall Canopus.HQ.CODEC.v6.0.7 but nothing changes. I don't understand why I can edit my Canon MXF files in CS6 but the file from my colleague seems not to be importable. Have I lost some important metadata?"

MXF (Material eXchange Format) is a container format for professional digital video and audio media defined by a set of SMPTE standards. Now three data-recording camera systems, Sony's XDCAM and Panasonic's DVCPRO P2, Canon's XF codec produced mutually incompatible files due to opaque subformat options obscured behind the MXF file extension. As reported, almost all the camera generated MXF files are supported by the lastest Adobe Premiere Pro CS6, CC. However, up to now, Adobe Premiere seems to work fine if you import your MXF footages directly from cameras, but if you have already copied MXF recordings to your HDD or you download them from somewhere, the importing error may jump out.
To solve MXF importing issues with Adobe Premiere, the realiable workaround we've found so far is to transcode MXF to a more editing-friendly format, such as MPEG-2 or WMV for Adobe Premiere Pro CS6/CC. EaseFab Video Converter for Mac is an easy-to-use and intuitive Mac MXF to Adobe Premiere Converter which can help you transcode MXF clips into MPEG-2 without quality loss for smoothly editing with Premiere Pro CC, CS6, CS5.5, CS5, CS4 or lower version. Besides, the mac tool also supports professional encoders like Apple ProRes, Apple Intermediate Codec, DNxHD, etc. - ensuring maximum editing quality and efficiency when working with Final Cut Pro, iMovie, Avid Media Composer, etc. If you're using a Windows (Windows 10/Windows 8.1/Windows 8/Windows 7/Vista/XP included) PC, please simply turn to the Windows version.
If you're facing problems when editing MXF footage with with Premiere Pro, Final Cut Pro, iMovie, Avid Media Composer, Final Cut Express, chances are you already installed this great utility. If not, download it from below.
Simple steps to Convert MXF to Adobe Premiere Pro (CS6/CC)
The workflow for converting MXF to Premiere Pro on Mac or Windows is almost the same. Below is how to do it on Mac OS X (El Capitan and Yosemite included).
Step 1: Install and launch the Mac MXF to MPEG-2 file Converter, and then click "Add Video" button to import .MXF files.
As you see, you should find the MXF video from one MXF whole structure folder, here I take my P2-dvcpro25 as an example: double click the P2-dvcpro25> CONTENTS> VIDEO, and then you can find the MXF file.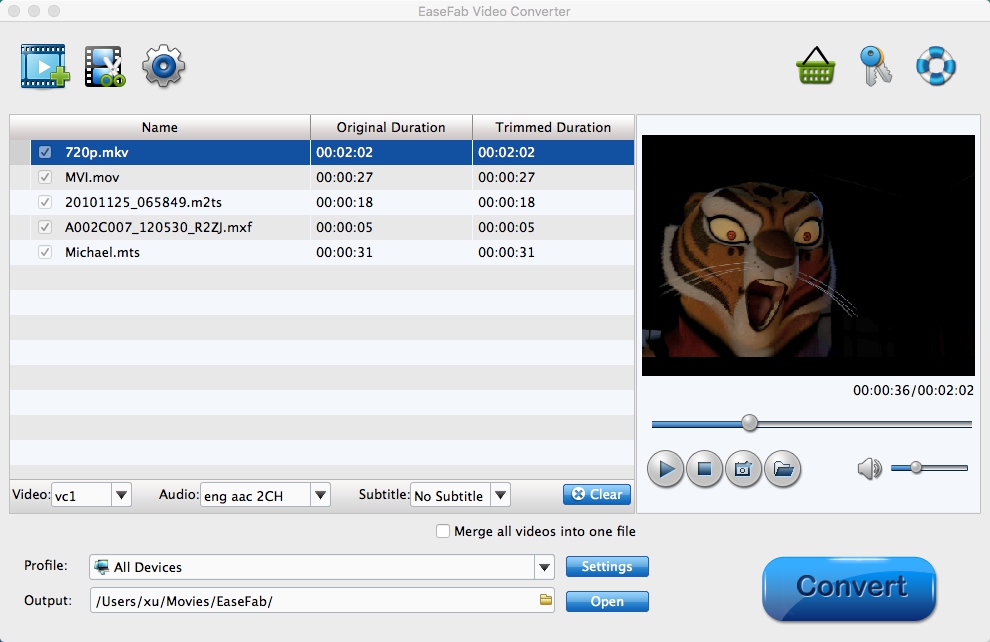 Step 2: Click "Profile" pull down list to select "Vegas/Premiere (MPEG-2)" as the best video format for Premiere Pro. WMV, MOV formats are the good choice as well.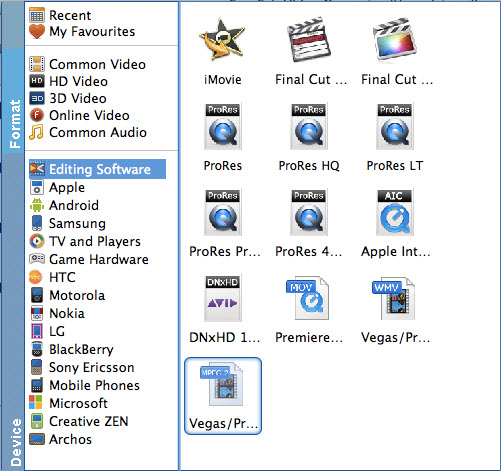 Tip: In case the default settings do not fit your requirement, you can click "Settings" button and enter "Profile Settings" panel to adjust video size, bit rate, frame rate, sample rate and audio channels.
Step 3: Click Convert button to start transcoding MXF to MPEG-2 for Premiere Pro on Mac OS X.
Once the conversion completes, you can click "Open" to find the .MPG videos which can be directly imported to Premiere Pro CS6. You've done. As you see, now you can import and edit MXF files in Premiere Pro CS4, CS5, CS6, CC without problems.