As fun as it might be to build a collection of your favorite movies on Blu-ray, these collections can also be inconvenient to haul around. Not to mention, some Blu-rays might not last forever. One solution is to rip your Blu-ray collection to store on your PC, hard drive or somewhere else. When it comes to selecting the best quality format for ripping Blu-ray, MKV is always the top choice since it can encompass audio, video, pictures, and subtitle tracks in one single file while keeping the quality almost intact to that of Blu-rays. Then how to convert Blu-ray movie to MKV with the best results? How to keep a good balance between the image quality and file size? Check here.

Note: If you want digitize your movie collection with the most compatibility, Blu-ray to MP4 is the best idea. The ripped MP4 files can be played on almost any media player, computer, laptop, tablet, mobile device, gaming system, or HD TV without disc drive. If you want to rip your DVDs to MKV, this process will work as well, but we'll focus on converting Blu-Rays to MKV with the best quality-size balance in this article.
If you want to 1:1 rip Blu-ray to MKV video with full Blu-ray content, , you can refer to this guide - how to rip Blu-ray to digital MKV with full video, audios, subtitles, menus and chapters.
What You Need to Rip a Blu-ray to MKV:
● Your Blu-ray discs.
● A Blu-ray disc drive. If your computer came with any disc drive at all, it was probably a DVD drive. However, you'll need a Blu-Ray reader in order to rip your Blu-Ray discs (obviously). An external good Blu-ray drive can be purchased for as little as $25.
Note: If you want to rip 4K UHD Blu-rays, you'll need to get a 4K Blu-ray drive.
● A program to rip the files.. We'll be using EaseFab LosslessCopy in this guide, which is available for both PC and Mac.
This is all you need. Once you have all three of these things ready, grab your favorite Blu-Ray movies and get started to converted them into MKV files.
Why We Choose LosslessCopy for the Blu-ray to MKV Ripping Task?
There are numbers of paid or free programs that claim to convert Blu-ray disc to MKV. Among them, EaseFab LosslessCopy earns its award as the best Blu-ray to MKV ripper decoder mainly due to rich features and solid functions, while an ultimate fast speed on Blu-ray yet DVD ripping and decoding making it be highly praised by users and editors. It's available for Windows 10, 8.1, 8, 7, etc. And it has a Mac version compatible with macOS Big Sur and lower. Its features include but are not limited to:
◉ Any Blu-ray: Convert homemade discs, burned Blu-rays and bought Blu-rays with almost all Blu-ray encryptions like AACS encryption, BD+ and the latest MKB technology and decrypt DVDs with CSS, RCE, Sony ArccOS, UOPs, Disney X-project DRM and so on.
◉ Rip Blu-ray at ~200fps: GPU Hardware Acceleration powered by Intel QSV and NVIDIA (CUDA) NVENC and multiple core tech are fully utilized, meant to convert a full Blu-ray disc to MKV as short as 15 minutes.
◉ 1:1 quality ratio: 3 Blu-ray/DVD copy modes manage to backup Blu-ray/DVD with 100% quality reserved. Directly Copy main movie from BD/DVD discs to a M2TS file and leave out extras; 1:1 Backup physical discs with original disc structure; Lossless rip DVD/Blu-ray to MKV with full video, audios, subtitles, menus and chapters within 5 minutes.
◉ From 50GB Blu-ray to 1.5GB ~ 3GB MKV: ~Adjust resolution, bit rate, codec, etc to produce optimal file size. Specifically, the ripped file is 1.5GBs ~ 3GBs instead of 30~50GBs for a full Blu-ray movie, a 94% space saving. Plus, there're 350+ ready profiles for MP4, AVI, WMV, MOV, iPhone, iPad, Android.
How to Convert Blu-rays to MKV with Quality, Size, and Speed Well Balanced?
To begin with, you need to download and install EaseFab LosslessCopy Windows or Mac version on your computer. The guide below takes the Windows version for an example. Mac version has the same process. Please not that a Blu-ray drive is necessary for ripping Blu-ray discs.
Step 1. Load Blu-ray movies
Insert the Blu-ray disc to the BD drive and then click the Load Disc button to have Blu-ray movies uploaded to EaseFab LosslessCopy. A few seconds later, the full title list of Blu-ray with the auto-checked main title are presented. Besides Blu-ray disc, BDMV Folder, ISO image and VIDEO_TS folder can also be taken as source for decoding.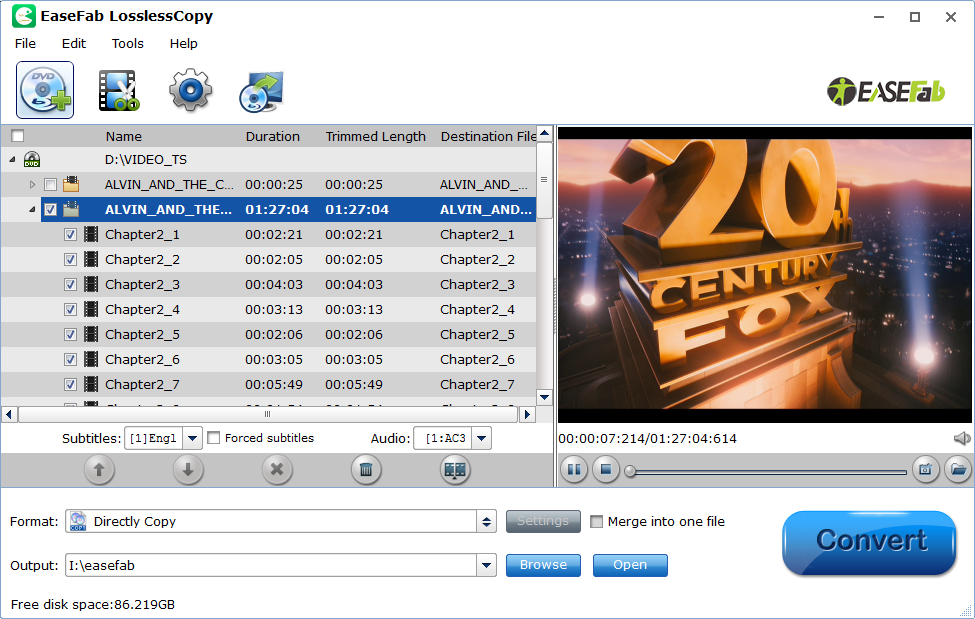 Step 2. Select MKV as Output
Click Format bar and select the format you want from the drop-down list. Move your mose cursor to Common Video category and select MKV(Matroska) Video (*.mkv) as output file. If you need to convert a Blu-ray for iPhone, Android device, YouTube, web services, you can also find a profile.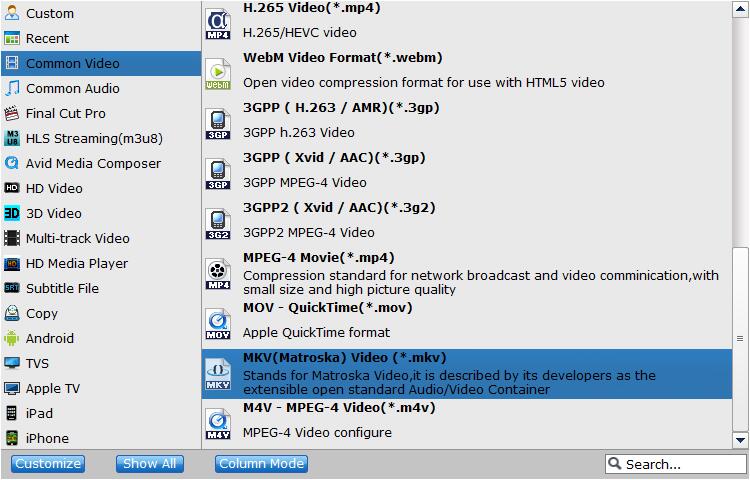 Step 3. Convert Blu-ray from 30~50 GBs to MKV in less than 3GBs
To get a good balance between image quality and file size, you need to click Settings button customize the parameter settings. Flexible options are offered to further reduce the size of the ripped MKV video. A slew of other variables such the video/audio codecs, pixel dimensions, frame rate, bit rate, audio sampel rate, etc. will help convert a Blu-ray at 40GB to a MKV file smaller than 3GB.
Recommended Video Size Settings:
1. You're not suggested to adjust the frame rate, if not necessary.
2. Lower the bitrate to a lower level. For example, adjusting the bitrate from orginal medium quality to bitrate of 1500~2000 is acceptable without noticeable pixellation.
3. Lower the resolution of video. Typical Blu-ray videos are 1920×1080 (Full HD). Adjust the resolution to lower 1280×720 or higher won't make any quality difference.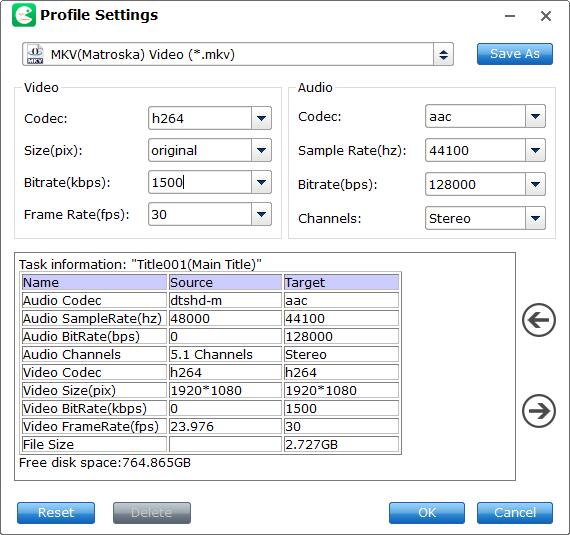 Please note: Adjusting these variables have some effect on the re-encoded video quality. Remember the file size and video quality is based more on bitrate than resolution which means video/audio bitrate higher results in big file size, and lower visible quality loss.
Step 4. Start the Blu-ray to MKV conversion.
Just below Format is Output, here you can click Browse button to browse your computer for a better destination folder for LosslessCopy to save the result Blu-ray rips.
After everything is ready, you can click the big blue Convert button to start converting. The Blu-ray to MKV rip will go from about 150fps to 350fps based on the computer you have (higher configuration, faster speed).
Useful Tips - How to Rip Blu-ray to MKV Losslessly
If you want to convert Blu-ray to lossless MKV, simply backup to step 2 and move mouse cursor to Multi-track Video and select Lossless/encoded Multi-track MKV (*.mkv), which enables you to get the output video with multiple audio tracks and subtitles while keeping lossless video quality.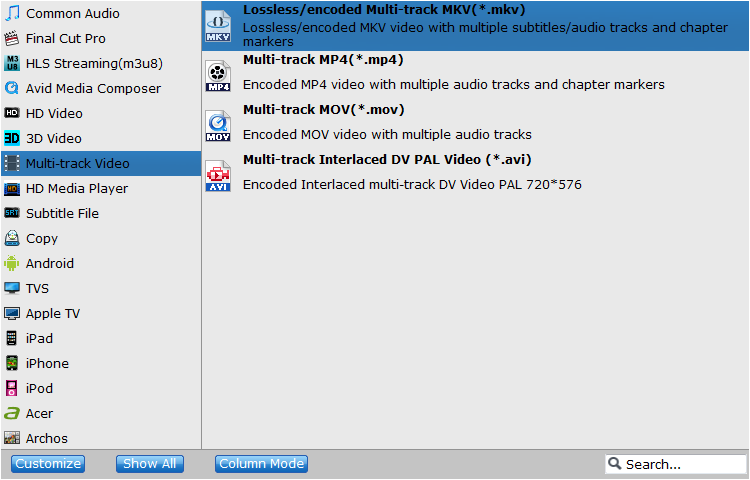 If there are some tracks you don't like, you can click Settings button and go to Multi-task Settings window to uncheck and remove them under Audio tab and Subtitle tab.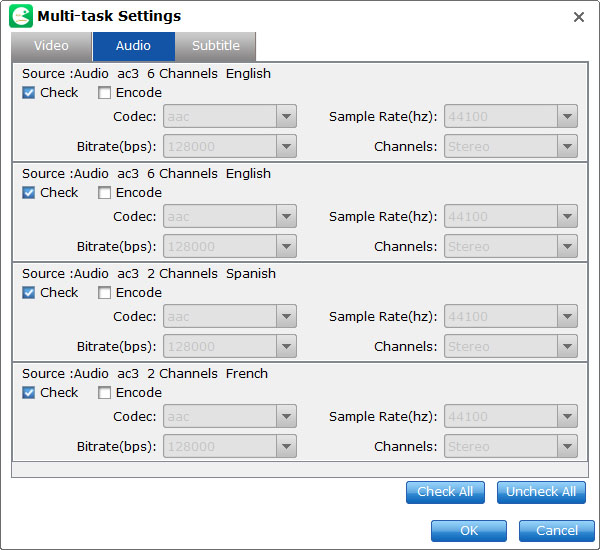 Why Should you Use EaseFab LosslessCopy instead of MakeMKV to Convert Blu-ray to MKV?
MakeMKV is the first choice of many users when it comes to extracting MKV from a Blu-ray without quality loss. However, the output format is limited to MKV and the generated MKV file from Blu-ray disc is always in huge size (almost as the same as the original Blu-ray discs). Besides this, there are other drawbacks of MakeMKV:
● Can't customize the video and audio codec
● No ready-made preset profiles for portable devices
● Can't preview the video
● No basic editing function
● The output quality is not very good
● May get error messages like no disc found; forced subtitle won't show up; RPC protection cannot be bypassed, etc.
If you're looking for an alternative to MakeMKV to rip and backup your Blu-ray discs, EaseFab LosslessCopy will be the first choice because of its easier-to-user interface and much more efficient functions.