To this day, video streaming subscription has surpassed physical media as a more popular choice for home entertainment. Moreover, there are few ways to play Blu-ray discs on your computer without shelling out cash for the privilege, even if you already own a Blu-Ray drive and bought your movies. Then how to handle your overstocked Blu-ray discs? Well, converting Blu-ray collection to digital files will be a good idea if you want protect your Blu-ray discs from scratching, get rid of Blu-ray won't play on PC problem, backup up your Blu-ray collection or play them in waterever app you want.
There are many programs and services out there that allow you to make copies of your Blu-rays and let you watch them the way you want to view them. Here we will introduce 3 best Blu-ray to digital converter software and service that can convert your store-bought Blu-rays to high quality digital copies for using on NAS, Plex, TV hard drive, mobiles, and other devices.

Method 1. Best Blu-ray to Digital Converter - Convert All Blu-rays to Digital Files without Quality Loss
The best software to convert Blu-ray to digital copy is EaseFab LosslessCopy, because it features powerful Blu-ray decrypting ability, ultra-fast Blu-ray ripping speed, and excellent output quality. With just simple clicks, you can free movies from physical Blu-ray discs to any digital video formats for easier playback on mobiles, Plex, NAS, Xbox, computer, hard drive, etc.
As a totally 100% clean, safe and powerful Blu-ray to digital converter, it allows you to:
● Convert Blu-ray disc to digital copies MP4, MKV, AVI, HEVC, MOV, more mainstreaming formats with 98% original quality. Digital copy will be 40%-90% smaller than the source Blu-ray.
● 1:1 backup Blu-ray to MKV, BDMV folders, and a single M2TS file with 100% original quality. Get full subtitles, audio tracks, and native resolutions.
● Remove ads/trailers, select subtitles/languages, improve quality, adjust settings (resolution, frame rate, 4:3/16:9 aspect ratio, etc.)
● Decrypt and rip any 2D/3D/UHD 4K Blu-rays protected by all region codes (ABC), BD+, BD-J, AACS, MKB, etc., copy old and new Blu-rays, homemade discs, scratched/damaged Blu-rays without Blu-ray analyze failure errors.
● Finish Blu-ray to digital conversion at ultra-fast ripping speed with fully support GPU hardware acceleration.
Free Download EaseFab LosslessCopy to Begin Converting Blu-ray to Digital Videos for Mobiles, TVs, NAS, etc.!
Blu-ray digitizing requires clicks only. Even none tech-savvy users can do it fast and easily. Now let's get started to convert Blu-ray disc to digital file in MP4, H.264, HEVC, MKV, AVI, and more formats for storing/playing on hard drives, iPhone, iPad, Android mobiles, Plex, NAS, TVs, PC, Mac, cloud storage, websites, etc.
To begin with, download and install this Blu-ray to digital converter on PC (Windows 11, Windows 10 or earlier) or Mac (macOS Monterey or earlier). No internet required for the conversion.
Step 1: Load the source Blu-ray disc you want to convert to digital.
Insert the target Blu-ray into the BD drive that hooked to your PC or Mac, run EaseFab LosslessCopy, and then click "Load Disc" button to load the movie Blu-ray. This software will automatically bypass Blu-ray region codes, remove any Blu-ray copy protections and auto check the right movie title even the tricky Disney Blu-rays. Of course, you can select title manually.
Besides Blu-ray discs, you can also import BD/DVD folders, DVD discs, ISO image files and IFO image to this Blu-ray to digital converter.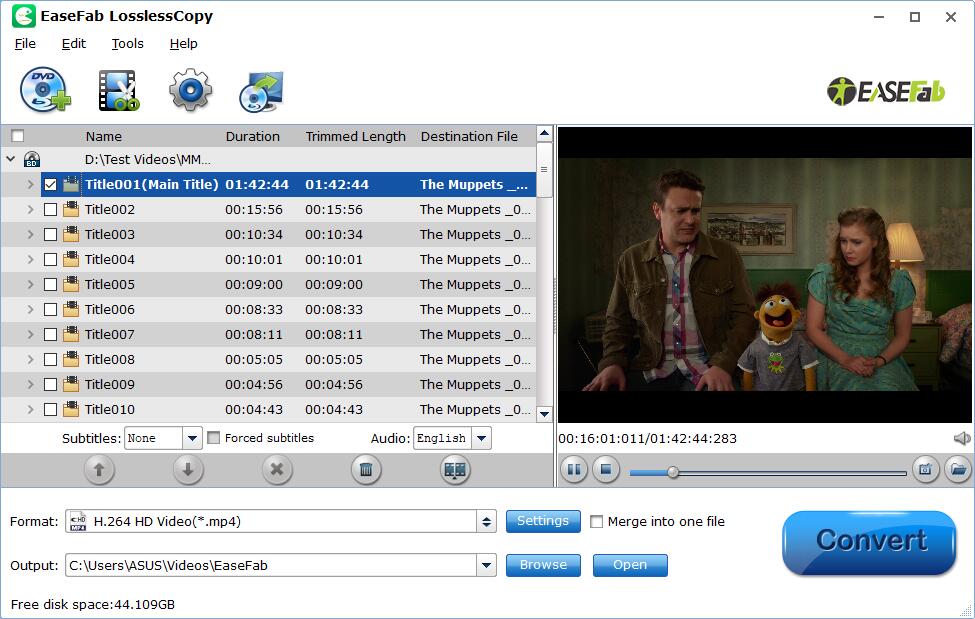 Step 2: Set the output digital video file format.
In the pop-up output profile window, you can see all popular formats devices divided into various categories. You can choose any digital video format based on your own needs.
The most commonly-used format for digitizing Blu-ray is MP4, owing to its wide compatibility, good compression and excellent quality. So here we take Blu-ray to MP4 as an example. Click under the directory: Format - Common Video - H.264 Baseline Profile Video(*.mp4).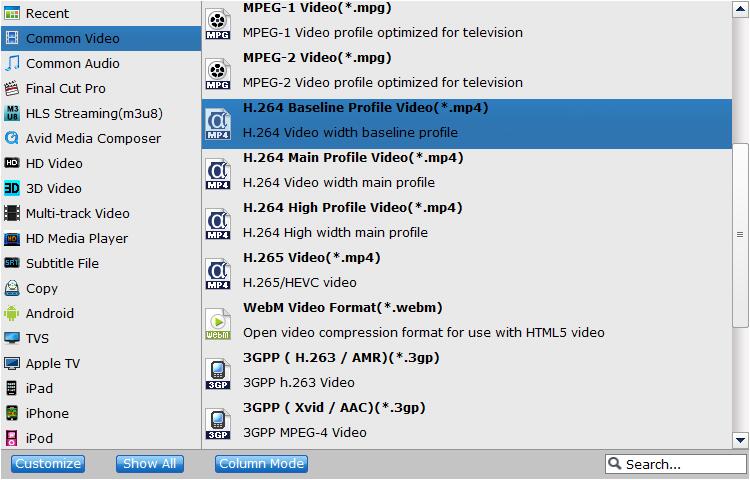 Tips: Recommended video quality-size settings for converting Blu-ray to digital:
◆ You're not suggested to adjust the frame rate and aspect ratio, if not necessary.
◆ Lower the bitrate to a lower level. Adjusting the original medium quality to bitrates of around 1200-2000 is acceptable and can make your ripped MP4 movie around 1.5-2.5GB in size, up to 95% smaller than the original Blu-ray movie, and to the naked eyes, it's highly unlikely to distinguish the difference between the original movie and the re-encoded video.
◆ Lower the resolution. Typical Blu-ray videos are 1920×1080 (Full HD). Adjust the resolution to lower 1280×720 or higher won't make any quality difference.
Please note: Adjusting these variables have some effect on the re-encoded video quality. Remember the file size and video quality is based more on bitrate than resolution which means video/audio bitrate higher results in big file size, and lower visible quality loss.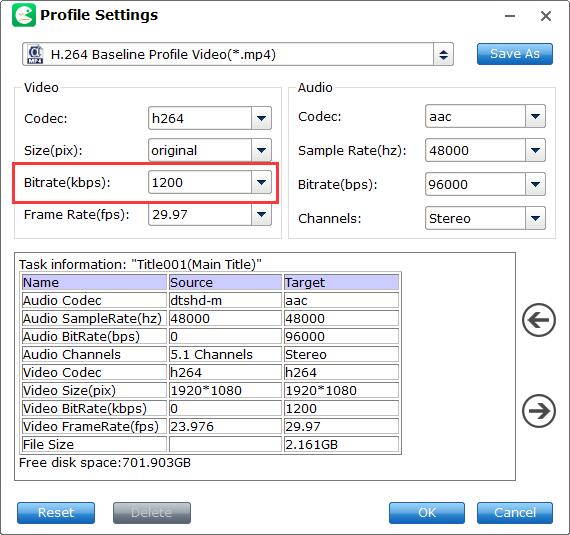 What's the recommended format for Blu-ray discs to digital?
● To save Blu-rays on computer, you can convert DVD disc to MP4, AVI, WMV, MKV (Windows 10/11 supported);
● To play Blu-ray movie on Apple TV, iPhone, iPad, Mac and other Apple devices, choose to digitize Blu-ray to MP4, MOV, M4V or corresponding device profile;
● To watch Blu-rays on Android, Xbox, PS4, etc. rip Blu-ray to MP4, H.264, 3GP, WebM, MKV;
● To backup Blu-ray to hard drive or storage medium with all intact Blu-ray videos/audios/subtitles, copy Blu-ray to lossless MKV, BDMV folder or a single M2TS file;
● To convert Blu-ray to digital copy freely for Windows Media Player or other Windows-oriented platforms, you can select AVI or MP4;
● To have the perfect balance between size and quality for Blu-ray to digital conversion, select H.264 MP4.
Step 3: Start the Blu-ray to digital conversion.
Click "Browse" to set a folder to store the digital copy extracted from your Blu-ray, and click "Convert" to begin converting Blu-ray to digital copy. The hardware acceleration will speed up the digitizing and finish the task in minutes (its fast speed is the ideal choice for digitizing a large Blu-ray library).
Method 2. Use Disc to Digital Service - VUDU
VUDU's disc to digital service was initially launched in 2017. With this service, you can get digital copies of your Blu-rays and DVDs simply by scanning the barcodes on your discs and watch them on any VUDU-enabled device. Vudu To Go, the in-home service of Disc to Digital, isn't supported after December 31, 2019. But you can still use In Mobile Disc to Digital which can help scan discs on your phone and tablet.
Well, how to convert Blu-ray to digital with VUDU disc to digital service?
On Android:
● Step 1. Download VUDU app from your app store.
● Step 2. Sign up if you don't have an account. And then, sign in.
● Step 3. Select Disc to Digital and grant the app access.
● Step 4. Scan the UPC barcode on your Blu-ray case, pay for the Blu-ray to digital conversion (Blu-ray to HDX for $2), and then watch instantly.
On iPhone:
● Step 1. Visit vudu.com/disc on your iPhone and click Convert Disc.
● Step 2. Sign in.
● Step 3. Allow app permissions.
● Step 4. Scan barcode, select output quality, and watch the digital copy.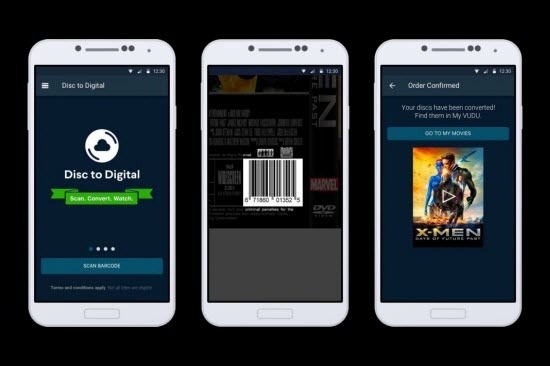 VUDU's Blu-ray Disc to Digital services sound good, but there are a few caveats you should know.
1. Another $2 required each disc to video copy. Think if you have a large Blu-ray library of thousands of titles.
2. Can't convert all Blu-rays into digital. There are some studios that do not participate in the Disc to Digital program, so their movies will not be eligible for Disc to Digital conversion. There are also specific titles that have not been made available for the program. They do update the available titles on a monthly basis an you can always search for title availability at vudu.com/disc.
3. No control on the output quality. Sometimes there is SD version available only and you can't do anything to improve the quality.
4. No physical ownership. Some services allow you to download the converted Blu-ray video for viewing offline, but you don't really own it. You cancel the membership, you lose the movies.
5. Data Throttling. Online Blu-ray to digital converter services provide digital files via the internet connection, which can be capped soon. 6. Region limitations. The major D2D services are open to the US only. Other regions can't take advantage of them.
7. Intricate errors. The process can be fraught with issues that are difficult to deal with, for example, can't find any titles in the cart, location doesn't match billing address, can't read barcode, operation timeout, etc.
8. 100 limit. You are only allowed to convert 100 Blu-rays per year.
In a word, disc to digital services are a good choice for those who would like to digitize relatively small and new Blu-ray or DVD collection. You may want a bLU-RAY to digital program like EaseFab LosslessCopy to create high-quality disc to digital copy without extra fee each time, full control on the output video, and freedom to use the digital copies anywhere.
Method 3. Convert Blu-ray to Digital with MakeMKV
As its name indicates, MakeMKV can only export MKV files. And, there is no compression, which means you'll get a high-quality but large-size digital copy. But the surprise is that it can convert protected Blu-ray and DVD discs for free during BETA.
Step 1. Download and install MakeMKV on your Windows, Mac, or Linux computer.
Step 2. Open MakeMKV and insert the Blu-ray you want to convert to digital.
Step 3. When MakeMKV detects your Blu-ray, click the Open Blu-ray disk button to let MakeMKV access your Blu-ray.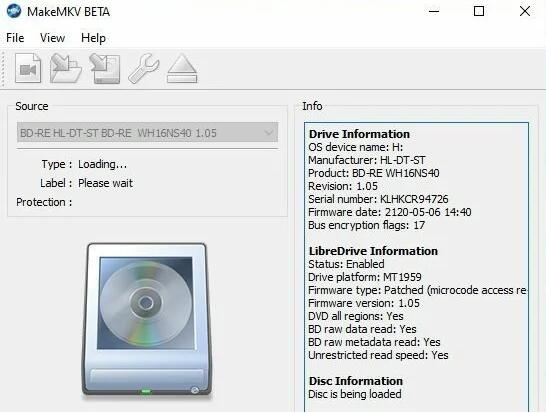 Step 4. When you see a tree structure with your titles, video tracks, audios, and subtitles, just choose which titles or tracks you want to convert.
Step 5. Click Set output folder button to specify where you want to save the digital copy.
Step 6. Click the Make MKV button to begin converting Blu-ray to MKV digital file.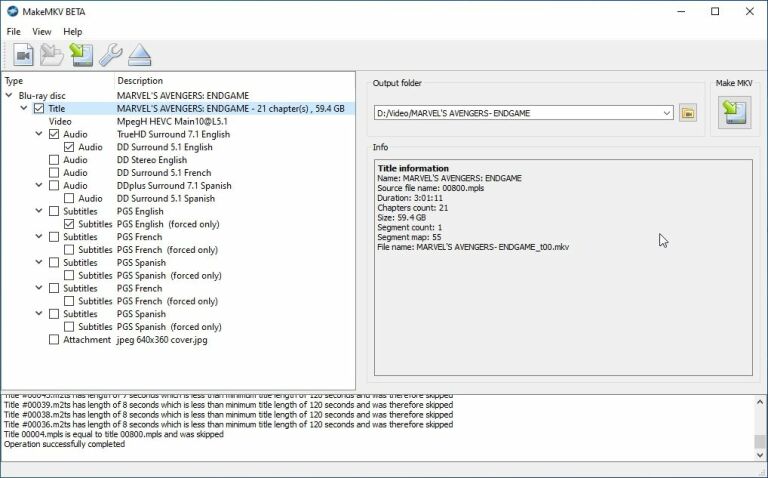 Conclusion: Which Way to Choose for Converting Blu-ray to Digital
Finally we'll discuss the advantages and disadvantages of each method to help you determine which Blu-ray to digital method is best for you.
EaseFab LosslessCopy
Pros:
● It provides over 500 output profiles to choose.
● It helps users to convert Blu-ray to digital at home.
● It is easy to use, even for beginners. No technology skill needed.
● It is more cost-effective than other methods.
● It works fast. A Blu-ray can be converted to digital within minutes.
● Support both home Blu-ray and copy-protected movie Blu-rays and DVDs.
● It allows editing video before ripping.
Cons:
● Need to download and install software on your computer.
● Need a BD drive.
Vudu's In Mobile Disc to Digital
Pros:
● You can process Blu-ray to digital right from your mobile.
● There is no need to use Blu-ray drive.
Cons:
● It costs much if you have a large Blu-ray collection.
● It sets limit on maximum conversions per year.
● It is only available in US and Mexico.
● Not all Blu-rays are supported to convert.
MakeMKV
Pros:
● It can decrypt DVDs and Blurays.
● It is free to use.
● It keeps the original quality.
Cons:
● It can only output uncompressed MKV files.
Frequently Asked Questions about Digitizing Blu-rays
How to convert Blu-ray to digital on Mac?
EaseFab LosslessCopy has a Mac version which can help you digitize Blu-rays on Mac. The procedure is like digitizing a Blu-ray on Windows, so just download this tool and follow the steps in method 1.
How to digitize Blu-ray collection for free?
There are some free Blu-ray to digital converters, such as MakeMKV and Handbrake. However, free tools always mean limited features. Take Handbrake for example. It can't handle copy-protected Blu-rays. But you can use MakeMKV to remux protected Blu-rays to MKV and convert MKV to MP4 with Handbrake.
Does Amazon have disc to digital?
If you purchase a Disc+ On Demand Blu-ray or DVD, Amazon will automatically add the Amazon Instant Video standard definition digital version to Your Video Library (www.amazon.com/videoondemand/library). You can stream the digital version online or download it for offline watching.