Open Broadcaster Software is a great platform to broadcast live streams. As you know Open Broadcaster Software(OBS) generally can record FLV videos. However, many people usually encounter some importing issues when attempting to edit OBS FLV footage in CyberLink PowerDirector (PD 13 included). First of all, have a look at some related issues:
Q1: Not able to import OBS footage to Power Director 12
I'm looking to record locally footage of video gaming. What I need to know is what settings will give me at least a 720p quality video for youtube, and also be able to import to Power Director 12. I was able to import one file into PD12 before I messed with the settings a guide told me would increase the quality of my videos. Now when I import the files to PD12 it just crashes. The only thing I can tell by the properties of the files is that the first sample video has a much smaller bitrate.
Q2: OBS, Fraps, Windows 10 and broken shadow file?
I'm a YouTuber who wants to make gaming videos, I've tried to use fraps but fraps sucks so I moved to OBS(Open Broadcasting Software). When I try to put my videos in PD13 it a pops-up with a message that says:
"The shadow file on C:usersfiredVideo2015-12-26 12-32-32.flv is unavaliable because it is broken or contains an error. Try deleting it in General prefrences, and then try again."
I have tried turning on and off shadow files in the options multiple times to no avail. When I try to put the video on the track after this message, the video turns all pixely but the audio stays. This happens with fraps (.avi file) and OBS (.flv file). Could you please tell me what to do and maybe tell me a good recording system?
Many people are encoutering problems when using OBS FLV footage with PowerDirector 13/12/11/10. If you're also in such a situation, there is an easy way to fix the issue. The common practice for OBS footage and PowerDirector workflow is get a common video converter and transcode the OBS FLV to a more editing-friendly format for PD, which will save you both time and trouble, and all you need is to drag the result videos for prompt editing. For this purpose, this article will show you how to convert OBS FLV to PowerDirector compatible format.
How to Convert OBS FLV files for Editing in Cyberlink PowerDirector smoothly
Step 1: Download, install and run EaseFab Video Converter, and then click the "Add" button to load the .FLV files. You can also directly drag and drop the video files to the program.
The program is an easy-to-use all-in-one video converter for you, which can help you change OBS FLV or MP4 into a different format like MPEG-2, MPEG-2 with least quality loss. You should then be able to import the new file into PowerDirector with smooth editing without any trouble. It will ensure a perfect OBS footage importing, playing and editing workflow with PowerDirector 10/11/12/13.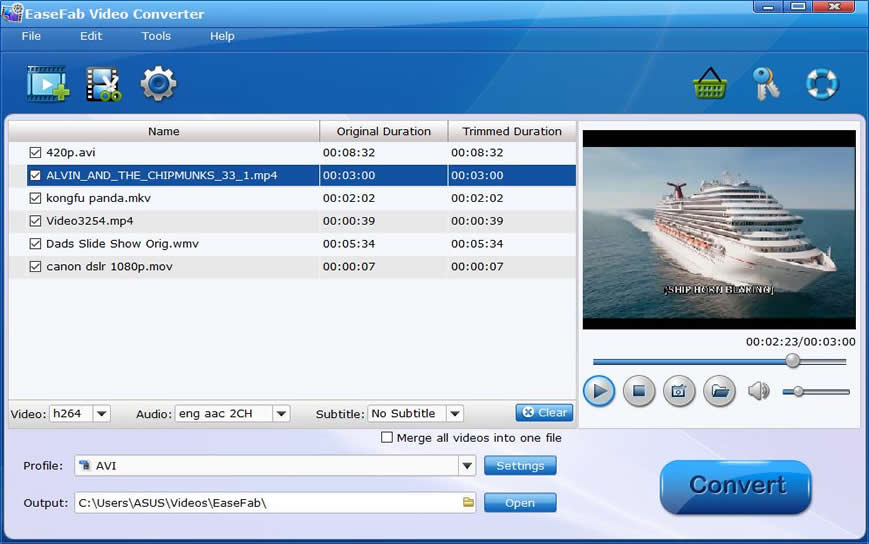 Step 2: Click the Profile bar, and move mouse cursor to "Editing Software" and then choose "MPEG-2" as the output format. Of course, you can also choose MPEG-4, WMV from "Common Video" as the output format.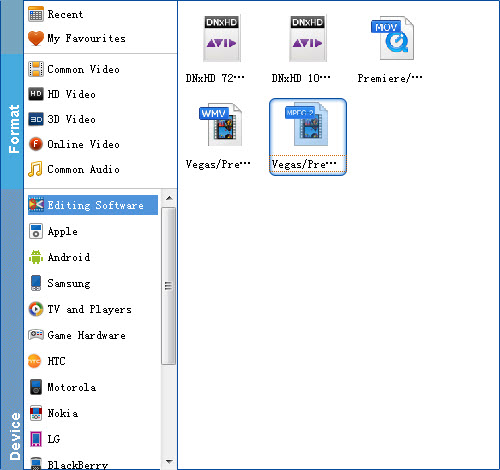 Tip: Click the Settings icon to adjust video and audio parameters on the Profile Setting as you need to get the best quality video.
Step 3: Simply click the "Convert" button to start converting and everything else will be automated. If you have added quite a bunch of video files, it would take some time to convert. In such case, you can click Option and tick the box "Shut down the computer after conversion".
After the conversion is completed, get the resulted files via clicking the Open button and then you can import converted OBS FLV files to PowerDirector for further editing without any hassle.