Home
>
Resources
>
MOV Tips
>
Play MOV Files on Android
Updated by George Shelley - Oct 7, 2023 | Contact Author

How to Play MOV(QuickTime) files on Android Devices
Can't play MOV files on Android tablets or phones? No worry. This article shows you two easy ways to play .mov videos on Android devies, regardless of the video and audio codecs inside MOV files.
Nowadays, more and more people are fond of watching videos or movies on their smartphone or tablet on the go. Besides viewing streaming entertainment online, you might opt to download video files to watch on go. But sometimes there's a problem: You open up the file, settle in, get ready to enjoy it… and it won't play. If you have a .mov file and you want to watch the .MOV file on your Android gadget, you'll need a specific video player since Android doesn't support quicktime videos by default. Or you can choose to encode/re-encode MOV to Android friendly formats, e.g. MP4 H.264 files, and then play the MP4 files on its default player. The instructions below will show you the top 2 easy ways to play MOV files on Android.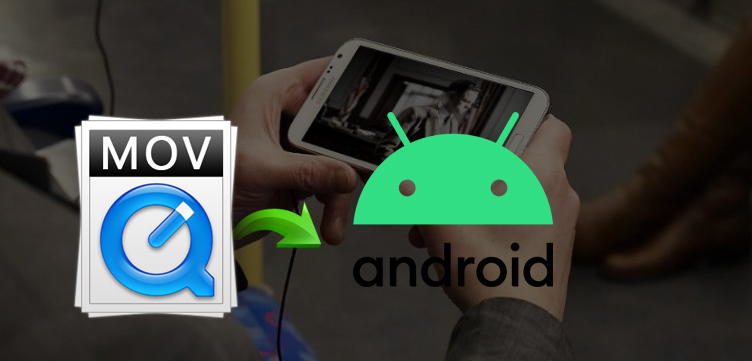 Table of Contents



How to Play MOV on Android Phone & Tablet?

❖ What Is A .MOV File & Android Supported Formats?
An MOV file is a movie file saved in the QuickTime File Format (QTFF). It is specifically a multimedia container file format that contains one or more tracks, each of which stores a particular type of data - audio, video, effects, or text (e.g. subtitles). Each track either contains a digitally-encoded media stream (using a specific format) or a data reference to the media stream located in another file. Tracks are maintained in a hierarchical data structure consisting of objects called atoms. An atom can be a parent to other atoms or it can contain media or edit data, but it cannot do both. MOV file format was first introduced by Apple in 1998.
Android Supported Formats

Video files

3GP, MKV, MP4, TS, WEBM (codecs H.264, H.263, H.265 HEVC, MPEG-4, VP8, and VP9)

Audio files

3GP, AAC, FLAC, OGG, M4A, MID, MP3, XMF, WAV (codecs AAC, AMR, FLAC, GSM, MIDI, MP3, Opus, PCM/WAVE, and Vorbis)
Can Android play MOV files? No. Though there are some differences among different Android brands. For example, you may see Samsung Galaxy S23/Galaxy Z Fold 5 supports MP4, M4V, 3GP, 3G2, WMV, ASF, AVI, FLV, MKV, WEBM; and Google Pixel 8/8 Pro plays H.264 and MP4 only. Anyway, Android won't play any MOV videos by nature. But Android can open MOV files with the help of some additional programs, like Android MOV player and MOV to Android converter. Below we will share you these two methods to help you play MOV on Android phones and tablets, including MOV files recorded from iPhone/iPad, created from iMovie, downloaded from online, or received from others.
Method 1: Play MOV files on Android using Third-Party MOV Player
With the rapid development of the smartphone technology, the apps are developed more and more with powerful functions. With these apps we can almost meet our daily needs of working, entertainment and living trivia. You can try some top free Android media player apps which may bring you the conveniences on playing MOV files with your Android devices. Here are the top 3 free MOV players app for Android.
1. VLC for Android
The best-recommended solution is VLC for Android. This free media player has capabilities to play almost any video or audio format thrown at it, and MOV format is not an exception. Although some users have cited issues with performance while playing MOV, I have never had any issues on my side. Nonetheless, it is worthwhile.
It's a better idea to use VLC as you default video player to watch .MOV on Android and other video formats as well.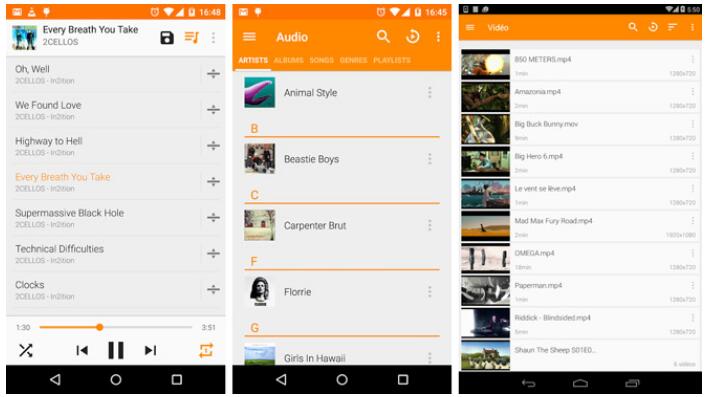 2. MX Player
This free player is said to have the ability to take the task of playing any media file format and capable of accepting other plugins for extensibility. The developers of this perfect movie player claim that it plays everything, and sure enough, MOV is no exception. This monster of a player with over 10 million downloads has powerful hardware acceleration support with multicore decoding; thus, a significant boost is expected for users in multicore processor environments.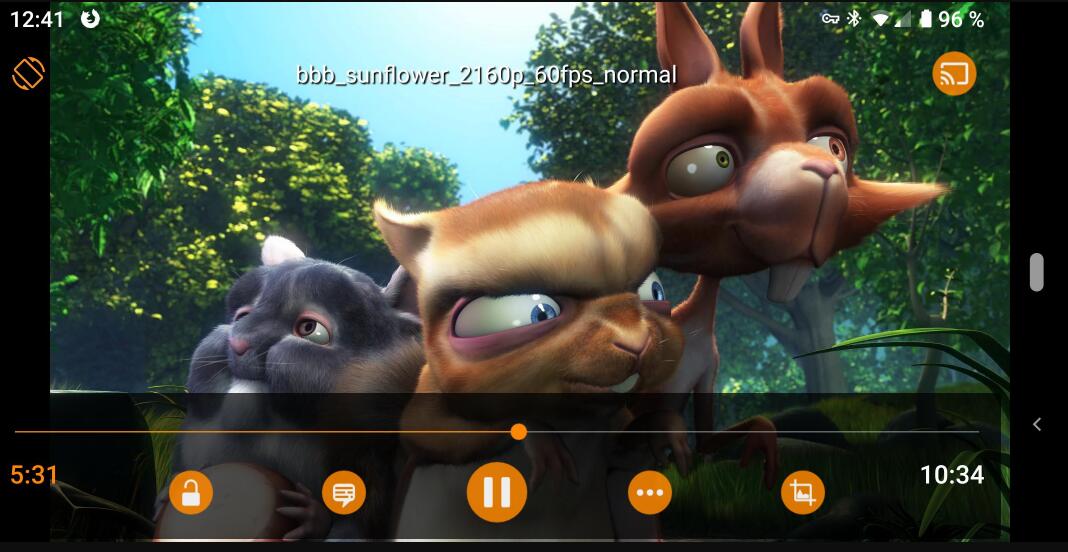 3. Wondershare Player
Some may remember Wondarshare for their desktop software which included a pretty good video converter. It turns out they also have a video player available that's pretty solid. This Android media player supports various video formats like FLV, MKV, AVI, ROMB, MP4, MOV and more. Besides, you can also use it to watch videos from the most popular entertainment sites, like YouTube, Vevo, Matecafe, Vimeo, etc.. It's free to use so there is no harm in trying it out.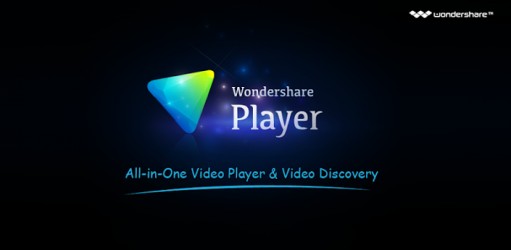 Method 2: Play MOV Files on Android by Converting Them
Note that though there are so many Android media players for you to play MOV files, many of them may not play MOV files in high quality (1080p, 4K) on your device. What's more, some apps will slow down your device. Does this mean that you can't view your MOV videos on your Android device? Never mind, you have another choice - convert MOV to MP4 for Android.
To get the job done, you can try this easy-to-use yet powerful video encoder and decoder software - EaseFab Video Converter. Using the program, you can convert MOV to Android MP4 videos at a super-fast speed (30X faster) with lossless quality. Videos can also be converted to device-specific formats to avoid any compatibility issues. Batch processing is also supported. The built-in video editor allows to trim, crop, cut, and add watermark to videos before converting them. You can also add subtitles during the MOV to MP4 conversion.
How to Convert MOV to Android Supported Formats
Step 1. Download and launch EaseFab Video Converter on Windows PC or Mac. Click Add Video to import your MOV video. Dragging and dropppingworks too. (Note: batch conversion is supported, so you can several mov videos to the program to convert at a time.)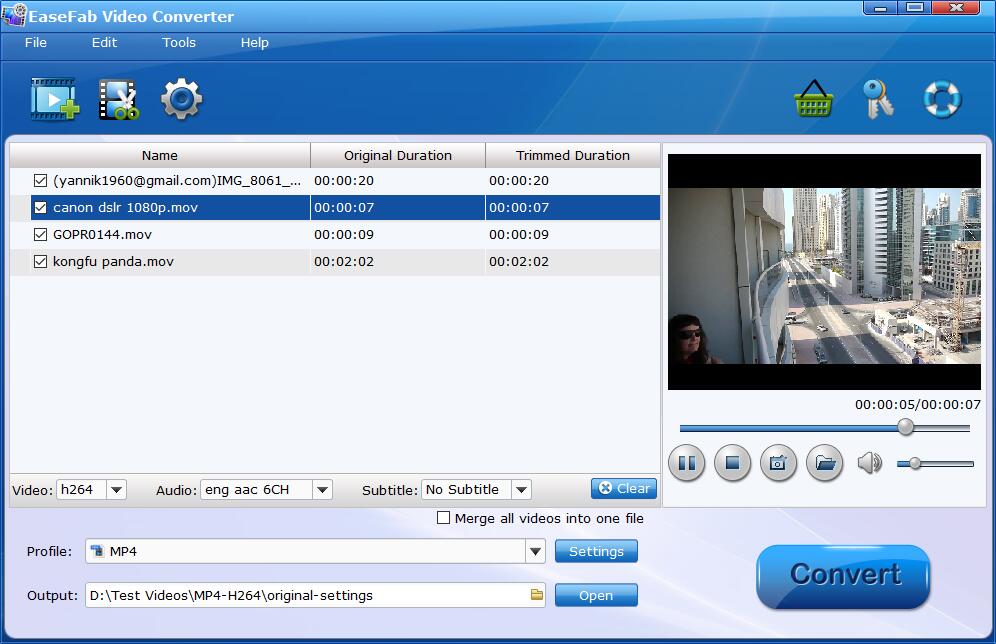 Step 2. Click the Profile bar at the bottom and you can select MP4 (encoded by H.264) from Common Video category since MP4 is an universal format for all Android devices. You can also select Android Phones or Android Tablets from Android category. If you need to convert MOV for a specific device, you can also find a profile from the corresponding category according to your Android device.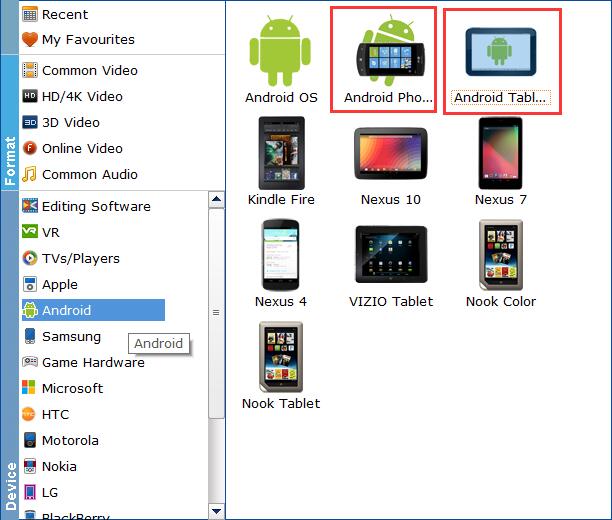 Step 3. After everything is OK, simply hit Convert at the lower-right corner of its interface to activate the MOV to Android MP4 conversion.
Once the conversion completes, you can click Open to locate the converted MP4 videos and then you can download your MOV files for playback on your Android device using any Android player.
Final Words:
.MOV files are not supported on major video players on Android. In order to play MOV files on Android, the user needs to install a third-party video player. However, you can also convert the .mov files to another video format which we also recommend.
Other Useful How-to Guides & Tips
Have playback problems when you play MOV videos on Samsung TV through USB? Check out the solution here.
Got a problem with embedding a QuickTime .mov file into PowerPoint? Here you will find the possible reasons and two easy methods to fix the problem.
Trouble importing an MOV file into Final Cut Pro X or FCP 7/6? Being puzzled? Here you'll find the answer and learn how to import MOV video to Final Cut Pro with ease.
Can't import MOV files to Premiere Pro 2020/2019/2018 for editing? Here you'll find the answers and learn how to import MOV to Premiere Pro with ease.
Copyright © 2023 EaseFab Software Corporation. All Rights Reserved.