Summary: If you're looking for a program to backup, rip and digitize your 4K Ultra HD Blu-ray discs on Windows or Mac, you can download and install the best UHD 4K Blu-ray ripper - EaseFab LosslessCopy to get the job effortlessly.
It took a while to gain momentum, but 4K Ultra HD Blu-ray is now a firm fixture of virtually all major film releases. These discs are able to store ultra high-definition (UHD, or 4K) video in addition to advanced surround sound formats like Dolby Atmos. To play Ultra HD Blu-ray discs. you need an Ultra HD Blu-ray player or UHD 4K Blu-ray drive instead of a common Blu-ray player or BD drive. Meanwhile, to rip and backup these discs, you need to a UHD 4K Blu-ray ripper and decoder program.
There are some UHD 4K Blu-ray rippers in the market. Here we mainly introduce an highly praised Ultra HD Blu-ray ripper and illustrate how to rip and copy your 4K Ultra HD Blu-rays on Windows (11/10) and Mac within clicks. Also you will learn something more about UHD Blu-ray discs.

Part 1: What is the Ultra HD Blu-ray specification?
The new Ultra HD Blu-ray format supports a resolution of 3840 x 2160, higher frame rates of up to 60fps (frames per second), and high dynamic range (HDR). In physical media, HDR is currently delivered in three main formats: HDR10, HDR10+ and Dolby Vision HDR.
That majority of 4K discs come with the standard HDR10. What sets Dolby Vision and HDR10+ apart from HDR10 is the inclusion of dynamic metadata, a proprietary HDR technology that adapts its image frame-by-frame and, theoretically, renders each shot at its best. And what sets HDR10+ apart from Dolby Vision is its lack of licensing cost - TV manufacturers and content studios have to pay Dolby to use Dolby Vision, and have little control over its development and implementation.
4K Blu-rays are encoded using the High Efficiency Video Coding (HEVC) standard (also known as H.265), use 10-bit colour depth and can cover the full spectrum of the Rec.2020 colour space.
The discs themselves can be produced in three sizes: 50GB with support for an 82Mbit/s data rate, 66GB with 108Mbit/s and 100GB with 128Mbit/s.
Part 3: Best Ultra HD Blu-ray Ripper for PC & Mac - EaseFab LosslessCopy
There are many Blu-ray ripping tools on the market that claim to cope with Blu-ray discs. However, when it comes to ripping 4K Blu-ray discs, many Blu-ray rippers will end in failure since Ultra UHD 4K Blu-rays have higher and stricter encyption and normal Blu-ray decrypter cannot bypass all the copyright protection. Feel frustrated? Don't worry! There is still one excellent UHD 4K Blu-ray ripping tool that can offer nearly perfect work to handle UHD 4K Blu-ray discs. The tool we highly recommend here is called EaseFab LosslessCopy. It is available for Windows 11, 10, 8.1, 8, 7, etc. And it has a Mac version compatible with macOS Big Sur and lower.
With LosslessCopy, you can easily rip, convert and backup any commercial Ultra HD 4K Blu-ray disc and common 2D, 3D Blu-ray disc, as well as homemade and store-bought DVDs. Its features include but are not limited to:
◉ Accept all kinds of Ultra HD 4K Blu-ray and 2D/3D Blu-ray discs with (Ultra HD) AACS encryption, (Ultra HD) BD+ and the latest MKB technology and decrypt DVDs with CSS, RCE, Sony ArccOS, UOPs, Disney X-project DRM and so on.
◉ Convert UHD 4K Blu-rays to any common digital video formats including but not limited ripping UHD Blu-ray to MP4, MKV, HEVC, AVI, WMV, MOV, M4V, MPG, FLV, etc.
◉ Offer a library of preprogrammed optimization profiles for specific devices such as smartphones, tablets, gaming systems, smart TVs and more.
◉ Create 3D SBS/TB/Anaglyph MP4, 3D MKV, 3D WMV for playback on Daydream View, PS VR, Gear VR, VR Box 2.0, Oculus Rift CV1, Oculus Rift DK2, HTC Vive, etc. with amazing 3D effect.
◉ 1:1 Disc Backup: Directly Copy main movie from (UHD 4K) Blu-ray/DVD discs and leave out extras; 1:1 backup original Blu-ray and DVD to computer hard drive with all languages, subtitle tracks and chapter info; Lossless rip DVD/Blu-ray to lossless MKV with full video, audios, subtitles, menus and chapters within 5 minutes.
◉ Advanced Customization tools: LosslessCopy allows you to manually adjust codecs, aspect ratios, bit-rates, frame rates and more before you rip a DVD or Blu-ray. Also, it includes a basic video editor you can use to trim away unwanted footage, crop video, add watermarks and add external subtitles. Moreover, it can help you extract desired subtitle from Blu-ray/DVD discs as an external SRT subtitle file.
◉ With the Intel QSV and NVIDIA CUDA powered hardware acceleration, the conversion is processed on GPU instead of your computer's CPU and you can convert a full Ultra HD 4K Blu-ray to H.264 MP4 as short as 10 minutes.
Part 4: How to Rip and Copy UHD Blu-ray discs with LosslessCopy
To begin with, you need to download and install EaseFab LosslessCopy Windows or Mac version on your computer. The guide below takes the Windows version for an example. Mac version has the same process. Please note that a UHD 4K Blu-ray drive is necessary for ripping UHD 4K Blu-ray discs.
Step 1. Load the source Blu-ray movie.
Run EaseFab LosslessCopy on your PC or Mac, insert the Ultra HD Blu-ray disc into your UHD Blu-ray drive. Click "Load Disc" button to have the 4K Blu-ray movie uploaded to the program.
This UHD 4K Blu-ray ripper will easily detect the correct title hiden in Blu-rays. At the bottom, you can select your desired subtitle and audio track.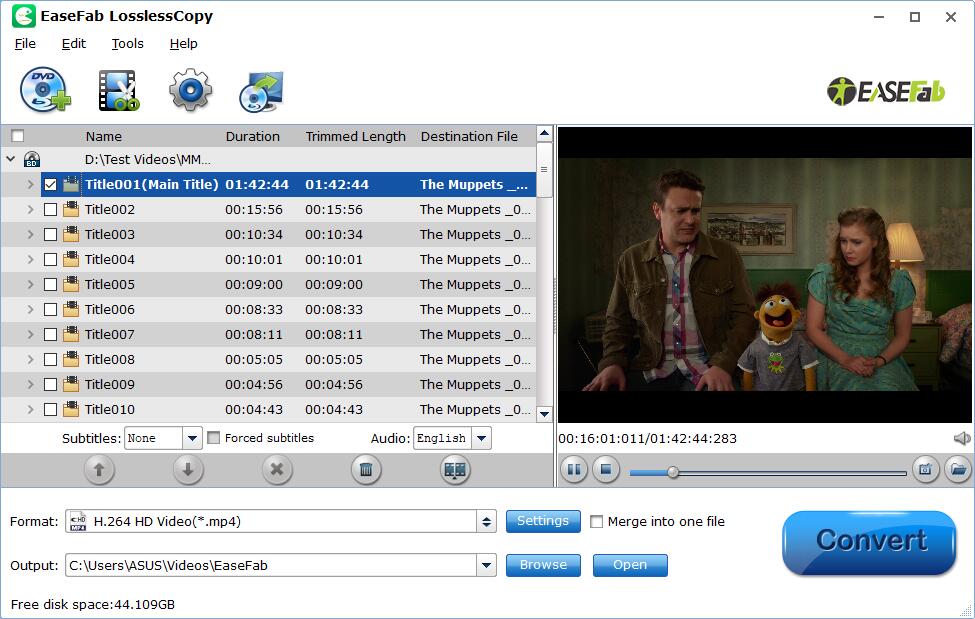 Step 2. Choose output and set parameters.
Choose output video or device file for the ripping UHD 4K Blu-ray. Users can choose to rip UHD Blu-rays to MP4, MPEG, WMV, FLV, MOV, MP3, iPhone, Apple TV, Samsung, HTC, etc.
Also, this best 4K Blu-ray ripper allows users to customize the video/audio/image settings according to own needs, and rip Ultra HD Blu-rays with original 4K quality by setting the video resolution with "keep original" in its "Profile Settings" window.
Today's 8TB and larger SSD is getting cheaper. It's not worth converting files to more efficient and space-saving formats in case of backing up your movie library. This is because re-encoding Blu-ray takes time and involves loss of quality. In this situation, you can choose "Copy the entire disc" button to make a full title copy or select "Directly Copy" from "Copy" category to backup the main title. Also you can choose "Lossless/encoded Multi-track MKV" from Multi-track Video category to backup Blu-ray to a lossless MKV file. This will keep the audio and image the same as original. And you can save UHD 4K Blu-ray library to your computer hard drive for further use.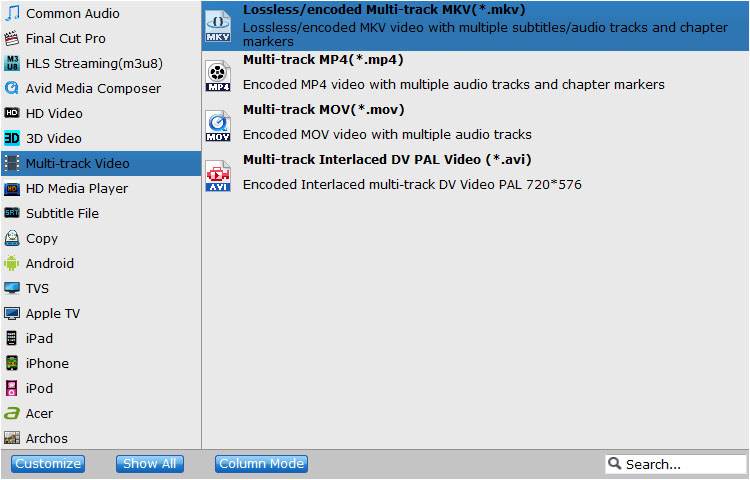 Step 3. Start UHD Blu-ray ripping.
Click "Browse" button in the Output bar, and select a destination folder to save your rip. Now you're ready to hit the big blue "Convert" button to begin ripping or backing up your Ultra HD 4K Blu-ray discs.
Afterwards, you can sort your movies or TV shows quickly in your computer, and even transfer and watch the ripped UHD Blu-ray video on your Android, iOS gadgets. If you want to transfer your 4K Blu-ray library backups to external HDD or SSD such as Samsung Portable SSD T5, SanDisk Extreme portable SSD, connect it with a USB cable, send your UHD Blu-ray copies to external drive, and then you can stream them to your laptop, PC or TV as per your needs.
Part 4: What do you need to watch a UHD Blu-ray?
Sadly, Ultra HD discs won't play on a normal Blu-ray player, though you can play older Blu-ray discs on an Ultra HD player. In order to get a true 4K experience, remember that you'll need an Ultra HD Blu-ray player, an Ultra HD TV and some discs, obviously. There are a few important caveats, though.
First, you'll need to make sure your TV supports at least the HDMI 2.0 standard. Most TVs from the last year or so will, but very cheap models and some models from 2014 or earlier might not. Check your manual or Google the model number to find out - the even newer HDMI 2.1 standard should also be fine.
If you don't have a 4K TV, your 4K Blu-ray player will still work, but it will only display images in 1080p. Buy a regular Blu-ray instead of a 4K version and it will still play in 3840 X 2160 resolution, but it won't be a native 4K image and will be noticeably different than had you used an Ultra HD Blu-ray.
There's no denying Ultra HD Blu-ray and 4K TVs are luxuries, but they're luxuries worth having. And if you want the absolute best possible picture from your 4K TV, Ultra HD Blu-ray is where you'll find it.
What if you have no 4K Blu-ray Player or have no plan to buy one? Don't worry! There are always solutions out there. You can use a Blu-ray ripping tool to rip/convert 4K UHD Blu-ray to digital files for streaming to 4K TV without needing a 4K Blu-ray player.