Home
>
Resources
>
Solve Blu-ray Player Won't Play Blu-ray Disc
Posted by Matthew Watt - Aug 01, 2023 | Contact Author

Why & How to Fix a Blu-ray Player Won't Play Blu-rays
Your Blu-ray Player won't play Blu-rays but will play DVDs? Follow this article to find the possible reasons and solutions for Blu-ray player not playing Blu-ray discs.
Although some people have digitized Blu-ray collections and thus play Blu-ray content without the use of Blu-ray player, others still play Blu-rays through a Blu-ray player, which provide a exemplary movie-watching experience in the comfort of your own home. However, there are some occassions that you find your Blu-ray player won't play Blu-rays. We've seen posts saying disc not playing problem happens on Sony Blu-ray player and others such as Samsung, Philips, Panasonic, LG Blu-ray player and Microsoft Xbox Series X.
So what's happening when your Blu-ray player cannot read and play a Blu-ray disc? Well, it all depends. Some are related to the Player itself, some are the related to the Blu-ray disc, some are related the firmware and so on. If your Blu-ray player has stopped working when you try to play a Blu-ray disc, you can try the following solutions. There are a few exceptions to this rule, so there are no guarantees. Also, hacks that exist for Blu-ray players usually don't turn off the region code setting for Blu-ray discs - it usually just makes playing DVDs a region-free experience. Sometimes, it also unlocks the Blu-ray region code, also.
In this article, we will focus on why your Blu-ray player won't play Blu-rays and how to fix Blu-ray player not playing a Blu-ray disc. Read on to get answers.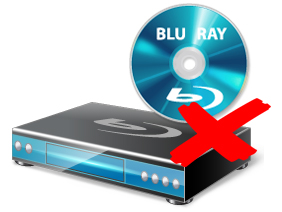 Part 1. Why Your Blu-ray Player Won't Play Blu-rays?
When your Blu-ray player is not reading a Blu-ray, the most likely and common causes include:
1. The Blu-ray disc isn't placed properly.
2. The disc is dirty. The presence of dirt, fingerprints, smudges, etc., are often the reasons why optical disc media does not function as expected.
3. The disc is damaged. Your disc may have scraches and cracks.
4. The disc is burned in player-incompatible format.
5. The Blu-ray's region code is different from that of your Blu-ray player.
6. Blu-ray player firmware issue.
7. The Blu-ray player loading tray doesn't work well.
8. The laser lens is dirty and needs cleaning.
9. The laser isn't working.
10. The read head on the optical disc sticks too far in.
11. The Blu-ray player isn't connected properly to the TV. Or, your TV isn't set to the right input.
12. Disc playback is restricted by parental control options.
13. Blu-ray player not reading disc issue can also be caused by condensation.
Part 2. How to Fix Sony/Samsung/Philips/LG Blu-ray Player Not Playing a Blu-ray Disc?
As you can see, there are many reasons why Blu-rays can't be played on a Blu-ray player. The corresponding solutions are also varied. Now let's check the fixes.
1. Check the Blu-ray Player
Some issues are not difficult as we imagine. Somtimes, we just need to do little simple steps to resolve the Blu-ray disc playback issues on your Blu-ray Player, because there are many details can be ingored, just simple check and test, you can solve the issue.
(1) Reset the Blu-ray Player to factory settings:
Remove the disc from the Blu-ray player > Turn off the Blu-ray player > Unplug the power cord of the Blu-ray player from the electrical outlet > Let the player remain without power for one minute > Plug the power cord back into the electrical outlet > Turn on the Blu-ray player > Insert the disc into the BD player.
(2) Make sure that the Parental Control settings are not set to "on"
(3) External connection is really important, check all physical connections between your Blu-ray player, TV and power supply for making sure that cables are properly connected and there is power on all of the devices.
2. Check the Blu-ray Fireware
If you the steps above doesn't work, then you need to play attention to the Blu-ray Firmware, because the Blu-ray is a dynamic format. It's essentially software (menus, etc. use a type of Java) so it requires up-to-date firmware to keep up-to-date with the latest blu-ray technology. There are many conditions will affect the Blu-ray firmware unstable or needed to update.
>> Every once in a while, just like when you update a program and something stops working right, there will be a bad software update.
>> Power off during update, or the update was otherwise interrupted while being applied it could do this.
You need to check to make sure if the latest firmware is installed on your Blu-ray player. If an older firmware is still running on your Blu-ray device then the it may not be able to detect contents with latest media formats and codecs. Then you need to see if there's an available update and update it. If not, contact Samsung serve support and get the new firmware for updating.
3. Check the Blu-ray Disc
(1) One of the possible reasons is that your Blu-ray player is unable to read discs. Check to make sure the inserted disc is clean and not scratched on the playing side. If so clean the surface of the disc or use an alternative Blu-ray disc to verify.
(2) Blu-ray discs have region code on them. If your Blu-ray Player can't play a good Blu-ray disc, you need to check the Blu-ray Region code on the disc. For example, all Samsung Blu-ray players purchased in Australia are region locked and can't be unlocked. Only Region B Blu-ray discs and Region 4 DVDs are compatible.
Blu-ray region code information:
Region A: This region covers all of North America, South America and South East Asia.
Region B: This encompasses Europe, Africa, Middle East, French territories and Greenland.
Region C: Region which covers the rest of the world including Russia, Asia, and China.
If you have found the issue, you can use a third-party tool to remove the Blu-ray region code protection. Converting a region-locked Blu-ray can be easily done with EaseFab LosslessCopy. This tool can do the following things:
● Read and digitize all your Blu-rays, including home-made, region-coded, copy-protected, and even scratched discs.
● 1:1 clone Blu-ray to BDMV folder. Users can burn them back to Blu-ray when necessary.
● Rip Blu-ray to (multi-track) MKV, MP4, MOV, AVI, WMV, FLV, 3GP, MPEG, etc.
● Rip Blu-ray to iPhone, iPad, Apple TV, Android mobile, Xbox, PS4, Kindle, etc.
● Keep good balance among ripping speed, output quality and file size.
● 3 simple steps to create a digital copy: load Blu-ray -> select output -> start ripping.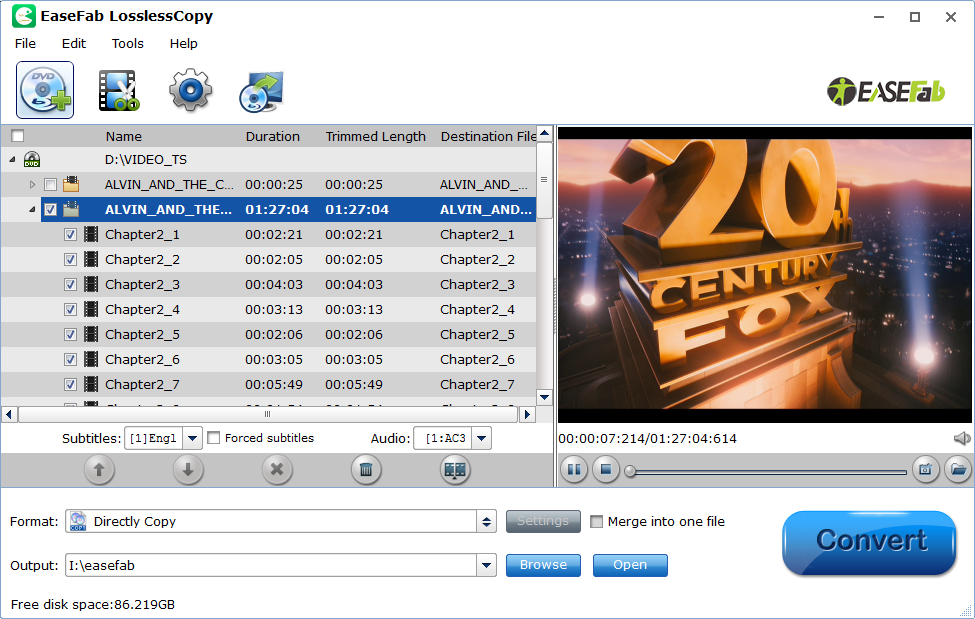 Final Words
If you have tried all the fixes above but still face Blu-ray player not reading or playing Blu-ray issue, you will have to seek professional repair service or buy a new Blu-ray player.
Don't want to replace parts or buy a new Blu-ray player to read disc flawlessly? Rip Blu-ray to digital files for playback without using Blu-ray player. Play the digital files on any devices you like.
Other Useful How-to Guides & Tips
This article explains why DVD player cannot play Blu-ray discs and introduces an available way to make regular DVD player to play Blu-ray discs without problem.
This article will show you how to convert and rip 3D Blu-ray to side-by-side 3D MP4 vidoes with the assistant of the best 3D Blu-ray disc Ripper.
Looking for a quick and easy way to convert your Blu-ray 3D ISOs to SBS MKV files? Here is the tutorial for you.
Search for the most efficient and easiest way to rip any movie Blu-ray to MP4 video with good quality-size tradeoff with fast speed. Here is just the best way to go.
Copyright © 2023 EaseFab Software Corporation. All Rights Reserved.