Blu-ray is the main reason the home theater experience has become popular, serving as a foundation for elevating both video and audio quality. However, as with DVD discs, Blu-ray also has a dark side: Region coding (also referred to as region lock). Blu-rays in different areas are encoded with different region codes and discs without region coding (region-free) can be played anywhere. In this post, we're going to show you all the details about Blu-ray region codes, Blu-ray regions and how to make a Blu-ray region free.
Part 1. Why Are There Different Blu-ray Regions?
Why are Blu-rays coded with different regions? The short answer is money.
Typically, movies are distributed in different areas at different time. Normally, a movie will be released in the U.S. first, and months later in Australia and other countries. In other words, the Blu-ray version may be released in the U.S. while the same movie is still being shown in theaters. Considering the price differences across different markets, if there are no Blu-ray region codes, people may buy a cheaper version from other region, which will hurt the profit of the film producer. The Blu-ray regions can guarantee the greatest possible return on the movie investment.
Part 2. What Are the Blu-ray Region Codes?
Unlike DVD region codes using numbers to indicate a particular area or region, Blu-ray region codes use letters to help recognize in which region this Blu-ray disc can be played. In total, there are 3 separate Blu-Ray region codes. These codes are classified alphabetically as Region A, Region B, and Region C. Blu-ray discs that have been manufactured in region A are embedded with region code A, and are therefore only usable with players from region A. The same is applicable for regions B and C. Below is a map showing how Blu-ray region codes are separated and administered by geographic location.
The map below shows these areas: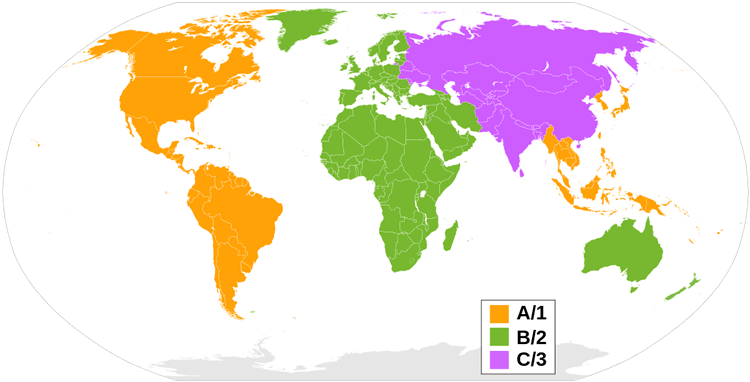 | | |
| --- | --- |
| Region | Assigned Countries |
| A | North America, Central America, South America, Japan, North Korea, South Korea, Taiwan, Hong Kong and Southeast Asia |
| B | Europe, Greenland, French territories, Middle East, Africa, Australia and New Zealand |
| C | Pakistan, India, China, Russia, Central and South Asia |
Region ABC
Classified as region-free as it applies to countries listed in Regions A, B, and C.
4K Region Codes on 4K Ultra HD 4K Blu-ray
As of right now, 4k movies titles are not region coded. With a 4k Blu-ray Player, you shold be able to play a 4k Blu-ray disc from anywhere in the world. With that being said, it's important to understand that standard Blu-ray discs and DVD discs retain their region-coding on 4k Blu-ray Players, so you will not be able to play foreign Blu-ray or DVD discs on a 4k Player unless it's a region-free model.
Part 3. How to Tell What Region a Blu-ray Is?
The region code for Blu-ray Discs is on the disc or located at the back of the disc case.

Note:
● Some region-free discs may have no codes written on the disc or disc cover.
● Ultra HD Blu-ray Discs are region-free and can play on devices that supports Ultra HD Blu-ray, regardless of the region where they were purchased.
● The Blu-ray Disc device or Blu-ray optical drive can play Blu-ray Discs purchased in the same region. This means that a computer or a Blu-ray Disc player purchased in countries listed in Region A can only play Blu-ray Disc that are recorded in Region A, in exception to Region-Free discs and players.
● This applies to computers or Blu-ray Disc players purchased in other regions, unless otherwise specified in the player or in the computer's documentation. Check your device manual.
Part 4. How to Unlock Blu-ray Region Codes - 3 Methods
#1. Get A Multi-region Blu-ray Player
Unlike that you can easily change the region code on a DVD player, the region code settings for a Blu-ray Disc player device cannot be changed. But you can purchase a region-free Blu-ray player and you can play Blu-rays from any regions freely. Search on Google and you can find multi-region DVD players from Sony, LG, Samsung, Panasonic, JVC, and many other famous brands on Amazon, Best Buy, Walmat, 220-Electronics, etc. A region-free Blu-ray player is normally priced from $135 to somewhere if you have to ask, way expensive. Be careful with the supported regions and Blu-ray formats when you select a multi-region Blu-ray player.
#2. Make Your Blu-ray Region Free
There is another option play any regions, Blu-ray formats, protections freely without having to pay $135. You can remove region codes from any foreigh Blu-rays with a Blu-ray ripping software. After you unlock A, B, C regions and Blu-ray protections, you can play a foreign Blu-ray movie on the Blu-ray player, portable devices or elsewhere or burn the region-free file back to a recordable disc freely.
There are many Blu-ray ripping tools on the market. Similar to multi-region Blu-ray players, different programs support different Blu-ray settings. To make things easier, try EaseFab LosslessCopy ( ↓ Windows version or ↓ Mac version). It will bypass Blu-ray region codes, AACS and other protections like BD+, BD-J, the latest MKB, etc. and convert Blu-rays to region-free MP4, M2TS, (multi-track) MKV, AVI, HEVC, etc.
#3. Change Region Code Settings on Blu-ray Disc Optical Drive
The region code settings for a computer Blu-ray Disc optical drive can only be changed within computers that have software capable of effecting that change, and can only be changed a total of five times. Refer to the Blu-ray Disc player software documentation for instructions on how to change the optical drive region code settings.
Notes:
● For most Blu-ray Disc optical drives, whatever the region code the software is set to upon the fifth region code setting change will become the permanent setting. Once this occurs the region code setting cannot be changed again.
● If the region code of the Blu-ray Disc optical drive has been permanently set to an undesirable region, and you wish to use Blu-ray Discs with a different region code setting, the drive will need to be replaced.