Home
>
Resources
>
Digitize Blu-ray Collection
Posted by Matthew Watt - Sep 11, 2021 | Contact Author

How to Digitize Your Blu-ray Collection on Mac/Windows
Physical Blu-ray discs are indeed not as convenient as digital files. And there are diversified reasons to digitize your Blu-ray collections. Some are eager to save Blu-rays to hard drive, USB or so to release more room for their houses, some desire to copy Blu-ray collections for backup with original quality so as to protect them against any scratch or damage, while others aim to rip Blu-ray to MP4, MKV, H.264 and many other digital file formats in order to fit their mobile devices. Actually, it's simple to digitize your Blu-ray collection on PC or Mac and play them in whatever app you want. Here is the best way to do it, and how to keep a balance between file size and video quality.

This way, you don't need to swap your Blu-ray discs. And if you want to digitize your movie collection with the most compatibility, Blu-ray to MP4 is the best idea. The ripped MP4 files can be played on almost any media player, media sever, computer, laptop, tablet, mobile device, gaming system, or HD TV without disc drive. If you want to rip your DVDs, this process will work as well, but we'll focus on how to digitize Blu-Rays - our recommended process for digitizing DVDs is a little different.
What You Need to Digitize your Blu-ray Collections:
● A Windows or Mac computer
● A Blu-ray disc drive. If your computer came with any disc drive at all, it was probably a DVD drive. However, you'll need a Blu-Ray reader in order to rip your Blu-Ray discs (obviously). An external good Blu-ray drive can be purchased for as little as $25.
Note: If you want to rip 4K UHD Blu-rays, you'll need to get a 4K Blu-ray drive.
● A program to decrypt and rip the Blu-ray discs. We'll be using EaseFab Blu-ray Ripper in this guide. This software comes with both Windows and Mac version.
This is all you need. Once you have all three of these things ready, grab your favorite Blu-Ray movies and get started to digitize them for different uses.
Why We Recommend EaseFab Blu-ray Ripper for Digitizing your Blu-ray collection?
There are many programs out there that allow you to make copies of your Blu-rays and let you watch them the way you want to view them. EaseFab Blu-ray Ripper earns its award as the best Blu-ray ripping and copying program mainly due to its rich features, solid functions and ultra-fast encoding speed. It can easily handle Blu-ray discs with AACS encryption, BD+ and the latest MKB technology and decrypt DVDs with CSS, RCE, Sony ArccOS, UOPs, Disney X-project DRM, etc. on both Windows and Mac.
With it, you can easily rip and convert ip and convert Blu-ray main title only to MP4, AVI, WMV, 3GP, FLV or other mainstream video formats. Powered by Intel®, AMD® and NVIDIA® GPUs, the hardware acceleration can expedite Blu-ray ripping and transcoding up to 30X faster without compromising quality. Moreover, it offers a library of preprogrammed optimization profiles for specific devices including but not limited to iPhone (11/Pro/Max), iPad (Pro/Air/Mini), Apple TV, iPod, Google, HTC One, Samsung (Galaxy S10), Microsoft (WP8, Surface, Xbox), Amazon Fire phone, Sony (PSP/PS4) and more.
3 Simple Steps to Digitize Blu-ray Collection with EaseFab Blu-ray Ripper
To begin with, you need to download and install EaseFab Blu-ray Ripper Windows or Mac version on your computer. The guide below takes the Windows version for an example. Mac version has the same process.
Step 1. Load your Blu-rays.
Download After downloading, install and launch the program. Insert your Blu-ray disc into your BD Drive (necessary for ripping Blu-ray) and click Load Disc button to upload Blu-ray files. At the bottom, you can select your desired subtitle and audio track.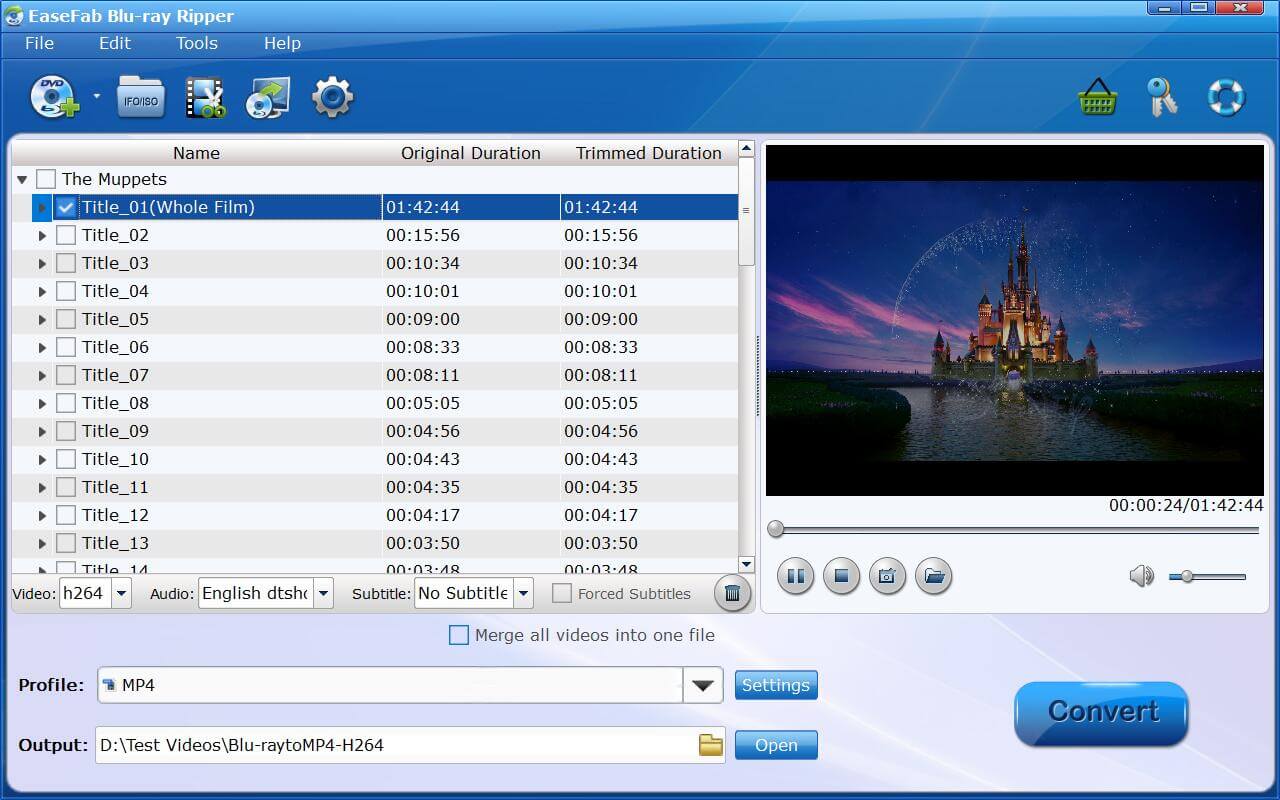 Step 2. Choose a proper output format.
The selection of output format depends on your specific need:
1. If you only need to store Blu-ray digitally, you don't need to consider about the format matter. Generally, almost all the mainstream video and audio formats are available.
2. If the quantity of Blu-ray movies to be saved is large, try to choose the output format with comparatively low quality (for small output size), and oppositely, choose the high quality.
3. If you desire to play the converted Blu-rays on Apple TV, iPad, iPhone Samsung table, PS4, Xbox One and any of other portable device, you can choose directly from the device profile listed on corresponding device category.
4. or general uses, MP4 (codec: h.264+aac) in Common Video is recommended, as it is widely supported by many devices and media players. If need to get a good balance between file size and output quality, flexible options are offered to further reduce the size of the ripped video. Click Settings button beside the profile bar and enter into the parameter settings page. A slew of other variables such the video/audio codecs, pixel dimensions, frame rate, bit rate, audio sampel rate, etc. will help convert a Blu-ray at 40.1GB to a smaller MP4 file to make more room.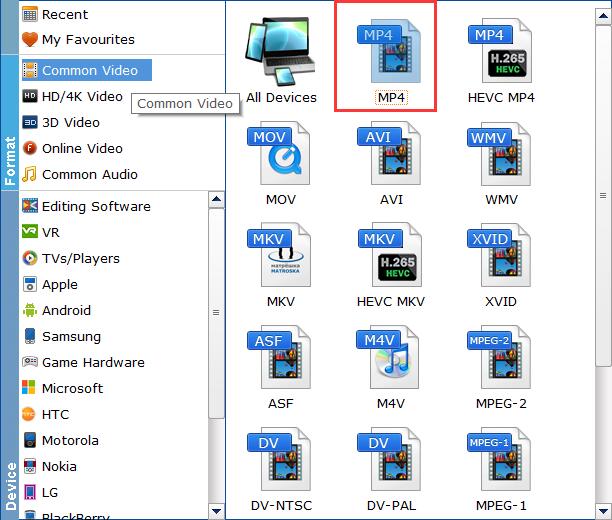 Recommended video size settings:
◆ You're not suggested to adjust the frame rate and aspect ratio, if not necessary.
◆ Lower the bitrate to a lower level. Adjusting the original Normal quality to bitrates of around 1800-2000 is acceptable and can make your ripped MP4 movie around 1.5-2.5GB in size, 94% smaller than the original Blu-ray movie, and to the naked eyes, it's highly unlikely to distinguish the difference between the original movie and the re-encoded video.
◆ Lower the resolution. Typical Blu-ray videos are 1920×1080 (Full HD). Adjust the resolution to lower 1280×720 or higher won't make any quality difference.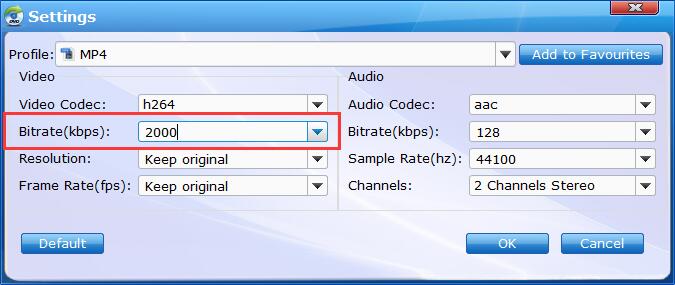 Step 3. Start the Blu-ray digitizing process.
Optionally, you can the Folder icon in the Output bar to choose any location on your computer disk as the destination to save the output files. After everything is ready, you can hit the big Convert button to start ripping the movie to the digital file.
Final Words:
To this day, there are very few ways to watch your Blu-Ray collection on your computer without shelling out cash for the privilege, even if you already own a Blu-Ray drive and bought your movies. Instead, it's simpler to digitize rip your Blu-Rays to your computer and play them in whatever app you want. Along with some help from above recommended third-party program - EaseFab Blu-ray Ripper, you can easily and fast achieve your goal smoothly. This program also copy Blu-ray/DVD to BDMV folder/DVD folder in 1:1 ratio or a single M2TS/VOB file.
Other Useful How-to Guides & Tips
Looking for a quick and easy way to convert your Blu-ray 3D ISOs to SBS MKV files? Here is the tutorial for you.
Search for the most efficient and easiest way to rip any movie Blu-ray to MP4 video with good quality-size tradeoff with fast speed. Here is just the best way to go.
Looking for a program to rip and backup your 4K Ultra HD Blu-ray discs easily and fast? Get the best Ultra HD Blu-ray ripper here!
This article will show you how to convert and rip 3D Blu-ray to side-by-side 3D MP4 vidoes with the assistant of the best 3D Blu-ray disc Ripper.
Copyright © 2023 EaseFab Software Corporation. All Rights Reserved.