DVD sales have been on the decline for over a decade, while streaming services continue to grow. Additionally, more and more computers remove DVD drive. Inbuilt DVD player is also detached from Windows 10. Despite that, DVD ripping is still in demand. If you have lots of favorite movies on DVDs and want to save them onto your Mac or Windows computer in digitial format, MKV is probably what you are looking for. In this post, we will show you the top 2 methods to convert DVD to MKV seperately: How to rip DVD to MKV with optimal quality and small size, and how to free transcode DVD to MKV with Handbrake.
4 Major Reasons for Ripping DVD to MKV on Mac/Windows PC
MKV, an open standard container format, supports a variety of vailable codecs. It holds an unlimited number of video, audio, or subtitle tracks, famous for storing common multimedia content, like TV shows or movies. This format is similar in concept to other containers like MP4 and AVI, but is entirely open in specification, with implementations consisting mostly of open source software. Generally speaking, there are four major reasons for that we choose MKV for DVD ripping:
1. MKV is open source, making it freely available to developers, thus offering an arguably higher potential for more creative solutions & broader implementation.
2. MKV can support any of video/audio tracks and subtitles inside. You can keep all detailed chapter information, sub-chapters, titles, multiple audio and video streams, subtitles, attachments and custom metadata if you choose MKV as the DVD backup format.
3. MKV is the utmost output format to preserve high video quality.
4. Ripping DVD to MKV can help you removes DVD protections so as to backup, play or share your DVD movies more conveniently.
Top 2 Methods to Convert DVD to MKV Video with High Quality
Want to rip DVD to MKV with full quality?
MKV is the format that will contain all the video, audio, subtitle tracks, menus of a DVD without quality loss while provide better compatibility than some other formats like ISO image or DVD folder. To convert DVD to MKV with full quality /keep all the content of the DVD, you can refer to this tutorial - How to convert a DVD to MKV without losing any quality to achieve your goal.
Method 1: How to Convert DVD to MKV with Good Quality-Size Tradeoff
There are numbers of paid or free programs that claim to convert DVD disc to MKV or other digital formats. But if you do not want to be held back by slow processing, poor output quality and to look for the best option to extract MKV videos from DVDs, EaseFab DVD Ripper is there for you. The program has the top performance when converting DVD to MKV, MP4, MOV, etc. files and you can easily get best possible balance in fast speed, optimal quality and small size.
Furthermore, it owns 350+ profiles for converting DVD to MP4/AVI/MOV for playback on devices easily and is built with powerful decryption technology for (DVD region code, UOPs, CSS encryption, Disney's fake etc.) copy protected ISO images and encrypted movie DVDs, even those Disney DVD movies with X-project DRM. Follow the detailed steps below to finish the job within just several clicks.
How to Convert DVD to MKV with Quality, Size, and Speed Well Balanced?
1. Add DVD movies
After downloading, install and launch the program. Insert your DVD disc into your DVD-Rom and click "Load DVD" button to upload DVD files. As you see, you can also load ISO, Video_TS folder to the program.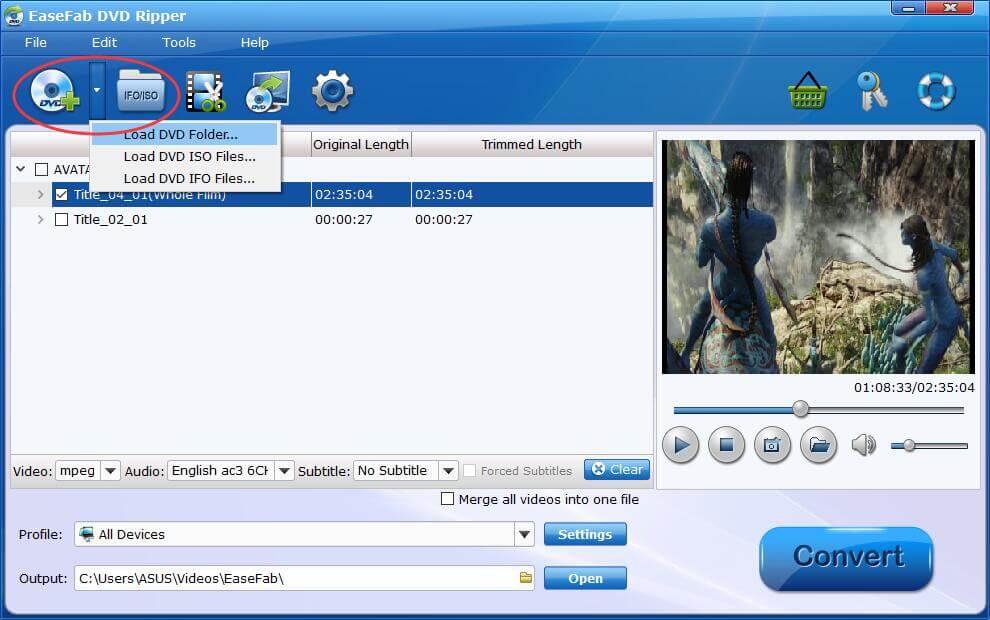 2. Convert DVD to MKV in the Best Quality
Then click "Profile" and select HEVC MKV or MKV (H.264 codec) as the output format.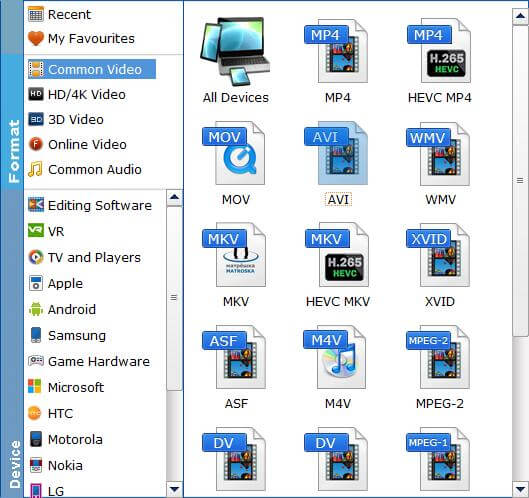 Tech details:
1. To get the best possible output quality and smallest file size, convert DVD to HEVC MKV. It has 50% smaller size at the same quality.
2. The default setting works well. Of course, if you want to customize video and audio encoding settings, just click the Settings button to customize these settings.
Recommended settings:
1. You're not suggested to adjust the frame rate and aspect ratio, if not necessary.
2. Use the codec H.264 or H.265 and lower the bitrate to a lower level. For example, adjusting the original 2500 to bitrates of around 1800-2000 is acceptable without noticeable pixellation.
3. Lower the resolution. Typical DVD videos are 720×480 (NTSC) and 720×540 (PAL). Adjust the resolution to 640×480 won't make any quality difference.
Please note: Adjusting these variables have some effect on the re-encoded video quality. You can go smaller, only at the cost of quality loss. Moreover, the file size and video quality is based more on bitrate than resolution which means bitrate higher results in big file size, and lower visible quality loss.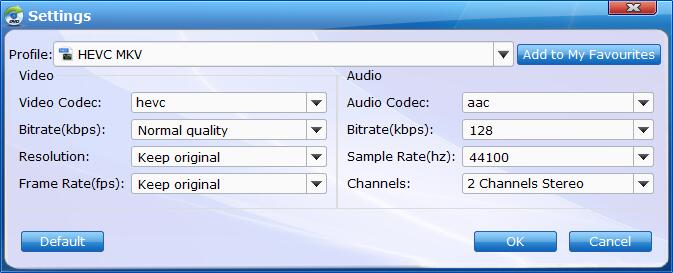 3. Select desired subtitle/audio tracks or edit the movie (optional)
You can select one of audio or subtitle tracks you prefer from the corresponding drop-down Audio or Subtitle lists. If the subtitles in the language you want is missing, you can click "Add Subtitle" to add subtitles to your DVD movies. Click the "Edit" button, trimming, cropping, rotating, and some other editing features are available.

4. Start the Conversion
If you do not have other advanced and personalized settings, just hit "Convert" to beging DVD to MKV conversion. With this method, you can easily get DVD to MKV ripping with a good quality-size balance.
Method 2: How to Transcode DVD to MKV Free with Handbrake
When it comes to ripping DVD, HandBrake is always the first to recommend. HandBrake is a cross platform program, available to Mac (Mac OS X 10.7 to 12), Windows (Windows 7 to 11) and Ubuntu. As an open-source DVD ripper, it won't cost you a penny and it can also help you convert DVD to MKV or MP4. Simply go to HandBrake.fr - the only official place to download HandBrake - to get a copy fit for your computer and install it following wizard. The latest version is 1.3.3.
HandBrake can't rip commercially copy-protected DVDs. If you want to use HandBrake to rip encrypted DVDs, you should firstly download libdvdcss - a part of VideoLAN project capable of reading and decrypting DVDs locked by region codes 1-6 and CSS. Even with libdvdcss being installed, HandBrake only decrypts and rips some certain DVDs with CSS. To rip any copy protected DVD freely, you need a more powerful alternative.
Steps to Convert DVD to MKV Free with Handbrake
In this example we show how to rip DVD to MKV with HandBrake on Windows 10, but the principle is the same for other operating systems.
Step 1: Insert target DVD into the DVD drive of your computer. Then, open HandBrake and you will be able to see Source Selection where your DVD should be already detected. Click it to open and HandBrake will begin scanning it. Scanning time varies with content on your disc.
Step 2: Click the Title drop-down menu to choose which DVD title you want to rip. Generally speaking, if it is a movie DVD, movie part should be the one with the longest duration.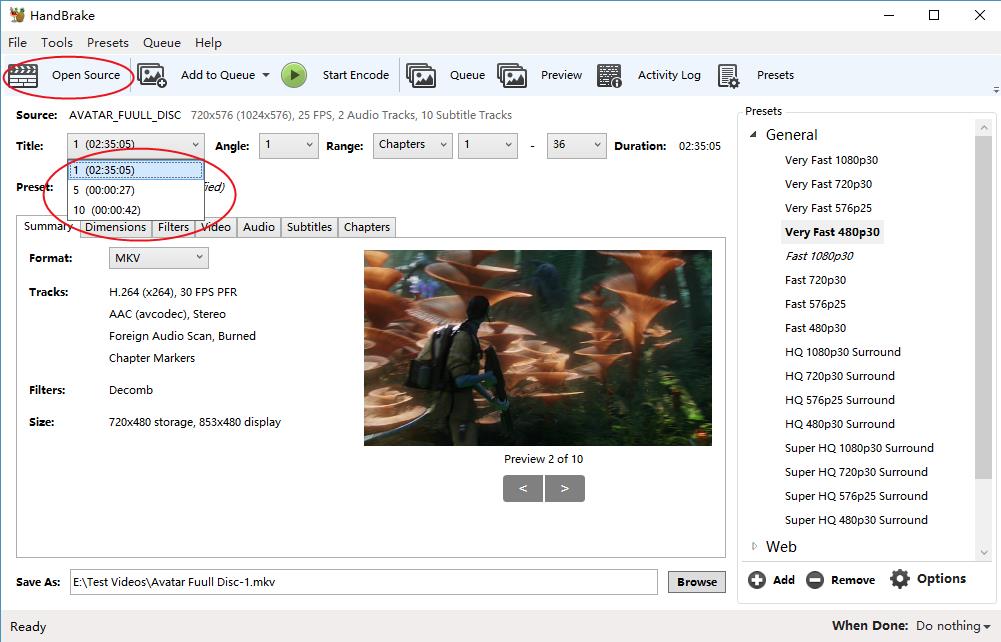 But this rule doesn't apply to 99-title movie DVDs and HandBrake can't deal with such kind of disc. If it is a TV series DVD, simply select your favorite chapter- each usually being 22 or 44 minutes. HandBrake can only rip a single title at a time. If you want to rip multiple titles off DVD or copy several/all episodes of TV show DVD, you have to process the same work multiple times or create a queue.
Other adjustable options including Angle, Chapters, Seconds and Frames. Seconds is an option used to define the start time and end time of to-be ripped title.
Step 3: Configure output.
If you know little about picture, filters, video, audio parameters, just keep the default settings untouched and instead focus on Presets only.
HandBrake DVD ripper empowers you to copy DVD to MP4 or convert DVD to MKV. In addition, it offers dozens of output presets, grouped under General, Web, Devices, Matroska, and Legacy. You can choose any one at will, or add personalized preset by clicking Save New Preset. Here we choose MKV as the target format.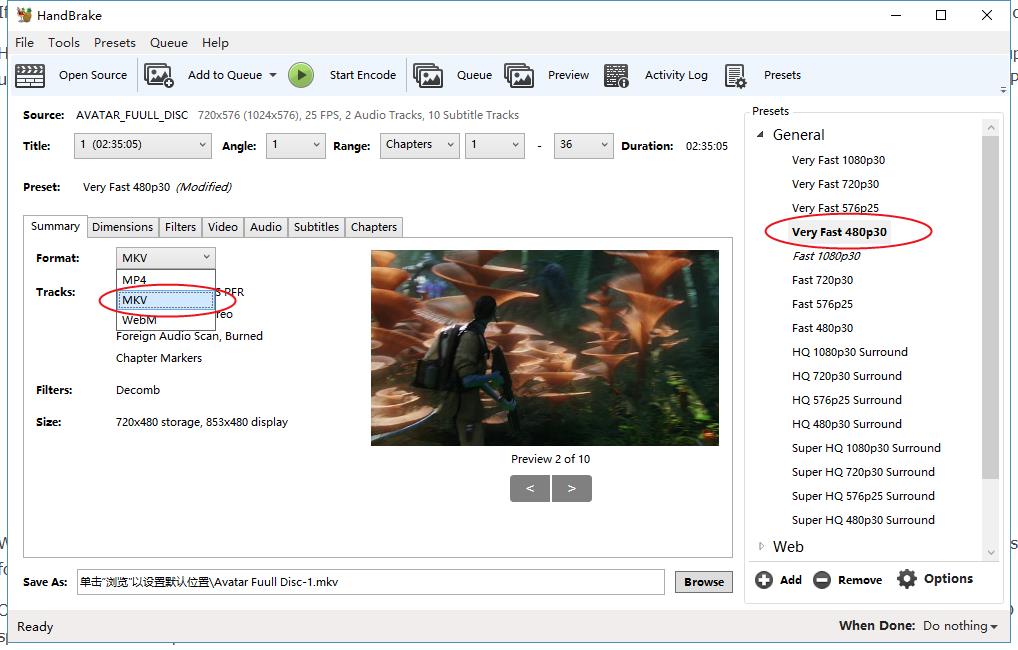 When choosing a preset, don't choose 720p and 1080p presets for DVDs. The resolution for PAL DVD is 720 x 576 (576p), while the resolution for NTSC DVD is 720 x 480 (480p). Choosing s larger preset won't make the output look better but bigger.
One more thing, "Fast" and "Very Fast" presets will sacrifice some output quality, while "HQ" and "Super HQ" presets will slow the DVD ripping speed and increase output file size.
Step 4: Navigate to Save As section and then click Browse to choose the location for storing the resulting file and also define the name of output file. HandBrake allows you to rip DVD to computer hard drive or external storage devices.
Step 5: If you have nothing to modify, simply click Start Encode button at the top menu bar to start ripping DVD to MKV with HandBrake. Then you will see a display bar and can estimate the time remaining to complete.
What if HandBrake won't Rip DVDs
Various problems may occur when we use free HandBrake to rip DVDs. Here, we pick out several common issues. If you fail to rip DVD to MKV or MP4 with HandBrake because of one of the reasons, just head to the solution we provide.
* No valid source or titles found
This error pops up after you attempt to open the source of DVD. This is probably because your source file format isn't supported by HandBrake or copy-protected. See how to fix it >>
* HandBrake only rip part of DVD
HandBrake is reported to unable to finish the entire DVD ripping. For example, it only outputs one-hour video from a two-hour movie. This issue is probably also due to copy protection.
* HandBrake distorted video when ripping DVD on Windows 10
If HandBrake rips out a distorted video off your DVD, you may need to remove the DVD copy protections in advance, update VLC, etc. See how to perform the solutions >>
Why Should You Use EaseFab instead of Handbrake to Convert DVD to MKV?
1. Support for DVD protections: Handbrake can cope with protected by CSS only and even with libdvdcss being installed, HandBrake only decrypts and rips some certain DVDs with CSS. EaseFab DVD Ripper, on the contrary, is updated with almost all the protections on the market, including regions, css to advanced Disney DRM. It also offers wider support for DVD types, ranging from old & scratched discs to newly released movies. If you want to you need to convert all type of DVDs to MKV videos without copy protection errors, EaseFab DVD Ripper is the way to go.
2. Easy to use and beginner-friendly: The interface of Handbrake and other settings make beginners feel extremely confused. While EaseFab's interface is very easy to navigate, with conversion formats divided into types. Selecting a tool and clicking the corresponding gear icon will pull up a separate screen for you to work in with that tool.
3. Ripping Speed and Output Quality: Compared with EaseFab DVD Ripper, it's much slower when loading and ripping DVDs. Moreover, the MKV video ripped with Handbrake has quality loss.