Most commercial DVDs contain some forms of copy protection and encryption schemes. These encryption measures are purposedly applied to stop piracy, but on the other hand, they prevent movie goers from backing up copy-protected DVDs for personal use. When ripping a store-bought DVD, often you would get an unplayable outcome or an error notice, such as "read error" and "copy protection 0x8003030 error". Thus, removing the copy protection from DVDs is a necessary step whenever you want to rip or digitalize encrypted DVDs.
Fortunately, you can achieve this goal easily along with some help from a third-party DVD copy protection removal tool. And there are many such tools in the market. Here we single out 3 best DVD ripping softwares (some are free) to help you remove copy protection from DVDs of any kind so that you can freely rip DVD collection for backup or playback on portable devices.
3 Easy Ways to Remove DVD Copy Protection on Windows/Mac of 2021
A good DVD copy protection removal software could change and facilitate our way of entertainment and open the door to a world of watching DVD movies offline on the go, with no need of DVD drive. To be specific, besides removing copy protection on commercial DVDs, it will be able to rip DVD movies/TV shows for playback on PC, Mac, TV, iPhone, iPad, Apple TV, PC, Android phones and tablets, and any device that supports video playback.
➤ Method 1: Remove Copy Protection from DVD with EaseFab DVD Ripper
EaseFab DVD Ripper is a totally clean, fast and user-friendly DVD ripper which will remove a variety of copy protections from DVDs without additional software. It can cope with almost all types of DVD encryptions, covering CSS, region code, RCE, Sony ArccOS, UoPs, Disney X-project (99-title DVD), and other special encryption schemes. Old and latest DVD movies from Paramount, 21st Century Fox, and other studios, and non-standard DVDs are well supported.
With it, you can rip the encrypted DVD to any mainstream digital formats including but not limited to DVD to MP4, MKV, HEVC, H.264, MOV, AVI, WAV, MP3, etc. with fast encoding speed and excellent output quality. Moreover, with 350+ built-in formats and devices, you can convert DVDs to iPhone, iPad, Android, Windows Phone, and other devices, etc. On top of that, it makes timely update and is the world's 1st DVD ripper to support the newest devices and the newly-released DVDs.
[Tutorial] How to remove copy protection from DVD using EaseFab DVD Ripper
To begin with, you need to download and install EaseFab DVD Ripper Windows or Mac version on your computer. The guide below takes the Windows version for an example. The way to rip protected DVDs on Mac is the same .
Step 1. Import the Copy Protected DVD.
Insert DVD disc into optical drive of your computer and open the program. Tap Load DVD button to import the source copy-protected DVD. The software will start reading the protected data on the disc. Once the DVD is completely loaded, the main title will be checked automatically. You can also add ISO image or DVD folder as target files.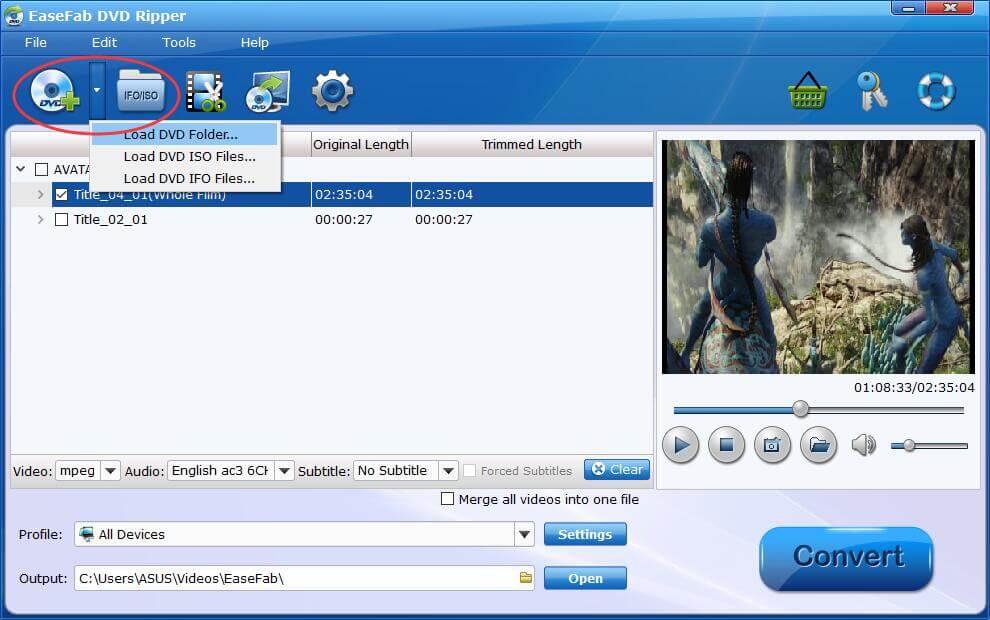 Step 2. Select Output Format.
x
Click Profile bar and pick up MP4, MKV, AVI, MOV, or any other digital format or device preset as the wanted output format. You can also hit the Backup button on navigation bar to copy DVD as VIDEO_TS folder or a single MPEG2 file with full/main title.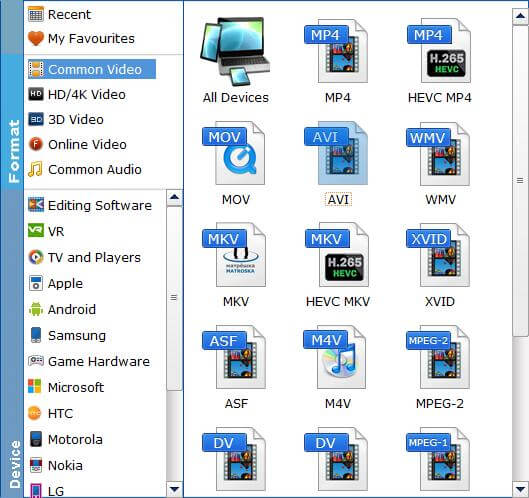 Step 3. Remove Copy Protection from DVD and start to rip or copy DVDs.
Click the small Folder button in the Output bar, and select a destination folder to save your rip. When everything is OK, you can hit the big Convert button to rip DVD with removal of copy protection.
Disclaimer: EaseFab Software Tools does not advocate ripping copy-protected DVDs for any commercial purpose and suggests referring to the DVD copyright laws in your countries before doing so.
➤ Method 2: Free Unlock DVD Encryptions with Handbrake
HandBrake is probably the most well-received DVD ripping software for Windows, Mac, Ubuntu, etc. It rips DVD disc/ISO image/VIDEO-TS folder to MP4 and MKV formats, encoded in H.264, H.265, MPEG-4 and MPEG-2. Despite being embedded with only two output formats, it's favored by Mac and Windows users for being free. However, HandBrake itself can't rip commercially copy-protected DVDs. If you want to use HandBrake to rip encrypted DVDs (actually, almost all store-bought DVDs are copyright-protected), you should firstly download libdvdcss to bypass copy protections from DVDs.
※ Note: Even with libdvdcss being installed, HandBrake may also fail to rip some strictly encrypted DVDs. It can only unlock CSS or Region Code copy protection from movie DVDs. In that case you need a more powerful alternative like EaseFab DVD Ripper.
[Tutorial] How to remove copy protection from DVD with HandBrake
Step 1. Import the Encrypted DVD.
Launch up HandBrake. The tool will display all the files and discs it detected. Choose the DVD you want to remove the copy protection from, and this will lead you to a new panel.
Step 2. Choose the Output File.
Beginners can choose the wanted output format from the giving options of Preset. Advanced user? Just navigate down to find the Video and Audio tabs. Here, you have dozens of options used for customizing the video bitrate, resolutions, frame rate, and sample rate, etc.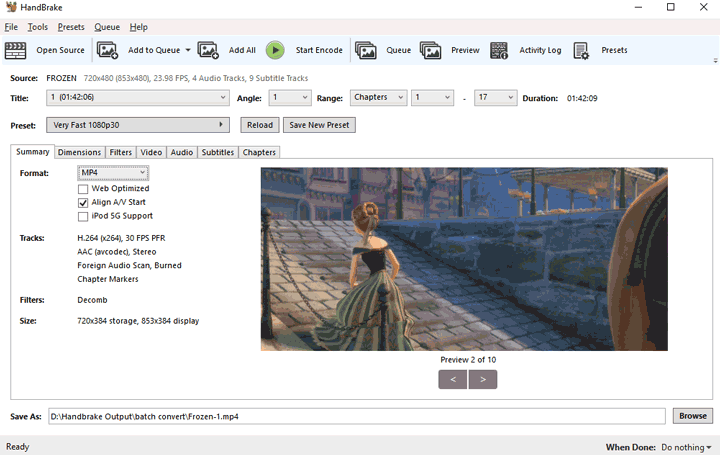 Step 3. Remove Copy Protection from DVD with HandBrake.
Once you're satisfied with all the adjustments, choose Browse to set up an output file folder. Press Start Encode on the top menu bar. HandBrake will then start to rip the DVD and remove the applied copy protection.
➤ Method 3: Remove DVD Copy Protection Free with VLC
VLC is a well-known media player working on both Windows and Mac flawlessly. Aside from playing DVD, MP4, MKV, MOV and other media files, VLC is built with a DVD ripper available for you to rip DVDs to your computer and save them to hard drive as video files, for either archiving or playing without physical disks. You can also save DVD disc to media server for streaming anytime anywhere.
You have to bear in mind VLC won't work with encrypted DVDs. It can be glitchy when rip copy-protected DVDs encoded with region code, CSS, Sony ARccOS or Disney X-Project. For a robust DVD ripping experience on Windows or Mac, you have to rely on a third-party DVD decrypter to defeat the copy protection first and then rip DVD with VLC.
[Tutorial] How to use VLC to remove DVD copy protection
Step 1. Import the DVD
Insert the disc you want to rip and click Media drop-down menu and select Convert/Save and then the Open Media window will pop up. Click Disc from the top tab and enable DVD option and select the DVD to rip in Disc device.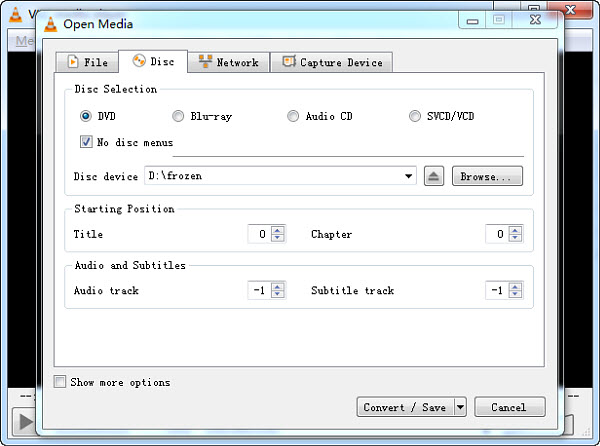 Step 2. Select an output format
Click the Convert/Save button and now you can set the output format for the DVD rip. Click Profile drop-down menu and find the format you want. You can use VLC to rip DVD to MP4, H.264, WMV, MPEG4, iPod, Android, YouTube, and a few others. Select the output you need.
In the Destination section, click Browse and select a folder for the DVD converted video file and give the output file a name.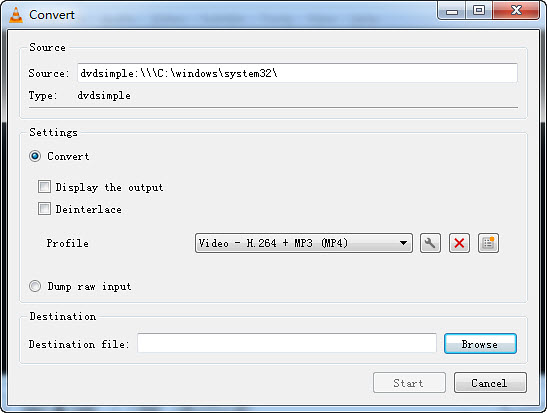 Step 3. Start remove copy protection and rip DVD with VLC
After the above settings, click Start and it should start ripping the DVD. You can see the Streaming progress bar at the bottom. Simply wait for VLC to finish the rip.

[Option Reading] List of Most Common DVD Copy Protection Schemes
▪ DVD CSS (Content Scramble System): A digital rights management (DRM) and encryption system employed on many commercially produced DVD-Video discs.
▪ DVD region codes: A digital rights management technique designed to allow film distributors to control aspects of a release, including content, release date, and price, according to the region. DVD region killer software can handle and remove region codes on DVDs.
▪ RCE: It is also known as region-code enhanced or REA. It is a retroactive attempt to prevent the playing of one region's discs in another region, even if the disc was played in a region-free player.
▪ UOP (user operation prohibition): A form of use restriction to prohibit the viewer from performing a large majority of actions during sections of a DVD using most DVD players. It is used mainly for copyright notices or warnings, such as an FBI warning in the United States.
▪ Sony ArccOS (Advanced Regional Copy Control Operating Solution): A copy-protection system designed as an additional layer to be used in conjunction with CSS. The system deliberately creates corrupted sectors on the DVD, which cause copying software to produce errors.
- Quoted from Wikipedia
What Is the Best Software for Removing the Copy Protection from DVD?
Besides Handbrake and VLC, there are also some other freebies that are welcomed by users like DVD Decrypter, FFmpeg, MakeMKV, etc. But all these free tools are ot good at removing DVD copy protection. For example, DVD Decrypter, one of the best free DVD copy protection removal software, fails to handle with new DVDs with an I/O device eror. MakeMKV crashes now and then. HandBrake itself cannot overcome DVD copy protection. To make HandBrake read encrypted DVDs successfully, there is an additional tool you need to install, namely libdvdcss. However, even if libdvdcss is installed, you may also come across copy-protected DVD reading errors.
But it's different with EaseFab DVD Ripper - the flagship product of EaseFab Software. This software is available to cope with both home-made and store-bought DVD discs without hassle. EaseFab DVD Ripper is capable of removing CSS, RCE, Disney 99-title, and all other kinds of copy protection from old and recent DVDs. The self-explained interface and the support of hardware acceleration ensure a beginner can get everything done in minutes. If you're interested in free your DVDs from copy protections and regional settings, backing up your DVD collection and don't want to be held back by time restrictions or slow processing, EaseFab DVD Ripper will be your best choice.