Home
>
Resources
>
Copy DVD to Hard Drive
Posted by Matthew Watt - Sep 11, 2021 | Contact Author

How to Rip and Copy DVDs to Hard Drive for Backup & Archiving
Here is a simple guide on how to rip and copy DVDs to internal or external hard drive for direct use or so as to stream on TV/laptop/PC, release more room for your house, or sort easily.
There are many situations you need to rip and copy your DVD collections. For example, DVDs are vulnerable to warping, scratching, and breaking. Disc drive is ditched from modern devices. DVD takes take much space or region code causes playback errors. No matter what reasons you may have, hard drive is definitely a good option to store DVD back-ups as it hold as much as ten terabytes and even more. And copying DVDs to hard drive is something to make your DVD movies and TV shows available to edit, share, or make a flexible playback without DVD player anymore.

In this article, we will help you analyze the reasons why you can't directly copy DVD content to hard drive normally and show you a reliable and easy-to-use tool to make backup copies of your DVD collection to internal or external hard drive so as to stream on TV/laptop/PC, release more room for your house, or sort easily.
Click the links below to jump to the part you are most interested in.
How to Copy a DVD to Hard Drive Directly
For those homemade or burned DVDs that come without any copy protection, you can directly copy the whole content from DVD to hard drive for backup purpose.
Step 1. Insert the DVD into the computer or external disk drive.
Step 2. Double-click the DVD drive. Find and copy all of the DVD's contents and files like ISO image or DVD folder.
Step 3. Open the hard drive, then copy and paste DVD files to hard drive.
Note:
1. Your hard drive should have enough storage (a DVD contains around 4.5GB).
2. Copy a DVD to hard drive may be easy, but the playback may be not. Some players can't open the DVD folder, ISO image or other DVD media.
3. The above method applies to non-protected DVDs only. In fact, there are various encryptions imposed on a DVD to prevent you from copying a DVD to hard drive or other storages directly. When you move a protected DVD to hard drive via the way above, you will find the DVD empty, the files corrupted, or unplayable...
Why Shouldn't You Copy Store-bought DVD to Hard Drive without Ripping
"I have a video DVD that I cannot copy to my hard disk. When I select all files and folders they are about 250 MB. When I check the DVD drive in "My Computer" it is about 4 GB. All the mail VOB files are 0 KB in size. When I right-click the DVD drive in "My Computer" and click Play in VLC Media Player, then VLC plays it very well."
Why can't you copy whole content on a store-bought DVD disc to your hard drive? Generally, instead of "copy DVD", we say rip DVD to hard drive. Why? Almost all DVD movies and TV shows are armed with one or more copy protection schemes. These schemes are stored in the normally inaccessible lead-in area of the disc, as a move to prevent the files from being copied directly. When you extract the Video_TS folder and Audio_TS folder from a commercial DVD to your computer or external hard drive, you will end up with failure due to the copy protections on DVD discs. Below are some of commonly used DVD encryption technologies:
◆ Content Scramble System (CSS) - Create scrambled DVD content to protect the DVDs information from piracy and the Region Protectionenforce region-based viewing restrictions.
◆ Sony ARccOS Protection - It is designed as an additional layer and is used in conjunction with CSS. This system deliberately creates corrupted sectors on DVD disc, which cause a majority of regular DVD copy software to produce bad sector errors.
◆ Disney DVD Copy Protection - It is encoded in the latest released DVDs. It disordered the DVD content such that users can hardly locate the right title which contains the main part of the movie. Even though you trudged out to copy full DVD content, you will get about a whopping 40GB output file size and the out-of-order videos that are totally useless.
In addition to the DVD copy protection schemes, Firmware faults, mechanical failure, and overheating computer also lead to DVD copying failure. As a result, DVD ripper is required to copy DVD to hard drive.
What Tool Is the Best Program to Rip and Copy DVD to Hard Drive?
There are numbers of paid or free programs that claim to digitize DVD discs for further saving to hard drive. We can call out several big names like HandBrake, VLC and Format Factory. Many free programs shares similar workflows but also produces alike troubles such as it takes too long to rip a DVD, the output is not as good as the original DVD. And most of the free programs can't handle DVD copy protection schemes on its own.
If you do not want to be held back by slow processing, various types of disc copy-protections and poor output quality, EaseFab DVD Ripper will be your best choice. It's available to cope with all types of DVDs, from new discs, 99-title, damaged, Japanese, regional, workout to non-standard DVDs. With it, you can effortlessly extract the entire content out of a DVD and save it in any mainstream video formats such as MP4, MKV, H264, HEVC, AVI, WMV, MOV, etc. which is readable by external hard drive HDD, SSD, NAS, USB, thumb drive, and the like. You can also copy DVD to hard drive in Video_TS folder, MPEG-2 (a single VOB file that contain the main movie) in 1:1 ratio while keeping the original videos, audios and subtitles within only 5 minutes.
How to Rip and Copy DVD to Hard Drive with 3 Simple Steps
To begin with, you need to download and install EaseFab DVD Ripper Windows or Mac version on your computer. The guide below takes the Windows version for an example. Mac version has the same process.
Step 1: Load the source DVD files.
Insert the DVD disc into your computer's DVD drive or an external USB DVD drive. Launch EaseFab DVD Ripper, click Load DVD to add the DVD files to the program. All loaded files will be displayed on the left item bar. You can also load ISO, Video_TS folder to this program.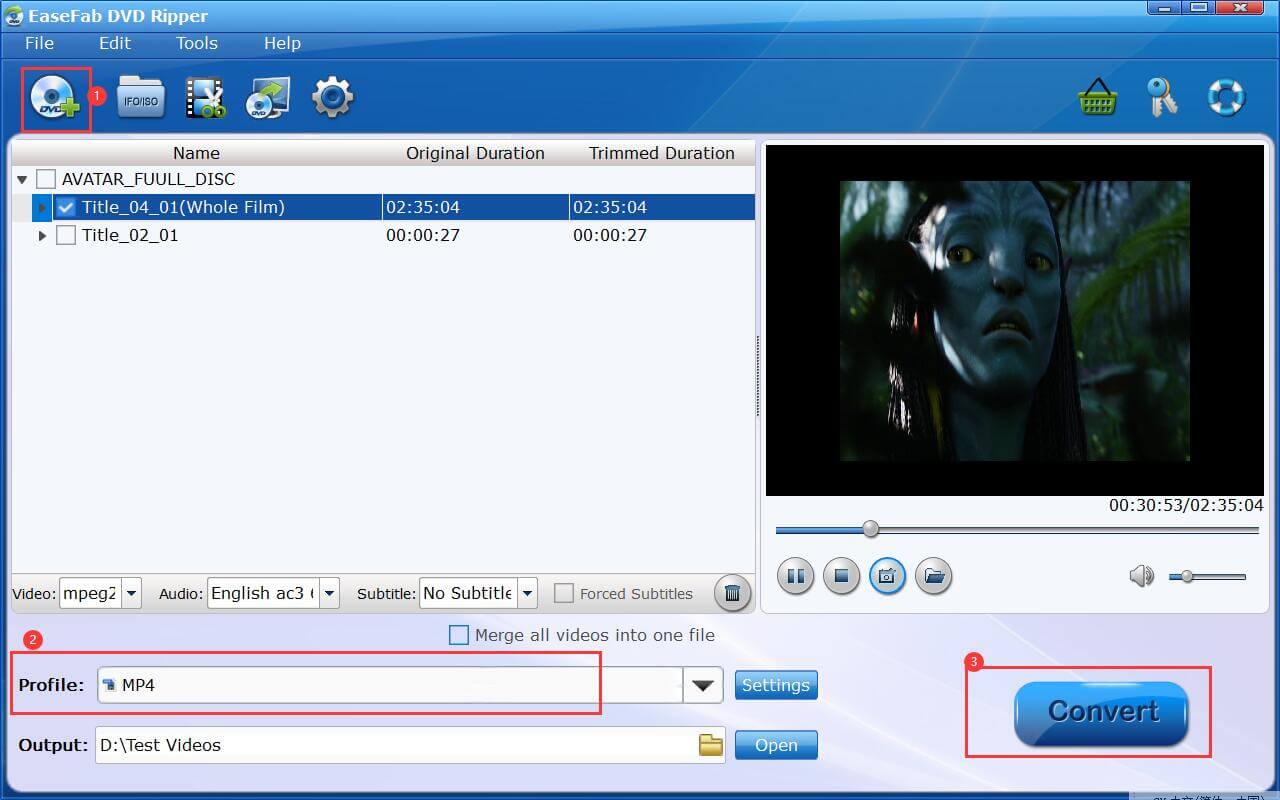 Step 2. Choose a proper output format for your hard drive.
The DVD's information, such as title, subtitle, duration, output, etc. will be shown in the file list. You can choose to copy DVD to hard drive in different formats:
For computer's hard drive: Click "Format" bar and move mouse cursor to "Common Video" category, here you can choose MP4, HEVC, MKV, AVI, MPEG, WMV, etc. If you're running on macOS, you can choose MP4, MOV or M4V for further use on your Mac's hard drive.
For external hard drive: Similar to USB, you can have much more choices, ranging from "to MP4", "to MPEG", "to WMV", "to AVI", "to MOV", "to Music" etc., depending on the use of the files, or say the output devices or players that will be connected to.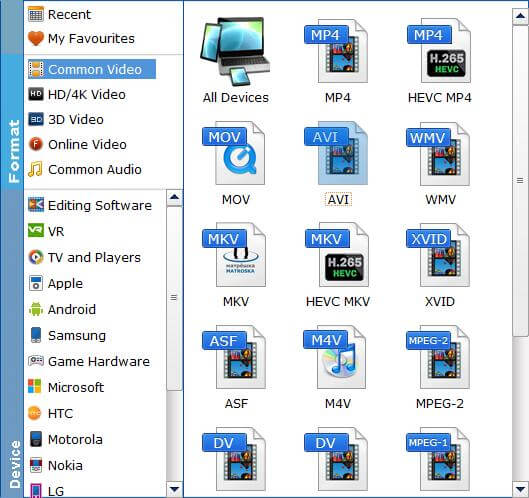 Today's 8TB and larger SSD is getting cheaper. It's not worth converting files to more efficient and space-saving formats in case of backing up your movie library. This is because re-encoding DVD takes time and involves loss of quality. In this situation, you can use EaseFab DVD Ripper "DVD backup" mode to make 1:1 DVD backup. You can make 1:1 copy of original DVD disc to DVD folder and MPEG-2 file (Main or full title copy). This will keep the audio and image the same as original.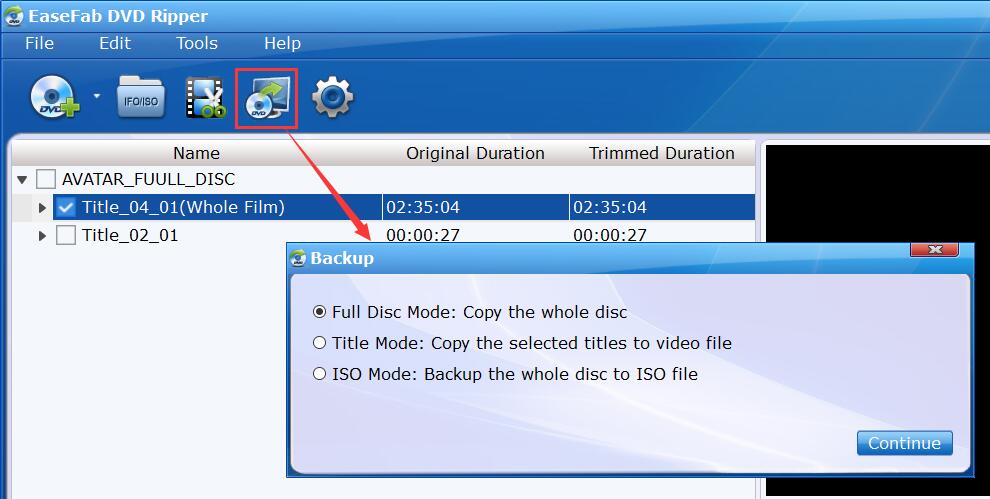 Note: EaseFab's DVD backup mode neither degrades video quality nor reduces file size (movie size stays almost the same as original 4.7GB or 8.5GB). If you have some portable hard drives that are formatted in FAT32, with restrictive 4GB file size limit, it's suggested to rip DVD to MP4 H.264, for it strikes a perfect balance between file size (around 1-1.2GB) and output quality.
Step 3. Start Copying DVD to Hard Drive.
Click "Folder" button in the Output bar, and select a destination folder to save your rip. Now you're ready to hit "Convert" button to begin copying DVD to hard drive.
Afterwards, you can sort your movies or TV shows quickly in your computer, and even transfer and watch the DVD video on your Android, iOS gadgets. If you want to transfer your DVD library backups to external HDD or SSD such as Samsung Portable SSD T5, SanDisk Extreme portable SSD, connect it with a USB cable, send your DVD copies to external drive, and then you can stream them to your laptop, PC or TV as per your needs.
Other Useful How-to Guides & Tips
Want to rip DVD with VLC media player? The article will guide you to convert DVD to videos using VLC in just a few steps.
This article tells you step-by-step guide to extract audio information from DVD with VLC Media Player. Also, you can learn how to extract just a part of the audio track from DVD discs.
Here is a simple guide on how to copy and get your DVD collections to Plex Media Server for easily streaming and playback across all your devices without discs.
Can Chromebook play DVDs? Yeah, you can do it easily as long as you use a DVD Ripper to rip and convert DVD for smooth playback on Chromebook.
Copyright © 2022 EaseFab Software Corporation. All Rights Reserved.