Summary: This article shares 3 best ways to transfer and store your DVDs on internal/external hard drive, including free methods with VLC and Handbrake.
As DVD players leave the market and DVD drives disappear from PCs, it's time to free your movies from physical DVD discs for more flexible playback. And copying DVDs to hard drive is a good idea to store your movies and can bring you some immediate benefits. If you transfer a DVD to computer hard drive, you can just double click on the digital copy to play, and don't need to find the disc, slide it into a DVD player and flip your TV to the proper input. And as one of the most popular ways to dispose of old DVDs, saving DVD to external hard drive also keeps you from troubles like disc loss, scratch, damage, declutters your room, saves your local storage space and sort your movies easily.
Actually, most of the time we cannot directly copy the contents form DVD to internal or external hard drive for backup purpose. Why? That's because almost all DVD movies and TV shows are one or more copy protection schemes. If you tried to copy commercial DVDs to hard drive directly, you will end up with failure. And that's why we say rip DVD to hard drive instead of "copy DVD". Luckily, there are many free and paid DVD ripping programs on the market that allow us to get the job done. In this article, we will share you with 3 best software tools to help you rip and copy DVDs to hard drive quickly and successfully, including freeware VLC and Handbrake.

Part 1. How to Copy DVD onto Hard Drive Directly [for Homemade DVDs only]?
Actually, you're allowed to directly copy the DVD files and drag the content to hard drive if your DVD is not copy protected. It's pretty easy. Below are the simple steps on how to transfer burned or homemade DVDs to hard drive directly.
● Step 1. Insert the DVD into the disk drive.
● Step 2. Double-click the DVD drive. Find and copy all of the DVD's contents and files like ISO image or DVD folder. In the ISO image or folder, you can see the actual movie files such as VTS_01_1, VTS_02_1, VTS_03_1, and etc..., each representing a Chapter.
● Step 3. Open the hard drive, then copy and paste DVD files to the hard drive.
Note: The above method applies to non-protected DVDs only. In fact, there are various encryptions imposed on a DVD to prevent you from copying a DVD to hard drive or other storages directly. When you move a protected DVD to hard drive via the way above, you will end up with failure and find the DVD empty, the files corrupted, or unplayable...
In addition to the DVD copy protection schemes, Firmware faults, mechanical failure, and overheating computer also lead to DVD copying failure. As a result, a DVD to hard drive converter/ripper is requried if you want to copy protected DVDs to hard drive successfully.
Part 2. Top 3 Ways to Copy Protected DVDs to Hard Drive
As mentioned above, we cannot get access to the commercial DVD content by direct copying. But along with some help third-party DVD ripping software tools, we can easily digitize, rip and copy these protected DVDs to internal or external hard drive for backup purpose. And below are top 3 popular ways to get the job done easily.
Way 1: Copy DVDs to Hard Drive with EaseFab DVD Ripper [Recommended]
If you do not want to be held back by slow processing, various types of disc copy-protections and poor output quality for rippign and copying DVD to hard drive, EaseFab DVD Ripper is there for you. It's available to cope with all types of DVDs, from new discs, 99-title, damaged, Japanese, regional, workout to non-standard DVDs on Windows 11/10/8/7 and Mac.
With it, you can effortlessly extract the entire content out of a DVD and save it in any mainstream video formats such as MP4, MKV, H264, HEVC, AVI, WMV, MOV, etc. which is readable by external hard drive HDD, SSD, NAS, USB, thumb drive, and the like. You can also copy DVD to hard drive in Video_TS folder, MPEG-2 (a single VOB file that contain the main movie) in 1:1 ratio while keeping the original videos, audios and subtitles within only 5 minutes.
Moreover, this DVD to hard drive converter also offers 200+ pre-configured device profiles, which is very convenient if you wanna transfer DVDs to external hard drive for watch on your Samsung/LG/Panasonic TV or other devices.
Click the download button above to free download and install EaseFab DVD Ripper to have a try! Then follow the guide below to copy DVD to hard drive on Windows 11/10/8/7 and Mac within simple clicks.
Step 1: Load the source DVD files.
Insert the DVD disc into your computer's DVD drive or an external USB DVD drive. Launch EaseFab DVD Ripper, click Load DVD to add the DVD files to the program. All loaded files will be displayed on the left item bar. You can also load ISO, Video_TS folder to this program.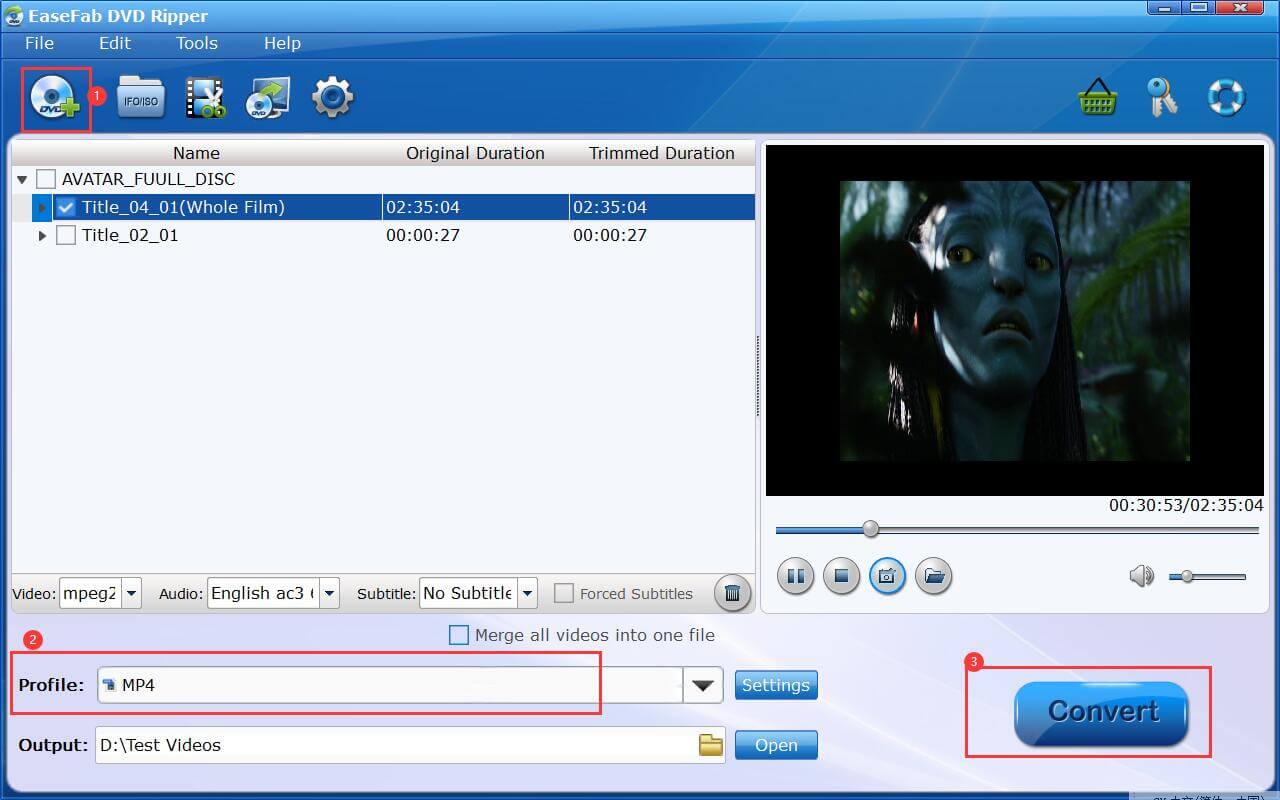 Step 2. Choose output profile.
On the Profile panel, there are over 400 profiles including popular formats and device-specific presets. You can choose to copy DVD to any format for like. Below are some suggestions.
★ ❶. If you want to copy DVD sto external hard drive to play on TV, LG/Samsung TV, PS5/4, Switch, Xbox One, PC, Mac, and other devices, you can convert DVD to MP4 file format for its wide compatibility, good quality, and small file size. Just go to "Common Video" category and select "MP4" as the output format. You can also select AVI, M4V, MOV, MKV etc. depending on the use of the files, or say the output devices or players that will be connected to.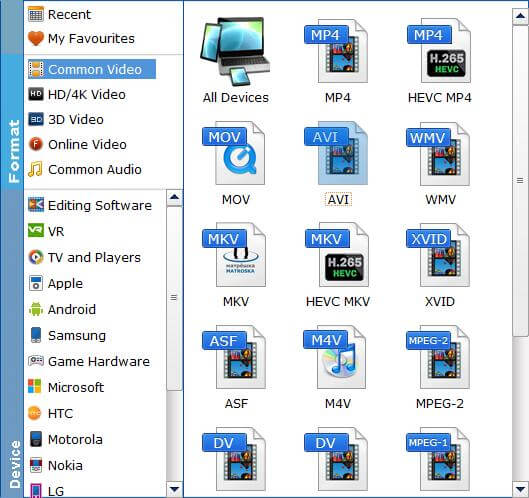 ★ ❷. If you want to copy DVDs in 1:1 to hard drive without quality loss, you can backup DVD full title/main title to Video_TS folder or a single VOB file in "Backup" mode. This modes allows you to copy DVDs with 100% quality, all the menus, tracks, extras, etc. But you should know that the video_TS folder or a single VOB file will take quite a large size.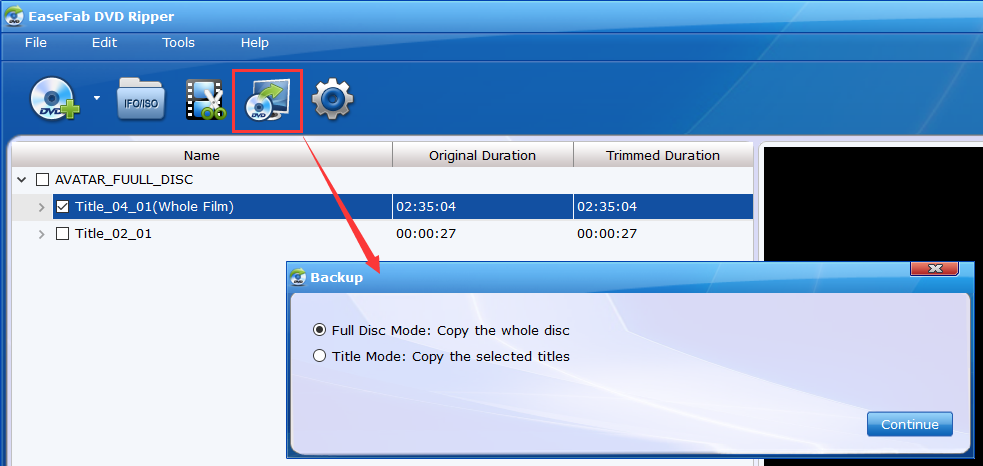 Note: EaseFab's DVD backup mode neither degrades video quality nor reduces file size (movie size stays almost the same as original 4.7GB or 8.5GB). If you have some portable hard drives that are formatted in FAT32, with restrictive 4GB file size limit, it's suggested to rip DVD to MP4 H.264, for it strikes a perfect balance between file size (around 1-1.2GB) and output quality.
Step 3. Start Copying DVD to Hard Drive.
Click "Folder" button in the Output bar, and select a destination folder to save DVD back-ups. If you want to copy DVD to external hard drive to watch on TV, connect the external HDD to your computer and choose it as the destination.
Finally, you can hit "Convert" button to begin copying DVD to hard drive. The ripping time depends on your settings and computer performance. With the support of hardware acceleration, EaseFab DVD Ripper is one of the fastest software tools to copy DVD to hard drive, running at speeds of around 300-500fps which is five or more times the speed of competitors.
Afterwards, you can sort your movies or TV shows quickly in your computer, and even transfer and watch the DVD video on your Android, iOS gadgets. If you want to transfer your DVD library backups to external HDD or SSD such as Samsung Portable SSD T5, SanDisk Extreme portable SSD, connect it with a USB cable, send your DVD copies to external drive, and then you can stream them to your laptop, PC or TV as per your needs.
Way 2: Copy a DVD to Hard Drive Free with VLC
As popular multimedia player, VLC allows users to play virtually any multimedia content without the need to rely on codecs for it, thanks to the large number of these that come by default in the program. Although many users are unaware, this player has many more functions and features within it. One of the features offered by VLC is the ability to rip a video DVD or a music disc. It can turn DVDs to digital files like MP4, WebM, TS, MKV, AVI, WMV, MP3, and so on. for storing on hard drive or other storage devices.
Before we walk you through the steps to copy DVD to hard drive free with VLC, there are a few things that you need to be aware of. Firstly, VLC doesn't have DVD copy feature and VLC's native DVD transcoding results in quality degrading. So you cannot rely on VLC to make a lossless DVD backup. Secodly, VLC doesn't rip all commercial DVDs to hard drive. If you encounter DVD ripping problems with VLC, you can try EaseFab DVD Ripper for help.
Below are the simple steps on how to transfer DVDs to hard drive using VLC.
Step 1. Get VLC Ready.
Download and install VLC on your computer. Skip to the next step if you already have VLC installed on your computer.
Step 2. Import the DVD Content.
Insert the DVD disc to DVD drive. Open VLC, click Media > Convert / Save … > Click Disc tab from the Open Media window and make sure you see the DVD you want to copy beside Disc device. Here you also need to choose title, audio and subtitle. Since there is no preview window, you may need to do some trial and error to figure out which track is the one you want. Then, tap Convert / Save button.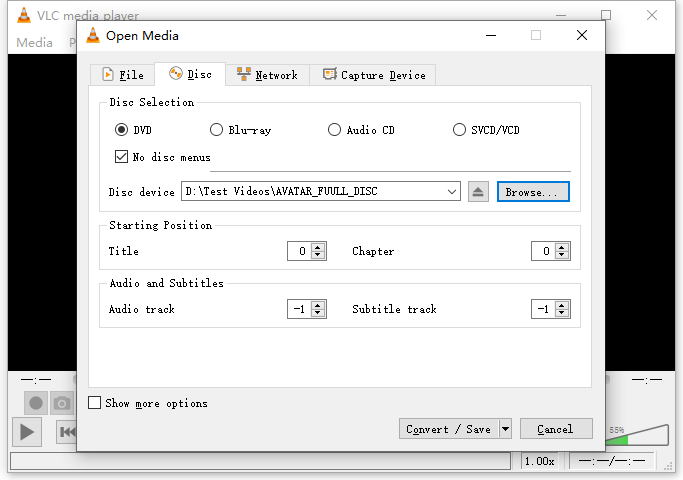 Step 3. Choose an Output Format and Begin Converting DVD
Choose a profile and specify the destination as you like, and click Start. Then, it will begin converting DVD. You can see the progress bar under the playback window.
Tips: If you need to edit the selected profile, you can click the wrench icon. You can click the Encapsulation to change container format, click Video codec to change encoding format, bitrate, quality, frame rate, resolution, and filter, click Audio codec to change audio encoding format, bitrate, channels, and sample rate, and click Subtitles to choose codec and specify whether you want to overlay subtitles on the video. When you finish the settings, don't forget to click the Save button to save your settings.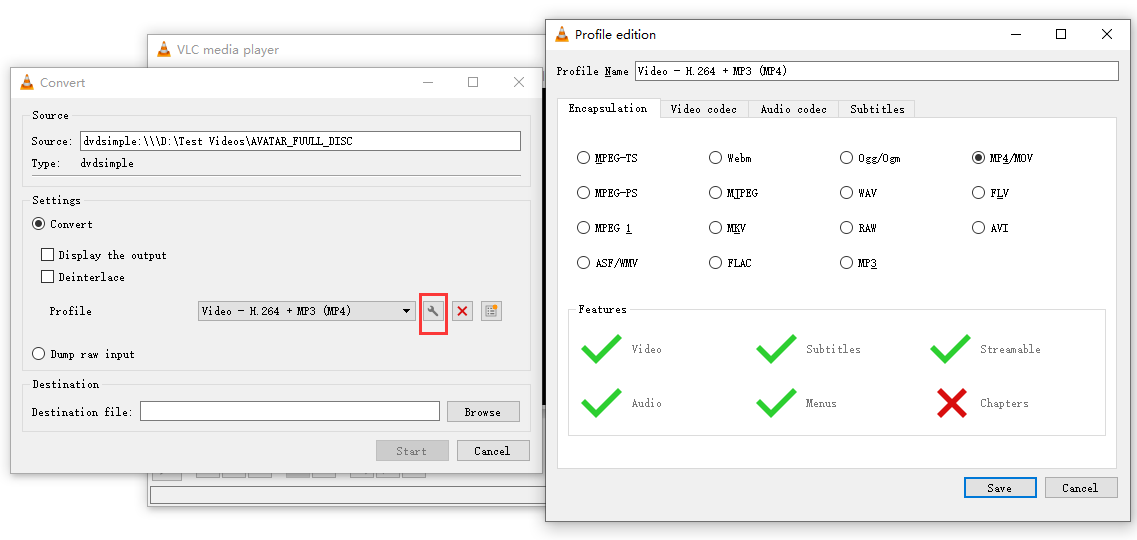 Way 3: Copy Protected DVDs to Hard Drive Free with Handbrake
Handbrake is an open source and free video converter and transcoder that has a large number of loyal fans. Besides video encoding, It also can convert DVDs to MP4 and MKV on Windows, Mac, and Linux. HandBrake itself can't rip commercially copy-protected DVDs to hard drive. If you want to use HandBrake to rip encrypted DVDs, you should firstly download libdvdcss. libdvdcss is a part of VideoLAN project capable of reading and decrypting DVDs locked by region codes 1, 2, 3, 4, 5, 6 and CSS.
Sadly, Handbrake cannot export Video_TS folder or a single VOB file which means you can do a lossless backup using Handbrake. Even with libdvdcss being installed, HandBrake may also fail to rip some strictly encrypted DVDs. In that case you need a more powerful alternative like EaseFab DVD Ripper.
If you want to try saving DVD to hard drive with Handbrake, just follow our steps below.
Step 1. Get Handbrake Ready.
Download and install Handbrake on your Windows or macOS computer.
Step 2. Install libdvdcss for HandBrake.
Download libdvdcss.dll 32-bit/64-bit version through the VLC website.
Next, you need to move the libdvdcss.dll into the installation folder of HandBrake. The process is different on Windows and Mac. For details, please go to this article How to rip protected DVD with Handbrake to learn more.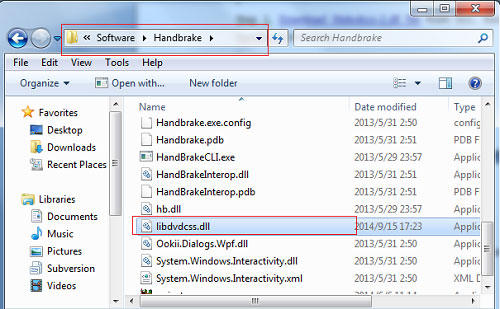 Step 3. Load Source DVD.
Insert the DVD disc into computer disc drive or an external DVD drive. Launch Handbrake, load the DVD from the Source Selection. It will take some time to scan the DVD titles.
Note: If the DVD you try to copy to hard drive has 99 titles or is protected with RCE, Disney X-project DRM or Sony ARccOS, you are likely to get an error message like "No valid source or titles found". In this case, I'm afraid that you'll have to resort to other professional DVD decrypters for help.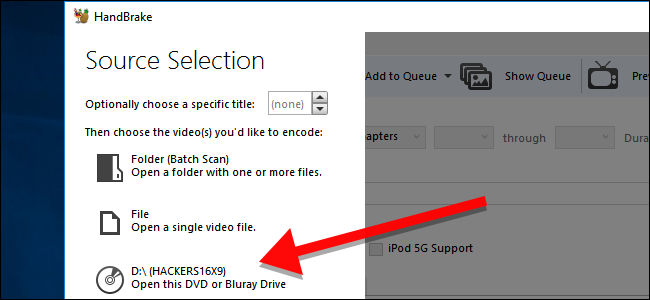 Step 4. Specify DVD Title.
Choose the title you want to convert and copy to hard drive and adjust the angel and chapters you want to retain. The auto-selected title may be not the movie title. You'd better check it before ripping.
If you need to rip DVD with multiple titles, you can click the drop-down arrow beside Add to Queue and choose Add current, Add all, or Add selection.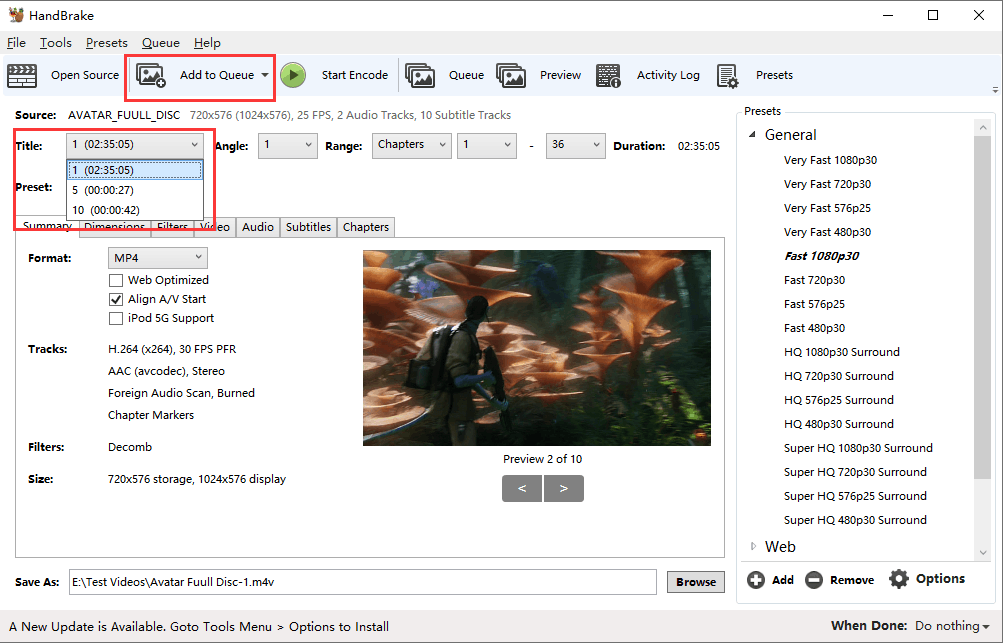 Step 5. Configure output.
HandBrake DVD ripper empowers you to convert DVD to MP4, MKV, and WebM format. In addition, it offers dozens of output presets, grouped under General (1080p, 720p, 576p, 480p), Web (Gmail, YouTube, Vimeo, Discord), Devices (Android, Apple, Chromecast, Playstation, Amazon Fire, Roku, Xbox), Matroska (H.264, H.265, VP8, VP9), and Production. You can choose any one at will, or add personalized preset by clicking Save New Preset.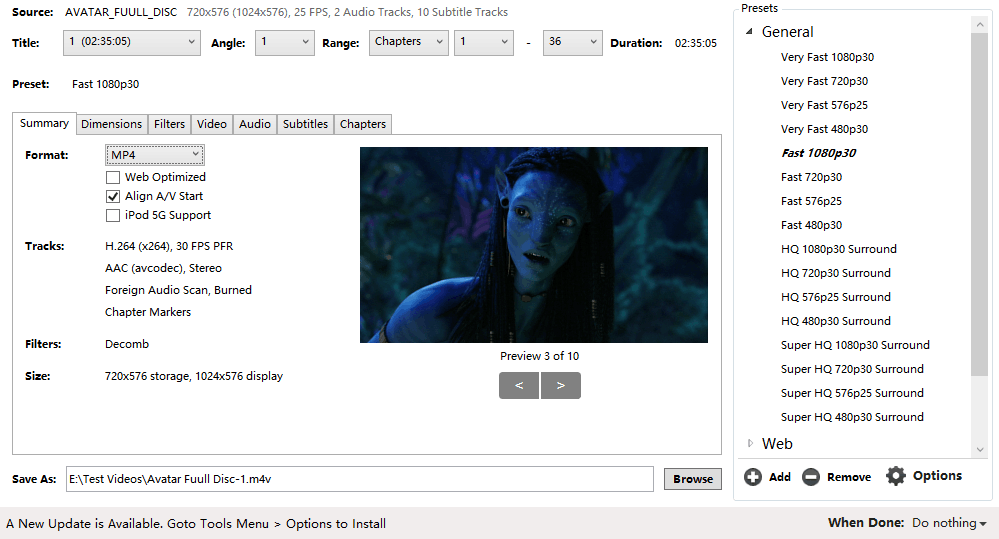 When choosing a preset, don't choose 720p and 1080p presets for DVDs. The resolution for PAL DVD is 720 x 576 (576p), while the resolution for NTSC DVD is 720 x 480 (480p). Choosing a larger preset won't make the output look better but bigger.
One more thing, "Fast" and "Very Fast" presets will sacrifice some output quality, while "HQ" and "Super HQ" presets will slow the DVD ripping speed and increase output file size.
Besides container format and preset, HandBrake also allows you to select subtitle, specify audio track, tweak video parameters like codec and framerate, set quality, and do so much more. But if you know little about those features, just keep the default settings untouched.
Step 6. Start Copying DVD to Hard Drive.
Click the Browse button to choose a folder of your hard drive as the destination and click Start Encode to begin ripping DVD to hard drive with Handbrake.
Final Words
All of the three DVD ripping tools are good options when you need to save DVDs on internal or external hard drive. But if you are looking for a tool with powerful descrypting function, fast speed and high or lossless output quality, EaseFab DVD Ripper is definitely your best choice. With it, you can copy any homemade or commercial DVD with any protection, e.g. DVD region, 99 fake titles, bad sector, CSS, etc. Copy DVD to hard drive SSD, HDD, NAS, USB, cloud, etc with 100% quality reserved. Convert DVDs to MP4, VIDEO_TS, and almost all formats for storing on hard drive.
Part 3. FAQs about Copying DVD to Hard Drive on Windows 11/10 and Mac
1. What is the fastest way to copy DVD to hard drive?
Among these methods mentioned above, EaseFab DVD Ripper is the fastest way because it supports multiple speed-boosting technologies including GPU hardware acceleration. It can reach 300-500fps when ripping a DVD to H.264 MP4. Put another way, a 2-hour DVD can be converted to H.264 MP4 within 5 minutes only. In contrast, HandBrake may need hours to finish this.
2. Can I copy DVD to Mac hard drive for free?
It depends. Mac offers built-in app Disc Utility to directly copy home movies from DVD discs to hard drive so that you can get rid of binder full of discs. But apple removed the ability to burn disc images from Disk Utility from MacOS High Sierra, Sierra, and newer. If you need to transfer protected DVDs and save copies into your hard drive as MP4 or other space-saving formats, please refer to the Mac version of EaseFab DVD Ripper for help.
3. How to transfer DVD to external hard drive to watch on TV?
You can use one of the three DVD ripping tools above to convert DVD to a digital file format (e.g. MP4) which is compatible with your TV. Then connect your external hard drive to your TV for playback.
For conveniently, you can adopt EaseFab DVD Ripper for help since it provides many optimized profiles for Samsung TV, Sony TV, Panasonic TV, LG TV and so on.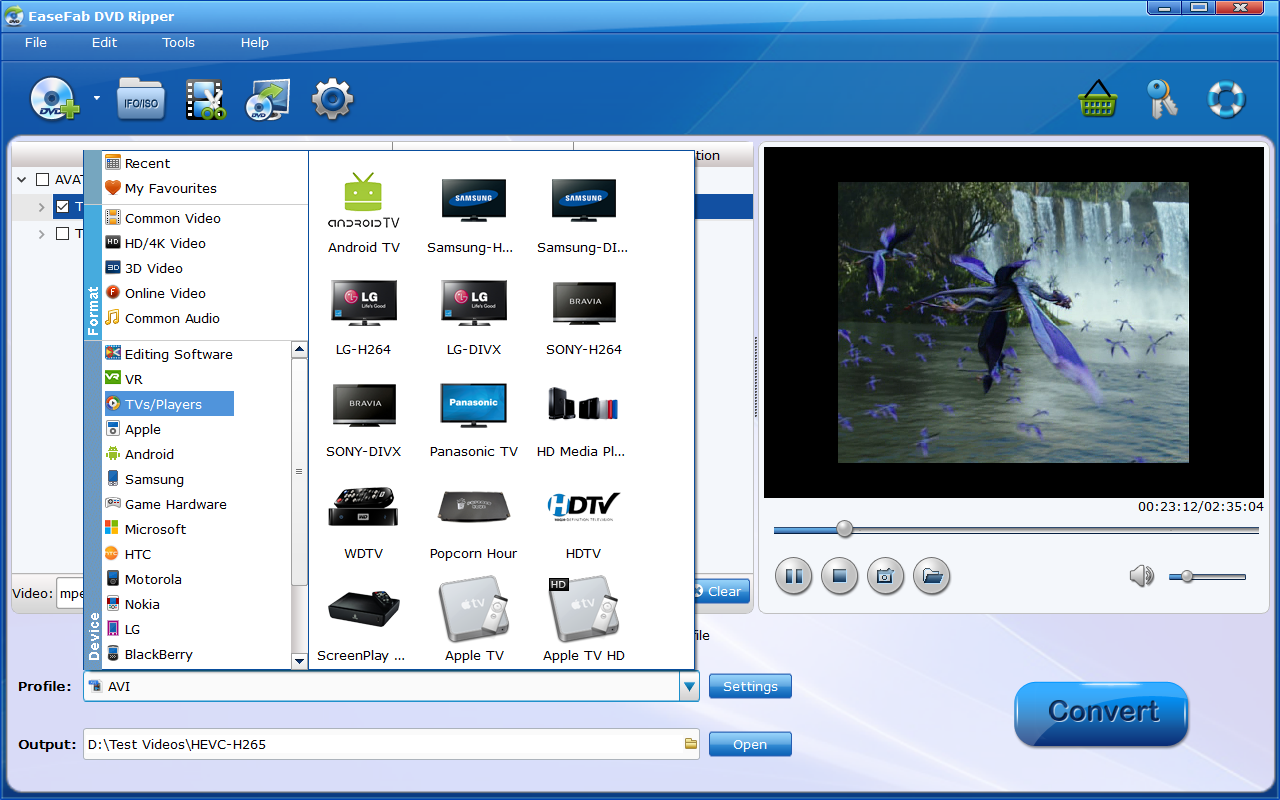 4. Is it legal to rip DVDs that you own to hard drive?
Technically, it is illegal to rip DVDs because most discs are riddled with copy protection mechanisms that are used for anti-piracy purposes. But there is a wiggle room, if you don't stress on the legality. We seldom hear news that one is sued or caught for the use of the DVD copy protection software at home. As long as you don't rip DVD for commercial use, sharing with others, or so, you are unlikely to get sued or caught, since the government just cares about the people who redistribute the copies of the copyrighted DVD movies rather than you doing it locally on your computer.
5. What is the best file format to rip DVDs onto a hard drive?
It depends where and how you want to use the digital copy of your DVD. If you want to save main movie only and play without format incompatibility issue, MP4 is the best choice, allowing to stream the copied file on TV, PC or laptop and more. If you want to make an exact copy of a DVD, you can choose to save as a Video_TS folder, a single VOB file or convert DVD to a lossless MKV file.