"i just started using Handbrake to change the video format from .mkv to .mp4 so i can play them on my tv. but now some of them have the audio and the video out of sync. the original video is good (.mkv files), but when i change the format, the new video is out of sync with the audio."
HandBrake is a great choice to digitize discs and transcode videos. It is free, easy-to-use and powerful. But problems, such as Handbrake crashes when encoding HEVC files, Handbrake refuse to convert files, Handbrake distored output video, etc. arrive without warning. And in this article, we will focus on another Handbrake error - Handbrake output video and audio is out of sync, just like the one metioned above. If you happen to search for the solution to fix "HandBrake audio out of sync" issue, look no further, here you can get the best answer.
Possible Reasons that Cause Handbrake Output Video/Audio out of Sync
Did you happen to find the Handbrake audio sync problem after you convert DVD or convert video to MKV/MP4? In fact, it's not Handbrake but the following cases that makes output audio not match up with the video:
1. The decoder/media player issue.
The media players such as Windows Media Player, VLC and QuickTime player sometimes have a hiccup. Take QuickTime for instance. It may have timescale issues when bringing MPEG source into Avid or Final Cut Pro, which may make audio go out of sync with video. You could then try other media players to see if the problem still exists, like VLC, KMPlayer, etc.
2. Maybe you're encoding with intense features.
High refs, b-pyramids, 8x8 and even CABAC, can slow down the video behind the audio. Thus, a slower machine is likely to encounter audio out of sync issue.
3. Out-of-date computer hardware.
Some old computers with out-of-date hardware will easily result in "HandBrake video and audio out of sync" issue. The intensive use of CPU can lead your system go abnormal. So, the processes like video encoding, editing or downloading will not go smooth. This is where the audio/video out of sync happens.
4. Are you using Xvid? Then yes, you may have problems then.
Older ASP codecs like DivX and Xvid and the ancient .avi container they use are notorious with A/V sync issues when encoding MPEG-2 content.
5. Original video issue.
Make sure the original video files are normally played back on other media players. the video and audio sync issue of your original video file will influence the result.
6. Framerate need to be adjusted.
HandBrake designates "Variable Framerate" as default setting when you encode video or rip DVDs. In fact, it may probably cause HandBrake video and audio out of sync issue. Select certain "Constant Framerate" to fix HandBrake video and audio out of sync issue.
Possible Solutions to Solve Handbrake Video and Audio Out of Sync Issue
Solution 1: Make sure to use "Constant Framerate".
By default, "Variable Framerate" is checked when you use HandBrake to encode videos or rip DVDs. But that may cause issues with sync, especially when demuxing the file. So specify "Constant Framerate" following Output Settings -> Video -> Framerate(FPS), preview it and see if the video matches the audio.
Solution 2. Change framerate.
Open HandBrake -> load the file with video audio out of sync problem by clicking "Source" and then "Open File" -> press "Video" tab under Output Settings, and then specify a proper framerate from the drop-down list. And then click "Preview" on the navigation bar, and check if the audio out of sync problem has been fixed. If not, try another framerate.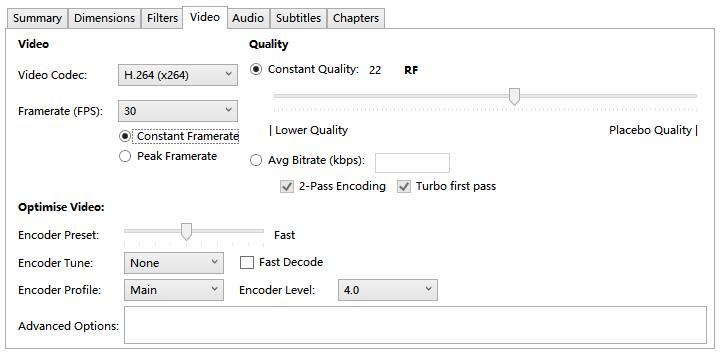 Solution 3. Try HandBrake alternative if all the solutions are not workable.
HandBrake video audio desynchrony problem is possible to be fixed by resetting framerate. However, some users point out that HandBrake output video plays fine on PC, but after being transferred to Android, iPhone or other device, A/V doesn't match up properly again. If this is the case, you can find a HandBrake alternative to solve Handbrake output video/audio out of sync issue.
Best Handbrake alternative for video/DVD conversion without video audio out of sync issue:
EaseFab Video Converter Ultimate is a professional yet easy- to-use all-in-one video, DVD and Blu-ray solution. It's specially designed to convert all media files to the format/device you desire. You can convert videos and rip DVD yet Blu-ray files to MP4, MKV, AVI, WMV, MOV, FLV, 3GP, iPhone, iPad, Apple TV, Android Samsung, HTC, Google, Amazon, Sony, Microsoft, etc. without audio out of sync with the video issue. No need to set framerate or do other settings. Everything has been optimized. The output video can be smoothly played on any device.