Home
>
Resources
>
Rip Blu-ray to With Desired Subtitles
Posted by Matthew Watt - Sep 08, 2021 | Contact Author

How to Rip Blu-ray with Preferred Subtitles on Mac/Windows
Here is a simple guide on how to rip a Blu-ray with desired inner/extra/forced subtitles or forced subtitles to digital movies to help you better understand the movie.
There is no denial that subtitles help us to understand better any language movie, TV shows, or video, especially in plots that speak in their native language that you cannot understand. Therefore, it's necessary to keep the subtitles for English or another language you speak in the Blu-ray rips. Then how to rip Blu-rays with preferred subtitles?
Actually, this goal is quick and easy to do along with some help from a right third-party program. And this article aims to provide you different solutions to flexibly set the Blu-ray movie subtitles in the Blu-ray ripping process with a most helpful Blu-ray ripping program, including ripping Blu-ray with internal desired Blu-ray movie subtitle track, with added external movie subtitles, or with translated forced subtitles on screen where a different language is being spoken.
Why MakeMKV and Handbrake are not the best software for ripping Blu-ray with subtitles?
There is a long list of Blu-ray ripping programs and tools available. We can call out several big names like MakeMKV and HandBrake. As for ripping Blu-rays, MakeMKV extracts the video and audio from Blu-ray to a huge MKV file with all subtitles kept, that explains why it is fast and why the output file is very large and hardly to playback on portable devices or players, let alone to be streaming via Plex, Emby, etc. Handbrake is excellent for ripping standard Def DVDs, but it cannot decrypt the commercial Blu-ray discs. Worse still, it runs sluggish and often crashes in the middle of process.
Get an Efficient and Easy-to-use Program to Rip Subtitles to Your Digital Movies
EaseFab Blu-ray Ripper is a totally clean, fast and user-friendly Blu-ray/DVD ripping program that you're looking for. It's available for Windows 10, 8.1, 8, 7, etc. And it has a Mac version compatible with macOS Big Sur and lower. Its features include but are not limited to:
◉ Select desired built-in subtitle track (including forced subtitle) or add external SRT/ASS/SSA subtitle files to the ripped Blu-ray video
◉ Rip various types of Blu-rays and DVDs to any formats or devices, be it MP4, MKV, AVI, MOV, iPhone, iPad, Xbox, PS4, Apple TV etc. with preferred subtitles.
◉ Digitize Blu-rays with forced subtitles only.
◉ 1:1 backup Blu-ray to hard drive, USB in BDMV folder, single M2TS file in 5 minutes.
◉ Finish conversion at fast speed, owing to the support for the world advanced Intel, Nvidia and AMD, etc. GPU hardware acceleration.
To begin with, you need to download and install EaseFab Blu-ray Ripper Windows or Mac version on your computer. The guide below takes the Windows version for an example. The conversion process on Mac is the same.
EaseFab Blu-ray Ripper Subtitle Guide: How to Rip Blu-rays with Your Preferred Subtitle?
Option 1: Select Your Desired Inner Subtitle
A commercial Blu-ray disc always has several different built-in subtitle tracks. If you bought some French, Germany, Spanish-language Blu-rays which are foreign movies to you, you might want to rip these Blu-rays to MP4, AVI, MPEG, MOV etc yet still reserving its English subtitles to help you understand the movie, at this moment you could select English subtitle track to rip the Blu-ray.
Step 1. Load source Blu-ray.
Insert your Blu-ray disc into your Blu-ray drive, Launch the program and click the Load Disc button to import the Blu-ray movies. This powerful Blu-ray ripper could auto analyze and detect the right Blu-ray main title for you. (You can also choose DVD disc, Blu-ray/DVD ISO Image file or BDMV folder, DVD folder as the input)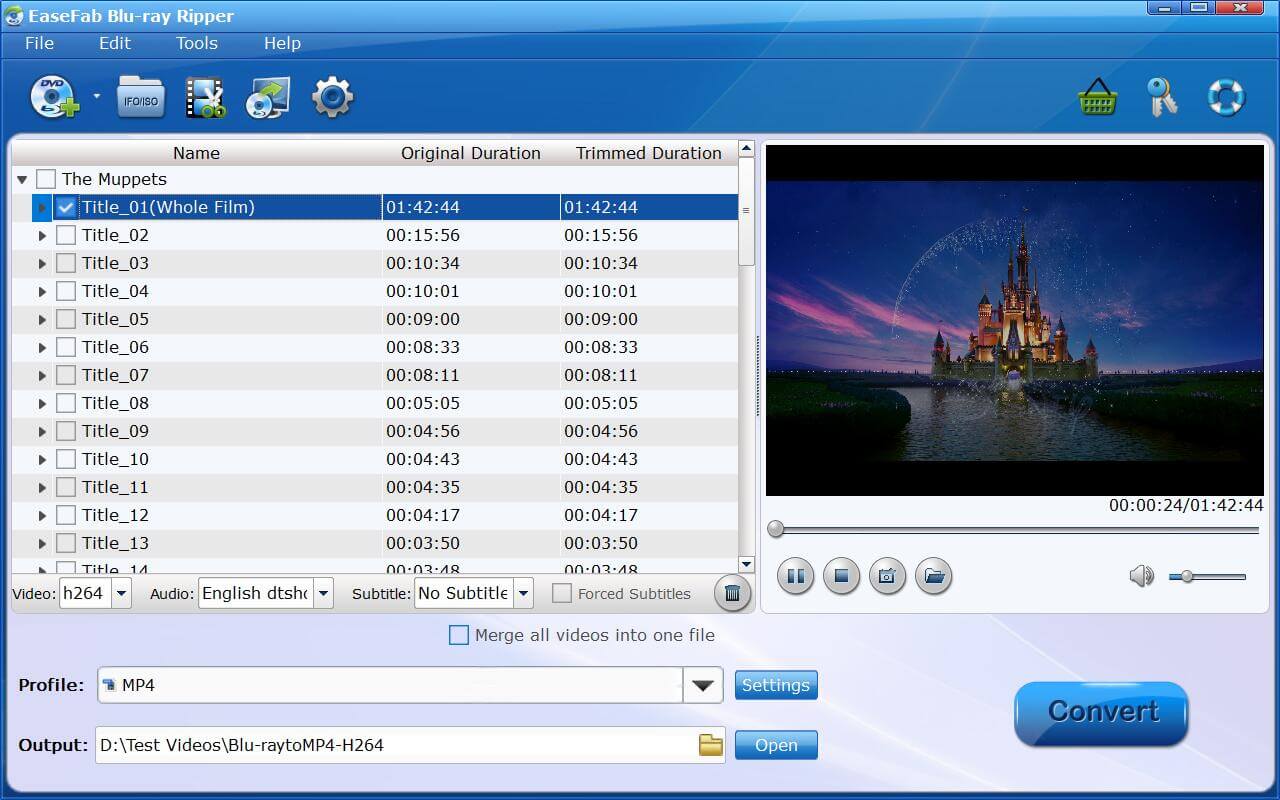 Step 2. Choose an output profile.
Choose an output video format or device profile you'd like to rip the Blu-ray movie. EaseFab Blu-ray Ripper provides you 350+ preset output profiles. For example, select ripping Blu-ray to MP4 with subtitles.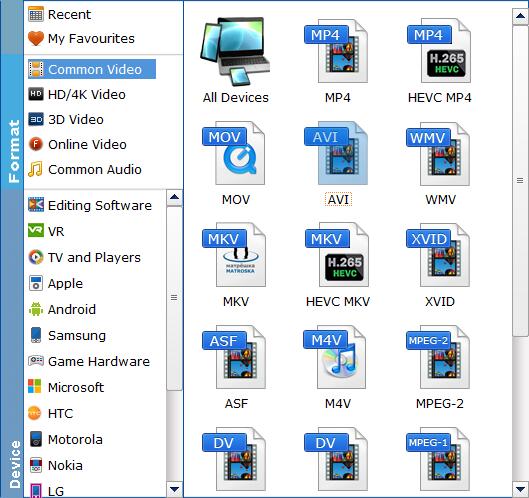 Step 3. Select one subtitle you like.
Open the drop-down list of the subtitle column and choose one subtitle track you want. Options for you to choose: internal subtitle track such as English, French, No Subtitle (default), Add Subtitle, etc.

Step 4. Set a destination folder and start the Blu-ray rip with subtitles.
Click the small Folder button (located in the output bar) to select a target folder to store the ripped Blu-ray video. All things done, hit Convert button to start ripping the DVD with subtitles.
Option 2: Enable the Forced Subtitle for Non-native Language Fragments
If you don't want the whole movie to have subtitles, but just portions that require translation. You can tick off the Forced Subtitles option. By doing so, you could disable the traditional subtitles while still preserving the subtitles that translate foreign language speaking parts periodically throughout the film to help you understand what they are saying. Check how to rip Blu-ray with forced subtitle only here:
In the same way, load the source Blu-ray disc > Select an output profile > Tick off the "Forced Subtitles" option. After all done, tap the "Convert" button to finish it.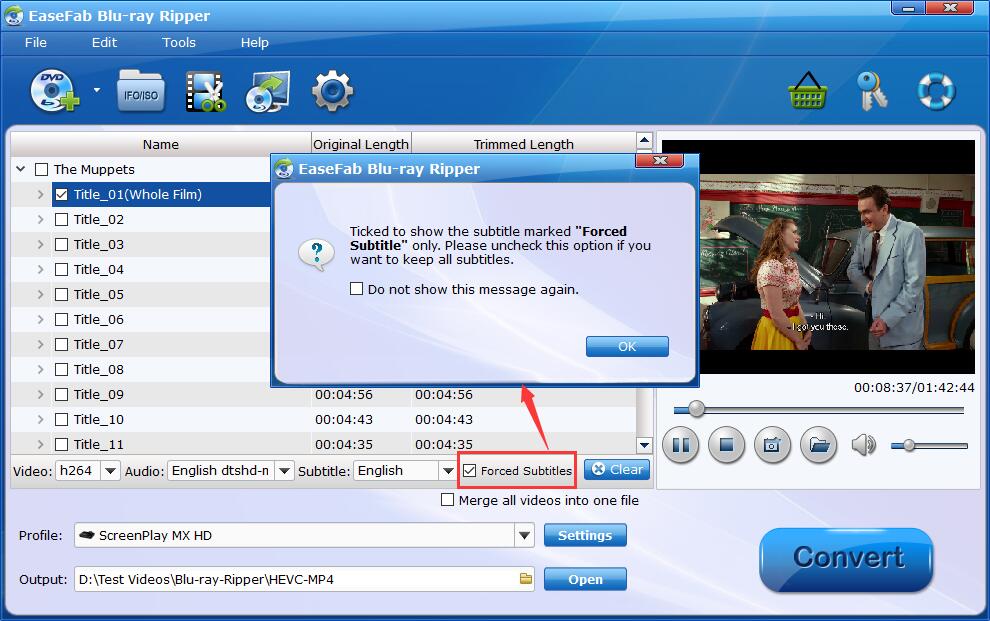 Option 3: Add External SRT/ASS/SSA Subtitle to the Blu-ray
EaseFab Blu-ray Ripper supports importing external *.srt/*.ass/*.ssa subtitles to DVD video. Therefore, even if the foreign language Blu-ray movie do not contain any language subtitles you understand, you can download subtitles in SRT/ASS/SSA for your preferred language of the Blu-ray movie from a safe and reliable subtitle download site (such as opensubtitles.org) and follow the steps below to add subtitles to the Blu-ray video.
In the same way, load the source Blu-ray disc > Select an output profile > Open the drop-down list of the subtitle column and click "Add Subtitle" to import the target .srt, .ass or .ssa subtitle file you downloaded from subtitle download site. After that, you can have a preview of the subtitle effect to make sure all goes OK . And after all done, tap the "Convert" button to start the conversion process.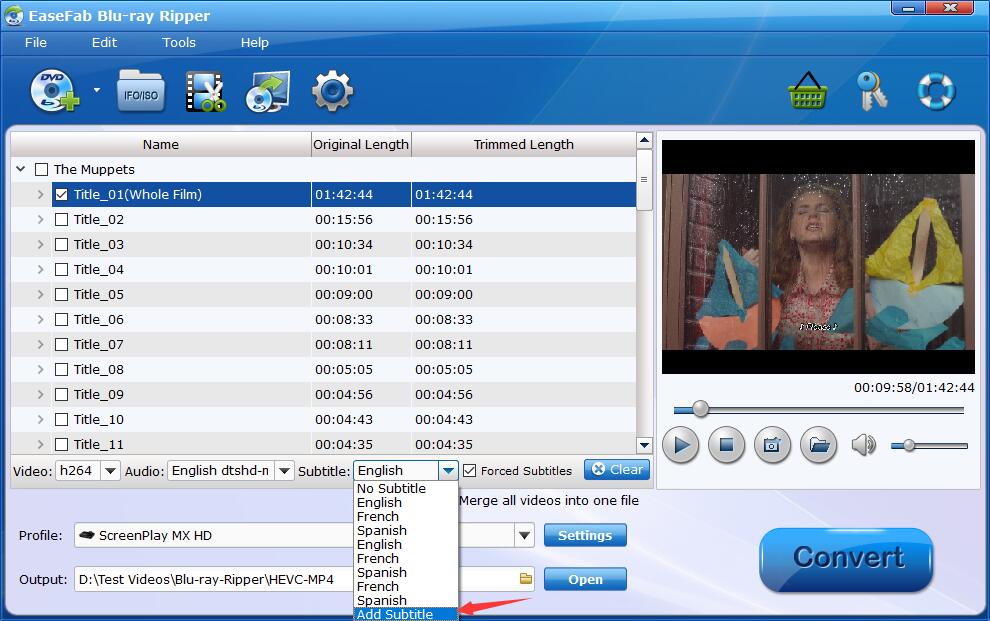 Other Useful How-to Guides & Tips
This post introduces the best solution to extract subtitles from Blu-ray as a separate SRT file. Enter to check the step-by-step guide.
Search for the most efficient and easiest way to rip any movie Blu-ray to MP4 video with good quality-size tradeoff with fast speed. Here is just the best way to go.
This post walks you through why and how to easily and fast convert Blu-ray to HEVC/H.265 MP4, which can deliver the same quality with half the size or higher quality in same size compared to H.264.
Check below what is the optimum format for ripping Blu-rays for Plex and how to fast copy and get Blu-ray to Plex with best quality in a smaller file size.
Copyright © 2023 EaseFab Software Corporation. All Rights Reserved.