[Updated] Besides digitizing DVD collection for copying to USB Flash drive, you can also directly copy DVD to USB flash drive or use DVD copy software to backup your purchased DVD movies to USB flash drive. Read on to learn details about the three feasible ways.

Why We Need to Copy DVD to USB Flash Drive
The USB flash drive is a very convenient way to store all the important information. This driver comes in very compact size so the user can easily transfer their important files from one computer to another. Nowadays, most HDTVs, tablets, laptops are able to play back videos from a USB Flash Drive. In case you have one of these devices, it will be well worth it when you want to enjoy your favorite movies more conveniently by copying DVDs to your USB flash drive.
On the other hand, transferring your data from DVD to USB is the best option for backup your favorite movies. This is one of the best ways to collect all your movies and videos in one device as compared to the large collection of disc. USB is the best device where you can store all your favorite data and you can easily bring with you while you traveling or going for vacations.
3 Simple Ways to Copy DVD to USB Flash Drive
Method 1: Digitize DVD Collection for Copying to USB flash drive
In fact, it is easy to backup your favorite movies from DVD to USB Flash Drive as long as you got a DVD Ripper in hand. There are many programs out there that allow you to make copies of your DVDs and let you watch them the way you want to view them. If you're confused about choosing a suitable one, here EaseFab DVD Ripper is highly recommended. The process is straightforward and a mass of preset formats are built for output. CUDA acceleration will bring you fast conversion speed and it's capable to converting DVD discs to digital video files without quality loss. What's more, it also supports backing up DVD without losing any data. If you are a Mac user, you can turn to EaseFab best DVD ripper Mac (macOS Catalina compatible), which has the same function as the Windows version.
Free download the DVD Ripper trial version:
3 Steps to Rip and Copy DVD to USB flash drive
This quick start guide takes DVD Converter Windows version (Including Windows 8/8.1/10) screenshots as an example. The method to convert DVD to USB Flash Drive on Mac is the same. All that you should take care is to download the right version according to your situation.
Step 1. Load DVD movies
Launch the program and click Load DVD: Load DVD Folder, Load ISO Files or Load IFO files to import the DVD movies you want to rip.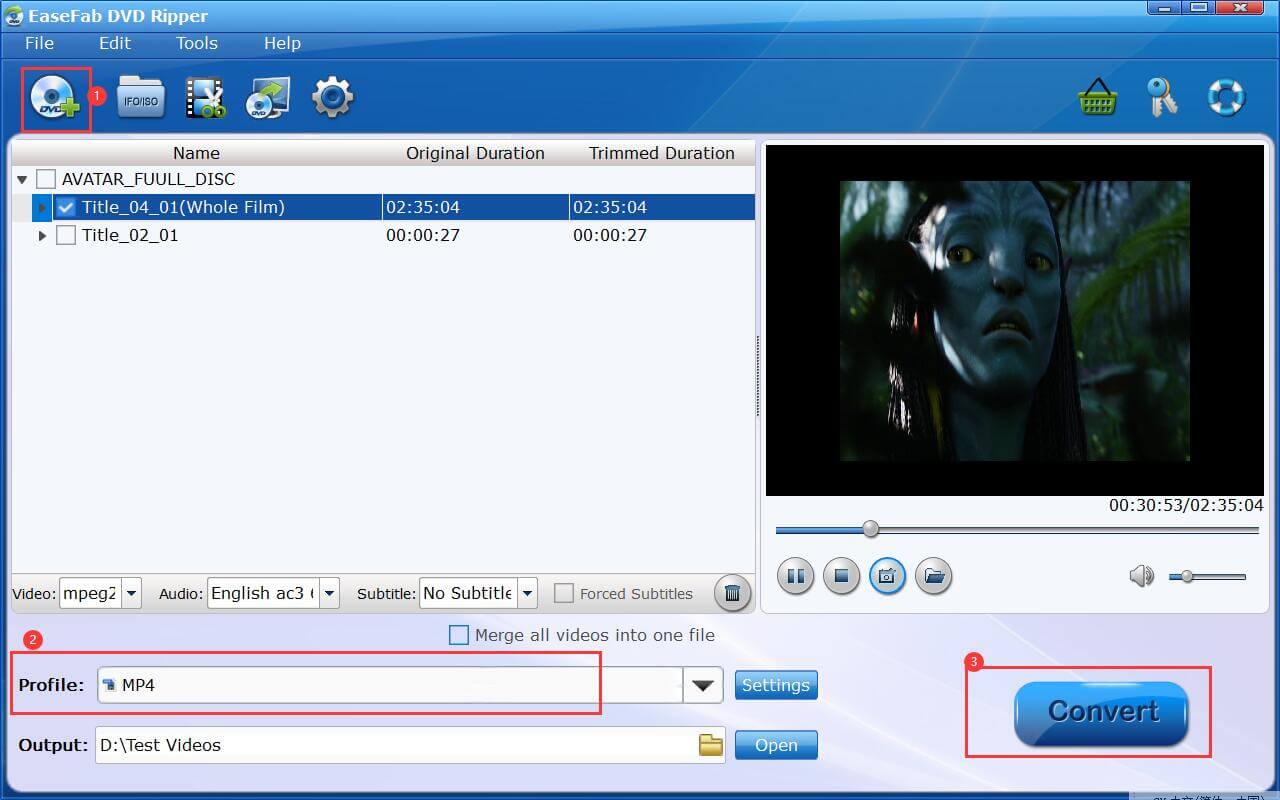 Step 2. Choose output format
Select an Android friendly format, e.g. H.264 .mp4 for conversion. Basically the "Common Video" > "MP4 Video" is an universal format for almost all multimedia devices. Of course, you can choose WMV, MOV, AVI, etc. according to your needs.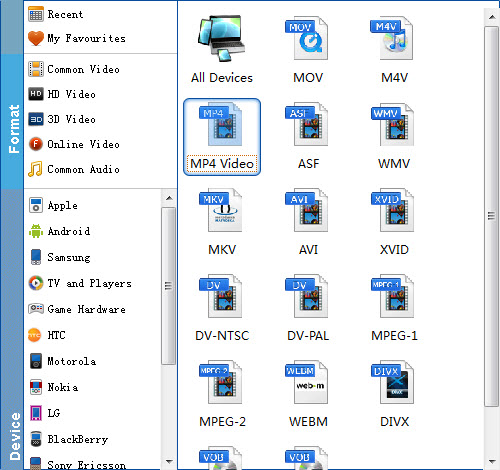 Tip: If you are not satisfied with the default video/audio specs, click "Settings" to adjust video seize(pixel), frame rate, bitrate (the higher bitrate, the larger file size and better video quality), or audio settings. Keep in mind that bitrate higher results in big file size, and lower visible quality loss, and vice versa.
Step 3. Start ripping
Click the big "Convert" to start converting DVD to USB Flash Drive as AVI, MP4, FLV, WMV, MOV, etc.. After conversion, you can click "Open" to find the converted files.
Method 2: Directly Copy DVD to USB Flash Drive
You can copy DVD to USB directly via your computer with several simple steps.
Step 1. First insert the DVD you want to copy from into your PC, prepare your DVD as ISO files or DVD Folder so that they can be copy-and-paste easily.
Step 2. Plug your USB in the same computer and make sure it can be recognized by your PC, if not, connect the USB by a USB drive. Your USB should have enough space to copy all your DVD content.
Step 3. Open your DVD and select all files in your disc, or choose the ISO file or DVD Folder directly, then simply right click and choose Copy from the options. Next, move to your USB disk and Paste what you have copied.
Something You Gotta Known thru Directly Copying DVD Content to USB Flash Drive
1. Your USB drive should have enough storage (a DVD contains around 4.5GB).
2. Copy a DVD to USB drive may be easy, but the playback may be not. It's easy to lose data during your copy-and-paste process. While copying a data from DVD to USB Flash drive, there are many cases that you don't get full data, because of the corrupted files. Sometimes, during the process of the copy, there is a chance that your PC gets shut off or you accidentally click on the cancel icon, it can lead to the data loss situation.Some players can't open the DVD folder, ISO image or other DVD media.
3. You cannot copy the protected DVDs successfully, those DVDs are password protected and can't be accessed by the third party. Other unknown problems may also cause your DVD to USB direct copy failed.
Method 3: Copy DVD to USB flash drive with DVD Copy software
Besides digitizing DVD collection and direct copy-and-paste solution, you can also make use of free or commercial DVD to USB copy software to accomplish DVD to USB drive copying. On choosing a right DVD to USB tool, various things should be taken into consideration, including: copy speed, output quality, price, disc protection removal, etc. Taking all these into consideration, you can also adopt the above metioned EaseFab DVD Ripper to help you copy the whole content or just the main movie from the (protected/unprotected) physical DVD discs to the USB flash drive.
EaseFab DVD Ripper offers enough freedom for all DVD movie lovers like you to back up your favorite DVD movies in a personalized way. Two different copy modes: Title Mode and Full Disc Mode are provided to let you copy the exact movie part you want. Just the selected your wanted one.
Full Disc Mode: Copy the whole content of disc
Title Mode: Copy the selected movie title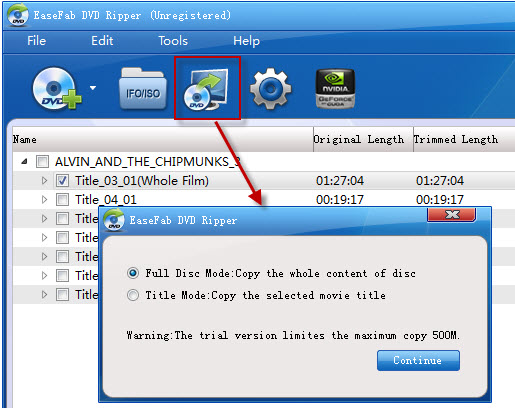 FAQ on Copying DVD to USB
1. Are there any other DVD to USB services available?
For those who don't want to install a third-party program, there are online services to help. Search on Google, there are a lot of options. Take the first DVD to USB transfer as an example, it can save DVD videos on a USB stick in MP4 format. You can either buy the USB from it or use your own USB. It takes $15 to convert a DVD, which is expensive. And you will have to wait for the shipping. Other services are similar and most of them charge you per DVD.
2. How many GB is a DVD movie?
Movies of up to 2 hours at DVD quality are usually 4.7GB. However, DVD movies longer than 120 minutes come in 8.5GB DVD-9.
3. What USB flash drive capacity do you need to save your DVD collections?
It depends on how many DVDs you want to transfer to the USB and what settings you choose. If you simply need to make digital copies of your DVD collections to USB drives with exact same quality & data, you may convert DVD to ISO image, which will be as large as the DVD movie. Then you may need a USB stick with a larger capacity. If you convert DVD to MP4, a DVD can be shrinked to 1~2GBs. EaseFab DVD Ripper is able to reduce 80% of the original DVD size. That means, a 4.7GB DVD can be ripped to a movie at ~700MB. A 256GB flash drive at about $35 is can store 300+ DVD movies.