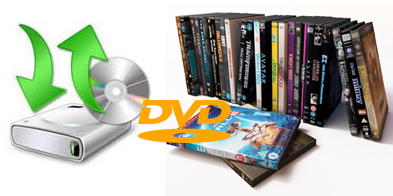 Do you rip or copy your DVD collection to a hard drive to keep them safe? As we all know, optical DVD disc is hard to preserve, collect and play flexibly, the obvious solution, at least for playing them back on your computer would be to copy the content of the DVD onto the hard drive and play back the copied content instead of the actual DVD. The problem with this approach is that even if you are able to copy the contents, the files are oddly named and require more disk space. Thanks to the increasingly storage growth of computer hard disc, optical disc is no more the only medium storage to contain DVD content. You can easily save 100+ complete D9 DVD movies on 1TB hard disk to enlarge your DVD collection without tediously large pile of DVD discs. If you can compress the DVD video properly, this number will be tremendously multiplied. If you're looking for an easy and fast way to save your DVD collection to your PC/Mac Hard Drive or even your eexternal hard drive, you've come to the right place. This page will describe three simple and reliable methods to losslessly rip and copy DVD movies to Hard Drive in both Mac and Windows (Windows 10 included). Read on for details.
Before we go any further, keep in mind that people have been ripping DVDs for the wrong reasons as well. So most DVDs are copy-protected, meaning that copying or ripping its content is rendered more difficult. While you can circumvent such restrictions, that is not the topic of discussion here. Let's quickly jump over to ripping and copying DVDs to Hard Drive.
To backup a copyright protected DVD quickly and efficiently, EaseFab DVD Ripper is highly recommended. The program is an easy-to-use yet professional DVD Ripping and copying tool. The program prefers to bypass the encryption immediately after it appears, stripping the protection before playback software recognizes the disc, and it can always catch up with the latestDVD copy protection variant. With this tool, you can backup DVD whole content or just copy the main movie from DVD with its provided copying features. Plus, it also enables users to fast rip video/audio from DVDs and convert them to MP4, MOV, AVI, WMV, FLV, MKV, VOB, MP3, OGG, WMA, etc. without any quality loss for playing and sharing anywhere you like. The equivalent Mac version is EaseFab DVD Ripper for Mac. Below is the detailed guides on how to backup and rip an entire DVD to your Hard Drive.
PS: The way to rip and copy DVD to Hard Drive on Windows and Mac OS X (macOS Mojave Included) is the same. Just make sure you've downloaded the right version.
Part 1: How to Save the whole content of DVD disc to Hard Drive
Step 1: Launch the DVD copying software. Click the DVD disc button to load your DVD movies. The DVD titles and chapters will be listed on the program within a few seconds.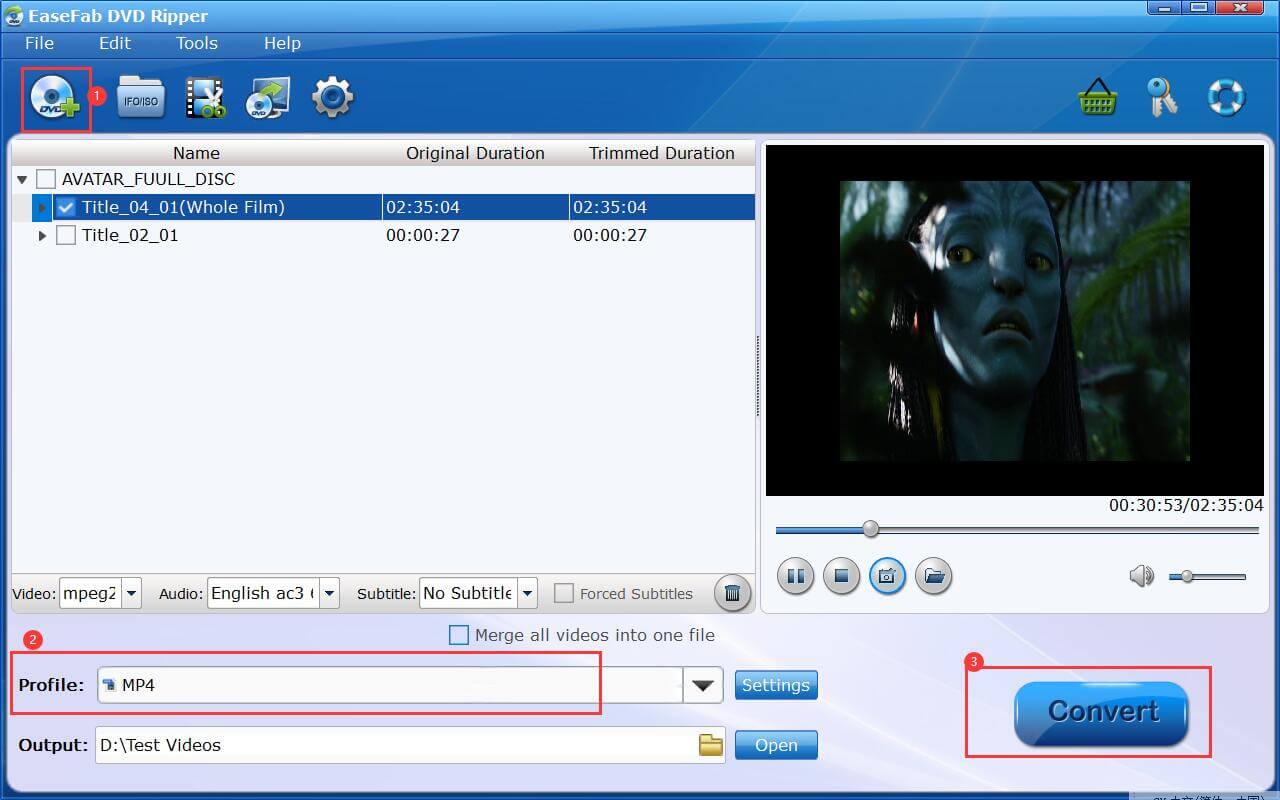 Step 2: Select an output folder. Specify a folder to store backed-up video files in the Browse field. (Note: if you are backing up a DVD disc, please make sure the storage place is around or above 10GB.)
Step 3: Choose and start to backup. Choose Full Disc Mode to start to backup Blu-ray. In fact, the Full Disc Mode feature maintains the entire structure of an originalDVD disc, so the .vob streams are contained.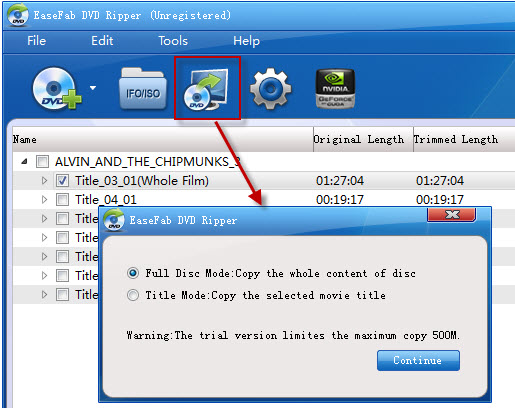 Part 2: How to Copy the selected movie title of the DVD disc to Hard Drive
Back to the step 3 of Part 1, here choose Title mode. By default, EaseFab DVD Ripper choose the longest title which is usually contains the main movie. And this helps ripping without converting unnecessary titles.
Tips: A title may consist of many chapters. Select Show Chapters from the Edit menu, and then the chapters appear under each title. You can select the chapters which you want to convert.
Either of the backup method can help you backup your DVD movies within one minute!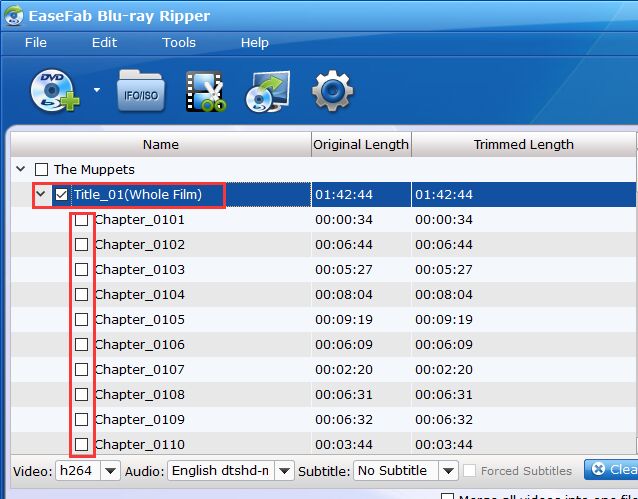 Part 3: How to Digitize DVD Collection for Backing up to Hard Drive
Back to the step 3 of Method 1, Click Profile (located below where your DVD's files are displayed) and select the format you want from the drop-down list. Just below Profile is Output, here you can browse your computer for a better destination folder for DVD Ripper to save your converted movies. As you see, all regular video and audio formats like MP4, MOV, MKV, WMV, AVI, FLV, MP3, WMA, WAV, M4A, etc. are provided.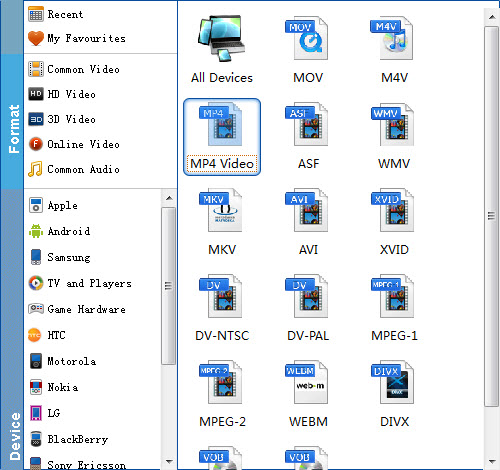 If you want to convert your DVD movies for play on portable devices, including iPhone, iPad, iPod, HTC, Samsung Galaxy Tab S, Galaxy S5, S4, Nokia, SSony, PSP, Xbox 360 and more, you can simply browse to find the icon of your device and select it as the output format to get videos with optimized settings. All Idevices output files can be synced to iTunes automatically.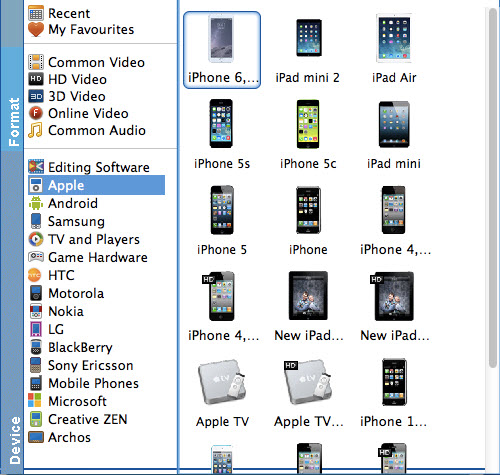 Once you've selected the output file format you want, you're ready to rip. Simply click the Convert button to let the software start ripping your DVD movies losslessly.