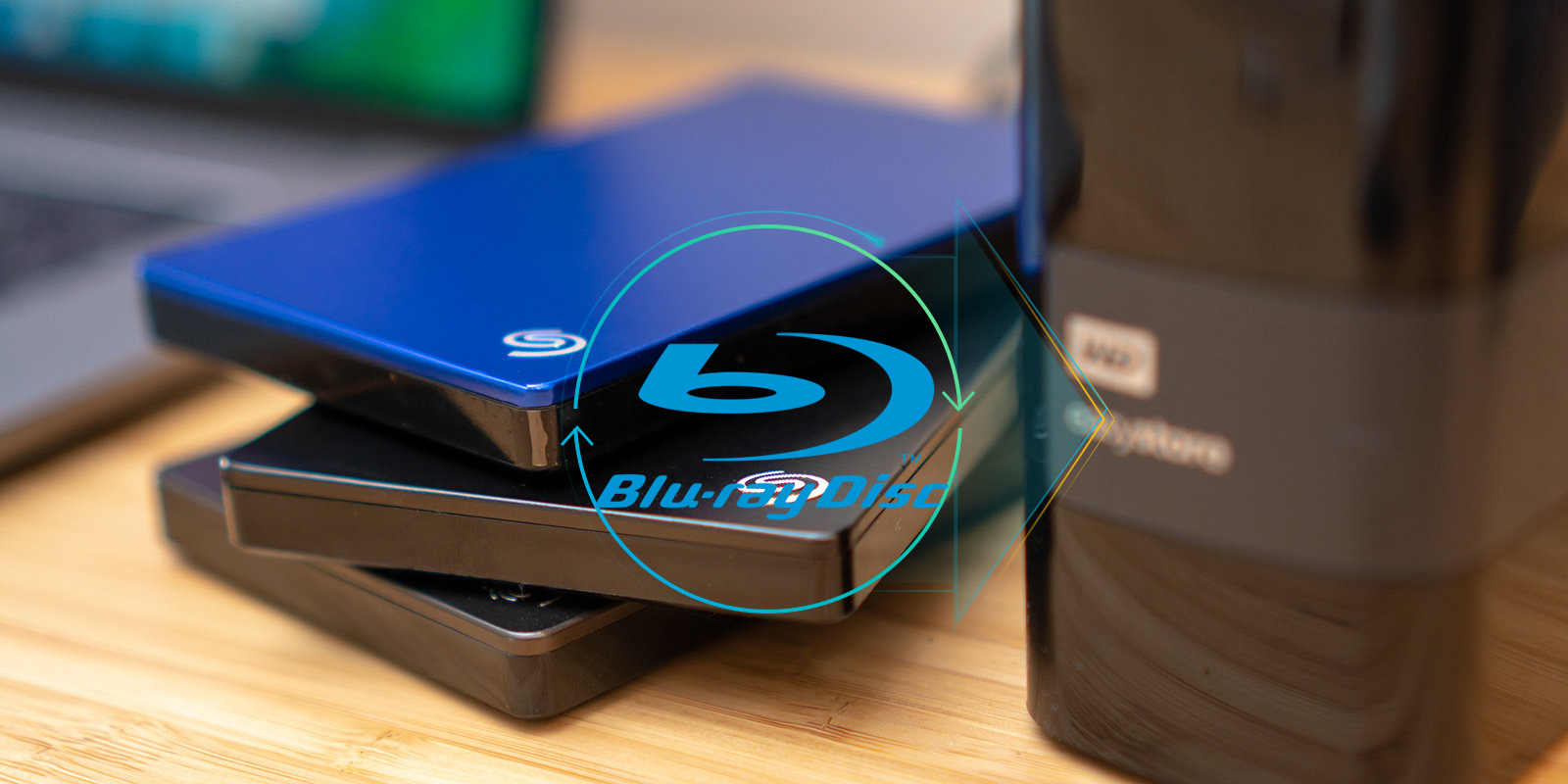 If you have an expansive collection of Blu-rays saved on your computer or on physical discs, a great way to make backups of your collection is to rip your Blu-ray library onto an external hard drive. And there are many benefits and reasons to rip and copy your Blu-ray collection onto an external hard drive. You can save your previous hard drive space on your computer if their movies are saved on your laptop or desktop; manage your movie in a more convenient way; prevent your Blu-ray discs from scratching. What's more, if you own an Apple TV, Xbox 360/One, or Windows Media Center, having your Blu-ray collection saved on an external hard drive is the easiest way to stream and watch your movies on your HDTV. If you have no idea on how to copy your Blu-ray to external hard drive, here's how you do it:
How to Store Your Blu-ray Library on an External Hard Drive
The first thing you need before you can start this process is an external hard drive. Sometimes a new computer may come with an external hard drive, but most often, you have to purchase this device separately. If you're unsure about which type of hard drive to buy, go into a computer or electronics store and consult with a tech-savvy employee.
Once you have your external hard drive, you will need a Blu-ray copy software. There are many programs out there that allow you to rip and copy your Blu-ray to an external hard drive. If you are seeking for ease of use, the best video output quality, fastest video conversion speed, and the most formats supported, EaseFab LosslessCopy (available for Windows and Mac users) will be your best choice.
The program allows you to copy and rip your Blu-ray to external hard drive in may different methods. You can copy Blu-ray whole content or just backup main movie from Blu-ray with its provided copying features. Also, you can do the backup by converting video clips from proprietary encrypted Blu-ray/DVD discs to into MKV files with multiple video/audio tracks with all meta-information and preserve chapters. Additionally you can rip BD/DVD to MP4 and MOV with multiple audio streams. What's more, you can convert BD/DVD from hard discs to virtually any popular video and audio format so that you can freely watch movies on with your favorite player or your favorite devices.
Key Features of EaseFab LosslessCopy:
· Backup BD/DVD to MKV without any quality loss.
· Transcode Blu-ray/DVD to lossless MKV, MP4, MOV files with all multiple audio and subtitle tracks and chapter markers from original BD/DVD.
· Remove unwanted subs streams and audio tracks at will.
· Preserve soundtracks and subs in multiple languages, e.g. English, Spanish, French, Deutsch...
· Support convert/rip/copy latest Blu-ray/DVD movies for Android/iOS/Windows devices.
· Support exporting forced subtitles and .srt/.ass/.ssa external subtitles.
Simple Steps to Rip and Copy Blu-ray to External Hard Drive
Step 1. Load Blu-ray disc
Insert the Blu-ray disc to the BD drive and the click the "Load Disc" button to have your Blu-ray movies uploaded to LosslessCopy. Here you can also import BD/DVD folders, ISO files and IFO files to convert.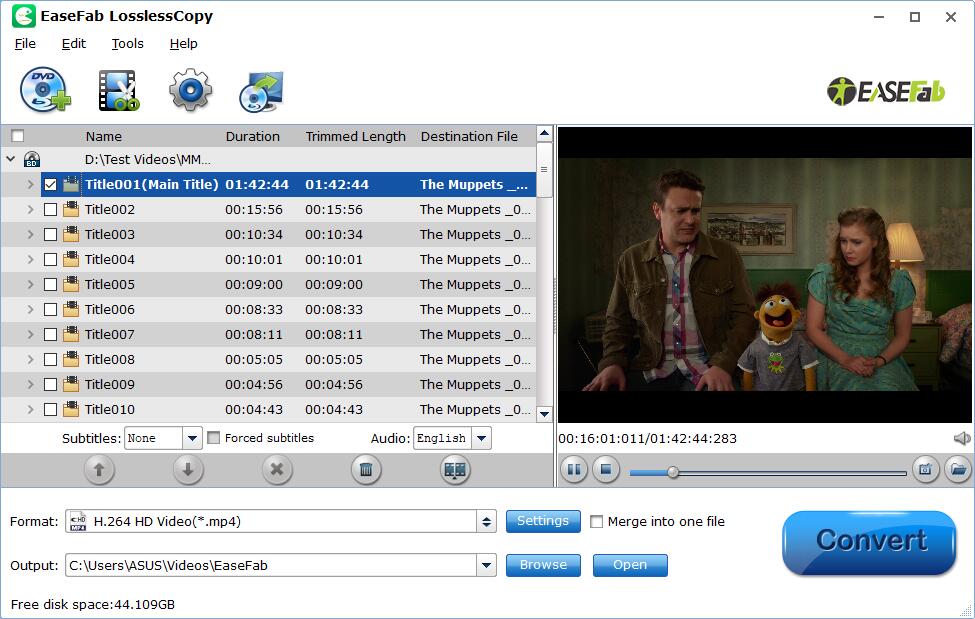 Step 2. Choose the output format
Click Format bar and select the format you want from the drop-down list. There are many output options for you to choose:
· Multi-Track Output: This is the unique feature of EaseFab LosslessCopy. There are four multi-track output formats available for you to choose from – Lossless/encoded Multi-track MKV, Multi-track MP4, Multi-track MOV and Multi-track Interlaced DV PAL Video (*.avi).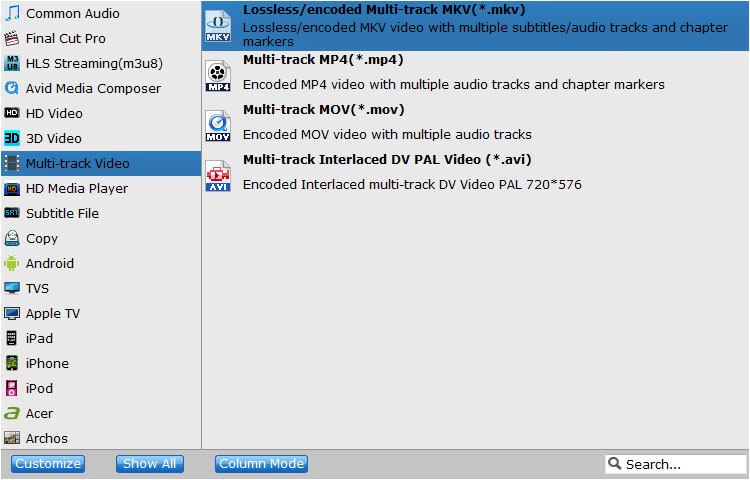 · Regular Video Format and Device Output: As you see, all regular video and audio formats like MP4, MOV, MKV, WMV, AVI, FLV, MP3, WMA, WAV, M4A, etc. are provided. If you want to convert your Blu-ray/DVD movies for play on portable devices, you can simply browse to find the icon of your device and select it as the output format to get videos with optimized settings.
· 1:1 Blu-ray Copy: Besides ripping, the EaseFab Blu-ray Ripper also offers enough freedom for all movie lovers like you to back up your favorite Blu-ray and DVD movies in a personalized way. You can backup the whole content of a Blu-ray or a DVD without losing anything or just copy main movie from your Blu-ray/DVD discs, leaving menus, commercials and system files out.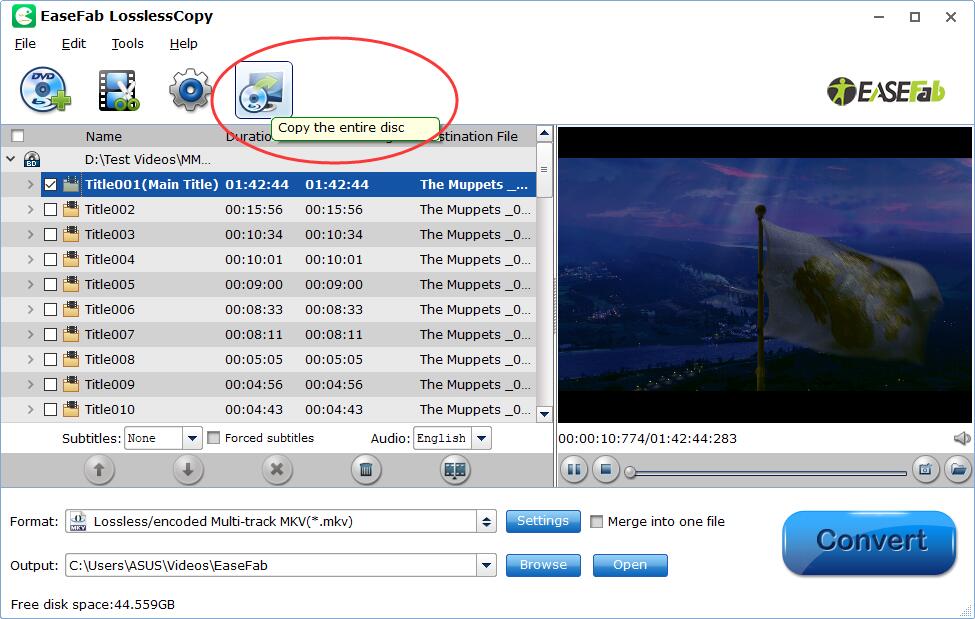 Step 3. Start the conversion or backup process
Once you've selected the output file format you want, you're ready to rip. Simply click the Convert button to let the software start ripping or copying your Blu-ray discs.
After the process, you can transfer the ripped Blu-ray movie to your external hard drive and then watch them anywhere you like.
Why Can't We Copy Blu-rays to External Hard Drive Directly?
Generally, instead of using "copy", we say rip Blu-rays to hard drive. Why? The entertainment industry has spent an untold amount of money creating and implementing copyright protection for its content. Because copy protection prevents casual copying to other media, such as a hard drive, NAS box, or USB stick; it makes it difficult to make legal back-up copies of the digital media we purchase (not rent); and it raises the price of disc players, streaming devices, and TVs. Copy protection has also been known to create interoperability issues. And that's why you'll get an error for trying to directly copy the encrypted Blu-ray contents to external hard drive. So you need a Blu-ray to hard drive ripper that can deal with copy protection schemes, such as LosslessCopy that is built in a powerful Blu-ray decrypter.
But isn't there a way to make digital copies of your BD movies at all or is it legal to backup and rip your Blu-ray discs for personal user? Absolutely not. We believe that the movie manufacturers have the right to keep their intellectual property, but we also believe that consumers have the right to enjoy or backup BD movies they purchase, especially when they just wanna keep Blu-ray discs from scratching, or manage their movies in a more convenient way.