WMV is a very popular video format developed by Microsoft. If you have lots of WMV files and a DVD Player, chances are you want to play WMV files on the DVD Player. When you try to do this, you'll find it's very difficult to do the job. Well, can DVD player play WMV files? Here is my answer. WMV is not supported by all DVD Players. Luckily, there are always solutions out there that allow you to achieve your goal smoothly. Here we offer two solutions for you.

Method 1. Converting WMV to DVD Player supported formats with three steps
DVD player may play various formats: DVD, CD, MPEG-2, Divx AVI. So you can convert WMV to DVD player compatible video formats for later playback via USB port. To finish the task, EaseFab Video Converter is highly recommended to you. With it, you can do batch conversion from WMV, MKV, MP4, MOV, FLV, etc. to a fully compatible format by DVD player with fast encoding speed and excellent output quality. If you're using a Mac, simply turn to its equivalent Mac version - EaseFab Video Converter for Mac.
How to convert WMV videos to DVD player friendly format?
Step 1: Drag and drop WMV files to the app. Or you can click "Add Video" button to locate the WMV files you want to add. The app supports batch conversion, so you can add more than one file at a time.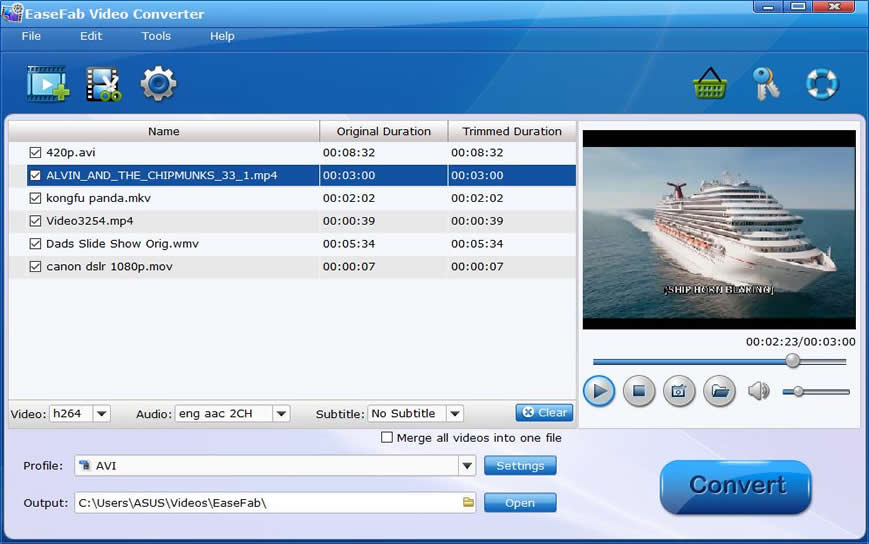 Step 2: From the drop-down list of "Profile" you can select "DIVX" from "Common Video" category as the output format. You can also choose "MPEG-2" as the output format. When you have selected the output format, you should select a destination folder for the output file by clicking "Output Folder", you can also let it be the default one.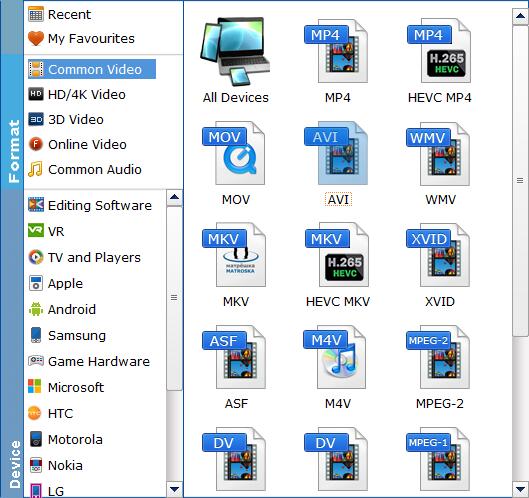 Tips: You can also click "Settings" to customize output video parameters such as video size, video bitrate, audio channels and so on depending on your needs.
Step 3: When all the work has been done, please click green arrow button to start converting your WMV files to MPEG-2 or DivX.
Once it is completed, you can click "Open output directory" to find your output DVD folder file. Afterwards, simply import converted WMV files to DVD player. At last, you can play WMV videos on DVD player at ease.
Method 2. Burning WMV to DVD Player with five steps.
WMV, or Windows Media Video, is a video file format that can be read by several media players, such as Bitberry Final Media, Apple's QuickTime Player and Windows Media Player, as well as video-editing systems. WMV video files can also be used to create DVD movie discs. Once a WMV file is burned to DVD, the file can be played on any standard DVD player that has the ability to read DVD-Rs.
1. Power on your computer and launch the CD/DVD burning software. You need to have the WMV video on a disk for the CD/DVD player to read it.
2. Decide on if you want to burn CD/DVD. This may all depend on the size of the WMV video file. If the WMV video is larger than 700 megabytes you need to go with a DVD (700 megabytes is as much as a CD can hold).
3. Select either video CD/DVD on the menu of the burning software. Click and drag the WMV video into the main viewing screen of the software, title the disk and click "Burn." The burning process will begin. Depending on the size of the video file, the burning process may take a few minutes.
4. Remove the CD/DVD from the computer once it has finished burning. Power the DVD player on and insert the disk into the drive. Turn on the TV and switch it to the video setting for the DVD player.
5.Wait for the WMV video to load up on the television screen. Press the "Play" button on the DVD player to begin the playback.
Editor's Note: If the WMV is not on either a video CD or DVD, even if you have successfully burn WMV to DVD without converting, you will still encounter issues in playing WMV on DVD player: Regular standalone DVD players can only read movie DVD's (those are in MPEG-2, and if you view them in Windows Explorer, you see a folder structure with VIDEO_TS, and files like .VOB .IFO and .BUP). Newer DVD players that are DivX-certified can (in addition to the above) read data DVD's with an AVI file encoded in the DivX codec. Most of the time, you will fail to play WMV on DVD player unless the DVD players have the "Nero Digital" label on them.