There comes a time in every iPhone user's life when he or she needs to factory reset their iPhone. Maybe you're selling your iPhone or taking it for repair you should reset it to delete your accounts - including your Apple ID, Facebook, ebay, email and other accounts - and remove all your content including apps, photos and music. The factory reset is a great solution that can be used to bring your iPhone back to a perfect activity. To do it, you should apply one of the top 3 ways and some tips and tricks to protect your data.
Note 1: If you're going to continue to use this iPhone, it's OK to try Solution 1 and Solution 2.
Note 2: If you're going to sell, donate or give your iPhone away, you're strongly recommended to use Solution 3, because only solution 3 will get all you data erased completely, without any chance to recover data from your iPhone, even the iPhone Data Recovery tool can't do it. It's very dangerous to leave personal data on your iPhone if you're going to sell or give it away.
Note 3: Before reset your iPhone to factory, you're supposed to backup your iPhone. Even if you use iCloud, it's sensible to make a full backup by connecting your iPhone to your computer, unlocking it, waiting for it to show up in iTunes, and then clicking on it in the left-hand pane. It should open the Summary screen, where you'll see a Backups section. Simply click the Back Up Now button. (Check the Encrypt iPhone backup box if you want all your passwords to be saved.) Later you can find an iPhone tool, like EaseFab iPhone Data Recovery, to extract files from the backup whenever you need your contacts, photos, or text messages back.
Solution 1. Directly Factory Reset iPhone on iPhone
Step 1. Make a backup of your data if you wish to retain your music, apps or pictures.
Step 2. After the backup, go to the Settings app and scroll down to the General menu and tap it. At the bottom you have the Reset menu. Tap it.
Step 3. The phone will present you a series of factory reset options. Choose the best option for you and tap it. The iPhone will factory reset the data you choose.
Step 4. The phone will warn you that you are erasing all data. You will be given a choice of Cancel or Erase iPhone.
It takes approximately one to two minutes before you have a brand new iPhone with no data what so ever.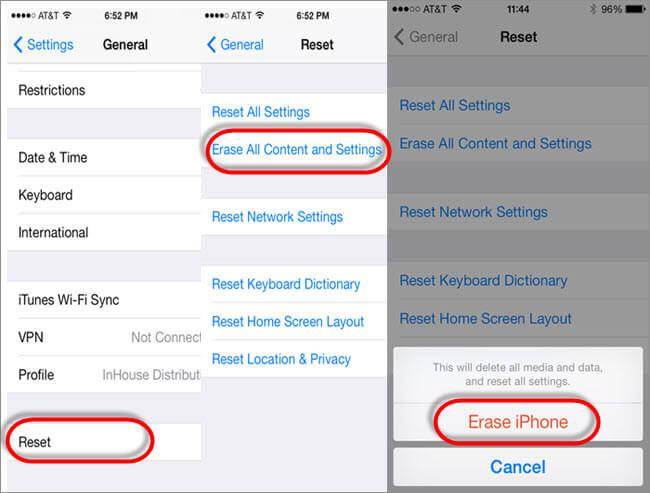 Solution 2. Reset iPhone to Factory Settings via iTunes
The other option is you use iTunes to restore your iPhone. The result is the same, all of your data will be erased and your phone will be like new. Before you can factory reset your iPhone, make sure you have the latest update of iTunes and you have your data backup.
Step 1. Connect your phone to the computer with the attached cable and wait a minute.
Step 2. Choose your iPhone when it appears on iTunes.
Step 3. Click the Restore iPhone button again and confirm the factory reset.
Step 4. Just wait till your iPhone is restored. This can take up to several minutes.
It takes approximately one to two minutes before you have a brand new iPhone with no data what so ever.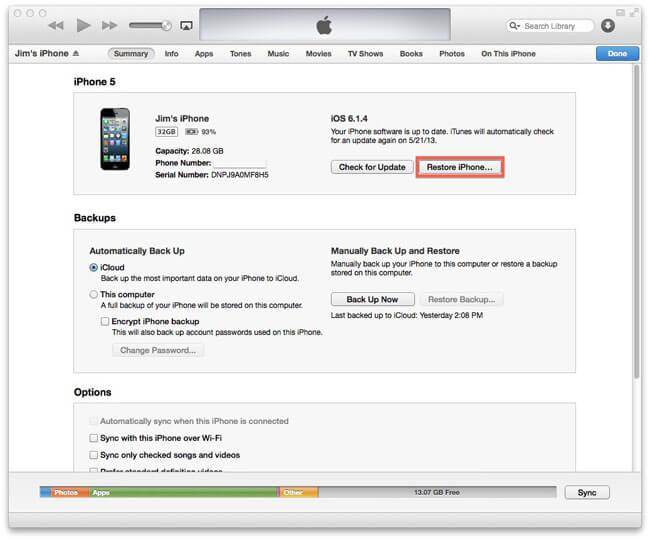 Solution 3. Reset iPhone to Factory with Find My iPhone on iCloud (if your iPhone is lost)
If you've lost your iPhone, you're able to use Find My iPhone in iCloud to reset your iPhone to factory, avoiding the person who get your iPhone to access to your personal data. But first, you should make sure that you had enabled Find My iPhone on your iPhone (Settings > iCloud > Find My iPhone).
Step 1. Open iCloud.com with a web browser on your computer. Log in with your Apple ID.
Step 2.Click Find My iPhone > in the new window, at the top, click All Devices. In the drop-down list, select your iPhone.
Step 3. After selecting your iPhone, you can see 3 options just below it: Play Sound, Lost Mode, or Eraser iPhone. Click Erase iPhone to set it to factory settings.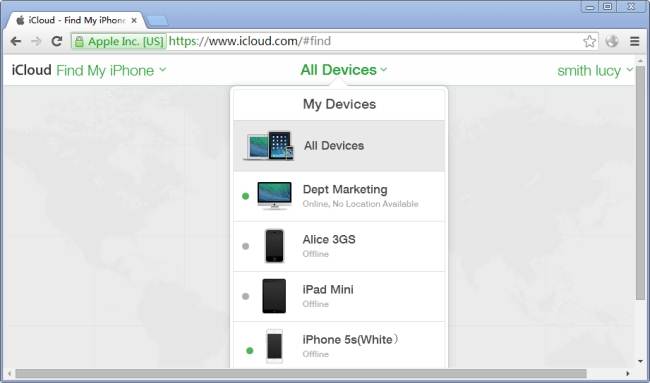 Editor's Note:
After resetting your iPhone, you may want to restore your iPhone. Yeah, you easily restore your iPhone from backup files, like restoring from previous backups in iTunes or iCloud. However, you can't restore part of data or extract any content from iTunes and iCloud backups. But EaseFab iPhone Data Recovery (available for Mac and Windows users) - a professional and easy-to-use iPhone Data recovery tool can help you do it. It enables you to preview and restore the backup file selectively.