Summary: This guide mainly shows you how to change DVD region code and remove DVD region codes, so that you can make DVDs region-free and play region-locked DVDs on any DVD player/HD TV/PC/laptop/Xbox/PS4/PS5 in any country without errors.
"As a Brit, I often want DVDs that I just can't find in the U.S. It's usually U.K. comedy shows, most of which don't take off over here for some reason. And DVD regions used to be a problem for me."
DVDs in different areas are encoded with different region codes to specify the area where the DVDs can be played. And that's why you can't play a DVD purchased from UK in the US or vice versa. What if you want to play region-locked DVDs without errors? Luckily, there are always solutions out there. In this article, we will show you how to bypass DVD region codes, and how to change DVD region codes on a DVD player and DVD drive.
How to Make DVDs Region-Free
Method 1. Bypass DVD Region Code by Converting DVD Regional DVDs to Region Free
If you want to play foreign region-coded DVDs on any player or any device without limits, the easiest and ultimate solution is to make DVDs region-free. To do this, you can adopt EaseFab DVD Ripper for help. With it, you can easily convert DVD regional DVDs to region free. In the respect of DVD region code, this software tool can deal with all types of DVDs, from new discs, 99-title, damaged, Japanese, regional, workout to non-standard DVDs. Below are the ways it works in removing DVD region codes:
◆ Convert DVD to region free: EaseFab DVD Ripper gets around country code blocks and makes any regional DVDs unlocked and convertible. It can decrypt regional-playback control (RPC) encryption, Region-code Enhanced (RCE) or any other region locks.
◆ Change region codes on DVD: Acting like a region code changer seemingly, it changes regions 1, 2, 3, 4, 5, 6 to region 0. To put it simple, the output file becomes region free and playback of the converted file is easier than ever without needing to consider region issue.
◆ Convert regional DVDs: not only a region code remover. EaseFab DVD Ripper can convert region encrypted DVDs to AVI, MP4, H.264, HEVC, MPEG, WMV, MOV, etc. After conversion, DVD owners are enabled to transfer the regional movies onto memory stick, hard drive, USB flash drive, MicroSD Memory Card and so on, or even play DVD videos on Android (Samsung, HTC, Google, Amazon, Xiaomi, Aquos, Fujitsu), iPad, iPhone, Apple TV, WP8, Surface Pro, PSP and more.
How to Bypass DVD Region Codes to Make DVD Region-Free with EaseFab DVD Ripper
To begin with, you need to download and install EaseFab DVD Ripper Windows or Mac version on your computer. The guide below takes the Windows version for an example. Mac version has the same process.
Step 1: Insert a region 1/2/3/4/5/6 DVD into your DVD-ROM, launch EaseFab DVD Ripper and click "DVD Disc" button. Alternatively, you can input an ISO image or DVD folder instead of a disc itself. After that, the main movie title will be checked automatically.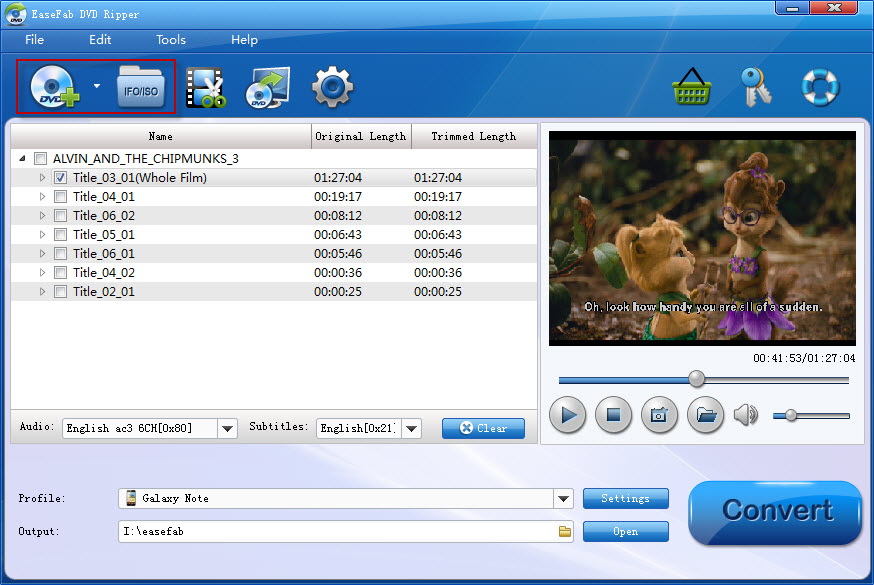 Step 2: Choose an output format according to your needs. It's a good way to convert regional DVDs to MP4 for playback on mobile devices, laptops, TVs, etc.
EaseFab DVD Ripper has 350+ built-in profiles, so you can convert the region code DVD to general mobile/tablet video, PC videos or Mac videos. You can also try main title content copy that is one of the fastest solutions to copy and save the region (2) DVD with selected audio/video tracks as a MPEG2 digital file without quality loss on image and sound.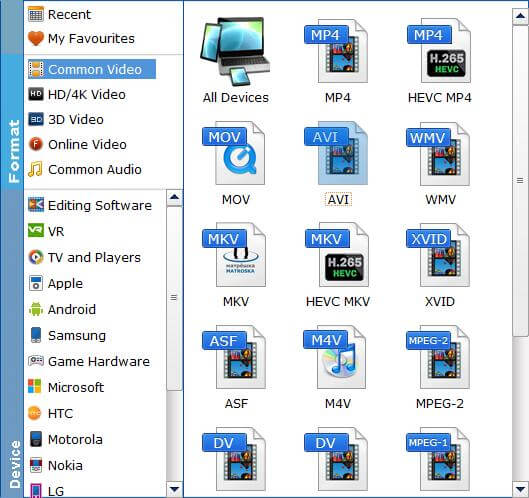 Step 3: Click "Folder" button in the Output bar, and select a destination folder to save your rip. Now you're ready to hit "Convert" button to begin ripping the region code DVD. After ripping is completed, the DVD video is totally region free.
The truth is that you can't bypass the DVD region codes from DVD players and other hardware. However, you're allowed to change the region code of the DVD player/drive to a matching code with the DVD. After that, you can easily watch a foreign movie DVD on DVD Players, Windows/Mac computers and game consoles. Below we will show you how to change the region codes on your standalone DVD Player, computer and PS4.
Important Notes on Changing DVD Region Codes Manually:
You can only change the DVD region code of a PC, Mac, DVD player, console, or other device 5 times. Once you reach the maximum change, the region code will be kept as the last code you set, even if you reinstall the operating system.
After 5 changes, you will need to replace the DVD/CDROM drive to get a new region code. However, you need to know that the replacement of the drive in your device is usually not covered under the warranty.
What if you have reached the 5 limits and don't want to replace the DVD drive to get a different region? You can convert the region code DVD to a video file with region code removal. There is no limit or extra cost. The detailed guide is below.
Method 2. How to Manually Change DVD Region Code on DVD Player
To change the region code on a standalone DVD player, try following these steps:
Step 1. Turn on your DVD player. Take your disc out of it.
Step 2. Then click the Start button and choose Control Panel. Find the System and Maintenance and choose Device Manager.
Step 3. Next, press 3 1 4 1 5 9 on the remote control. After that, you should see CODE or FF on your TV screen. Now, you should enter the desired region code. For example, if you want to change your DVD player's region code to 0, just enter 0 on your remote.
Step 4. Press PAUSE again on the remote.
Step 5. Once you finish changing the region code, turn off your DVD player.
Method 3. How to Change DVD Region Code in Windows 10/11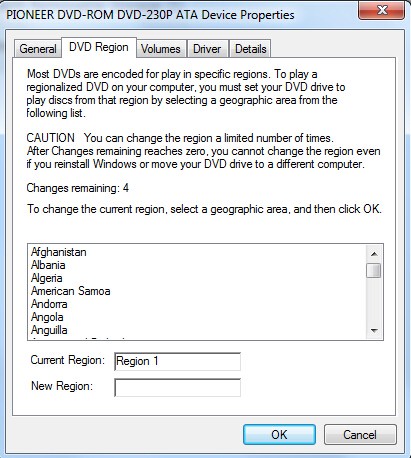 Step 1. Open File Explorer and find DVD drive.
Step 2. Right-click the DVD drive and move to Properties.
Step 3. Click Hardware tab and select the DVD drive. Hit Properties button in Device Properties panel.
Step 4. Click DVD Region tab and choose a geographic area. Click OK.
Method 4. How to change DVD drive region code on Mac
The region code of DVD drive on Mac will be automatically set as the DVD you play at the first time. Once you insert a DVD with a region code which doesn't match the current one of DVD drive, it will ask you whether you want to change the region code. Learn more about how to change DVD drive region in macOS (Ventura 13)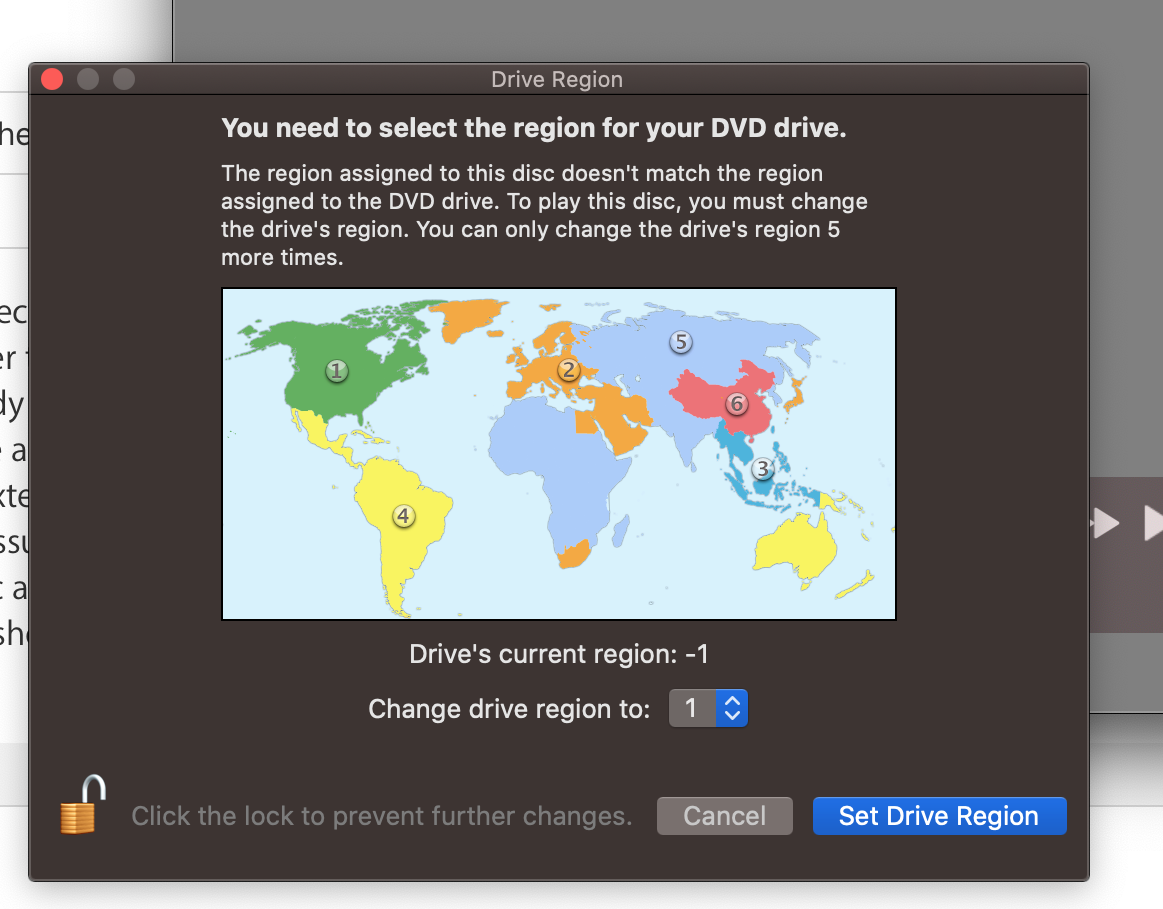 Step 1. Insert the DVD into the optical drive on your MacBook Pro. A dialog box will open, prompting you to select a region for your DVD drive.
Step 2. Consult the DVD package to verify which region code to use. For example, Japan, the Middle East, South Africa and Western Europe use Region 2, while China uses Region 6.
Step 3. Click the "Change Drive Region to" drop-down menu, and then click the region code.
Step 4. Click "Set Drive Region".
Step 5. Click on the "Lock" icon to save your settings.
Method 5. How to change DVD region code on the PS4/PS5/PSP
Insert a DVD into the PS4, PS5, or PSP. If the DVD's region code is different from that of your PS4/PS5/PSP, it will pop up a message saying, "To play this DVD, change the DVD region code of the PS4." Now, just click "Next" to come to the screen where you can convert the DVD region code.
How to Unlock DVD using Region DVD Hack Codes
You can also use DVD hacks to region unlock your DVD. To perform this hack, you need to access hack codes for your DVD player, depending on the DVD maker. Here's how to unlock the DVD region for Samsung DVD players.
1. Power on the DVD player and make sure the tray is closed without disc.
2. Press the Repeat button on the remote.
3. Enter one of the following codes depending on the region you are in:
● R1 – 29334
● R2 – 38767
● R3 – 56732
● R4 – 76884
● R5 – 53814
● R6 – 24462
4. If you are in Region 2, enter 38767, followed by the region code 1-6 for the DVD you have.
5. You can also press 9 if you want to make the DVD player region-free.
Brief Introduction About DVD Region Codes
What are DVD region codes?
DVD Region code is a digital rights management technique mainly for controlling DVD content or Blu-ray content, release date and price by the distributors. Almost all commercial DVDs that are sold have a "region code", which only allows the DVD to be played on DVD players that have this region code, and the only DVD players that typically do have this region code are those sold in that same region. In other words, users should know the exact region and country of the DVD. Otherwise, you will get the wrong region error message.
Here are the region codes in widespread use today:
◉ Region 1 (R1): U.S.A., U.S. Territories and Canada.
◉ Region 2 (R2): Europe, Japan, the Middle East, Egypt, South Africa, Greenland.
◉ Region 3 (R3): Taiwan, Korea, South Korea, Hong Kong SAR, Macau.
◉ Region 4 (R4): Mexico, South and Central America, Australia, New Zealand, Pacific Islands, Caribbean
◉ Region 5 (R5): Russia, Eastern Europe, India, Africa (excluding South Africa), North Korea, Mongolia
◉ Region 6 (R6): People's Republic of China, Hong Kong SAR
There are also region codes "7" and "8", which have special purposes. For a more detailed breakdown of where these region codes are used, see the Wikipedia article DVD region code.
Some DVD movies are not region coded and will play on any player, regardless of the region in which it was sold. These discs may be labeled Region 0 or All. Many discs created with home-video capture software are coded as Region 0 and should play in your DVD player.
DVD Region Code Map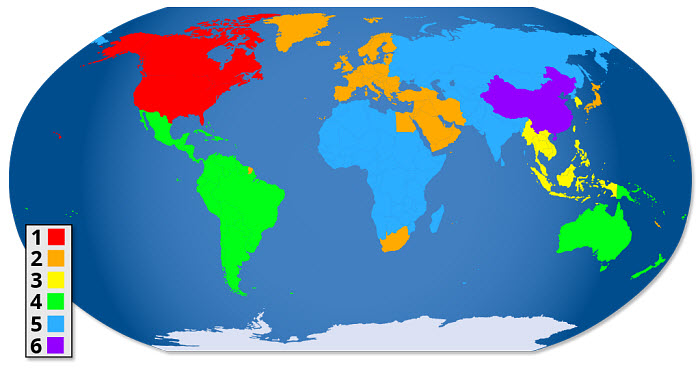 Why DVDs are coded with different regions?
The short answer is money. Typically, movies are distributed in different areas at different time. Normally, a movie will be released in the U.S. first, and months later in Australia and other countries. In other words, the DVD version may be released in the U.S. while the same movie is still being shown in theaters. Considering the price differences across different markets, if there are no DVD region codes, people may buy a cheaper version from other region, which will hurt the profit of the film producer. The DVD regions can guarantee the greatest possible return on the movie investment.
FAQs about DVD Region Codes
Q1: How to find the region code on a DVD or a player?
The region number of your disc or player can be determined by looking for a small, standardized globe icon with the region number superimposed on it. If a disc plays in more than one region, it will have more than one number on the globe. If a disc does not have any regional coding, it will say 0 or ALL for all regions.
Q2: Can I play region 2 DVD in USA?
No. Region 2 DVD can only be played in Europe and other countries which are in region 2, while USA is in region 1 and can only play a DVD designated region 2 or region 0. If you need to watch region 2 DVD in USA, you can change your DVD drive's region coding or convert DVD to digital files.
Q3: Why does my DVD player say wrong region?
DVD movies and DVD drives always own region codes which are based on the countries where they are sold. Generally, region codes aim at preventing incorrect playback on regions or areas. To play the region-locked DVD, you can try the methods introduced above.
Q4: Can I convert region 1 dvd to region 2?
Yes. DVD region code converter programs such as EaseFab DVD Ripper can remove region code 1, 2, 3, 4, 5, 6 from the digital copies. You can play region 1 DVD on region 2 freely. The region code protection method on physical discs is reserved.
Q5: What's Region Code Enhanced (RCE)?
Region Code enhanced (RCE) is one of the DVD protections that works as an extra measure to prevent Region-1 DVDs from playing on region-free or multi-region players. RCE is now mainly coded on Region 1 DVDs from Warner Bros and Columbia. It's a small program on the DVD that finds and checks if the region of the DVD player matches to the DVD.
● It will first read the region of the DVD player.
● Then play the DVD normally if the player is Region-1.
● Or refuse to play the DVD if the player has other regions (All, 6, 5, 4, 3, or 2).