When Sony Vegas Pro users attempt to import HD/4K HEVC videos captured by iPhone 8/X, DJI Phantom/Mavic drone, Canon XF 705 camera, or other devices, they may meet problems of one kind or another. HEVC (H.265) is the successor to the widely used H.264. HEVC is getting increasingly popular and becomes the preferred codec to encode 4K recordings. Magix claims that the handling of HEVC media has been improved in Vegas Pro 17. However, the fact is that even the latest Vegas Pro 17 still cannot be fully compatible with HEVC videos, let alone the older version of Vegas Pro 16, 15, 14 and 13. Below are 3 typical frequently asked questions quoted from the forums:
"Vegas Pro 17 Crashed with HEVC 10 bit clips -- I a'm a licensed user. (I buy Vegas 16 and now update the Vegas 17) When i try to import the HEVC, 4k LongGop, 10 bit, 420, 200 mbit (fuji xt3) video clips (70 clips, around 90 GB ) the Vegas 17 is crashed... always crashed. (in Vegas 16 I have the same problem). This problem in Vegas or some issue by Windows? What i should do? Help Please! I want comfort work with Fuji X-T3 (HEVC 10 bit) footages. Thanks a LOT!"
"Hi all I can't seem to use my gopro H265 footage in Vegas Pro 13 IT'S IN 4K. Any help appreciated. Tried converting with vlc but didn't work."
"Whenever I try to import 4K iPhone .MOV (HEVC) files into the timeline in Vegas Pro 13, only the audio shows up. I have searched and searched, and can't find any really solid information about this. Vegas Pro 13 doesn't have any problems at all with 4K footage from my Sony FDR AX100, so I know it can handle 4K footage. But this iPhone footage has me baffled."
Whey we cannot use 4K HEVC footage in Sony Vegas Pro?
As you see, though you upgraded from the old version of Vegas Pro to the latest Vegas Pro 17, you will still stuck by the incompatibility issues. One reason is that the H.265 compression format is a final deivery codec, it's not an ideal one you want to use for editing. Another reason may be because your HEVC files use variable framerate (VFR). Currently, most NLE doesn't like VFR and Sony Vegas is no exceptation. For the second reason, you can try to convert your videos from variable framerate to constant framerate using a converter. This probably solves your problem.
The Easiest Solution to Import HEVC videos to Sony Vegas Pro - Convert HEVC to MPEG-2
As mentioned above, the handling of HEVC media has been improved in Vegas Pro 17. Nevertheless, importing HEVC files into Sony Vegas Pro is still a headache problem. Let's not to say some 10-bit HEVC videos shot in DLOG-M. Then, transcoding HEVC files becomes a highly recommended method, especially if your files are in 4K HEVC and you don't have a high-end computer.
HEVC is a non-performant format that is difficult to edit with and requires much computing power to process. So, it isn't a bad idea to convert HEVC to MPEG-2, a codec which works smoothly in Vegas. To do this, you can turn to EaseFab Video Converter for help. This program features high efficiency and seamless conversion. By runnig it, there is no need to set the codec yourself, the program has specially designed optimized presets like MPEG-2, WMV, MOV, etc. for Sony Vegas. Apart from changing file format, the ideal H.264 encoder and decoder can also convert your VFR videos to constant frame rate. This converter works fast while keeping high quality.
Free download and install EaseFab Video Converter and you'll be able to convert HEVC to Sony Vegas Pro accepted format with constant framerate in 3 simple steps.
• Accept HEVC videos from GoPro, DJI, iPhone, Canon camera, etc.
• Output media in file formats natively supported by Sony Vegas Pro, Adobe Premiere Pro, Final Cut Pro, etc.
• Convert video in 3 simple steps. Level-3 hardware acceleration makes it super fast.
• Easy editing experience: cut, crop, merge, apply effects, rotate..
3 Simple Steps to Convert HEVC to MPEG-2 for Sony Vegas Pro
Step 1. Open EaseFab Video Converter, and then click Add Video button and then drag and drop target HEVC files into the screen.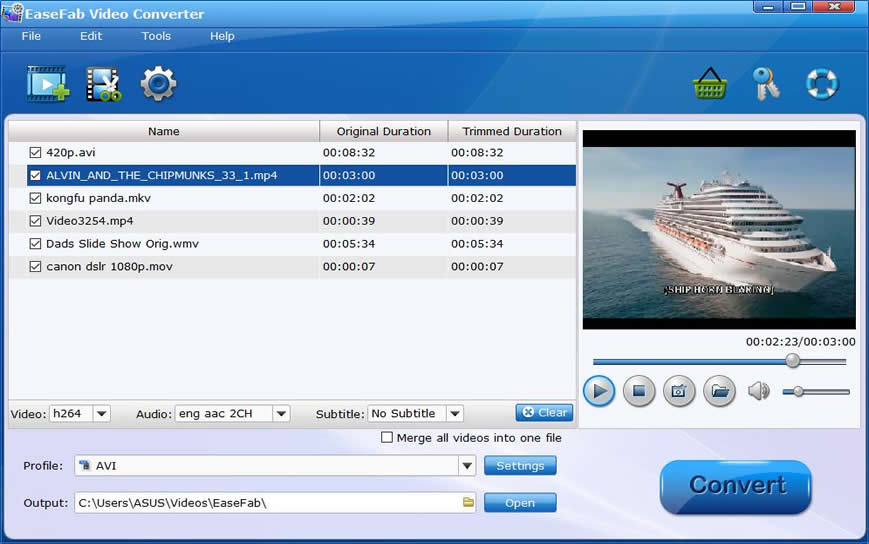 Step 2. Select "Editing Software" - "Vegas/Premiere (MPEG-2)" from the format drop-down menu. The output video seamlessly fits Sony Vegas Pro 13/12/11/10, etc. and the original quality of HEVC video will be kept. Besides, you can also choose "Vegas/Premiere (WMV)" if you want to get a relatively smaller output file.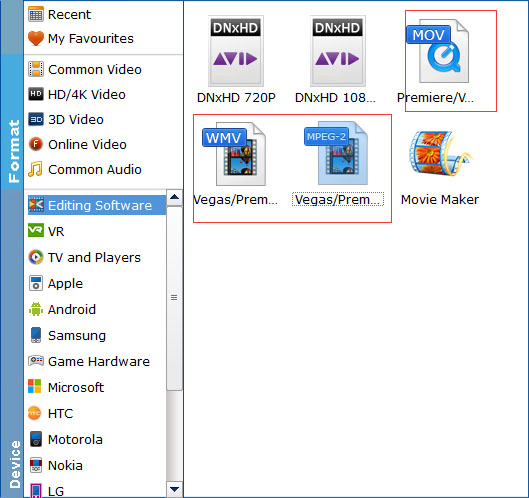 Step 3. Hit Convert button in the lower right corner and the conversion will begin in no time. Once done, you can easily import the converted MPEG-2 files into Sony Vegas Pro 17/16/15/14/13 without any trouble.
Final Words:
HEVC is still not as popular as H.264, so it is inevitable to experience some errors on Sony Vegas Pro because of incompatibility. This situation will be gradually improved. Currently, the most effective workaround is to transcode HEVC to another supported format with EaseFab Video Converter or something else. EaseFab is worth a try. It is a piece of multifunctional video processing software integrated with video converting, video editing and much more. Try it on your PC or Mac right now!