Summary: Wonder how to convert MXF to MP4 free on Windows 10/11 and Mac? Look no further. In this post, we will introduce 5 best MXF to MP4 converters (freeware and online tools included) for your choice.
MXF, stands for "Material eXchange Format", is a container format for professional digital video and audio media defined by a set of SMPTE standards. MXF file can contain several different compression formats in a single file. This unique feature makes it a standard of all digital video formats. Since MXF is accepted by limited devices and programs, people often need to convert MXF to MP4 - the most widely used digital multimedia container format recognized by nearly all devices, players, and editors.
There're many MXF to MP4 converters on the market. Here we single out 5 popular free and online video transcoders and illustrate how to transcode MXF file to MP4 on Windows 10/7/11 and Mac within clicks.

Top 5 Ways to Convert MXF to MP4 Free on Windows/Mac & Online
Top 5 Ways to Convert MXF to MP4 Free on Windows/Mac & Online
#1. EaseFab Video Converter
A full-feature solution for batch MXF to MP4 conversion.
EaseFab Video Converter should be at the top of your priority list as it can convert MXF to MP4 with or without re-encoding. Actually, it supports to transcode any videos to 500+ preset profiles, including MP4, MOV, FLV, HEVC, H.264, iPhone iPad, Android, HDTV, Xbox, PS5 and more. And it can also convert MXF to ProRes, DNxHD or other high-quality codecs to make your editing process simpler and less resource-intensive.
Besides converting MXF to MP4, you can compress MXF videos smaller up to 80% file size reduction without losing quality visually. Also, it makes full use of CPU and GPU, boosting video conversion speed to 30x real-time faster on computers configured with both Intel processor and CUDA/NVENC-enabled NVIDIA GPU.
How to convert MXF to MP4 quickly within 3 steps using EaseFab Video Converter
After downloading and installing the mxf to mp4 converter for Windows or Mac, you only need 3 simple steps for batch MXF to MP4 conversion.
Step 1. Load source MXF files.
Open the program and load the source MKV file: Click "Add Video" button, and then browse and open target items. If you need to transcode multiple MXF files, simply choose all of them for batch video conversion. It will save you much time and energy.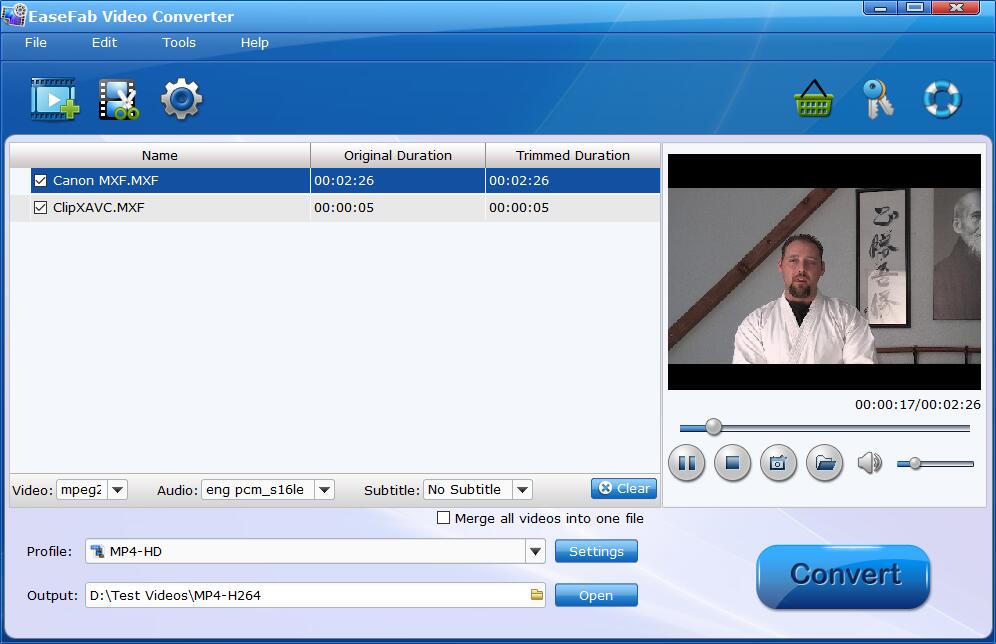 Step 2. Select MP4 as output.
Click Profile bar and move mouse cursor to the Common Video category and select MP4 (codec: H.264+aac) as the output file.
If you want to convert MXF files to MP4 for iPhone, Android device, YouTube, web services, you can also find a profile from the corresponding category.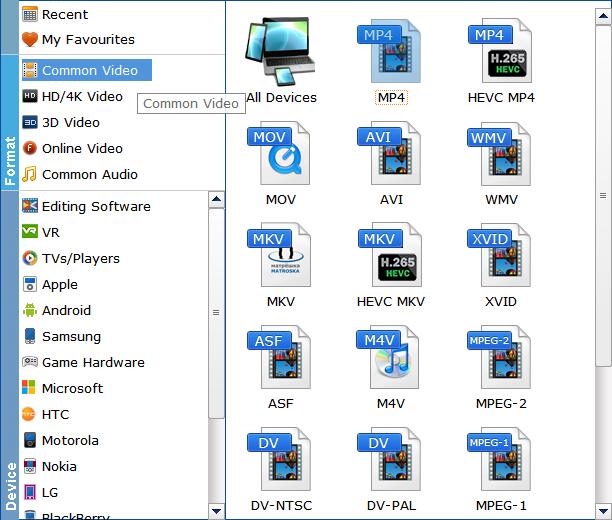 Tips: You can click the Settings button button beside the profile and enter into the parameter settings page. A slew of other variables such the video/audio codecs, pixel dimensions, frame rate, bit rate, audio sampel rate, etc. will help reduce MXF file size.
Step 3. Begin converting MXF to MP4.
When you have finished everything, simply click "Convert" button to perform MXF to MP4 conversion in no time.
#2. VLC Media Player
Best for MXF conversion and playing for Windows & macOS users.
You may be familar with VLC as a free and popular multimedia player that supports video playback of many formats. Can VLC convert MXF to MP4? Certainly yes. VLC can also be used as a video converter to changing video format, including MXF to MP4. Though it may be not as powerful as professional video converters, it fully meets the common video format conversion needs on Windows and Mac if you don't want to install any extra software on your computer.
Though the MXF to MP4 conversion with VLC isn't speedy and VLC can't merge video clips, VLC is still a great option for converting MXF to MP4 on cross-platforms.
Step-by-step guide to convert MXF files to MP4 via VLC
Step 1. Open VLC, click "Media" tab, and choose "Convert/Save".
Step 2. Then a new panel will pop up. Click "Add" button to select the source MXF video files for further conversion to MP4.
Step 3. Click the dropdown arrow beside "Convert/Save", and choose "Convert".
Step 4. Then, you will be directed to Convert window. Under Profile, choose "Video-H.264+MP3 (MP4)". Click "Browse" to select a destination folder and the name for the MP4 output.
Step 5. When all settings are done, hit "Start" button to begin converting MXF to MP4. Theoretically, it should work, but some people also report that nothing happens after clicking "Start". If you can't fix it, try other methods.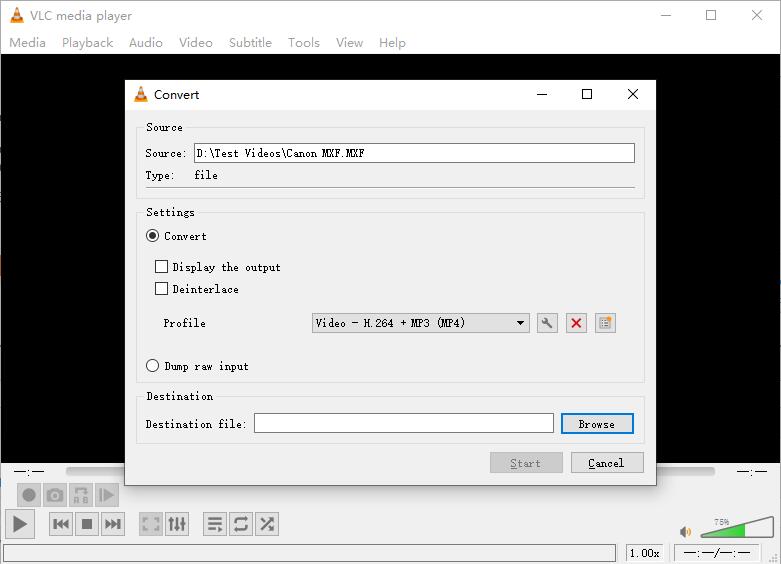 #3. HandBrake
An open-source video converter for transcoding MXF to MP4.
Handbrake is another option that allows you to convert videos from MXF to MP4, embedded in H.264, HEVC, MPEG-2, MPEG-4, Theora, VP8 and VP9. Also, HandBrake empowers users to use third-party libraries such as x265, FFmpeg, and libvpx to convert videos. If you want to adjust video parameters like resolution, frame rate, bit rate, aspect ratio or simply edit videos, HandBrake can do it all. However, it's criticized for making files bigger after MXF to MP4 conversion, getting subtitle messed, and running really slow even on a new fast core CPU with large RAM. Anyway, as a free and open-source video converter, HandBrake is still a nice option for MXF to MP4 conversion.
How to transcode MXF footages to MP4 with HandBrake?
Step 1. Install and run Handbrake, then click "Folder" or "File" button to load MXF files.
Step 2. Navigate to Output Settings, and choose "MP4" as the output container.
Step 3. Click "Browse" to choose a destination for where you would like the MP4 resulting file to be saved.
Step 4. If you have nothing to modify, click "Start Encode" to begin changing MXF to MP4.
Although this mxf to mp4 converter is free and clean, it is very difficult to use for beginners and always comes across errors, such as, handbrake freezes while encoding, source file not supported, video audio out of sync. In such cases, you'd better adopt a professional video encoding tool for help.
#4. FFmpeg
Best fit for those who knows something about commands.
FFmpeg is a free and open-source software project that based on command lines. It offers a complete, cross-platform solution to record, convert and stream audio and video, including MXF to MP4. But for novices, FFmpeg can be hard to use. Kowning the basic command lines could help a lot. To convert MXF to MP4, the basic command line is "ffmpeg -i input.mkv output.mp4". Here is the detailed explation of this command line:
● ffmpeg: a necessary part to tell the OS who is using the command line.
● -i: the abbreviation of input, means the following file is the original file to be converted.
● input.mkv: the file that is to be converted. You can input two files at once through "ffmpeg -i input1.mxf input2.mxf".
● output.mp4: The output file is in MP4 container.
[With command lines] MXF to MP4 FFmpeg tutorial
Step 1. Download FFmpeg from its official site - https://ffmpeg.org/download.html. Then configure FFmpeg on your computer.
Step 2. Press Win + R and input cmd to enter the DOS window.
Step 3. Input cd test video. Now I'm in the location where store the MXF video.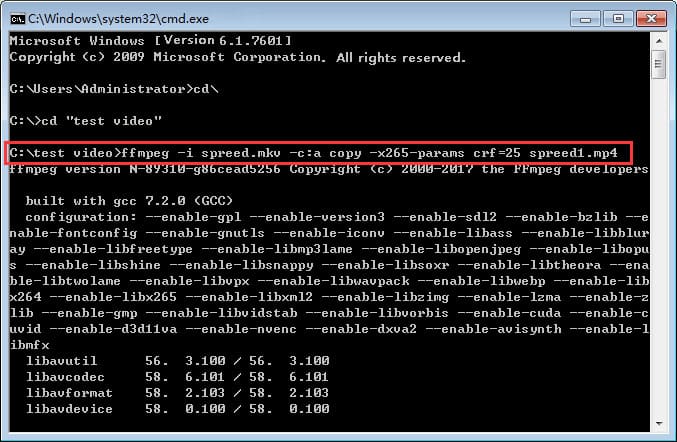 Step 4. Input FFmpeg command line: ffmpeg -i spreed.mxf -c:a copy -x265 -params crf=25 spreed1.mp4
● -c:a copy means keeping all the copies of audio streams.
● x265 params: Passing options are passed to x265 with the -x265-params argument.
● crf=25 refers to encode video in a not bad quality. (CRF, the abbreviation of Constant Rare Factor. The CRF scale is 0-51, where 0 is lossless, 23 is the default, and 51 is worst quality possible.)
Step 5. Press Enter on the keyboard. Then, you'll get the desired .mp4 file.
Of course, there are many other FFmpeg codecs, for example, to map ALL streams, namely remuxing mxf to MP4, you need type in the command line: ffmpeg -i spreed.mxf -map 0 spreed1.mp4. Know more about FFmpeg codecs >>
#5. Online Converter
For those who don't want to install any extra software or plugins on the computer.
Online video converter is another popular choice for MXF to MP4 conversion. In this way, you don't have to download any other programs or plugins. You can rely on your browser entirely to convert MXF to MP4 on any operating systems. But it's worthy noting that online video converter usually has strict file size limit for the free account. Anyway, it's still a nice choice to convert the not too big MXF video files to MP4 format. Here we have listed the top 3 online MXF to MP4 convertersthat users use most.
● CloudConvert
● FreeConvert
● Converter App
The steps on converting MXF to MP4 with these online converters is almost the same. Here we take CloudConvert as an example to show you how to get the job done.
Note: CloudConvert is quite easy and convenient, but not that user-friendly for large MXF files conversion. CloudConvert cannot convert the video more than 1GB for free accounts. You need to buy a package to convert larger files. And this disadvantage is also almost same as other online MXF to MP4 converters.
Anyway, let's check how to convert MXF to MP4 online with CloudConvert.
Step 1. Navigate to CloudConvert MXF to MP4 official site.
Step 2. Click Select File to import your MXF to CloudConvert. It allows you to load videos from computer, by URL, from Dropbox, Google Drive and OneDrive.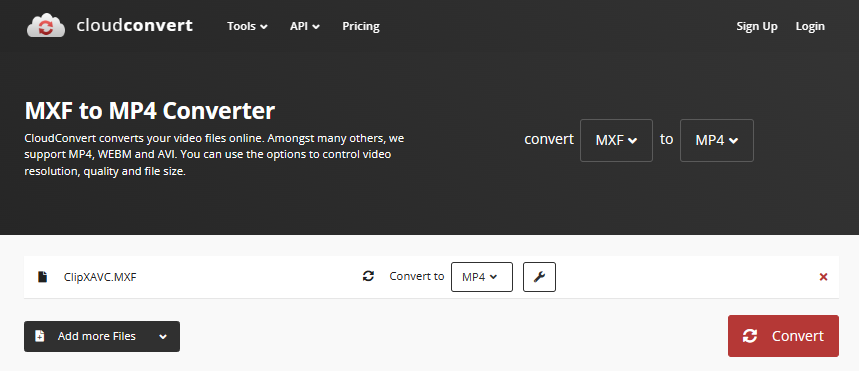 Step 3. Click Settings option to customize video parameters if necessary. You're able to adjust video resolution, frame rate, bitrate, codec, audio, subtitle as you need.
Step 4. Click Convert button to start converting and wait.