MXF, stands for "Material eXchange Format", is a container format for professional digital video and audio media defined by a set of SMPTE standards. MXF file can contain several different compression formats in a single file. This unique feature makes it a standard of all digital video formats. Since MXF is accepted by limited devices and programs, people often need to convert MXF to MP4 - the most widely used digital multimedia container format recognized by nearly all devices, players, and editors.
There're many MXF to MP4 converters in the market. Here we single out 4 powerful video transcoders (some are free) and illustrate how to transcode MXF file to MP4 on Windows (11/10) and Mac within clicks.

Method 1. Convert MXF to MP4 with EaseFab Video Converter
EaseFab Video Converter is the best MXF to MP4 converter for Windows 11, 10, 8.1, 8, 7, etc. And it has a Mac version compatible with macOS Monterey and lower. Its features include but are not limited to:
● Convert MXF to MP4 as well as other formats such as MKV, HEVC, AVI, WMV, MOV, M4V, MPG, FLV, etc.
● Transcode MXF video to MP4 for iPhone, iPad, Android, Windows Phone, and other devices with optimized presets.
● Decode MXF to high-quality codecs ProRes, DNxHD, etc. to make your editing process simpler and less resource-intensive.
● Finish conversion at ultra-fast speed using hardware acceleration.
● Edit videos by trimming, merging, cropping, adding subtitle, etc.
How to decode MXF video file to MP4 with EaseFab Video Converter
Step 1. Load source MXF files.
You can simply drag and drop source MXF videos into the main screen of the video converter or click "Add Video" button at the top left corner to browse and select target files.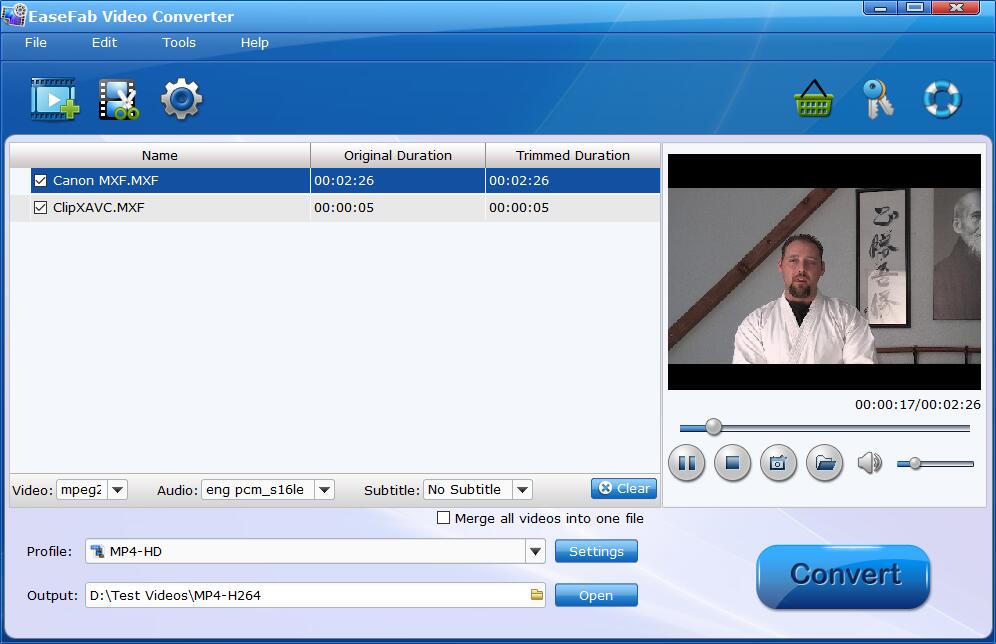 Step 2. Select MP4 as output.
Click Profile bar and move mouse cursor to the Common Video category and select MP4 (codec: H.264+aac) as the output file.
If you want to convert MXF files to MP4 for iPhone, Android device, YouTube, web services, you can also find a profile from the corresponding category.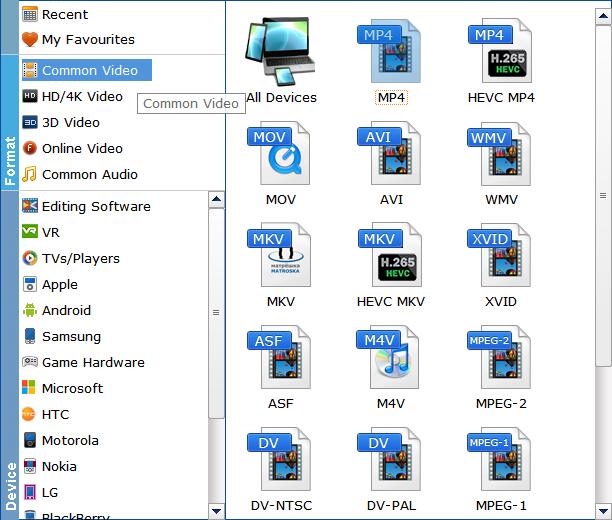 Tips: You can click the Settings button button beside the profile and enter into the parameter settings page. A slew of other variables such the video/audio codecs, pixel dimensions, frame rate, bit rate, audio sampel rate, etc. will help reduce MXF file size.
Step 3. Begin converting MXF to MP4.
When you have finished everything, simply click "Convert" button to perform MXF to MP4 conversion in no time.
Method 2. Convert MXF to MP4 for Free with HandBrake
Handbrake is an open source video transcoder available for Windows, Mac, and Linux. It allows you to change video in MXF and other formats to MP4 and MKV.
How to transcode MXF footages to MP4 with HandBrake?
Step 1. Install and run Handbrake, then click "Folder" or "File" button to load MXF files.
Step 2. Navigate to Output Settings, and choose "MP4" as the output container.
Step 3. Click "Browse" to choose a destination for where you would like the MP4 resulting file to be saved.
Step 4. If you have nothing to modify, click "Start Encode" to begin changing MXF to MP4.
Although this video converter is free and clean, it is very difficult to use for beginners and always comes across errors, such as, handbrake freezes while encoding, source file not supported, video audio out of sync.
Method 3. Free Convert MXF to MP4 with VLC
VLC is known as a free media player, but it also comes with many hiding features, one of which is file format conversion. Now, let's show you how to convert MXF to MP4 with VLC media player.
How to Transcode MXF file to MP4 with VLC?
Step 1. Open VLC, click "Media" tab, and choose "Convert/Save".
Step 2. Then a new panel will pop up. Click "Add" button to select the source MXF video files for further conversion to MP4.
Step 3. Click the dropdown arrow beside "Convert/Save", and choose "Convert".
Step 4. Then, you will be directed to Convert window. Under Profile, choose "Video-H.264+MP3 (MP4)". Click "Browse" to select a destination folder and the name for the MP4 output.
Step 5. When all settings are done, hit "Start" button to begin converting MXF to MP4. Theoretically, it should work, but some people also report that nothing happens after clicking "Start". If you can't fix it, try other methods.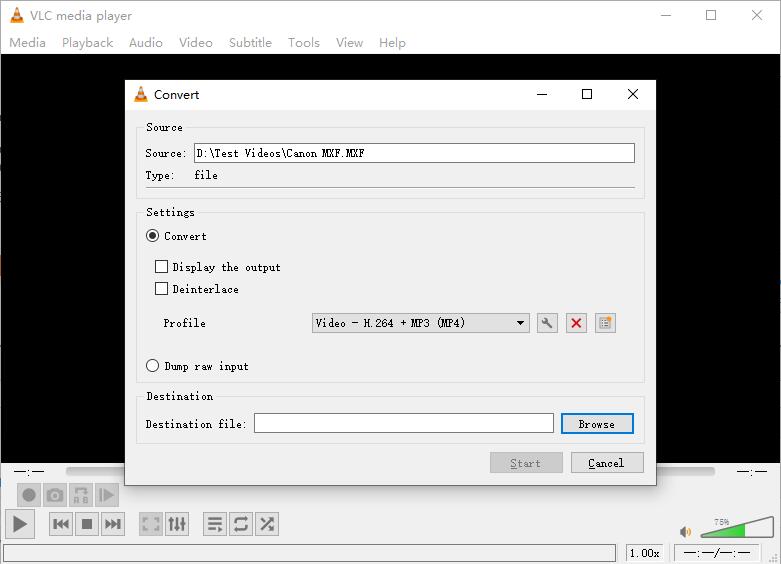 Method 4. Convert MXF to MP4 with FFmpeg
FFmpeg is a very powerful command line tool that can transcode video and audio files. You can use it to convert MXF to MP4 on Windows, Mac and also Linux machines. Now, let's show you how to carry out this work on Windows.
How to Decode Video from MXF to MP4 using FFmpeg?
Step 1. Download FFmpeg zip file. Then, create a folder named FFmpegTool in C drive. Unzip the file you just downloaded and move all files into FFmpegTool folder.
Step 2. Go to "Run" on your PC, and then enter cmd. Then, you will see a command line window. Next, enter cd\. Now type cd FFmpegTool, which command will permit you to enter into the FFmpegTool folder.
Step 3. Enter cd bin to access the content in the bin folder, and then enter ffmpeg.exe.
Step 4. Enter the command below to convert MXF to MP4 using FFmpeg. ffmpeg -i yourvideoname.ts -c:v libx264 outputfilename.mp4
This method is quite different from abovementioned ways and difficult for newbies. For more details about downloading FFmpeg and using FFmpeg to convert videos, edit videos or do other tasks, please refer to http://www.hongkiat.com/blog/ffmpeg-guide/.