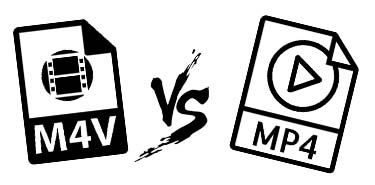 Apple has become a major influence in the software industry mainly because of the popularity of their products. ne area where they've exerted their influence is the file format. If you're using an Apple device, you're likely very familiar with files that have the M4V and MP4 extensions. Many of us don't really have to worry about the differences between these two extensions because the M4V and MP4 are very similar and run equally well on standard media players. However, there are situations out there it's important to know the difference between MP4 and M4V. And this article will illustrate you the similarities and differences between M4V and MP4 help you better understand the two formats.
Definitions of MP4 and M4V
MP4 (MPEG-4)
MP4 is currently the most widely supported video format playable by many portable audio players, Internet-connected TVs, and software based media players. MP4 is a video format based on Apple's QuickTime video format and is essentially identical to the Apple QuickTime MOV format, with additional features. MP4 video format most commonly contains AAC encoded audio and H.264 encoded video.
File extensions: .mp4
M4V (Apple's iTunes implementation of MP4)
M4V is a non-standard file extension of the MP4 (MPEG-4) format popularized by Apple's iPhone, iPad, iPod and the iTunes Store. M4V is essentially identical to the MP4 except it has additional capabilities added by Apple. Since the file extension of .M4V was popularized by iTunes, the media opens in the iTunes application rather than by the default media player. The M4V format also allows for the inclusion of Apple's FairPlay Digital Rights Management (DRM).
File extensions: .M4V
Similarities Between MP4 and M4V
In essence, M4V is a division of MP4 multimedia file format. Therefore, it is almost identical to MP4. The most obvious similarity lies in that they both support multiple sorts of content to coexist in a single file, irrespective of the common video and audio stream, or track information, subtitles, menus and 3D content.
What's more, they are famous for their high quality and suitable size as they adopts MPEG-4 codec to guarantee the highest quality possible and meanwhile keep balance between the quality and size. Though M4V and MP4 may be inferior to FLV or WMV file format when it comes to the file size, it's safe to say that they have no problem in sleeping in your iPhone iPad portable devices.
Differences Between M4V and MP4
| | | | | |
| --- | --- | --- | --- | --- |
| Container format | Restrictions | Purpose | Players, devices supported | The Way to become popular |
| M4V | Apple places the FairPlay DRM copyright protection on most iTunes M4V files | FairPlay DRM is to prevent Apple devices from transferring files to the users who didn't pay for the content and encourage the user to purchase the files on iTunes store. | iTunes, Apple iPhone, iPad, iPod, Apple TV, etc. from Apple family. | Thanks to the Apple iPhone iPad iPod device in vogue. |
| MP4 | No copy protection | Ubiquitous format for any media player and device. | Almost all the media players and devices | Due to its splitting loading speed, optimum quality and compatibility |
Note: Though the majority of M4V files are protected by Apple's protection, there are still some non-FairPlay versions of its files available on iTunes, which can be purchased and then transferred to other devices freely as if they were MP4 files. Once the M4V protection removed, there is seemingly no practical difference between M4V and MP4.
The Verdict
1. MP4 is developed to make multimedia applications on the internet faster and of better quality while M4V is specifically developed for Apple products such as the iPod, iPhone, and iTunes.
2. MP4 and M4V are very similar in many ways but M4V is often copyrighted via Apple's FairPlay DRM copyright protection.
3. Originally, M4v was only played on a computer via iTunes while mp4 is much more universally recognized and it can be played using a variety of players.
4. MP4 came to the scene first while M4V was later popularized by the wave of the phenomenal Apple products.