AVCHD footage is a format used with many of the professional and consumer camcorders on the market today. As a file-based format for the digital recording and playback of high-definition video, AVCHD is usually saved in MTS or M2TS container format. If you're an experienced Final Cut Pro user, you may learn that it is not easy to import AVCHD to Final Cut Pro X and FCP 7/6 for smooth editing. ProRes, a lossy video compression format that developed by Apple Inc., is a appropriate format for smooth editing in Mac. Thus, when you get many AVCHD footage and want to edit them with Final Cut Pro, it's better to take advantage of the ProRes codec. In this article, we will show you how to transcode AVCHD to Apple ProRes codec easily and quickly.
PS: Actually, Final Cut Pro does not have native editing support for AVCHD footage. You can use the Log and Transfer window to transcode AVCHD footage to an Apple ProRes codec or the Apple Intermediate Codec during transfer. However, this can be only used by FCP 7 users and the conversion time is very slow. If you're using Final Cut Pro X, you'll find that there is no log and transfer option anymore. It has been changed to File&Import from Camera...
To transcode AVCHD to ProRes easily and quickly, you're highly recommended to get a third-party program like EaseFab Video Converter for Mac, which features high efficiency and seamless conversion. With it, you can do batch conversion from any AVCHD footage from Sony/Panasonic/Canon/JVC to Apple ProRes 422, ProRes 422 HD, ProRes 422 LT, ProRes 4444, which ensure maximum editing quality and efficiency when working with Final Cut Pro X and FCP 7/6. And just in a few clicks you could successfully import your AVCHD footage to Final Cut Pro without any problem.
If you're facing problems working with AVCHD footage in Fianl Cut Pro X/7/6, chances are you already installed this great utility. If not, download it from below.
Steps of Converting AVCHD to ProRes in a few clicks
Step 1. Add AVCHD mts or m2ts files
Once you run it, click "Add Video" button to load your source AVCHD mts or m2ts videos. When the AVCHD videos are loaded to the AVCHD to ProRes Converter, you can view the videos from the Preview window. (Note: batch conversion is supported, so you can load more than one file to save time.)
If your MTS files are on your camcorder, you need to plug your device to Mac first, and then run this program. This program will show your camcorder files in its interface. Then, you can select the files you want, and click the "Add Vidoe" button to add them.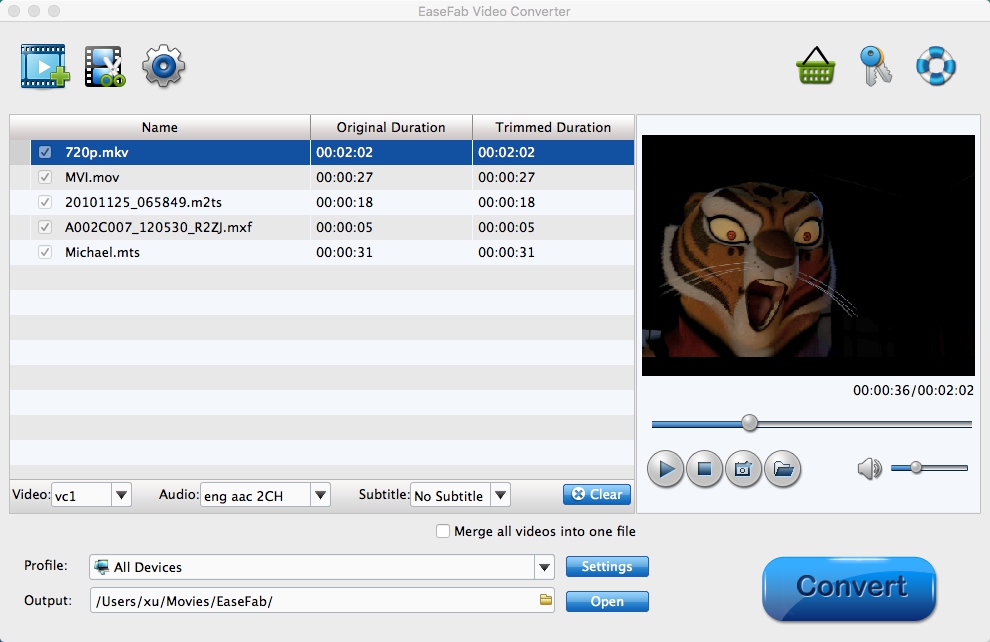 Step 2. Choose ProRes as the output video format
Now click the Profile icon to reveal output panel. And and mouse cursor to "Editing Software" category. You'll find several ProRes formats are provided. Generally, ProRes or ProRes LT are suitable choices for MTS, M2TS, DV videos shot with camcorders. ProRes HQ is usually for film based source media. To edit your AVCHD videos in Final Cut Pro, you can also directly select Final Cut Pro as the output format to get videos with optimized settings to fit the video editing app.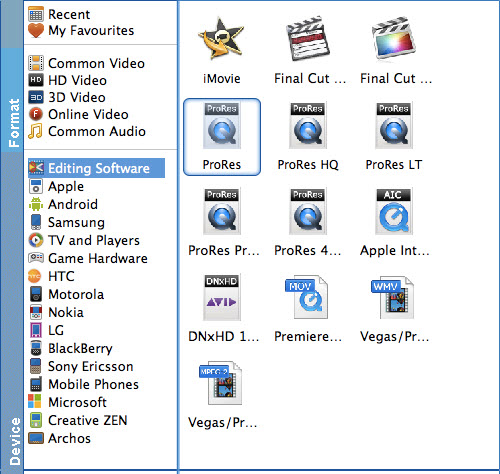 Tip: Click the "Settings" button and customize proper video/audio parameters if necessary. Video size, bitrate and fame rate are flexible and can be adjusted as you like. Usually 1920*1080 video size and 30fps video frame rate are recommended for FCP editing.
Step 3. Start converting AVCHD to ProRes
At this point, you can change the output filename or output path if you wish. If you feel satisfied with your options, Just hit the Convert button to activate AVCHD file to ProRes conversion.
When all conversions completed, you'll get a pop-up notice. Just click "Open" button, you can fast find where your converted files are saved.
About Transcoded AVCHD Files to ProRes and Disk Space
AVCHD has a much higher compression ratio than Apple ProRes, so the ingested files are significantly larger than the original files. For example, a 2-minute native AVCHD file is about 200 - 300 MB. After transcoding to the Apple ProRes 422 codec, the file size can be as large as 2 GB.
To create smaller files during transfer, transcode AVCHD files to Apple ProRes 422 (LT). For more information about the relative data rates and file sizes for these formats, see Working with Apple ProRes.