Before cutting to the chase and knowing which is the easiest and efficient way to transcode MKV to Apple ProRes, a quick word on some basic information of MKV.
MKV, also known as Matroska Video files, is a video container format which can contain a large number of picture, audio and subtitle tracks. It's specially designed to undertake premium grade video compression. The MKV format is popular as an HD video carrier which supports ratings, descriptions, chapter points and cover art. Multimedia content such as TV shows and movies are stored in this universal format.
With so many outstanding features, you may think that it is the perfect video container. However, it has its defects. One of them is that MKV is not compatible with all video editing software. Popular video editors like iMovie, Final Cut Pro, Adobe Premiere Pro and DaVinci Resolve don't support MKV. The main reason behind this is the sheer complications of MKV format. To solve MKV incompatible issues for post-production like editing and rendering, transcoding MKV to Apple ProRes is an excellent choice since the compression is minimal so the quality remains very high. How to convert MKV files to Apple ProRes codec easily and quickly on Mac or Windows? Check here.

Get to know Apple ProRes Codec and Why You Should Use Apple ProRes?
ProRes is an I-frame (individual frame) files where each video frame is compressed individually and it doesn't compress the video as much. Although this significantly increases the size, it makes it extremely simple for the GPU to process and display the frames on the screen during playback. Also, due to this exact reason, the editing tools don't have to engage the GPU unnecessarily while making modifications to the clips during the post-production processes.
In fact, Apple ProRes and other high-quality codecs (e.g. Avid's DNxHD codec, sometimes called "intermediate" or "production" codecs) sit in a kind of "sweet spot" between the humongous data rates of uncompressed video, and the egregious processing demands of Long Gop video. It's worth stressing that the main reason for ProRes' increased quality is that they are not long-GOP codecs.
Once you converted your MKV to Apple ProRes codec, your edits will fly. These codecs are so efficient that you can play multiple streams with a fraction of the effort you need for a single stream of H.264 - based video. As an example, on my Macbook Air, playing any HD Long-Gop clip will cause the fan to come on at full power within seconds, but with ProRes, I can play a clip - in much higher quality - with no sign of the fan.
Best Program to Convert MKV to Apple ProRes Codec on Mac/Windows
The catch is that not all transcoders can encode MKV to Apple ProRes or other "professional" codecs. And the choices are further narrowed down because you need a transcoder that is coming with its own codecs rather than just relying on those built into the operating system. I've yet to find a good free transcoder that meets those requirements, but there are some paid apps that can do it.
The world of paid video transcoding apps is quite a mess. Some are very good, but some are downright dodgy. If you don't want to be held back by slow and complicated processing and you're looking for the best option to transcode MKV to Apple ProRes codec other other professional codecs, EaseFab Video Converter for Mac is there for you. The expert Apple ProRes converter program is available for macOS Catalina or lower and it has a Windows version compatible with Windows 10 and lower.
With it, you can convert almost any video files including but not limited to MP4, MTS, MXF, H.265/HEVC, MKV, MOV, VOB etc. to high-quality Apple ProRes 422, Apple ProRes 4444 codec, etc. in 3 simple cliks. The result Apple ProRes codec ensures the maximum editing quality and efficiency when working with Final Cut Pro, Adobe Premiere Pro, iMovie, DaVinci Resolve and more. Besides Apple ProRes, you can also encode to professional codecs like DNxHD, Apple Intermediate Codec for for fast and fluid workflow.
Apart from being a universal converter that supports more than 400+ file formats at the time of this writing, EaseFab is extremely lightweight and can render the files 30 times faster than other post-production tools. With the ability to apply effects, add watermarks, and include subtitles to the videos, EaseFab Video Converter can be considered a one-stop-shop for all your media-related tasks to come up with industry-standard outputs on Windows and Mac.
[Guide] 3 Simple Steps to Convert MKV to Apple ProRes on Mac (macOS Catalina included)
The step-by-step guide is almost the same on Mac and Windows. Here we will take EaseFab Video Converter for Mac as example to show you how to transcode MKV video to Aple ProRes codec on Mac.
Step 1. Add MKV files to the software.
Drag and drop MKV videos to the application. Or you can click Add Video button to browse and locate your source video files. The app supports batch conversion, so you can add more than one file at one time.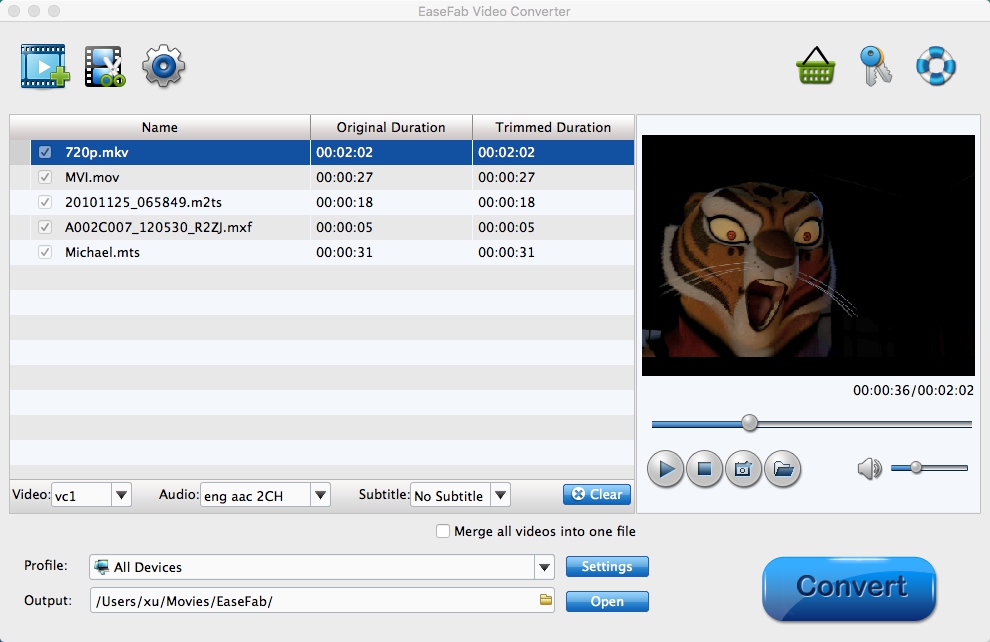 Step 2. Select Apple ProRes as output
Now click the Profile icon to reveal output panel. And and mouse cursor to Editing Software category. You'll find several ProRes formats are provided. Generally, ProRes or ProRes LT are suitable choices for MTS, M2TS, DV videos shot with camcorders. ProRes HQ is usually for film based source media. For common editing, you just need to select ProRes as the output file. If you want to get the highest quality, ProRes 4444 is recommended.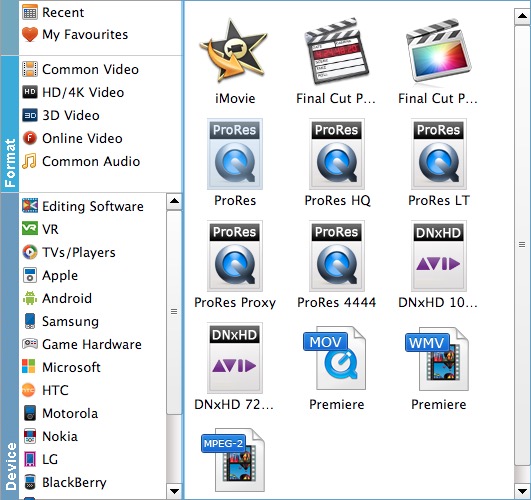 Step 3. Start encoding MKV to ProRes
At this point, you can change the output filename or output path if you wish. If you feel satisfied with your options, Just hit the Convert button to activate MKV file to ProRes conversion.
When all conversions completed, you'll get a pop-up notice. Just click Open button, you can fast find where your converted files are saved.