MP4 features a high compression rate and great output quality. Though MP4 is a widely supported format with many benefits, such as strong compatibility, lower bandwidth, and small size, making it suitable for streaming and sharing purposes, sometimes we'll need to convert MP4 to MPEG2 to be compatible with different software or devices, such as an old DVD player, a portable DVD player for car travel.
There are many MP4 to MPEG2 converters in the market. Here we single out 5 best tools, including free and online software, to help you convert MP4 to MPEG2 on Mac and Windows (11/10). Also the step-by-step guide will be shown. Keep on reading to find a proper one.
Top 5 Ways to Change MP4 to MPEG-2 Free Easy & Fast
Way 1. Free Convert MP4 to MPEG2 with VLC (Windows & Mac)
VLC is known as a free media player, but it also comes with many hiding features, one of which is file format conversion. It can free change MP4 video to MPEG-2 format, as well as MOV, AVI, WebM, FLV, OGG, MP3, FLAC, etc. 15 video/audio formats on Mac and Windows. However, you should note that using VLC cannot promise there is no quality loss. And any conversion process will take roughly the same length as the content you are converting.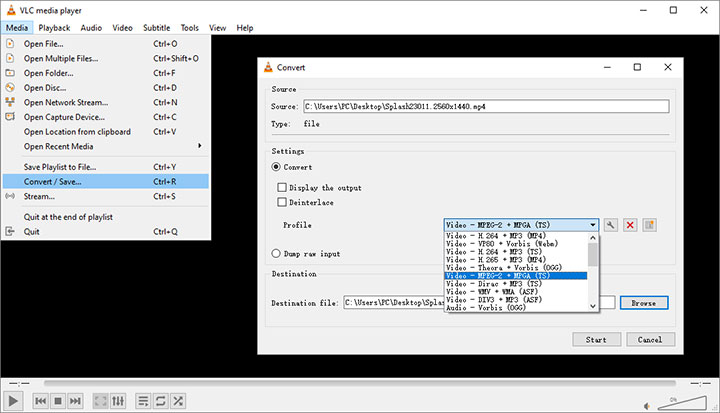 Step 1. Open VLC, click "Media" tab, and choose "Convert/Save".
Step 2. Then a new panel will pop up. Click "Add" button to select the source MP4 video files for further conversion to MPEG2.
Step 3. Click the dropdown arrow beside "Convert/Save", and choose "Convert".
Step 4. Then, you will be directed to Convert window. Under Profile, choose "Video - MPEG-2 + MPGA (TS)". Click "Browse" to select a destination folder and the name for the MP4 output.
Step 5. When all settings are done, hit "Start" button to begin converting MP4 to MPEG2. Theoretically, it should work, but some people also report that nothing happens after clicking "Start". If you can't fix it, try other methods.
Way 2. Convert MP4 to MPEG2 with EaseFab Video Converter (Windows & Mac) [Easiest and Fastest!]
EaseFab Video Converter (available for both Windows and Mac users) is one of the best MP4 to MPEG2 converter on Windows and Mac. With the support of more than 420 codecs and file formats, this video converter software can handle almost all your audio/video file conversion needs, including MP4 to MPEG2, MKV, OGV, AVI, etc. The conversion is straightforward with its intuitive interface.
This software promises 30X faster conversion speed without compromising output quality, and this function makes it a perfect choice for converting high-resolution videos. EaseFab Video Converter is capable of processing videos of every resolution, including 1080P, 4K, and 8K and 10-bit HDR videos.
How to decode MP4 to MPEG-2 with EaseFab Video Converter
To begin with, you need to download and install EaseFab Video Converter on your PC or Mac according to your computer operating system. The guide below takes the Windows version for example. Mac version has the same process.
Step 1. Add MP4 videos to the program
You can directly drag your local MP4 videos to this program, or you can click the "Add Video" button on the main interface to add MP4 files to this application.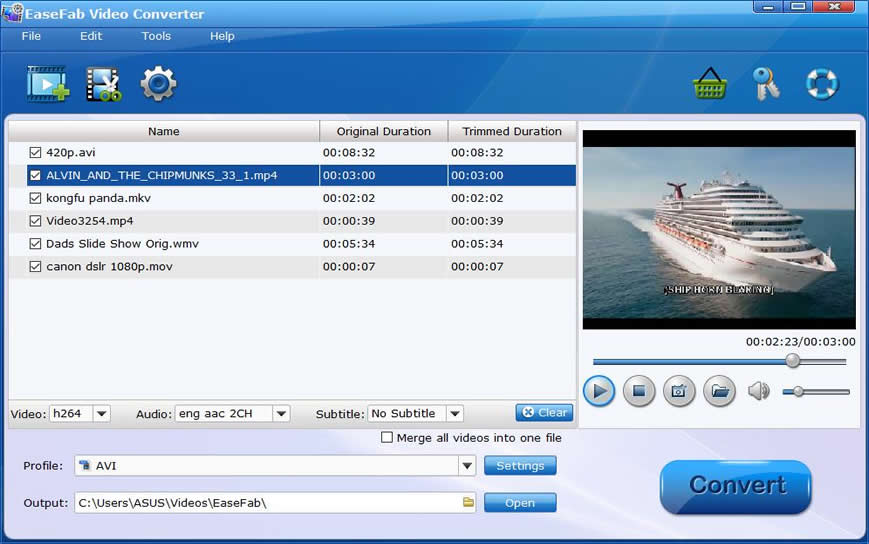 Step 2. Select MPEG2 as the output format
Click "Profile" bar and move mouse cursor to "Common Video" category and select "MPEG-2" as the output format.
Before the conversion, you can click "Settings" button to adjust parameters such as bitrate, resolution, etc. according to your needs. You can also click "Edit" button to enter the Video Editor window. Here you can cut unwanted parts, add effects. etc.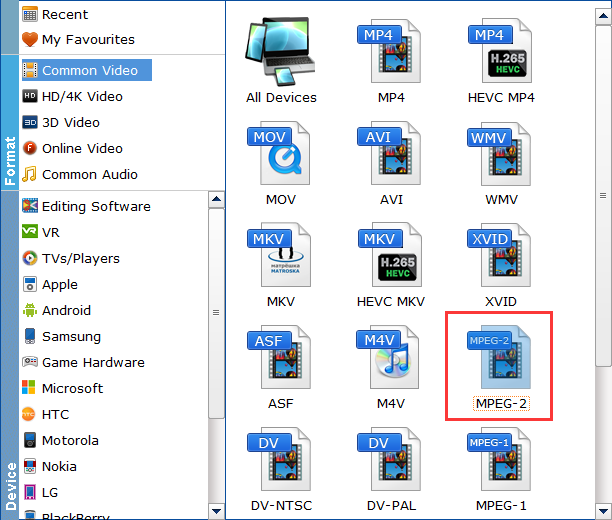 Step 3. Start the conversion process
Start converting MP4 to MPEG2 by clicking the "Convert" button in the lower right corner of the interface.
Way 3. Convert MP4 to MPEG2 Free with Online Converter (Windows & Mac)
There are lots of Online converters that can also help convert MP4 to MPEG2 if your internet connection is good. Most of them are pretty easy to use and especially suitable when you don't want to install any software. However, most online MP4 to MPEG2 converters have limits on file size or concurrent conversions. Take Convertio for an example, it only allows you convert a video with file size up to 100MB. Moreover, The conversion process is relatively time-consuming and related to your network environment. And some of them won't let you set parameters such as codec, frame rates, etc.
Below I will show you how to convert MP4 to MPEG2 with Online converter Convertio
Step 1. Go to https://convertio.co/mp4-mpeg2/ in your browser.
Step 2. Upload your MP4 file by clicking the red Choose Files button.
Step 3. Make sure the output format is set to MPEG2.
Step 4. Customize advanced settings like resolutions, aspect ratio, etc (optional).
Step 5. Click the Convert button to start the conversion.
Step 6. Wait to download the converted MPEG2 file.
Way 4. Use Handbrake to Convert MP4 to MPEG2 (Windows & Mac)
HandBrake is an open source video transcoder available for Windows, Mac, and Linux. It also allows you to change video in MP4 to MPEG-2. Note that Handbrake only supports MP4, MKV, and WebM containers. The preview function is not convenient enough. Novice users may find it not easy to figure out the features they need.
Moreover, Handbrake comes with no video editing features for you to cut scenes, crop image or merge video clips. And it doesn't support lossless video conversion.
How to transcode MP4 to MPEG2 with Handbrake
Step 1. Open HandBrake on your device.
Step 2. Load your MP4 file by dragging and dropping, or using the Open Source button.
Step 3. Go to the Video tab, and select MPEG-2 from the Video Codec drop-down list.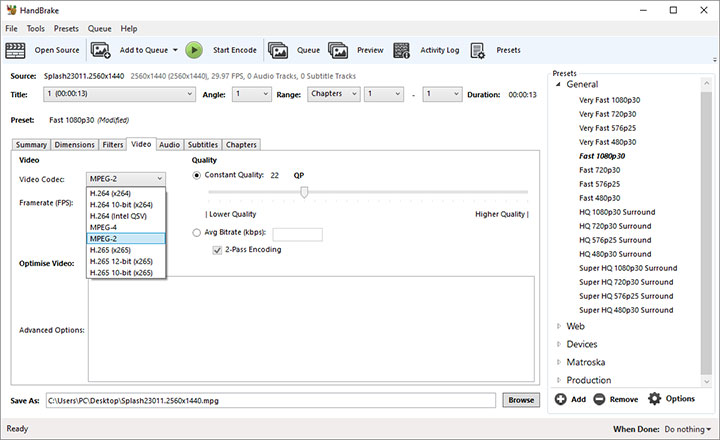 Step 4. Click the Browse button next to the Save As field. Set the save path, and change the file extension to .mpg.
Step 5. Press the green Start Encode button to start converting.
Way 5. Use FFmpeg to Convert MP4 to MPEG2 Free
FFmpeg is a very powerful command line tool that can transcode video and audio files. You can use it to convert MP4 to MPEG-2 on Windows, Mac and also Linux machines.
Since FFmpeg is a command-line tool, it does not have a native GUI. Users need to be very familiar with various common commands and type them with the keyboard in the command-line tool to transcode multimedia files and streams. Novice users may find it complicated.
How to Decode Video from MP4 to MPEG2 using FFmpeg?

Step 1. Download FFmpeg to your device.
Step 2. Open the Command prompt.
Step 3. Type the following command.
ffmpeg -i input.mp4 -c:v mpeg2video -q:v 6 -c:a mp2 output.mpg
Step 4. Press Enter on your keyboard to run the command.
Final Words
Above are the top 5 effective ways to help you convert MP4 to MPEG2. Online converters are good for occasional uses when the file size does not exceed the limit.
Among all the methods, EaseFab Video Converter is highly recommended considering the ease of use, conversion speed, and effect. Novice users can benefit from the intuitive interface and rich presets. Experienced users can also customize various advanced parameters according to their needs. Plus with the Hardware Acceleration technology, EaseFab Video Converter will deliver a buttery-smooth video conversion process.