As a matter of fact, MKV and MP4 are the two most dominant file types and you may often see them when you download video files. What's the differences between them? Are they dominating the video world because they're that good? This page will show you the difference between MP4 and MKV. Moreover, you will learn how to do the conversion between MKV and MP4 without quality loss. Read on for details.
Part 1: Brief introduction of MKV and MP4
What's MKV - MKV is an open multimedia file encapsulation format. It can not only encapsulate a variety of different encoding video, different formats of audio and different language of subtitle stream into a file to save, but also compress the high-quality video into smaller files, which save as the encapsulation format of the high definition or Blu-ray video.
What's MP4 - MP4, with the full name of MPEG-4 Part 14, is a common video file encapsulation format, which is used to store video, audio and other media information mainly. MP4 is the most widely used videos formats which is supported by most media player and websites.
Part 2: Differences between MKV and MP4 (Comparison Chart)
File format

MKV

MP4

Video quality

High quality and high-definition. It is the encapsulation format recommended by high-definition or Blu-ray video.

Good video quality.

Supported media player

Can be played on some mainstream media players.

Almost all media players are supported.

Supported mobile devices

Only some mobile devices are supported.

Almost all mobile devices are supported, such as mobile phones, tablets PC and other devices.

Supported video encoding

Almost all video encoding is supported.

MPEG-2 Part 2, MPEG-4 ASP,H.264/MPEG-4 AVC,

H.265/HEVC

, H.263, VC-1, Dirac, etc.

Supported audio encoding

Almost all audio encoding is supported.

MPEG-2/4(HE)-AAC,MPEG-1/2 Layers I, II, III(MP3),AC-3, Apple Lossless, ALS, SLS, Vorbis, etc.
Part 3: FAQs between MKV and MP4
First, let it be clear and both MP4 (MPEG-4 Part 14) and MKV (Matroska Video) are NOT video compression formats. They are containers that contain, among other things, video codec, audio codec, and subtitles. With a container, users also have the freedom to choose and combine different codecs to suit their tastes. For instance, you can opt for a high-quality video codec but with medium-quality audio to save space.
If you use the same codec for both formats, there will be little difference between the two formats. But when you use videos on your iPhone, Apple TV or Xbox, MP4 is a right choice for you. When you use VLC or other MKV supported video player, then MKV is a favorite choice.
FAQs 1: "Which one has better quality, MP4 or MKV?"
A1: Since both are containers, their quality is dictated on the quality of its components. If you use low-quality audio for your MP4 videos it will sound worse when compared to an MKV video with higher audio quality.
FAQs 2: "Can I convert MKV to MP4?"
A2: Sure you can. If you use the online video converter, not only you can convert MKV to MP4, you can also change the screen size, video bitrate, audio quality, audio codec, video frame rate, and more. You can also use
FAQs 3: "So, are MKV files better than MP4 files? "
A3: Which one suit you better depends on what you want and what you need. If you wish to combine multiple videos as separate streams, MKV can do that for you?
FAQs 4: "Multiple streams?"
A4: Yes, suppose you have two or three video files with same resolution, you can put them in one container. When you open that single file, using VLC for example, each video will play in its own window.
FAQs 5: "So, I should go with MKV?"
A5: Well, both MKV and MP4 support high quality H.264 video, but the support for MP4 is more widespread. If you wish to play your videos on mobile devices, MP4 is the way to go. If you know you will only use certain video players like VLC, PotPlayer, or XBMC to play your files, then can't go wrong with MKV.
FAQs 6: "Why?"
A6: MKV is open source, supports higher audio quality, and has more features packed into it. Matroska is based on EBML (Extensible Binary Meta Language) which is a very flexible framework. It can support all video and audio compression formats known today and extensible to future formats. In a sense, MKV is more future-proof compared to MP4.
Part 4: How to convert videos to MKV/MP4 without zero quality loss
Since MKV and MP4 are widely used in our daily digital life, therefore there are some situations that you need to convert your videos to MKV or MP4, or convert between MKV and MP4. In fact, along with some help from a third-party video conversion tool, you can easily achieve your goal effortlessly. If you are seeking for the best video output quality, fastest video conversion speed, and the most formats supported, EaseFab Video Converter will be your best choice. It works smoothly on both Windows and Mac latest system and supports over 1000 video/audio formats. You can not only convert video files to MKV/MP4 without any quality loss but also edit, compress, transfer videos easily.
Simple Steps to Convert Video to MKV/MP4:
Step 1: Once launched EaseFab Video Converter, click "Add Video" button to import your source video files. You can add multiple files at a time and convert them at one go.
Step 2: Click "Profile" and then select MP4 or MKV foramt from "Common Video" or "HD Video" catelog. You can also select H.265 encoded MKV or MP4 as the output for special demands.
Step 3: Finally, click the big "Convert" button to start the conversion.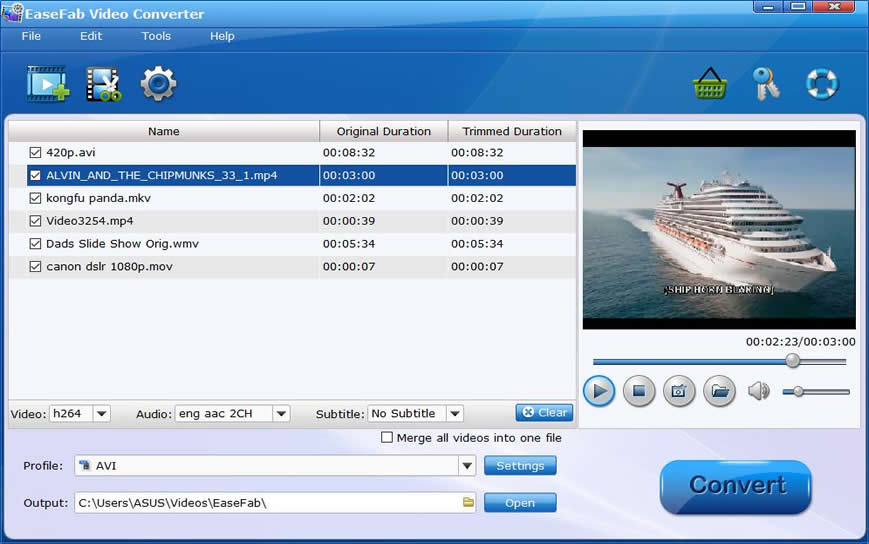 bTips:
1. By clicking the Settings button beside Profile, you can adjust the output video/audio resolution, frame rate, bit rate, etc. to customize the output files to get the best quality you want.
2. You can click "Edit" button to personalize and touch up your videos in clicks. Video editing functions like Trim, Crop, Effect, Watermark, etc. are provided.