"i am editing videos captured with an iPad 2 in Final Cut Pro 7, but Final Cut is running really slow and rendering becomes impossible when adding a second video track with either video or photoshop files with a transparency for example. There is no Unlimitted RT option available and the process has become very slow. Is there any way of previewing video and audio without rendering all the time?"

Quite a few people love to capture videos with their iPad Mini 4/3/2, iPad Air 2, iPad 4, iPad 2 or iPad 3. Most of you like to edit them before uploading to YouTube or posting them on Facebook. However, many iPad users are encounterred similiar problems when try tried to import iPad captured video to Final Cut Pro 7 or FCP X for further editing. The audio doesn't import, the video is clunky and choppy. Sometimes the video plays upside down and every time you make a minor change you have to render again, which takes forever! What's matter? How to edit the iPad video in Final Cut Pro 7/X smoothly? Read on to find it out.
Basically the problem is that the native record format that the iPad uses isn't a codec that plays well together with FCP. Codecs are a complicated subject, and FCP tries to be helpful by automatically changing the sequence settings to match the clip. But when it comes to the iPad, things don't work out so well.
To solve this dilemma, you need to take a little up front time and set up a workflow that will convert your iPad video into a format that FCP likes. Actually, it's not as difficult as you imagine. What's need is a just a common video converter like EaseFab Video Converter for Mac. This program features high efficiency and seamless conversion. With it, you can transcode iPad video to Final Cut Pro most compatible ProRes codec, ensuring maximum editing quality and efficiency when working with Final Cut Pro X, FCP 7 and FCP 6. Besides, its also exports advanced encoders like Apple Intermediate Codec, DNxHD, etc. allowing you to convert video to seamlessly fit iMovie, iDVD, Adobe Premiere, Avid Media Composer, etc. If you're facing problems when editing iPad Videos on Mac, chances are you already installed this great utility. If not, download it from below:
Converting iPad Video to Final Cut Pro edit-friendly format on Mac
Step 1: Install and launch the iPad Video to FCP Converter for Mac, then you can drag & drop the iPhone MOV files directly the program or opt to click "Add Video" button.
Note: Batch conversion is supported, so you can load more than one file to save time. You can also combine all the loaded files together with this software.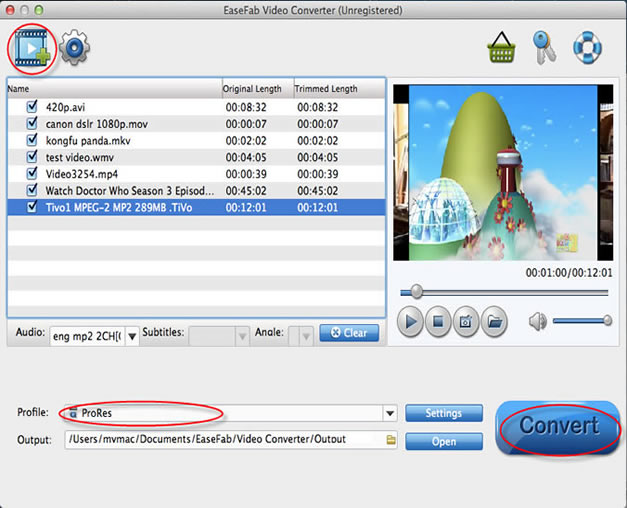 Step 2: Click on the "Editing Software" and you will see options to convert your iPad video for certain video editing software. Since you will be importing the video to Final Cut Pro after the conversion, have "Final Cut Pro" or "ProRes" be your selected output format.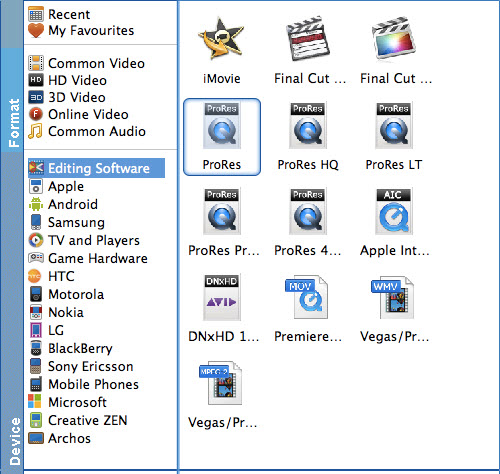 Tip: You can click the "Settings" button and customize proper video/audio parameters including Video size, bitrate and fame rate and more. Usually 1920*1080 video size and 30fps video frame rate are recommended for FCP editing.
Step 3: After all necessary settings, hit the "Convert" button to start the iPhone video to ProRes MOV conversion on Mac OS X. Once the conversion process shows in 100%, click "Open" BUTTON to get the output videos. Create a project and start editing your iPad Videos in Final Cut Pro 7 or FCP X with light speed.
Related Articles:
How to import iPad video to Sony Vegas Pro
How to work with iPad videos in Windows Movie Maker
How to Import iPad Videos to Adobe Premiere for editing