AVI is a very popular video format which is widely used today. However, many QuickTime users just realized that it's always not easy to play AVI files with QuickTime player, especially when you have upgraded to the latest OS X 10.11 El Capitan. What's the matter? Why can't QuickTime play AVI videos? Just read on to find the reason and 3 possible solutions to solve your problems without any trouble.
An AVI is a free and open source container format. It can hold different types and unlimited number of video, audio, picture or subtitle tracks in one file. If you can't play AVI with QuickTime in Mac OS X, it's probably the video or audio codec problem. Frankly, there are a lot of options to help you play an AVI file in the Mac OS X (EI Capitan and Yosemite included), here are some solutions:
Solution 1: Convert AVI in Mac OS X
If you have a lot of AVI files and want to play them on more players like the iPhone, iPad or iPod, you'd better convert the AVI to other formats like the MP4, MOV, M4V or etc. Here, I'll recommend the Video Converter for Mac (EI Capitan and Yosemite compatible), which enables you to convert an AVI to any popular video format for various players, devices and applications. For QuickTime, you can convert the AVI to an MOV file that is associated with QuickTime. See more tips below.
Step 1: Drag the AVI files onto the interface.
Step 2: Choose any format or device you want (most popular format or devices are also supported here).
Step 3: Simply hit Convert at the lower-right corner of its interface.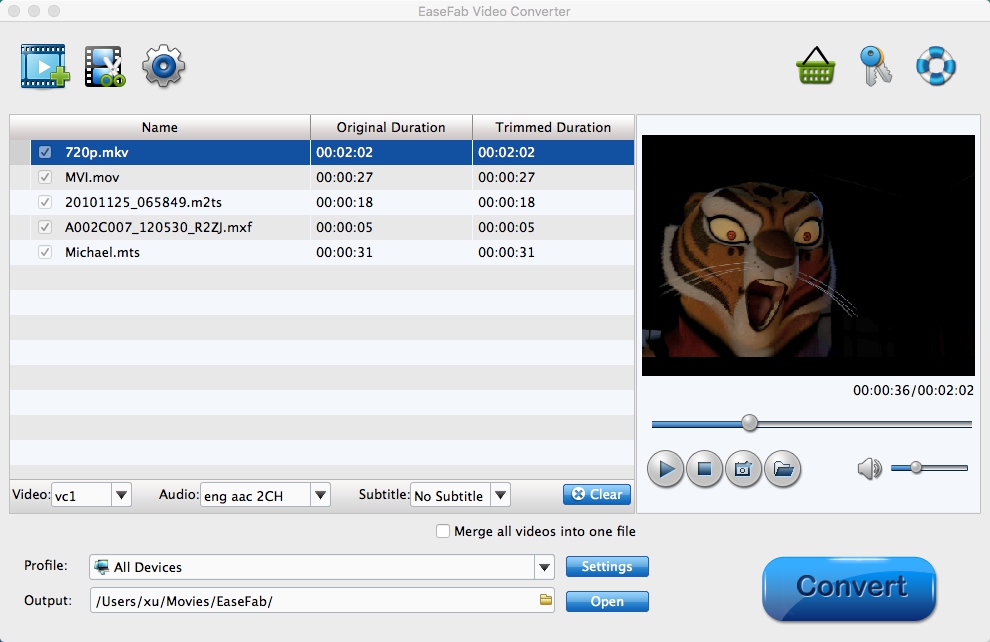 Solution 2: Play AVI in QuickTime by installing Perian plugin
The QuickTime player is mostly used in Mac OS, if you don't want to use the first solution to convert the AVI files to QuickTime compatible formats, you can try this solution, but no 100% work guarantee.
Perian, is a great open-source QuickTime component that allows playback of different video formats that cannot be played natively on your Mac computer. If you want to use QuickTime as your main video player, you may choose to download Perian because it provides the necessary codecs or components that will allow you to play AVI on Mac. If you have QuickTime 7, you may be glad to discover that it can actually play AVI files without needing any additional plug-ins and codecs.
What you need to know before downloading Perian:
1. The latest version 1.2.3 of Perian doesn't work on Mac OS X Mavericks, let alone Yosemite and Mac 10.11 EI Capitan because Perian requires installation of quicktime 7, which doesn't exist for Mavericks and above. It also doesn't work on Mac OS X Mountain Lion.
2. With a Mac running Mac OS X 10.7, say, Lion, you have to downgrade to the previous version, say 1.2.2. The version of 1.2.3 of Perian does not support QuickTime 10 in Lion and fails to fix the loss of audio after one second in xvid files with ac3.
3. Before installing Perian, you need to remove all QuickTime Components installed on your Mac, like FFusion, Xvid Delegate, 3ivX, DivX, DivX Decoder, XviD, msmpeg4v1, msmpeg4v2, AviImporter, EX_M4S2, Casio AVI Importer, AC3 Codec, and MatroskaQT.
4. For a Mac running Lion or Mountain Lion, converting AVI video to QuickTime is highly recommended.
Solution 3: Play AVI with a AVI player Mac
The VLC media player, is an excellent open-source media player that is known for supporting a wide range of audio and video files. Unlike other media players which have limited format-support, you will be surprised that VLC can play a video or audio file that you didn't even know existed. If your OS is Snow Leopard or higher, installing VLC is definitely a good choice especially if you only plan on watching AVI files on your computer.
Cons of this AVI player (VLC media player):
1. VLC player doesn't play AVI videos with high qualities.
2. VLC player doesn't support EI Capitan.