iMovie enables users to view, edit and share movies. Making movies with iMovie on your Mac is fun and easy. This article will show you tutorial helping you to use iMovie to edit videos. It focuses on how to edit videos totally free.
How to Edit Video by using iMovie on Mac
iMovie comes with a built-in library, which can organize your videos automatically. Thus, all the movies you have created and all the video clips you have captured will be displayed in sequence. With its creative interface, iMovie enables you to create new project and view your library easily and quickly. iMovie provides a platform for sharing videos. With few clicks, you can upload movies to websites, like YouTube and make versions for iPhone, iPod, Apple TV, etc. In a word, editing movies on iMovie is a nice and ideal choice. Here is the basic information for how to edit videos on iMovie.
Step-by-step guide on how to edit video using iMovie for Mac OS X (macOS Mojave)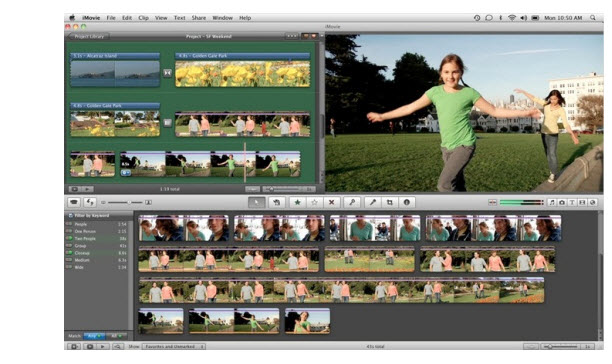 Step 1: Create a New iMovie Project
After running iMovie, go to File> New Project, and give a name to the project. Then click Create to start a new project..
Step 2: Connect Your DV Camera to Mac
Connect your DV camera with Mac using a USB cable. Turn on your camera and set it to PC connect mode..
Step 3: Import Video to the Project
After getting the "Camera Connected" notice, click "Import" button. Then iMovie will import your videos and play the videos. If you want to stop adding videos, just click "Import" button again. To delete video clips, just drag and drop your added video clip(s) from the clips pane to the editable timeline along the bottom of the iMovie main interface. The difference between iMovie and other applications is that once you have deleted a clip from iMovie, you will not be able to get the clip back.
iMovie allows you to add videos in formats like: MOV, MPG, AVI, MP4, DAT, 3GP. If you have got videos in FLV, MP4, VOB, MTS, MXF and AVI format, which are not supported by iMovie, you can adopt video converter for Mac, a useful conversion tool, to convert these videos to iMovie compatible format first.
Step 4: Edit Video on iMovie
-To Split a Clip: Put the cursor under the viewing window where you would like to split the clip into two. Move to "Edit" menu, then click on the "Split Video Clip at Playhead" option.
-To Crop a Clip: Click "Crop" and drag the small triangles to the timeline to select the wanted portions.
-To Add Effects: Choose "Effects" tab in the menu at the bottom of the clips pane. In the editing area, choose a clip that you want to add effect. Select an wanted effect. It allows you to adjust the effect under the preview window. You can preview the result in the preview window. iMovie supports to change the parameters of the effect. When done, click the "Preview" button again so that to load the new settings for the effect. Then click "Apply," button and wait until it finishes effect rendering. After the effect is being added to the editing region, you can view the effect rendering process by the red progress bar that appears in the clip. After that, save your edit.
Step 5: Save the Project
In the main interface, click the "File" and then select the "Save Project" option.
That's all. Hope the article editing video on Mac using iMovie can do some favor for you.
See Also: How to Use Windows Movie Maker to Edit Videos on PC for Free