"Is there a way to update my Samsung smart TV so it can play video files encoded with H265? It's pretty annoying that Samsung isn't keeping up with this technology since this codec is quickly becoming the norm."
"When I access plex and playback HEVC X265 videos. They work fine when receiving them on a roku 3. When I move to another TV (Samsung smart tv) I get an error that the file is not supported. and a message saying enable transcoding on playback may fix the problem. My Samsung smart hub version is 4.6261-5.0"

What is x265, H.265 or HEVC?
HEVC (High Efficiency Video Coding), also known as H.265, is a video compression standard and the successor to H.264. Two key improved features of H.265 (HEVC) compared with H.264 (AVC) are the support for higher resolution videos like 4K/8K UHD resolution and improved parallel processing. H.265 will save much bandwidth when compressing and streaming 4K/8K videos online. Given the same quality video, HEVC H.265 video can reduce file size of 52% for 480p video, 56% for 720p video, 56% for 720p video, 62% for 1080p video and 64% for 4K UHD video compared to H.264/MPEG-4 AVC.
Why Some HEVC/H.265 files Not Playing on Samsung TV?
Though Samsung Smart TV claims to support a wide range of video and audio formats and a handful of Samsung models after 2018 and onward is supposed to be compatible with the HEVC format, HEVC not playing error also comes up from time to time. Actually, it can be caused by various reasons as below.
1. HEVC format/codec is not supported. The majority of smart TVs don't have the capacity of playing HEVC X265 films. If you encounter the above HEVC decoder Samsung TV support errors, the most possibility lies in the lack of the native HEVC codec Samsung. Whereas many of us obtain some relatively older Samsung TV models, Samsung 4K TV HEVC features are probably not included. That can be translated to; the inner HEVC decoder Samsung TV is basically not accessible.
2. HEVC Media with higher bit or frame rate than specifications. Samsung TV only suport HEVC/H.265 files in 4K/8K at 60fps. If your HEVC video is in higher bit rate or frame rate, then the HEVC encoded MKV or MP4 files will goes unplayable, stuttering, dropping frames and so on.
3. HEVC file is corrupted. HEVC MKV or HEVC MP4 won't play if your HEVC file is corrupted or the information in the container is wrong.
4. Incompatible USB and digital camera devices. Many users play HEVC videos via USB or digital camera devices. If none of the above is true, it might be an issue of USB or digital camera devices, which are not compatible with your Samsung TV.
How to Fix HEVC/H.265 Files Not Playing on Samsung TV Error
TV codec support is hardware based since there just isn't enough CPU power to soft decode. If it doesn't support a codec out of the box it won't support it with some kind of update. In case there is something wrong in H265 (4K) playback on Samsung TV, upgrade hardware configurations or buy a new 4K TV.
Instead of costing hundreds of dollars on hardware upgrade to handle 4K HEVC 60FPS video, 10/12 bit HEVC, Mavic 2 Pro HEVC Dlog-ma video or IP camera GeoVision HEVC footages, an economical yet once-and-for-all solution is preferable to any other, solving H265 playback problem using a HEVC converter to convert HEVC to MP4 or any formats that Samsung TV can recognize. This is the easiest and most efficient way when it comes to make HEVC videos compatible with Samsung TV.
How to convert HEVC/H.265 to Samsung TV compatible format
There is a long list of free and paid conversion programs and tools available. But if you do not want to be held back by slow processing, poor output quality and to look for the best option to convert HEVC/H.265 for Samsung TV and other brands of TV, EaseFab Video Converter is the best option of encoding and decoding HEVC/H.265 for you.
With it, you can convert 4K HEVC video files from GoPro, DJI, iPhone, DSLR cameras, IP camera, etc. or downloaded from internet to H.264, MP4, WMV, AVI, etc. with fast encoding speed and excellent video and audio quality. Also you can encode video into H.265 at the lowest possible bit rate without loss in visual quality. As a result, the output file size will be greatly reduced to save storage, and the conversion will be turbo fast basically due to the industry-leading hardware and software accelerations utilized synchronously.
EaseFab Video Converter - The One-click Way to Convert Incompatible Videos for Samsung TV and More.
● Accepts nearly all types of videos, regardless of video formats, codecs and resolutions.
● Convert HEVC H.265 to Samsung Smart TV, Sony TV, Apple TV, mobiles, Chromecast, PC, Mac, NAS, Plex, 420+ profiles pre-programmed.
● Tweak x265 4K to 2K/1080p, lower 60FPS to 30FPS, adjust 12/10bit to 8bit, change bit rate for smooth playback, virtually no quality loss.
[Guide] 3 Simple Steps to convert HEVC/H.265 files for Samsung TV
Step 1: Click Add Video button to load your H.265 video from local media library.
Note: Batch conversion is supported, so you can load more than one file to save time.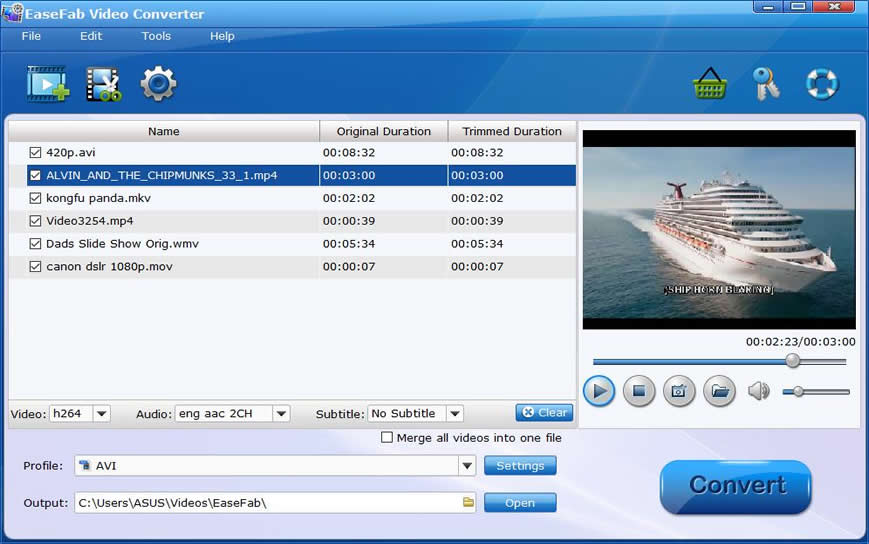 Step 2: Now click the Profile icon to reveal output panel. And and mouse cursor to TV and Players category to Select Samsung H.264 or Samsung-DIVX as the output format. Both of the two optimized presets are universal for all models of Samsung TV.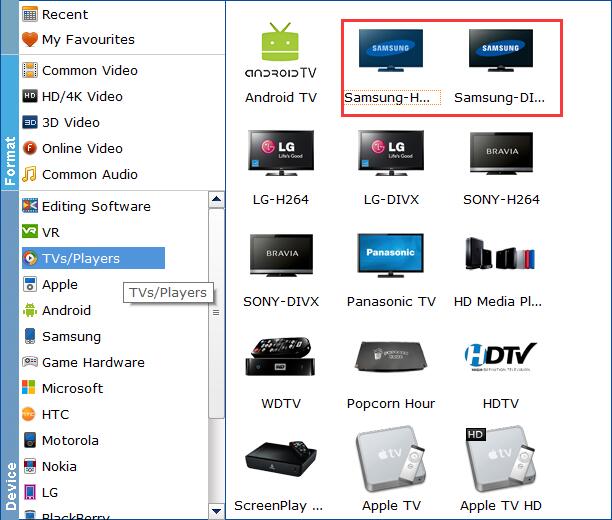 If your source HEVC / H.265 files not playing on Samsung TV owing to higher specifications, you can make them playable with the following advanced settings:
● Click Settings button, and drop down the list of Resolution, where you can downscale 4K to 1080p/720p for smaller file size or upscale HD to 4K to fit bigger screens.
● Drop down the Frame Rate list, then you're able to change 1080p/4K 60fps to 30fps.
● Lower the bitrate to a lower level. The default is 8000kbps, which may be a little higher. You can adjust it to bitrates of around 2000~3000.
Please note: Adjusting these variables have some effect on the re-encoded video quality. You can go smaller, only at the cost of quality loss. Remember the file size and video quality is based more on bitrate than resolution which means bitrate higher results in big file size, and lower visible quality loss.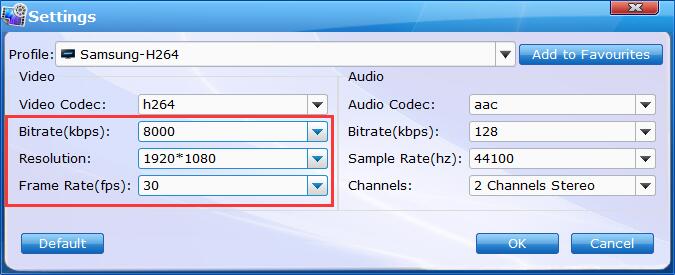 Step 3: Click Browse button to set a destination folder if necessary. Then hit Convert button to finish HEVC/H.265 to Samsung TV conversion in a very short time.
activate H.265 file to ProRes conversion.
When all conversions completed, you'll get a pop-up notice. Just click "Open" button, you can fast find where your converted files are saved.