XAVC, announced by Sony, is a recording format which uses level 5.2 of H.264/MPEG-4 AVC which is the highest level supported by that video standard. XAVC can support 4K resolution and the recordings are MP4 (Proxy) and MXF (4K, HD) format. Although Adobe claims that the last couple of release updates of Premiere Pro CS6 supports XAVC and Premiere CC provides full support for XAVC/XAVC S including export, it's not suitable for all frame rates. That's why you always get the "generic error" message when you tried to get Premiere CC/CS6 to recognize XAVC/XAVC S files from Sony PMW-F55, PMW-F55, Sony A7S, Sony PXW-X70, Sony PXW-FS7, Sony PXW-X500 and more XAVC cameras. Below are the frequently asked questions quoted from Adobe official forum:
Q1: XAVC crashes Premiere CC
I have some Sony F5 XAVC HD footage which is crashing Premiere CC. I have installed the latest update 7.2.2. I can scrub through material in teh thumbnail, but that is it.
Q2: Premiere CS6 XAVC S files
I can not get Premiere Pro CS6 to recognize the XAVC S files from our Sony RX100. I get the "generic error" message all the time. is there a way to get it to work?
What's the best workflow to get XAVC/XAVC S support in Adobe Premiere? In fact, there is an easy solution to get it to work. The most effective and simple way is to get a professional video converter tool to convert XAVC/XAVC-S to a more editing-friendly codec for Adobe Premiere Pro like MPEG-2. To do that, you can use EaseFab Video Converter for Mac, which fully supports transcoding XAVC/XAVC S files to Adobe Premiere file in a few clicks. A Premiere preset is included for easy access. See how below about converting XAVC/XAVC S for editing in Adobe Premiere CC/CS6.
Download the XAVC/XAVC S Video Converter:
EaseFab Video Converter is not only professional on dealting with Sony XAVC files, but also can handle with other video formats, such as MXF, MTS, MP4, MOV, MKV and so on. If you're a Windows user and want to import XAVC/XAVC S videos to Premiere Pro CC/CS6/CS5/CS4 in Windows (Windows 8 included), please download EaseFab Video Converter for Windows.
How to convert XAVC/XAVC S to MPEG-2 for Adobe Premiere
Step 1. Import XAVC or XAVC S files
Launch the best XAVC to Premiere Converter on your Mac and then load source XAVC files that you've transferred to your Mac Hard Drive to the program by click Add Video button. You can also drag and drop your XAVC files into it.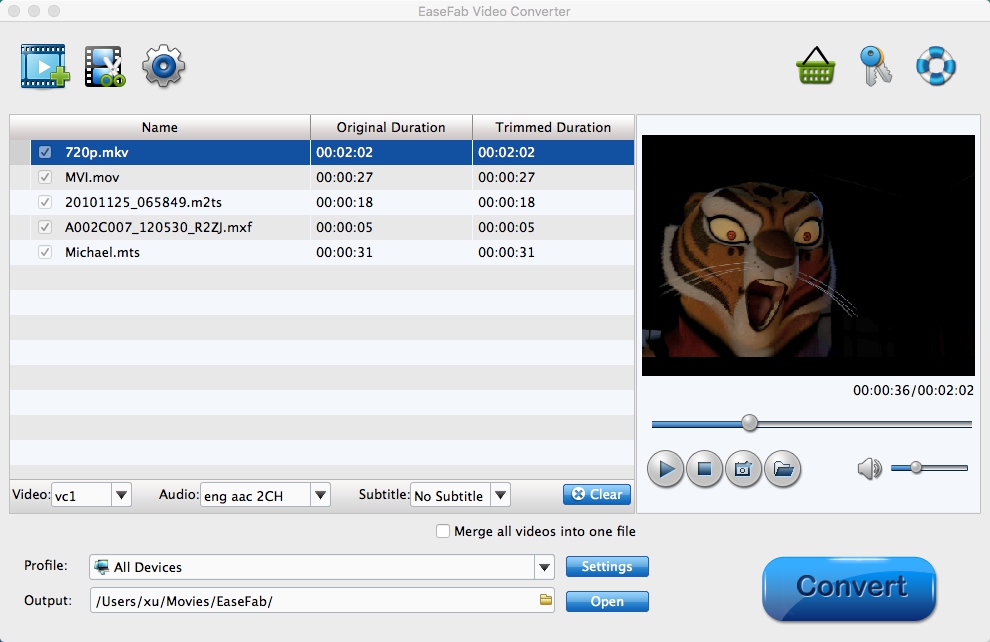 Step 2. Choose the optimized preset for Premiere
The program has three already optimized the video settings for Adobe Premiere Pro. You can select MOV (Entitled Premiere), WMV or MPEG-2 from "Editing Software" as the output format. All output videos will keep the original quality of XAVC or XAVC S video and seamlessly fit Adobe Premiere Pro CC, CS6, CS4, CS4 and more. Here we recommend you choose MPEG-2.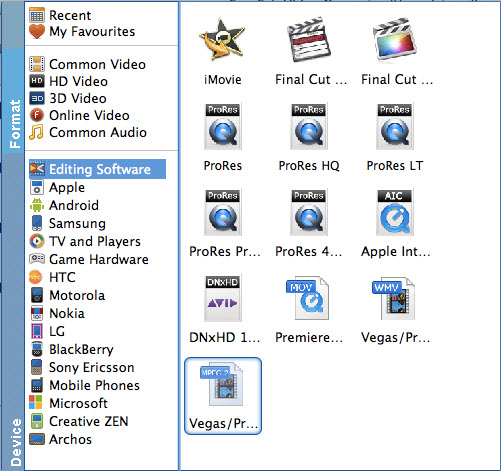 Tips: The default setting works well. Of course, if you want to customize video and audio encoding settings, just click the "Settings" button to customize these settings. You can adjust the output video/audio resolution, frame rate, bit rate, etc. to customize the output files to get the best quality you want.
Step 3. Start the XAVC/XAVC S to Premiere Pro conversion on Mac
Finally, click the "Convert" button to begin the conversion process. Wait for a while and the video converter will do the trick. You will soon have your 4K XAVC video into a format that's recognizable and editable by Adobe Premiere Pro CS5/CS5.5/CS6/CC.
You're done! Now you will find how it's easy to make engaging movies with XAVC/XAVC S files in Adobe Premiere.